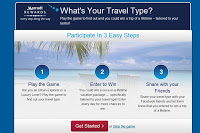 Let's kick this week off right with an amazing giveaway and contest from Marriott and Marriott Rewards, just for the fun of things.  Marriott is currently running a Facebook contest called "What's Your Travel Type" where you answer a few questions and they'll churn out your travel type: a family traveler, weekend wanderer, luxury lover, individualist, discoverer, or urban explorer.  And, then, you're entered to win an amazing all-expense paid trip to a variety of different destinations, including up to $3,000 in spending cash AND enough Marriott Rewards points to convert into an flight!  Check out the amazing prizes here .
On top of this, Marriott's giving me 50,000 Marriott Rewards points to give away to one lucky reader of our site .  Whoo hoo!  50,000 Rewards points is just about enough to get you a five night stay almost anywhere in the world and we're thrilled to be working with Marriott on this promotion, especially since we just stayed at the absolutely stunning Residence Inn by Marriott in downtown Hartford, Connecticut for my brother's wedding.  I can honestly say that the Residence Inn rooms were larger than most New York City apartments and we loved our luxurious stay there, so I feel very proud to be working with Marriott and their great brand of hotels on this promotion.
There are a variety of ways to enter this giveaway but the mandatory entry is that you need to hop over to the What's Your Travel Type widget , answer the few questions to find our your Travel Type, and then come back over here and input that information into the Rafflecopter widget below.  You can also like our page and the Marriott page and tweet this post (every single day, in fact) to earn extra entries.  Easy peasy!
So, get moving because I can't wait to see who gets this stash of rewards points.  The contest ends on August 31, 2012 at midnight EST.
a Rafflecopter giveaway
* Note: This contest and giveaway is sponsored by Marriott Rewards but we are not receiving any compensation whatsoever for offering this prize to our readers.  We just wanted to give away these points because we love you guys!