about
We are Akila and Patrick. Our minds (and waistlines) expand as we travel, cook, and eat our way around the world with our two dogs.
Our travels inspire our cooking. Join our feast around the world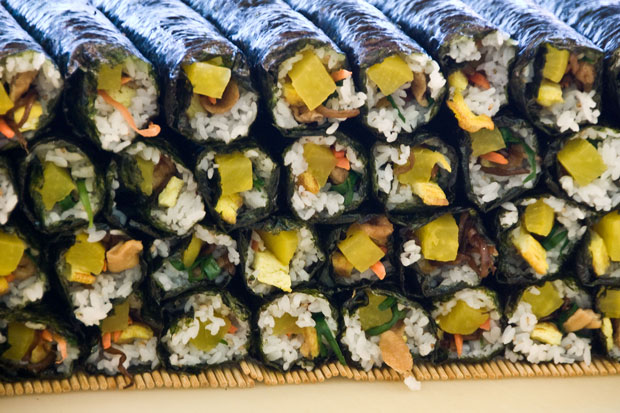 the transnational fast food theorem
The deliciousness of chain restaurants is inversely related to the distance from its home location. South Korea was our proof.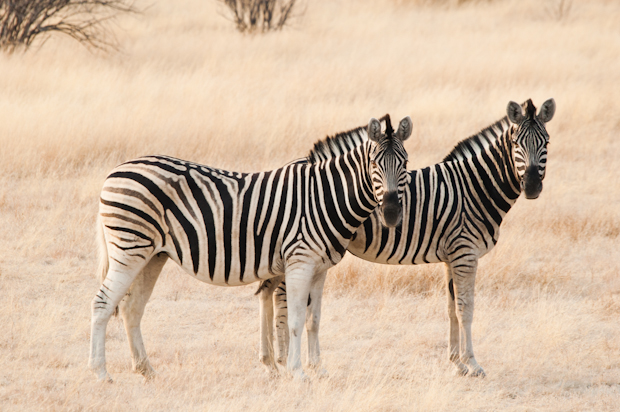 down by the watering hole
The ups and downs of finding wildlife at Etosha's watering holes.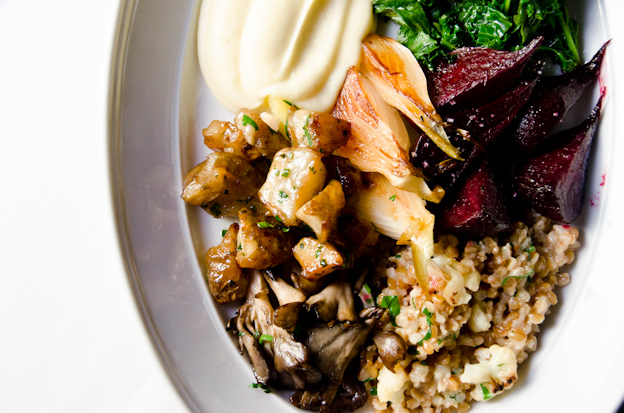 fig charleston
One of the best meals we have had in the last year.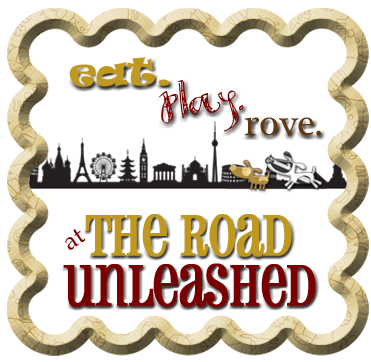 Five Random Links from our Blogroll :

Hungry Ghost
MyKugelhopf
Travel Calling
Gourmet Traveler 88
Nomadic Samuel
December 18, 2013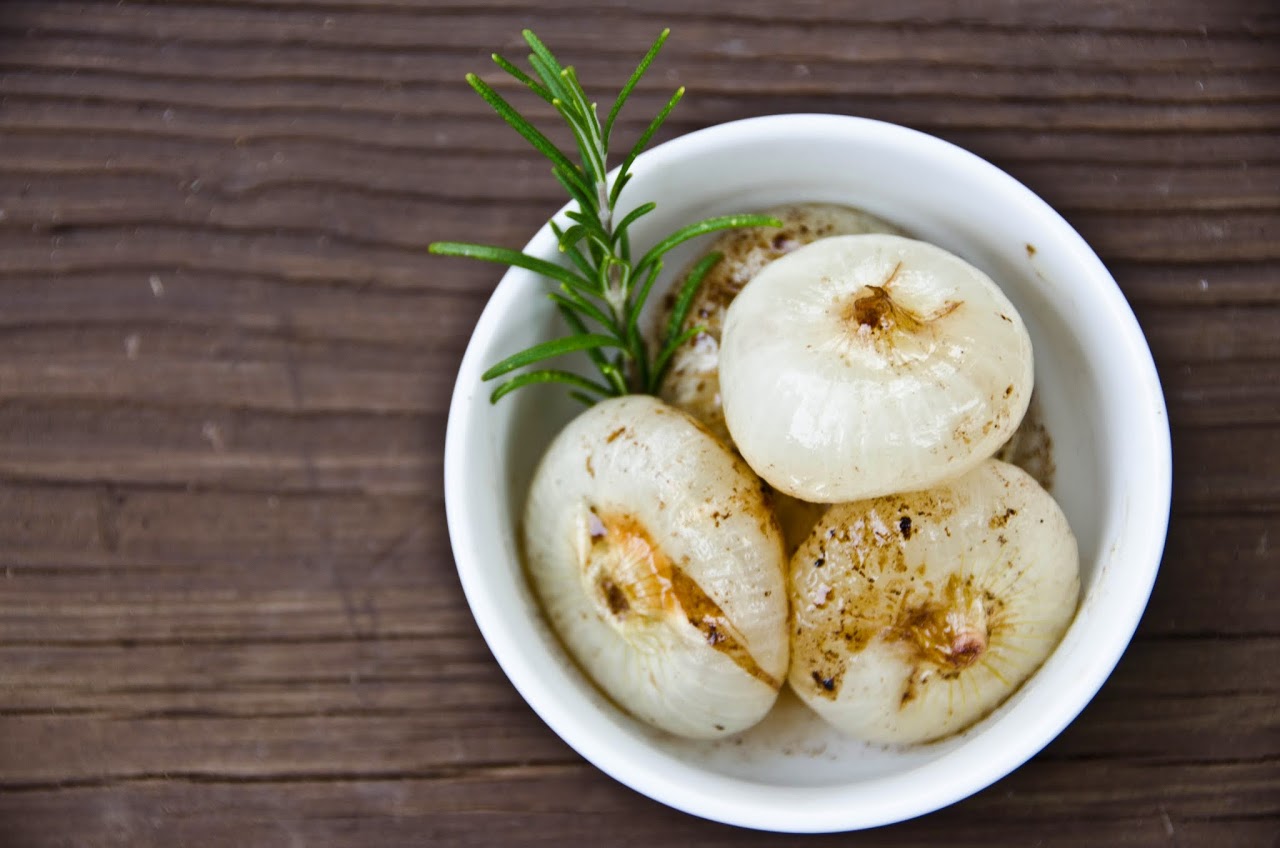 Venice is still busy in November.  There are tourists everywhere in the bright and sunny days.  (Though, is there ever a time when the tourists leave Venice altogether?  Probably not.)  We like the November evenings better than the summer evenings.  There's less heat, humidity, and stench.  I pull my fleece jacket close around my shoulders and Patrick zips his up to his neck.
We walk away from the Grand Canal, into small narrow alleyways, away, away, away from the noise.  We see a small door against a wall, light shining out as the door opens and closes, and men with half-filled wine glasses and burning cigarettes standing right before the entry, ushering us in with wafts of noxious smoke.  The decor is minimal, with a few wooden benches and tables crammed against the corner of a wall and men and women standing shoulder to shoulder in front of the long bar.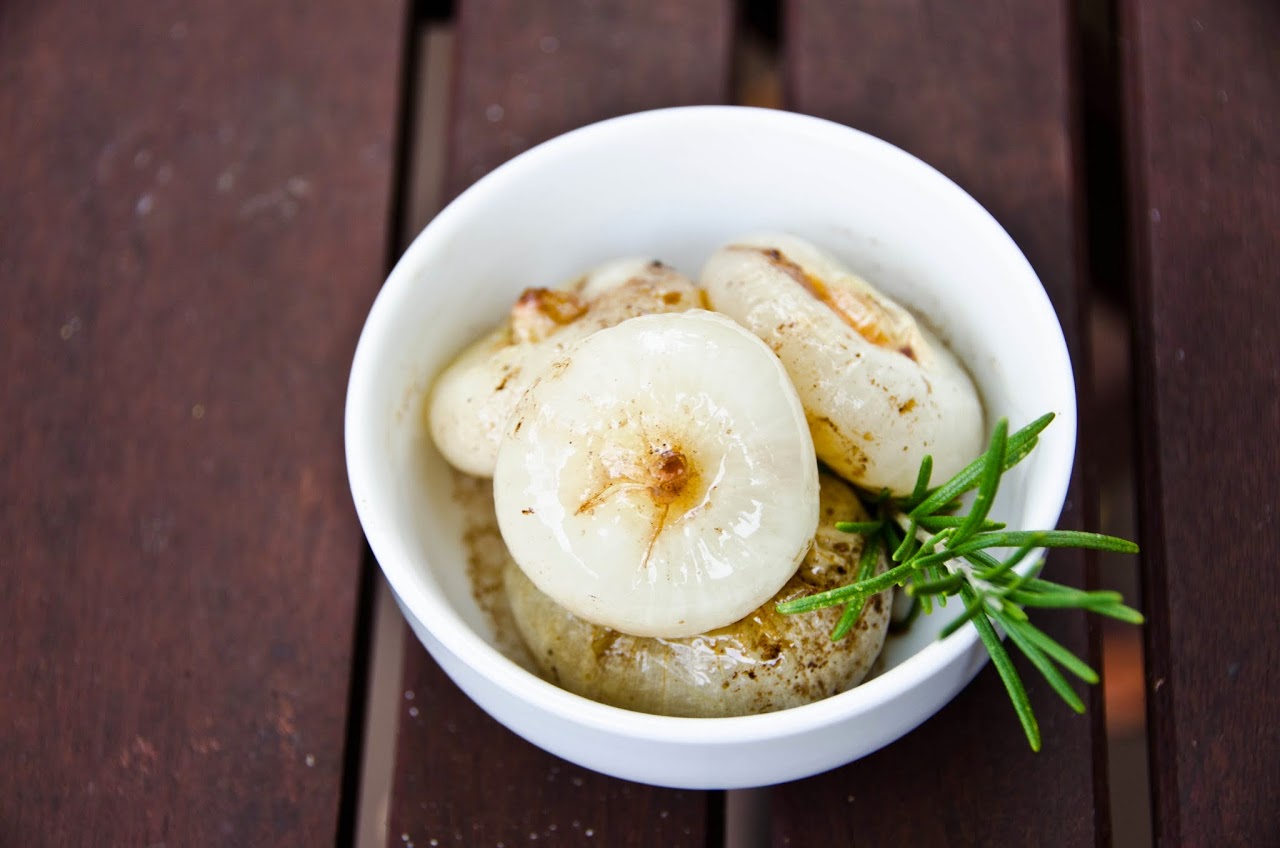 We immediately see the attraction.  Cichetti are arrayed in platters and bowls across the bar.  There is a good variety at this one: peperoni grigliata --- grilled and peeled red bell peppers; baccala --- pureed salted dried cod; carciofi grigliata --- artichoke hearts, marinated and grillled; mozzarella e pomodoro --- fresh balls of mozzarella with sliced tomatoes; bruschetta with prosciutto; calamari; and more.

And, there are the cipollines al aceto balsamico, or balsamic glazed cipolline onions.  The first bite surprises us.  Our mouths pucker from the vinegar and then relax as we taste the underlying sweetness of the reduced balsamic vinegar.  We try another bite.  This time we are prepared for the sensations of vinegar and sweet and we feel the texture.  Soft, billowing layers of onions melt against our tongue and we catch hints of rosemary and butter.  We go back to the counter and order them all.
And, we return the next night and order all the cipollines again.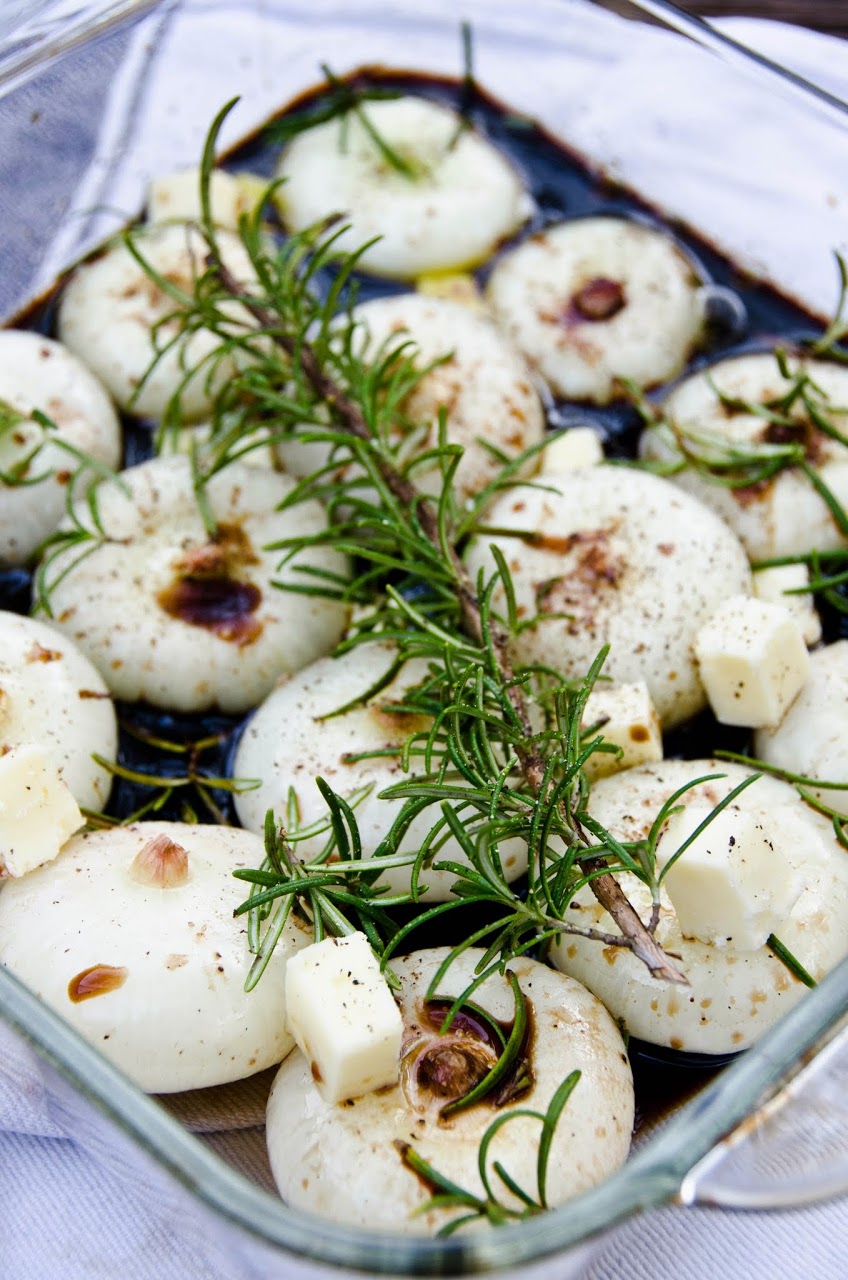 When we came back to the United States, I tried a whole host of balsamic glazed cipolline recipes including ones from Mario Batali , Deb from the Smitten Kitchen , and Bon Appetit magazine .  None of them had the puckering sweetness of the cipollines we tried in Venice and I realized that the problem is that every single one of these recipes relies on sugar to enhance the flavor of the balsamic vinegar.  I dropped the sugar and simplified the recipe.  The result has a less thick glaze than what you might get if you make Mario Batali's recipe but it is, I think, a purer and superior version of the dish.  It is a fundamentally Italian recipe --- very few ingredients of extremely high quality --- so that the cipollines take on the strong flavors of red wine and balsamic.  We serve it often in the winters, with rich casseroles and soups, as a small plate or side dish, sometimes for the holidays, to remind us of Venice's meandering canals.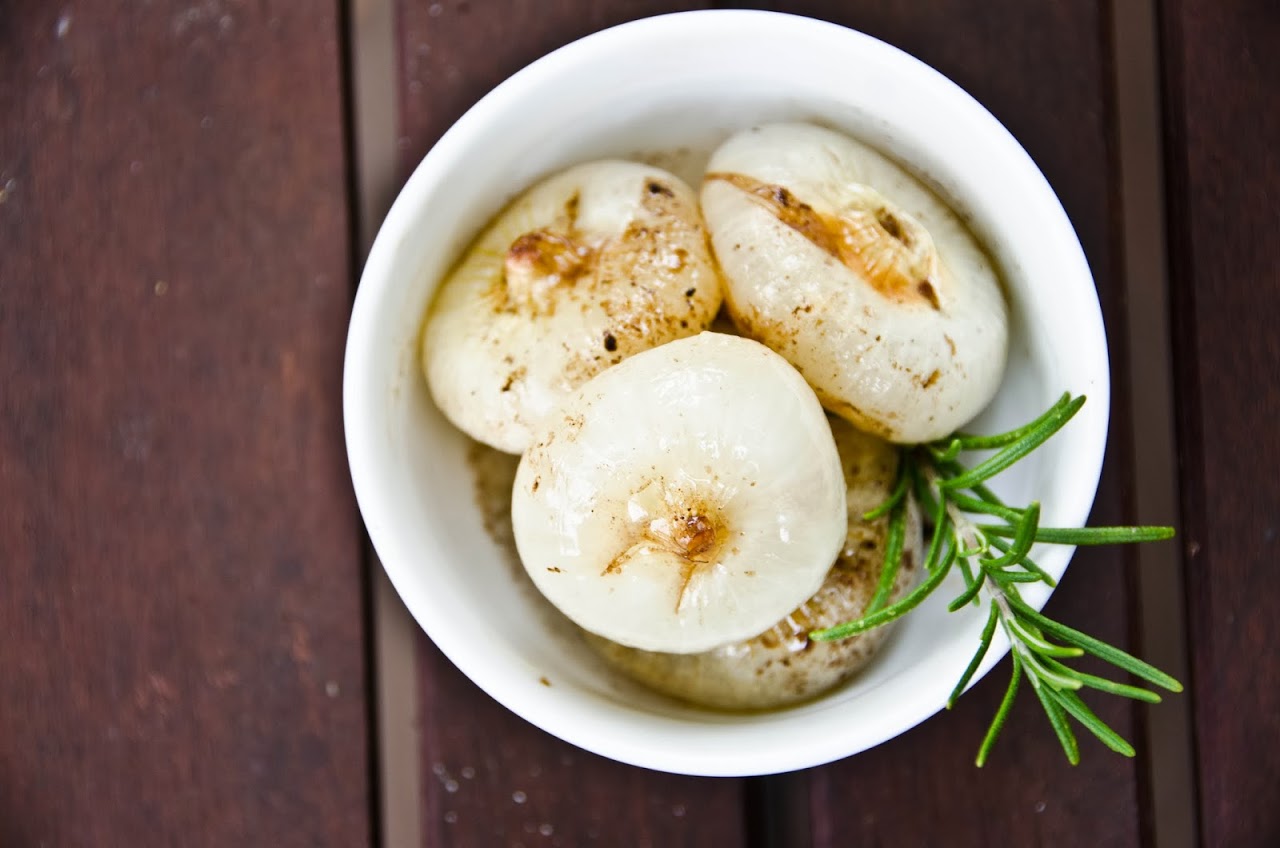 November 22, 2011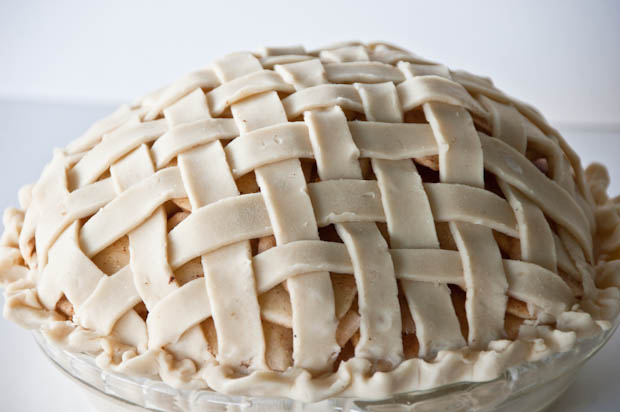 Grandma Ople's Apple Pie, prebaking
These are pictures from last year's Thanksgiving.  Actually, they could be pictures from any Thanksgiving we've had in the last thirteen years because this is my standby, must-have, Thanksgiving-would-not-be-Thanksgiving-unless-I-made-this pie.  This year, we are driving back from Rome to England and will be stuck in a hotel outside Calais on Thanksgiving day.  But, if we were at home --- or if I had a kitchen --- I would be making this pie.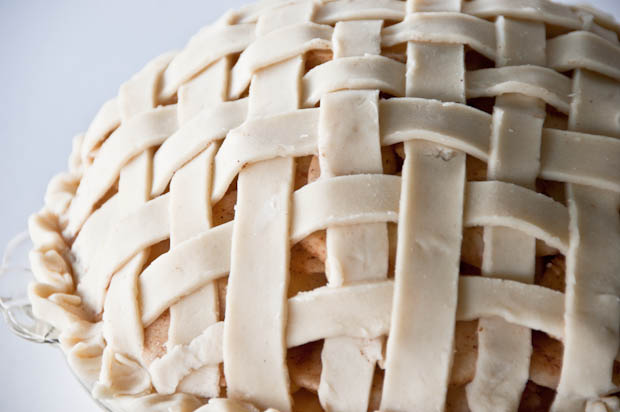 Grandma Ople's apple pie pre-baking
Remember way back when food and recipe websites were fledgling entities limited to CakeRecipes.com, PieRecipes.com, and FoodTV.com?  I was one of the early adopters, absolutely amazed with this idea of being able to share recipes with people all across the world, and one day, while searching for an apple pie recipe, I found Grandma Ople's Apple Pie .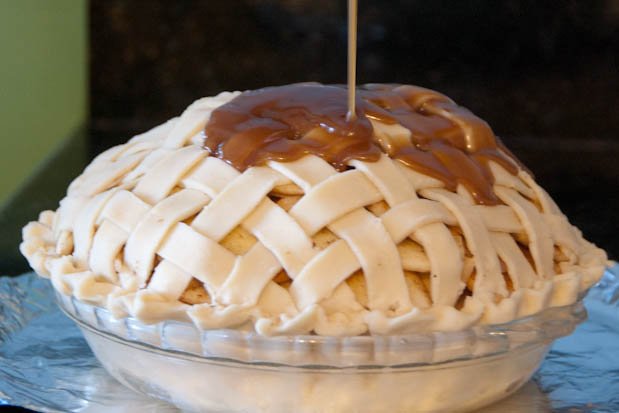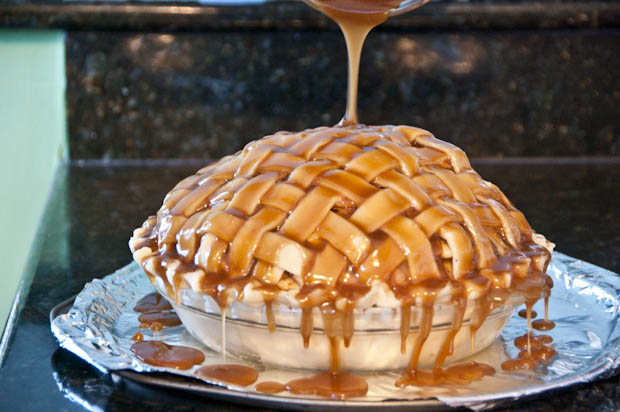 Pouring the caramel on top
Well, years have come and gone, gray hairs have been found, weight has been gained and lost, and countries have been traversed, but this recipe has stuck it out on our Thanksgiving table.  It's one of those pies that gets demolished near instantaneously despite the fact that everyone claims that they're too stuffed to have even one more bite on Thanksgiving Day.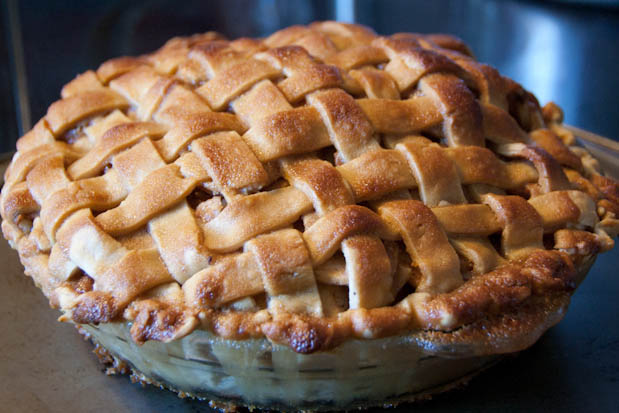 Grandma Ople's Apple Pie, baked.
What I love is that it is simple, can be made the day before, yet remains a show-stopper on the big day.  (See that up there?  Show stopper, right?)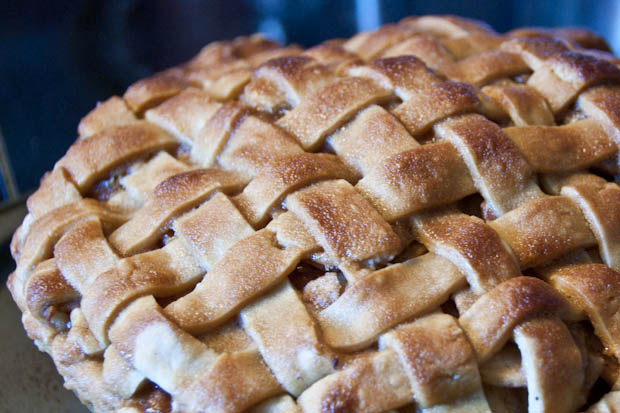 Grandma Ople's Apple Pie baked
From start to finish: thinly slice apples; mix said apples with cinnamon, nutmeg, cloves, and allspice; heap apples into a pie crust; create a lattice crust on top; make a ridiculously indulgent caramel sauce; pour caramel sauce on top; bake.  Stare at your beautiful creation.  Pretend that you are the world's greatest master chef and speak in loving tones of the legendary Grandma Ople .  Eat.  Receive praise.  Blush modestly while you describe the agonies you took to make this creation.  Eat some more.  Watch covetously as the last Polite Piece (that's the piece that everyone wants but worries will be impolite to eat) goes into the refrigerator to be consumed by some intrepid pie-thief before braving the throngs on Black Friday.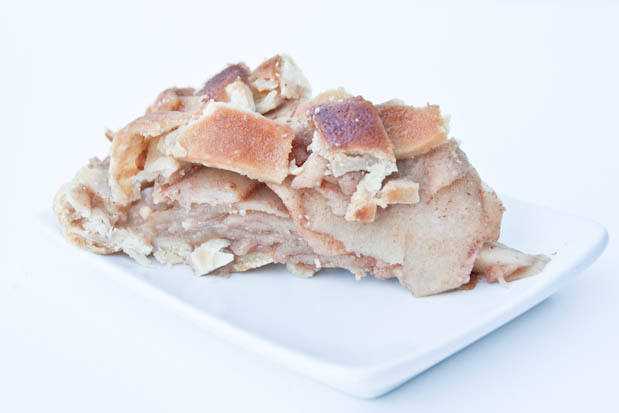 Last year's Polite Piece
Yeah, I'm going to miss Thanksgiving this year but I hope that all of you have a wonderful, wonderful holiday celebrating with the people you love and the food that makes us hunger.
Grandma Ople's Apple Pie
Adapted from Grandma Ople's Apple Pie at Allrecipes.com
Time: 1.5 hours (depending on how much of a perfectionist you are with lattice-making)
Serves: 8 people

Ingredients
1 recipe pastry for a 9 inch double crust pie*
5 Granny Smith apples**
2 Golden Delicious apples
1 Red Delicious apple
1/2 lemon, juiced
3 tablespoons cinnamon
2 teaspoons freshly ground nutmeg
1 teaspoon allspice
1 teaspoon cloves
1/2 cup unsalted butter***
3 tablespoons all-purpose flour
1/2 cup white sugar
1/2 cup packed brown sugar
1/4 cup water

Directions
1.  Peel, core, and very very thinly slice all the apples.  You want your apples to be in slices about 1/8 inch thick.  (I find that a food processor with the slicer blade works well and fast for this task.)  Place apples into a large bowl.
2.  Mix apples with lemon juice (to prevent browning), cinnamon, nutmeg, allspice, and cloves.  Mix well so that the spices cover all the apple slices.
3.  Melt butter in a saucepan at medium-low heat.  Stir in flour to form a paste.  This will take some time but keeping it at medium-low heat will help you get a beautiful caramel topping.  Add white sugar, brown sugar, and water; bring it to a boil at medium-low heat.  Reduce temperature and simmer for at least 5 minutes or when the caramel coats the back of your spoon.
4.  Meanwhile, butter the bottom of a 9-inch pie pan lightly.  (Please use glass or ceramic pie pans --- aluminum foil pie pans will not hold up the weight of the apples.)  Place one pastry crust into bottom of the pie pan.
5.  Mound apples on top - your apples should create quite a heap.  Create a lattice work crust with the remaining pie crust.****
6.  Place your pie on an aluminum-foil covered cookie sheet.  (Please, for the sake of your hands and your cookie sheet, cover it with aluminum foil because the caramel WILL drip off.)  Gently pour the caramel over the pie crust.  Pour slowly and steadily so that the caramel evenly covers the entire crust.

7.  Bake 15 minutes at 425 degrees.  Reduce temperature to 350 degrees and continue baking for 35 to 45 minutes or until the pie is a lovely golden brown.
* I have used this pie recipe which is pretty basic stuff --- flour, butter, salt, and ice cold water --- but, often I cheat and use Pillsbury's Refrigerated Pie Crusts which you can roll out onto a work surface and smooth out.  The homemade crust has a better flavor and flakier texture BUT I find that Pillsbury's version stands up better to the hot caramel poured on top.  If you're in a timecrunch, Pillsbury's is a perfectly acceptable substitute for this particular pie.
** The original recipe calls for 8 Granny Smith apples but over years of experimentation, I have found that we prefer mixing Granny Smith, Golden Delicious, and Red Delicious.  The Golden Delicious apples become quite mushy while the Red Delicious and Granny Smith retain their firm texture, creating a lovely mix of applesauce and apple slices in the finished pie.
***I have tried substituting margarine for unsalted butter and found that the caramel did not form as well with margarine rather than butter.  Stick with butter.  It's only Thanksgiving once a year.
****A latticework crust is one of those incredibly simple things that looks extraordinarily difficult to make (like creme brulee ).  There is a very good instruction explanation here , but what I do is cut my pastry crust into long strips and weave the strips back and forth across the pie, as if I were weaving a basket.  I keep the weaves quite loose until I get to the end, at which point I pinch all the "connections" so that the lattice crust looks pretty and stays together while baking.
February 3, 2011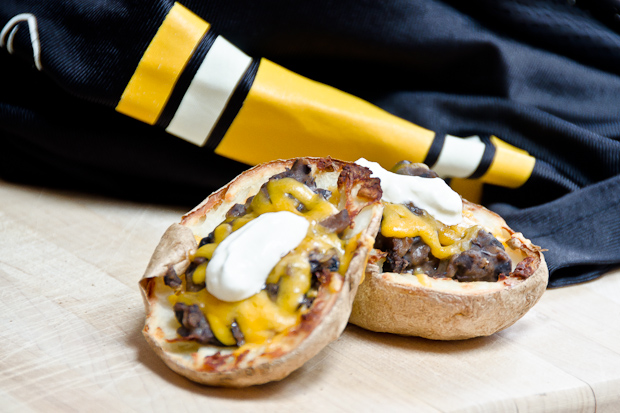 Steelers potato skins
There's a game this weekend, as you know.  In our house, the Super Bowl is an event every year . . . but, this year is more important than most.  Patrick is a proud Pittsburgh Steelers fan, part of the nationwide network of people who support the guys in black and yellow.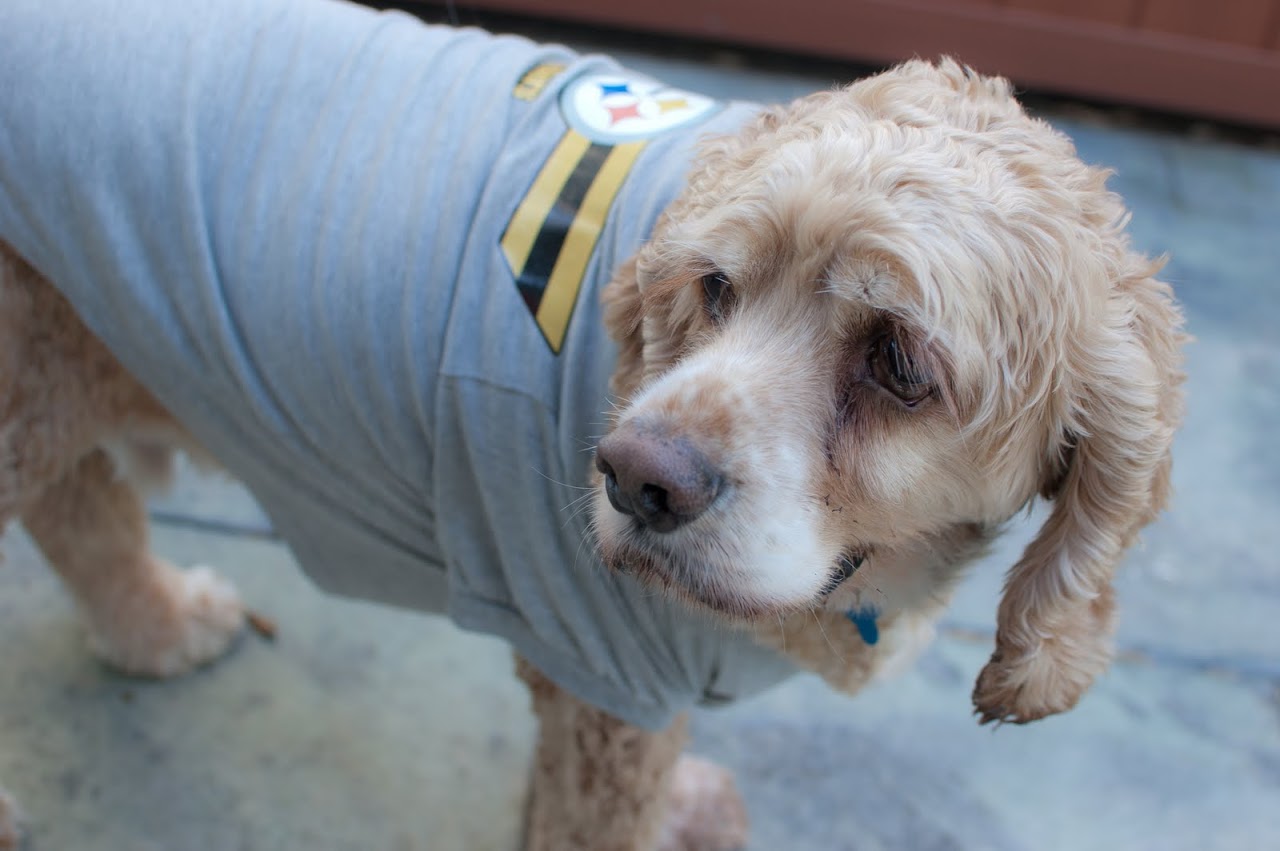 Chewy in his Steelers shirt
The idea behind this recipe came from Food Network's recent showcase of NFL themed potato skins , with Georgia Peach Potato Skins for the Atlanta Falcons and Wisconsin Beer Brats Potato Skins for the Green Bay Packers.  Clever, yes, but not very vegetarian-friendly and none of the potato skins showcased the team colors.  So, I fiddled around with a couple of versions and came up with this one: a black, yellow, and white potato skin recipe that's as tasty as it is full of team spirit.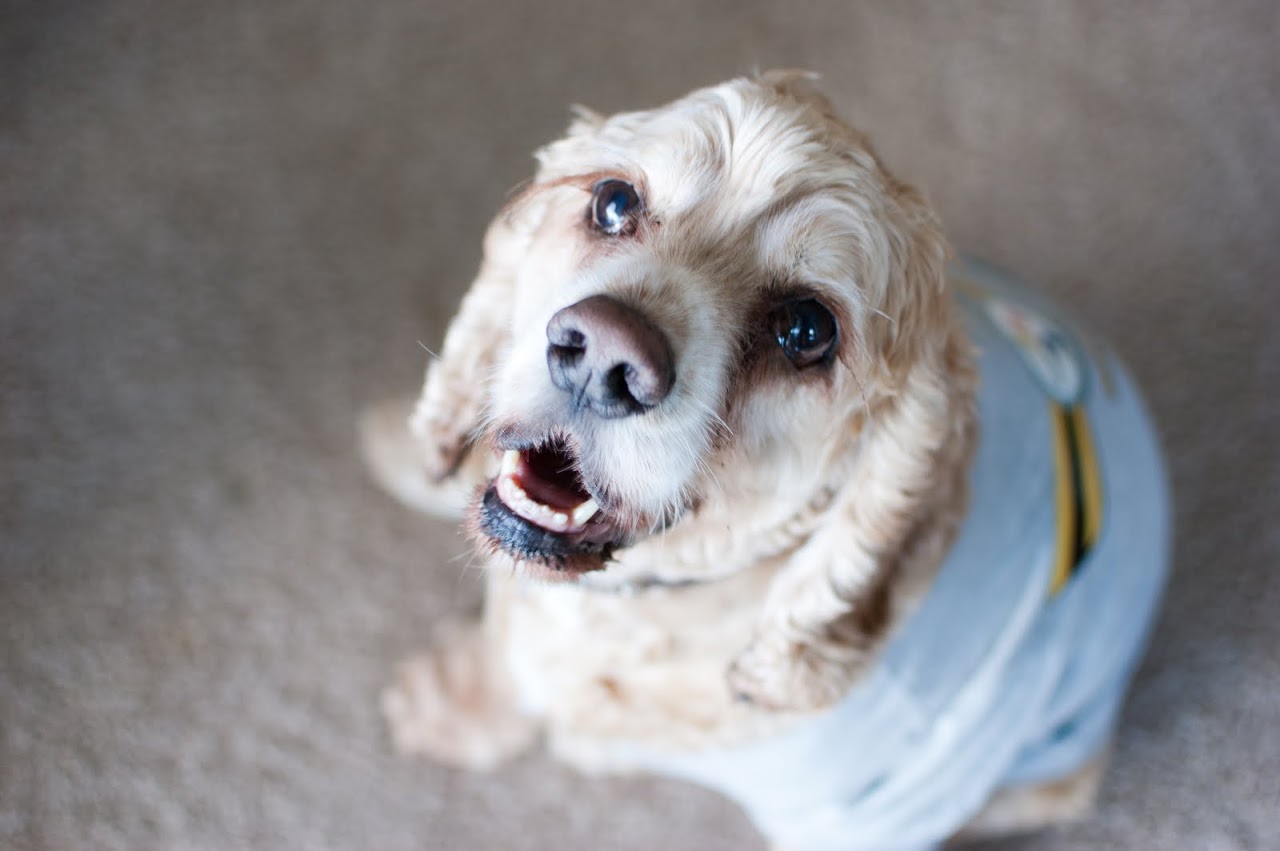 Chewy in his Steelers shirt
Steelers Nation, this recipe is for you.  (And, if you'll only be watching the game for the commercials and the awesome-looking Glee episode afterwards, this recipe is still for you.)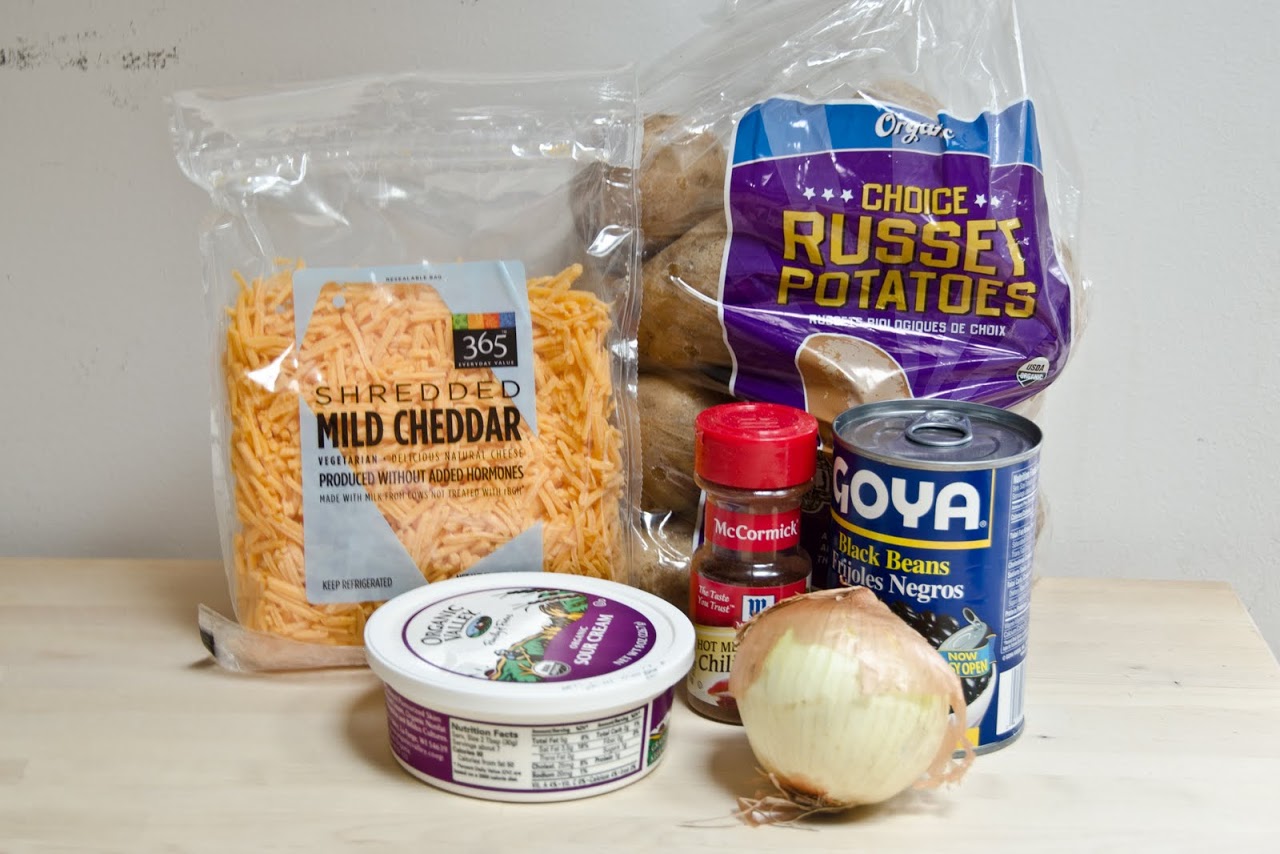 Ingredients
Even if you're stuck at home in the snow (which seems to be pretty much everyone living above the Mason-Dixon line on the east coast), you probably have everything you need to make this recipe: medium-sized potatoes, black beans, an onion, chili powder, cheddar cheese, and sour cream.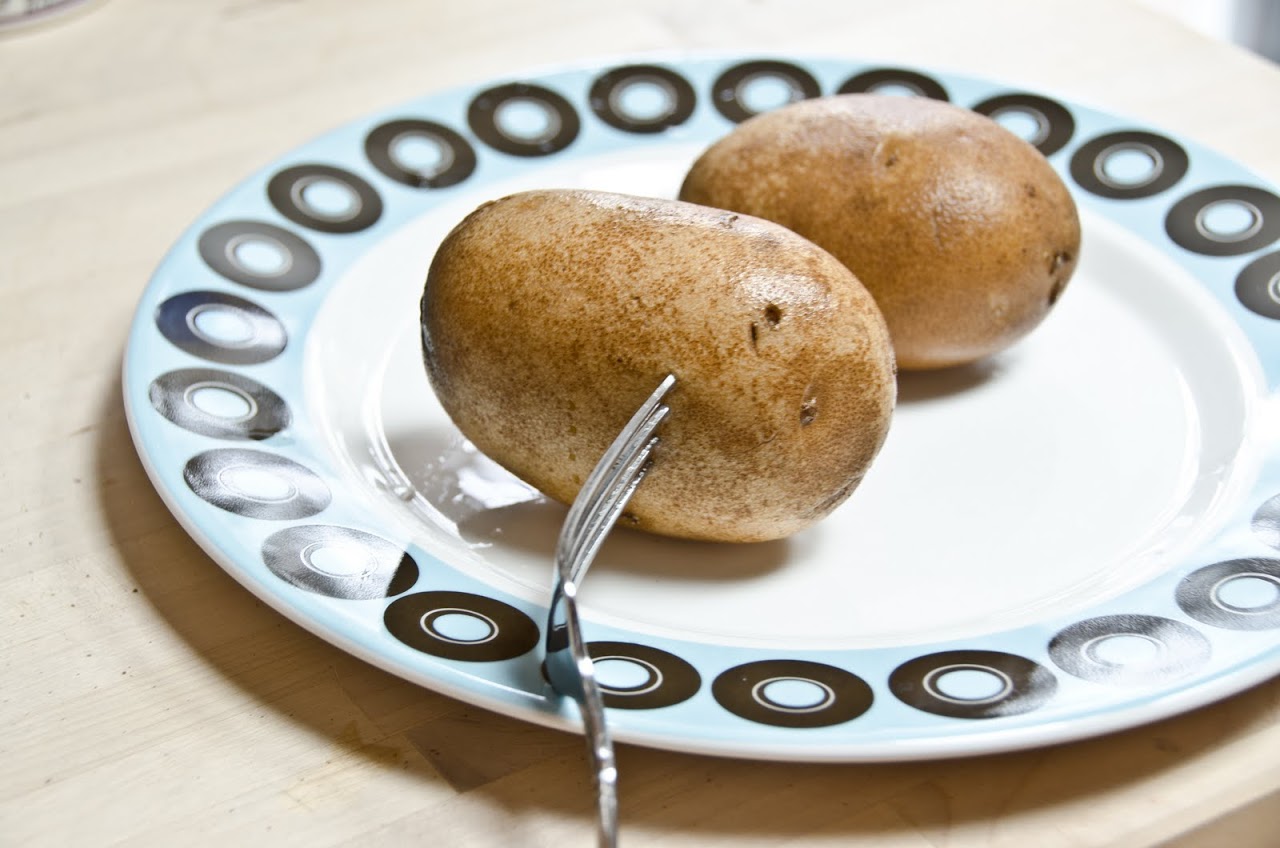 Potatoes
Here's what you do: poke some holes into your potatoes.  Stick them on a plate and microwave them for 5 minutes.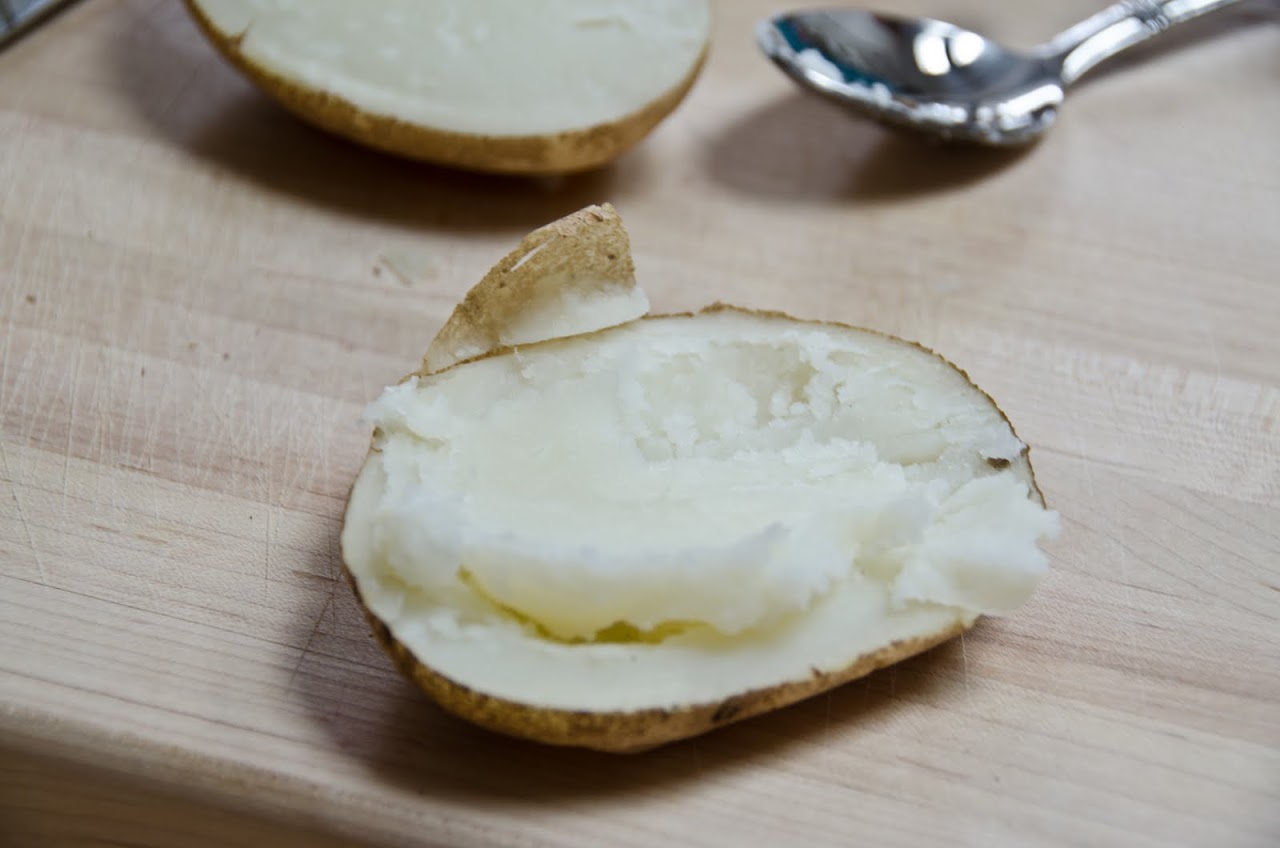 Potato shell scooped out
Cut the potato in half lengthwise.  The innards should be soft and flaky but not completely cooked through.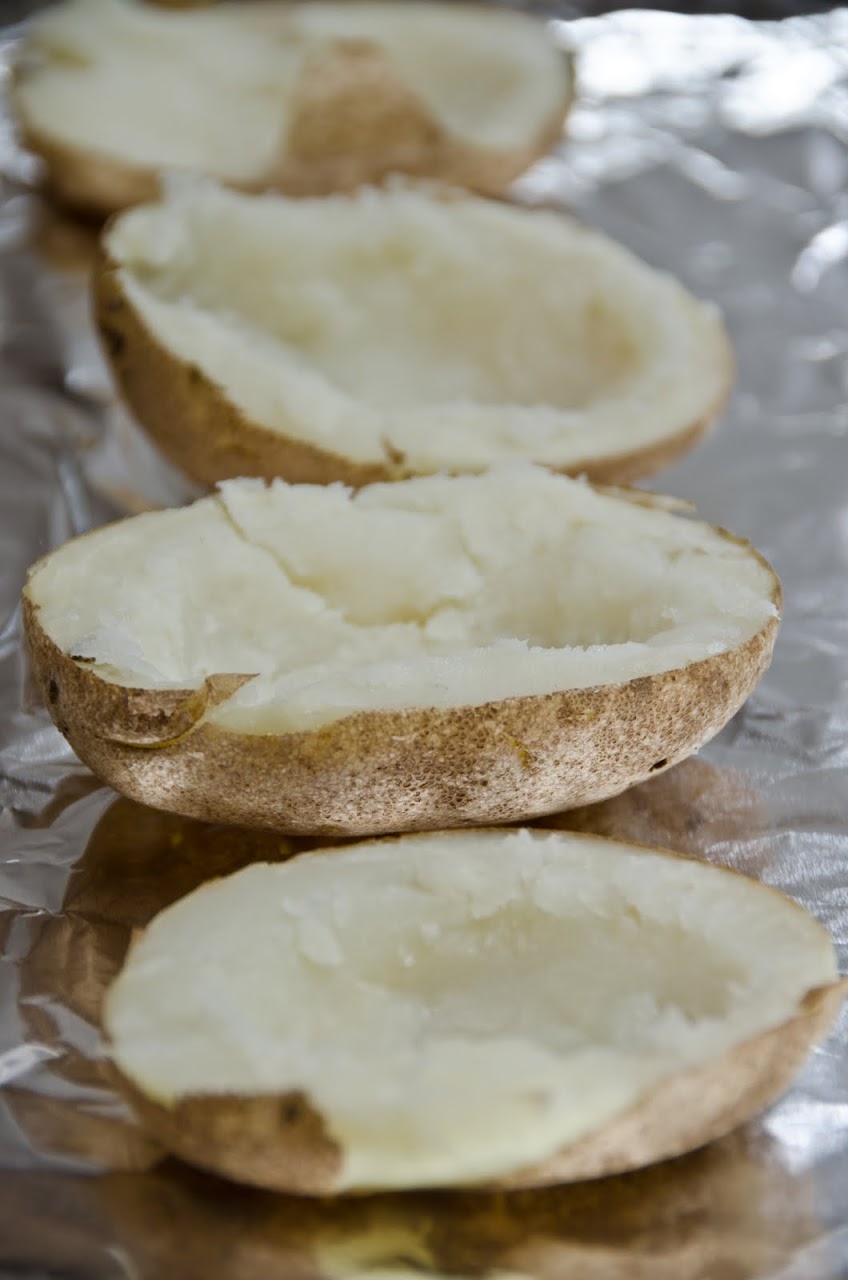 Potato shells
Remove some of the potato interior, leaving about a 1/4 inch thickness on all sides and the bottom.  Your potatoes should look like small bowls.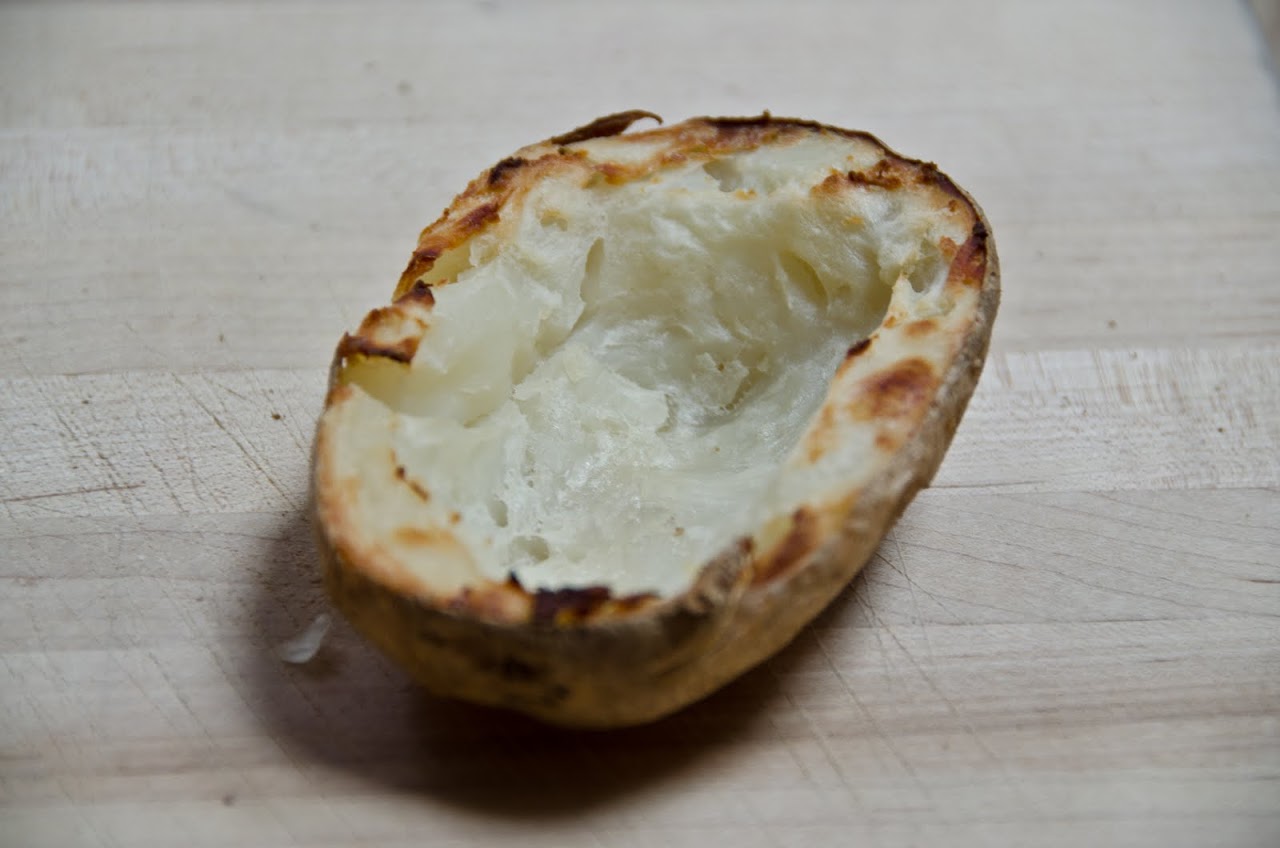 Baked potato skin
Bake your potato shells in a preheated 450 degree oven for about 45 minutes or until the shell is cooked all the way through when you poke it with a fork and the edges have a nice brown crust.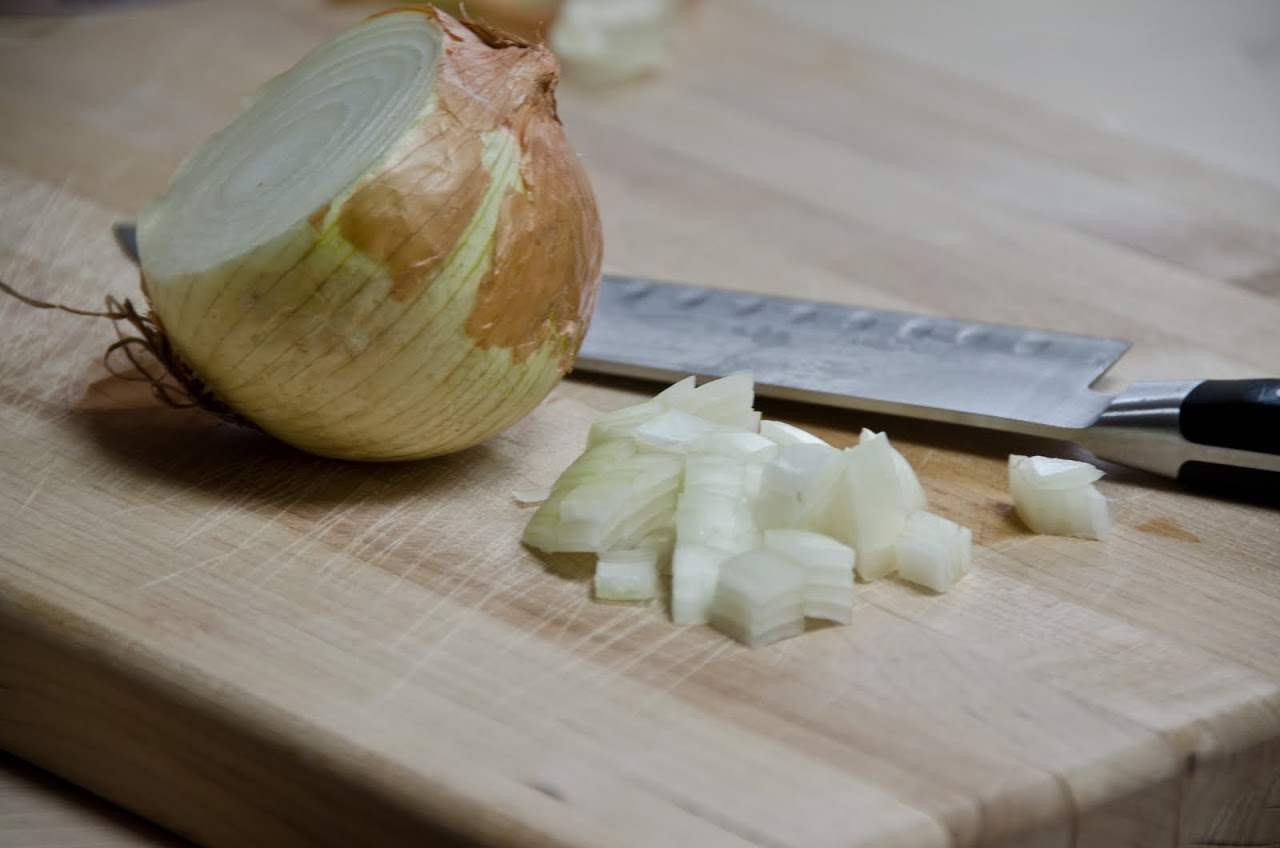 Onion chopped
While your potato skins are baking, chop up a quarter onion and saute in a pan with a teaspoon of oil over low heat.  Add a can of black beans and a half teaspoon of chili powder, depending on how much you like spice, and then mash the black beans against the sides of the pot.  You want your black beans to be thick and creamy so add a little bit of water if they get dry.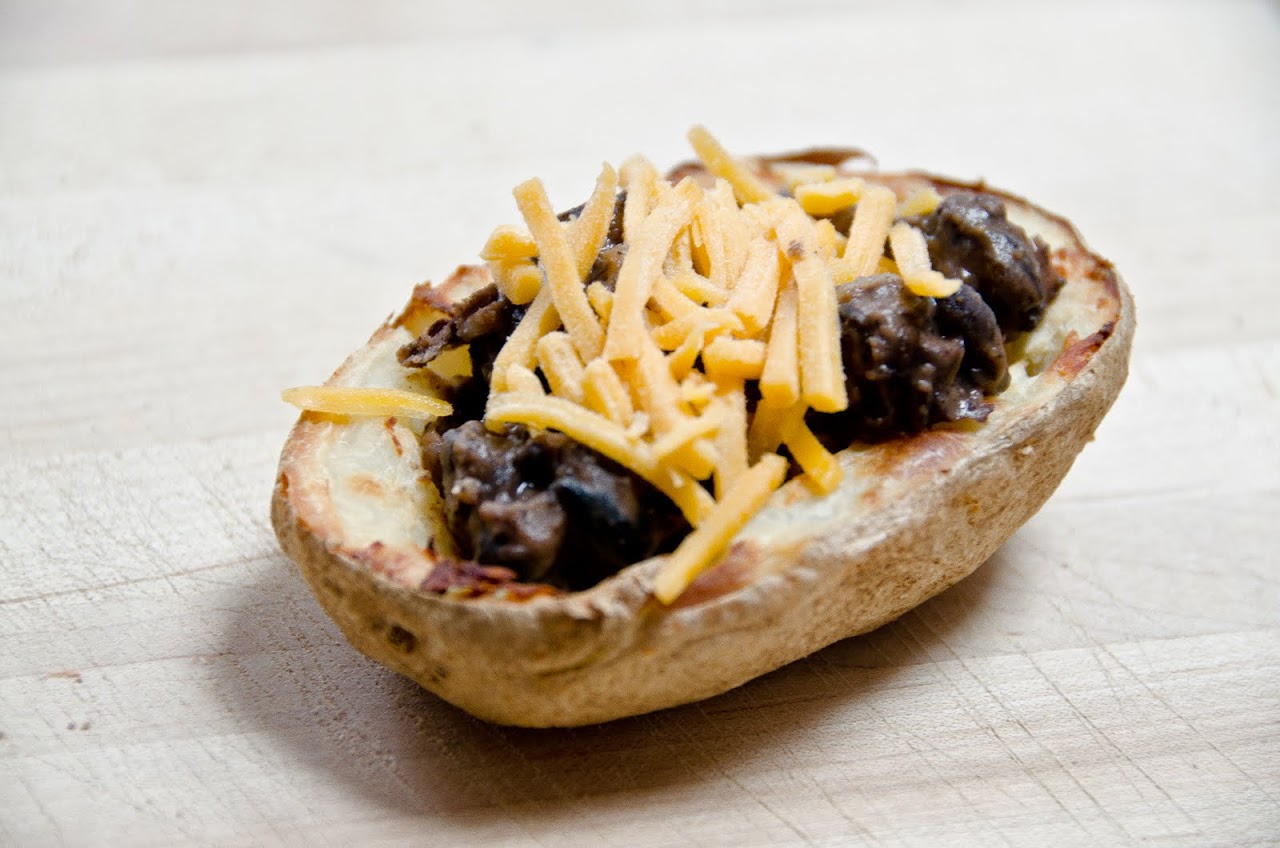 Potato skins ready for the last step
Once your potato skins are cooked, plop some of the black bean puree in each of the shells and top with a tablespoon of cheddar cheese. Then stick your potato skins back in the oven for 3 to 5 minutes, or until the cheese has melted over the black beans.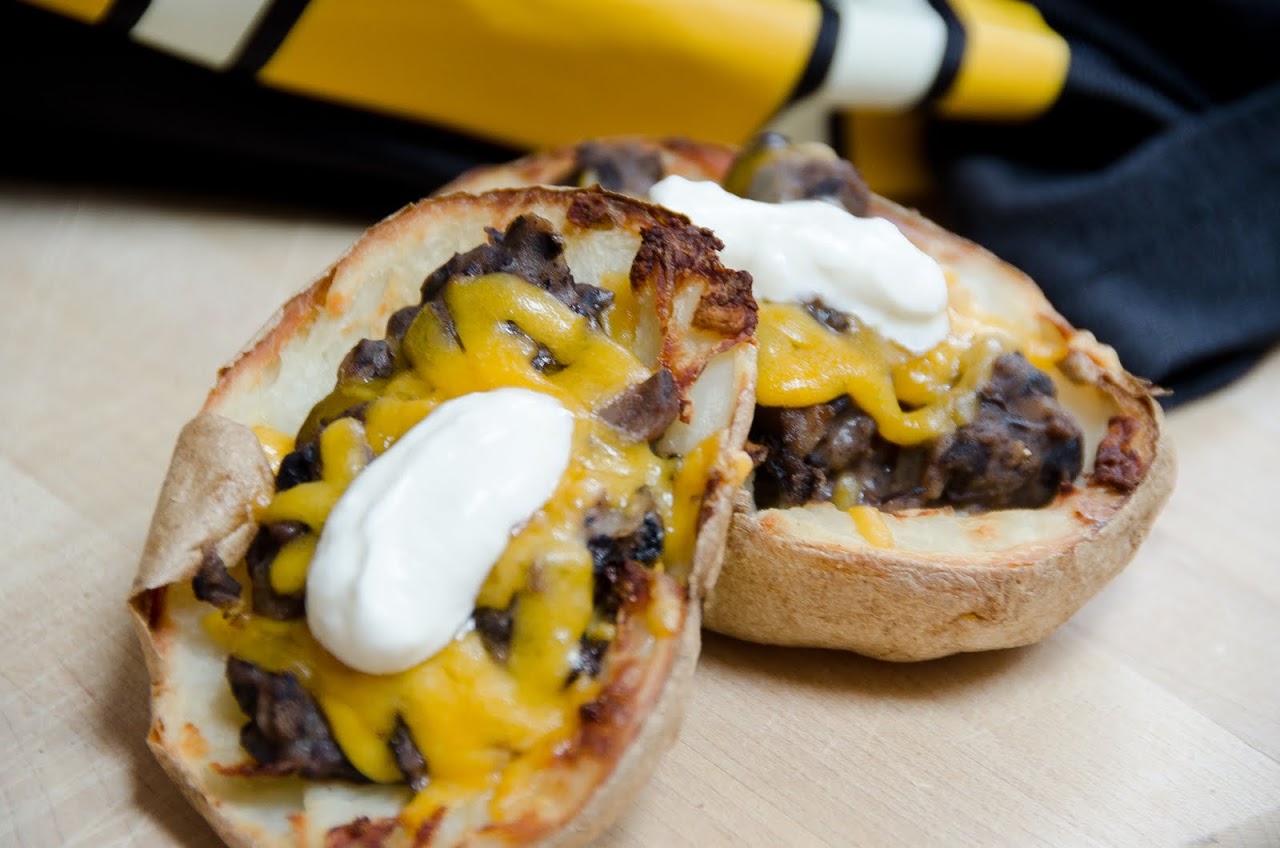 Steelers potato skins
Drop a dollop of sour cream on top and you're ready to root for your team.  Now, doesn't that just get you in the mood for some football?  [By the way, if you're rooting for that other team , you could substitute the black bean puree with a creamy spinach dip and top with yellow cheddar and sour cream for a green, yellow, and white potato skin.]
January 25, 2011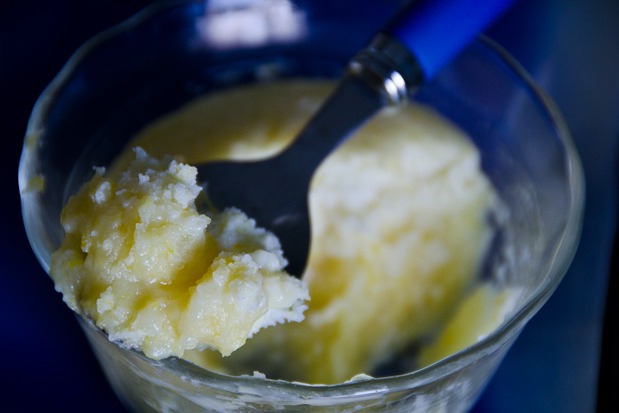 Meyer lemon budino
A few months ago, Patrick and I went to see Anthony Bourdain speaking in Atlanta.  There were times when I found myself nodding my head with what he said and other times that I totally disagreed with his opinions but I remember one thing in particular that he mentioned.  He said that he liked how "good food has become accessible."  I like that, too.
Meyer lemons
For example, a few years ago, I found a Meyer lemon recipe that sounded just about perfect; but, I couldn't find any of these slightly sweeter sisters of the regular lemon.  Finally, I went to Whole Foods and found one for $1.99.  One Meyer lemon for almost two dollars!  I choked back my disappointment and walked out of the store.
Buttering a custard cup, sugar in bowl, zesting lemon, soft peaks egg whites
Last week, my mom came home and showed me her find from the local Wal-Mart in rural Alabama:  5 Meyer lemons for $1.99.  Five!  Five gorgeous, bright yellow, sweet-sour, citrusy ovals of lemony goodness for only $2.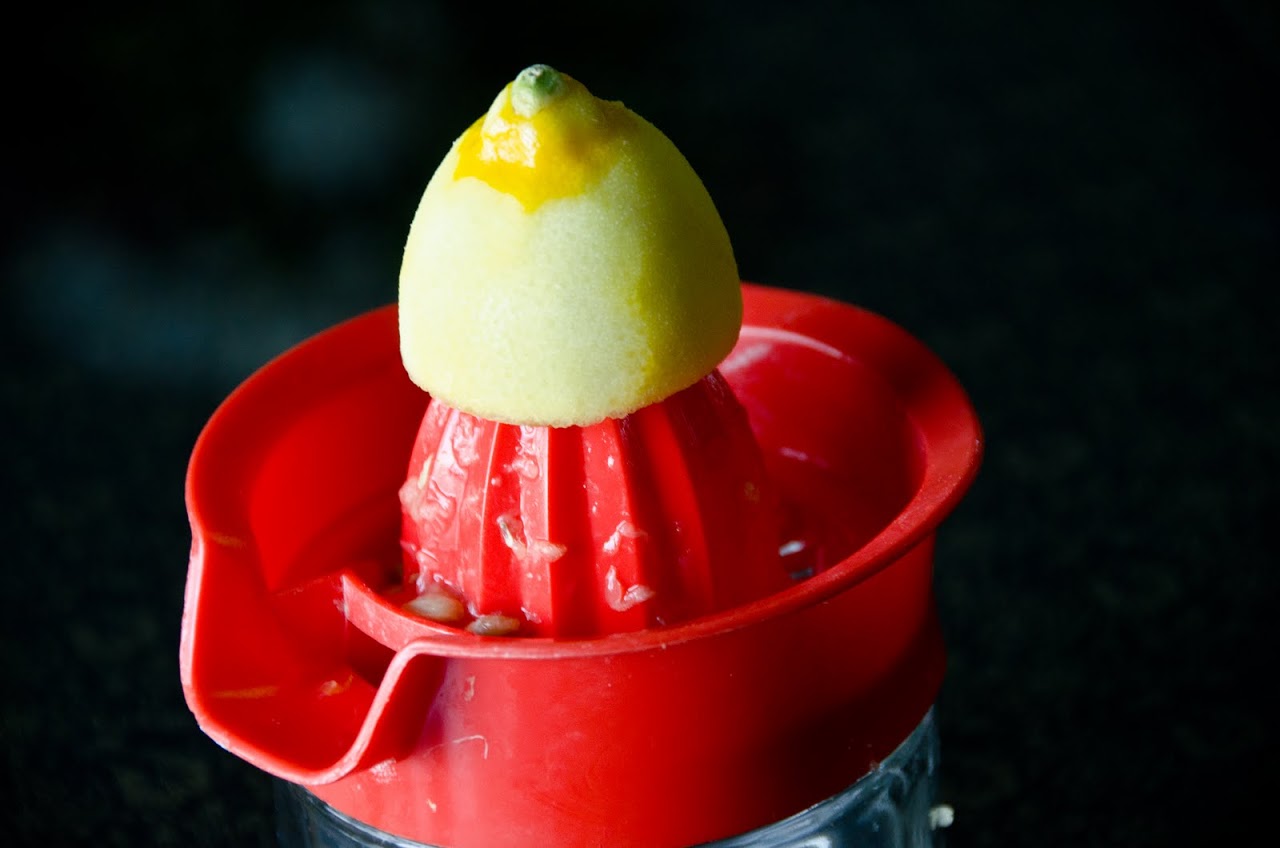 Squeezing Meyer lemon
I went back to Epicurious and pulled out this Meyer lemon budino recipe that I had been craving for all those years.  A budino means pudding in Italian and, yes, there were a few moments when, after all that waiting, I worried that Meyer lemon pudding would be completely gross.  But, I made it anyway, relying on the commenters at Epicurious who raved about the flavor and texture.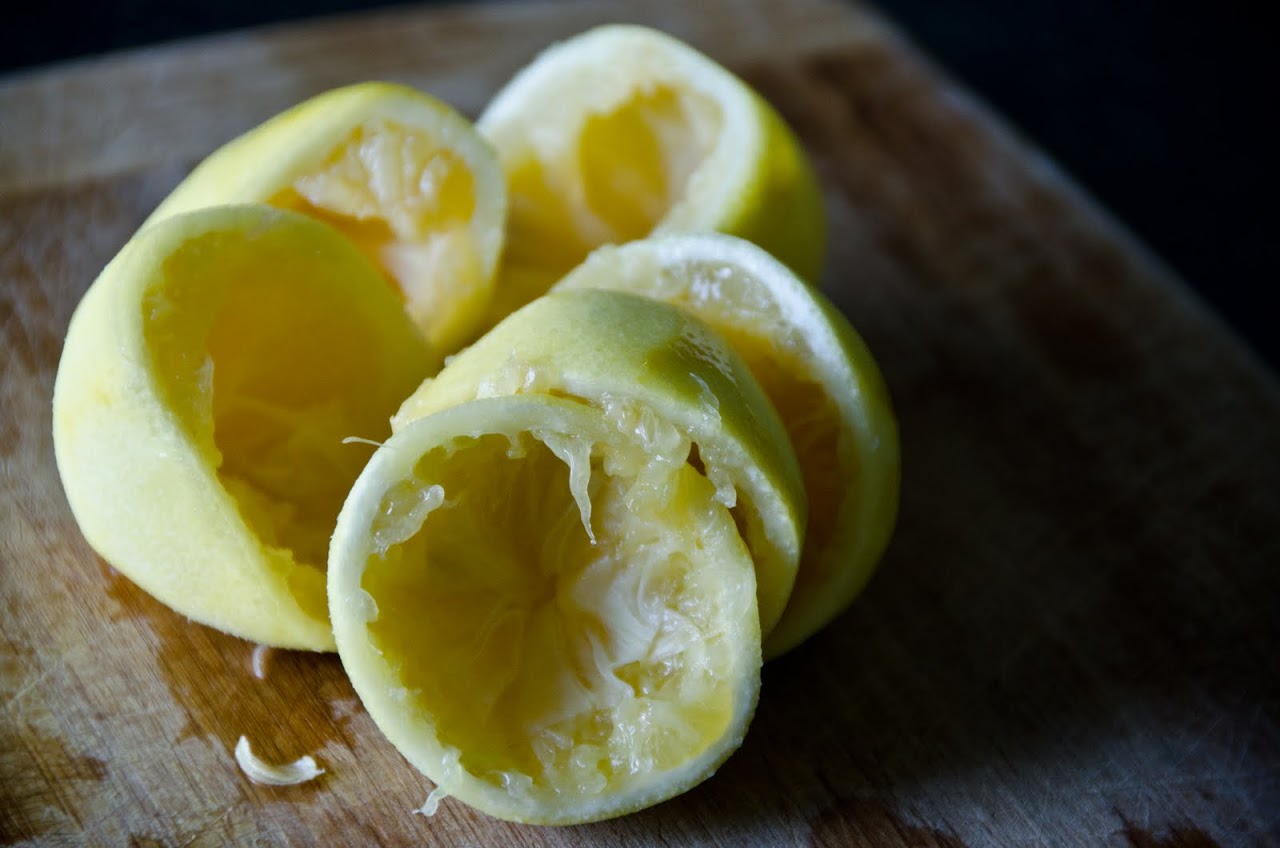 Meyer lemons, squeezed and zested
I liked that there is nothing fancy about this recipe.  Aside from the Meyer lemons, I used basic ingredients I already had on hand: eggs, sugar, flour, milk, and a pinch of salt.