Torre on her journey
About six months ago, when I was having my own little freak out about sending my book off to agents , Torre deRoche got in touch with me to let me know about her very similar struggles with the publishing process.  I already knew about Torre's beautiful site --- the Fearful Adventurer --- because I loved the tongue-in-cheek title, gorgeous graphics, and clever writing.  Though named the Fearful Adventurer, Torre was never afraid to poke fun at herself, her qualms --- including a deep-seated fear of water, boats, and sharks --- and the crazy way in which love changed her life.  So, when I found out that she had written a book,  I begged for a review copy offered to review her book.
Love changes us.  We all know that.  Some of us become kinder, others become more fun and easygoing, and for others love is the catalyst that leads to stability and responsibility.  But, in Torre's case, love swirled her life upside down, inside out, and across the world.
Her book, Swept: Love with a Chance of Drowning
, is her love story. She unexpectedly fell in love with Ivan, who was planning to travel from San Diego to Australia in a sailboat a few months after they met.  When faced with dealing with her fear of the ocean or letting him go without her, she chose him.  What follows is a love story wrapped in a travel memoir, of islands seen, distances traveled, aches, mistakes, and arguments, and two questions underlying every moment of their journey:  can Torre withstand seasickness, awful disasters, and navigational errors to arrive in Australia, and will Torre's and Ivan's relationship last the most intense type of long-term travel?

I can give you three simple reasons you need to buy this book, hunker down, and read it today:

1.    It will make you want to go.  The best travel memoirs are the ones that capture the brilliance, intensity, and reality of a place so deeply that you want to be there in that place as soon as possible.  I finished reading her chapters on the mesmerizing South Pacific and I turned to Patrick and said, "Do you think we could sail the South Pacific?"  He turned right around, reminded me that I can barely stomach a short boatride to dive sites, and laughed.  But, I still want to go and see these places that she writes about with compelling clarity.

2.    It will make you laugh.  Travel –-- and especially long-term travel --- is filled with ridiculous situations that make us cringe while living them and laugh in the long-term.  Torre the author recognizes the humor, craziness, and ridiculousness perpetrated by her twenty-something self.  She describes the worst bits of her every day with brutal honesty, sarcasm, and wit, so that you cannot help but empathize with her while laughing at their struggles.

3.    You will remember her words.  The best praise I can give any author is that I remember his/her words.  Certain authors write descriptions that stick with the reader, so that the words implant themselves in the mind as the perfect way to explain such a thing.  I can recite to you the descriptions of a taut snare-drum-like pregnant belly in Pulitzer Prize winning Jhumpa Lahiri's Namesake , the words Bilbo spoke to the crowd gathering around him at the Party Tree in the classic Fellowship of the Ring , and the very beginning of Chris Cleave's Little Bee as the protagonist wishes that she was a pound note.  And, now, Torre has added descriptions to my lexicon: of woodpecker kisses and bits and bobs dangling in photos.

Of course, there are things I dislike.  I personally don't like prologue, epilogues (even the Harry Potter 7 epilogue), and titles with semi-colons, and Torre includes all of them.  I also felt that the conclusion was a bit rushed because both main questions driving the book are resolved in the last 95% of the book.  Nonetheless, these are minor complaints and don't deter me from recommending this book in the least.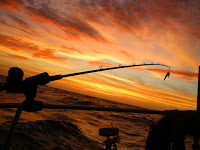 Sunset from their boat
Ultimately, the reason Torre's writing – and book is great --- is because it is real, witty, and intensely truthful about a crazy journey through some of the most beautiful places on this earth.  Her voice is wry, sweet, and full of laughter, so that long after reading her travel memoir, I remember her words.
And, I get to give away one of Torre's books to a reader! Fantastic, right?  All you need to do is:
Leave a comment below telling me (and Torre) about one crazy (or slightly crazy) thing you've done for love --- whether it's love for a job, family, friends, pets, or whatever.  Heck, I up and got married a week after I turned twenty-two, adopted Chewy while we were supposed to be registering for wedding presents, and picked out Abby over Patrick's strenuous objections.  We've all done something crazy so don't be shy and tell your tale.
You can get an additional entry if you tweet a shortened version of your crazy story to @theroadforks and @fearfulgirl .

Rather than doing a random drawing like I normally do, Torre and I (and Patrick if we need a tie-breaker) thought it would be fun to choose our favorite story and that person gets her book.  The giveaway will end on November 1, 2011, at 11:59 p.m. EST .  You can either ask for a paperback copy that she will ship anywhere in the world or an e-book.  And, Torre's agreed to put in a personalized signature to the person who wins the book if you request a paperback!
We can't wait to read your stories and I can't wait for you to read her book.  If you don't win, you can (and absolutely should) buy it from Amazon: