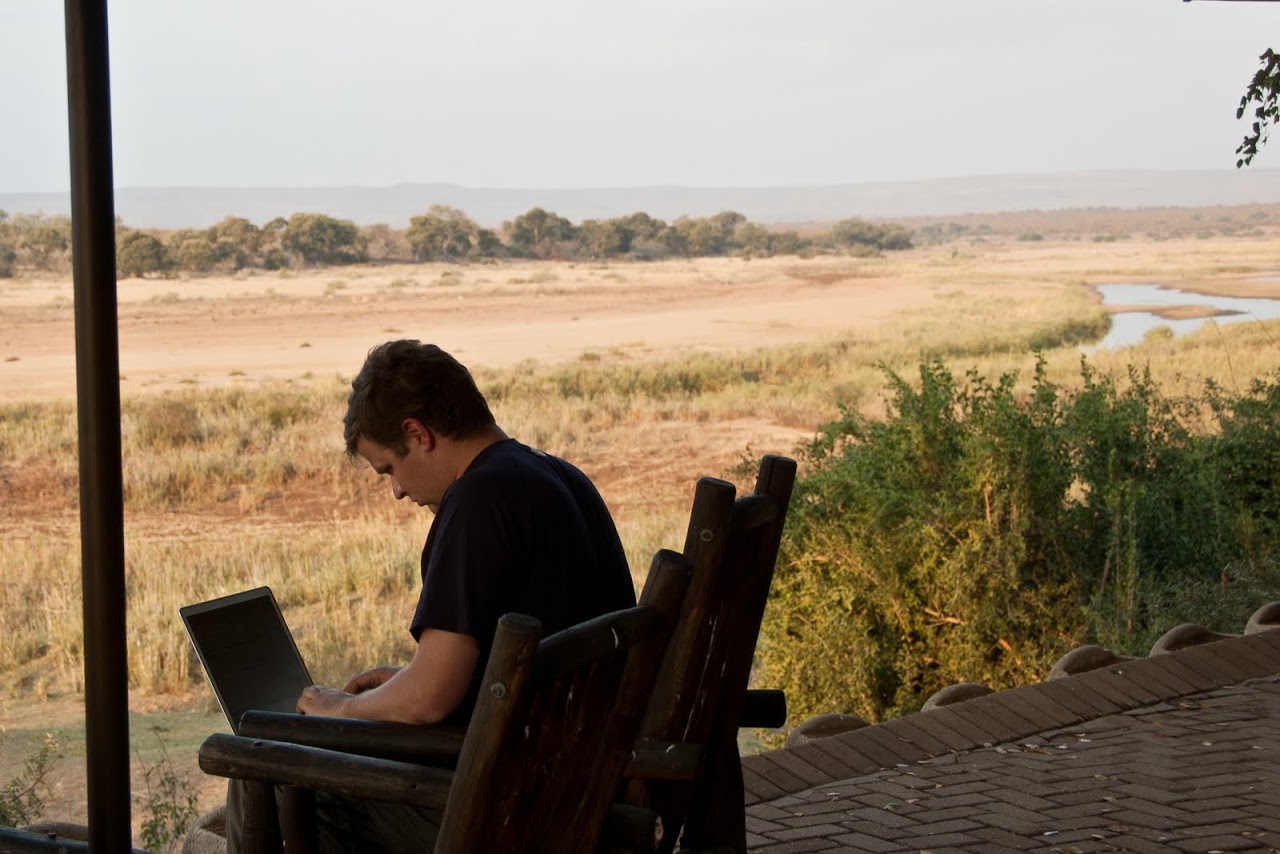 Patrick working at Kruger National Park
Plans are fuzzy, fragmented things; we think we have a resilient hold on them but they slip through our fingers like dandelion wisps on a spring day.
We had a plan when we left the United States in September 2009: travel for one year, return home, and resume our jobs.  Patrick even referred to our trip as a 1-year sabbatical when he told his software development company that he wanted to leave.  I planned to look for jobs in small law firms and pursue writing fiction on the side.  We had a down payment set aside, ready to buy a house upon our return, perhaps in Asheville, our favorite city in the United States.
And, then, we fell in love with the open road.  Two months into our trip we realized that twelve months would not be enough.  So, we began investigating other options.  We asked ourselves two questions: (1) how much do we need to make to keep ourselves sustainable and (2) how do we make this money?  We answered the first question through creating budgets .  The second question was a bit trickier and is the subject of this post on how we work while we travel.  I'll try and break this down as best as I can but please keep in mind that every situation is different, and while we were able to utilize our skills to get jobs, a lot of our work has come about through a combination of good luck and ridiculously hard work.
What We Do:
While we are traveling, Patrick works as a software architecture consultant for the software development company that he worked at full-time before we left.
I do a wide variety of writing.  I do some technical and marketing writing for his software development company and I also write freelance for a few magazines.
How We Got Our Jobs:
1.  Leveraging Pre-existing Work Relationships:
Patrick has been working in bioinformatics (bioinformatics = technology + biology, basically) and cancer research, for almost 14 years now, beginning while we were still wee freshmen in college, so he has a strong relationship with almost every major bioinformatics player in cancer research.  When he decided to make the switch from being a project manager at a university to working for a private company, he was able to make some demands.  His two biggest demands were: (1) working remotely while we were in the United States and (2) a one-year sabbatical where he would be able to consult part-time while we were abroad.
He had already been working remotely at his previous job, so the first demand was easily accepted, but he negotiated the second carefully, introducing it before any company made an offer.  Even with these two unusual demands, he received several job offers and he chose one at a boutique software consulting company.  When we left to travel, in our first two months abroad, he worked maybe 10 hours in total, but then we realized that we were going to need money.  When he announced to them that he wanted to work more hours part-time, they were thrilled to send work his way.
2.  Leveraging Our Skills:
As you know, I write.  While I was working as a lawyer, the executives in Patrick's company occasionally sent me documents to review and edit when they didn't want to hire a full-time lawyer or a writer.  I helped them out without charging them because it didn't take much time on my part and I liked these guys very much.
Those few free hours of work have paid off tenfold because, when they began redesigning their website and needed someone to write new, creative text, they thought of me first.  They have given me a good amount of work in this way, basically having me fill in a gap where they don't necessarily want to hire a full-time person but need someone to write creatively for them.
3.  Finding New Work: I don't do a ton of freelance writing mainly because it doesn't pay all that well (Matador Network, for example, pays $25 per article) but I occasionally send articles to online magazines to keep that part of my resume active.
4.  Doing Exceptional Work Every Time: If you remember only one thing from this post, this should be it:

Do exceptional work every single time someone hires you.  Getting the first job is easy ---- it really is ---- but, in order to get repeat work, you need to be better than every single person sitting in the office right next to your boss.  It's so easy for a company executive to walk down the hall and ask so-and-so sitting in the next cubicle to write up an article or a proposal.  The only reason why people send work to Patrick and me even when we are halfway across the globe, on a different timezone, and with dodgy Internet, is because they know that we will produce exceptional work every single time.  Good is not enough; your work must be exceptional.
Being a Digital Nomad Means . . . .
Being responsive and accessible :  We can live without air-conditioning or en-suite bathrooms, but WiFi is essential.  We stay only in places with WiFi or, in countries where WiFi is difficult to access, we get data plans to give us access to the Internet.  We check our e-mail multiple times every day to ensure that we are as responsive as we can be.  When we know we won't have access, we send e-mails and set our out-of-office replies.
Being tech-savvy: I mean this in a number of ways.  First, you need to have independent means of communicating with your boss(es), which usually means lugging around a laptop or netbook.  Patrick and I both carry expensive laptops with super-fast processors, several back-up hard drives, and we have invested in an amazing online backup methodology .  Even stil, our computers have taken a serious beating over the last year and a half (read more on the electronics death toll of a digital nomad at Almost Fearless ).  Second, you need to be able to troubleshoot lousy WiFi connections.  On more than one occasion, Patrick has helped hostel owners fix their Internet modems because the hostel owner hadn't set it up properly.  Third, you need to know how to use the variety of technological communication tools: at the bare minimum, you need to be familiar with Skype and e-mail.
Being self-motivated: We create our own schedules which means that, if we don't get our work done, nobody is going to be looking over our shoulder.  And, we normally work without much interaction with our boss(es) because they are on a different time zone than us.
Being flexible: Some weeks, we don't have much outside work, while other weeks, we may have 20-30 hours of work.  We keep our schedules flexible and open-ended so that we can build in work time if we need.
Being realistic about your work/travel schedule: This was perhaps the hardest part of learning how to manage our work schedule.  In the beginning, we were killing ourselves, putting in long days sightseeing and then long days doing work.  We quickly realized that we need to say "no," either limiting the number of destinations we see or limiting the amount of work we take.  We are getting better at balancing our work and travel by refusing work, if need be, or slowing down and staying at certain destinations.
Being realistic about your salary: I make about 1/8th of what I used to make and Patrick makes maybe a 1/4 of what he used to make when we were working full-time.  Of course, nobody wants to hire us at our full-time salary because we aren't working full-time anymore.  We understand that and have been flexible with our salaries, offering our services at somewhat reduced rates.  To us, having the flexibility in our schedules and locations is worth the lower pay.
Working even when you are in the most amazing locations: The picture at the top is of Patrick working at Kruger National Park.  We drove through the game park during the day but, as soon as we returned to the campsites, which often had amazing viewpoints overlooking watering holes where the animals came to drink, we pulled out our computers and typed away.
Working even when everyone else is on vacation: I can't even tell you how many times people say to us, "You should put your computer away.  You're on holiday."  I just smile at them because it's too much of a bother to explain that we are NEVER on vacation.  I laughed when I read this post from Spencer Spellman about eating dinner with his notebook, laptop, and beer, because we do that sort of thing all the time.  On a weekly (or so) basis, Patrick and I have "business meetings" over lunch or dinner where we discuss work prospects and tasks.
Working long (and strange) hours: We normally sightsee and visit a city in the mornings, come back to our hotel around 3:00, and work until dinner at 8:00.  If we haven't gotten enough work done, we come back after dinner and work some more.  In addition to our paid work, we both work on this blog and are involved in time-consuming personal projects (for me: fiction writing, for Patrick: web application development).  Every one to two weeks, we take a "work day" where we spend the whole day hanging out and working.  We generally like to take our work days in gorgeous locations with awesome views because it's always more fun to work with a view of the beach than staring at a concrete wall.  On an average week, I'd say that we work about 20-30 hours but those are intense hours of work with minimal time spent goofing off on the Internet.
Being exceptional: I know that I just said this above but I'm going to say it again just for good measure.  Do exceptional work every single time someone hires you.
Being grateful: We work part-time, travel part-time, and are living a healthier, happier, and more fulfilling life that we ever did before.  We did not plan that this would be our life but we are grateful every day that the universe has shown us this path, even on those days when we are typing on our computers rather than searching for elephants.
Read more from travelers who work:
* Working as a Digital Nomad is a post in the RTW Travel Planning in Retrospect Project, a weekly community project that seeks to gather insights and advice on round-the-world travel planning from those who have been in the metaphorical trenches. Stay tuned because, on Tuesday, some very fabulous travel bloggers will join in the discussion and reveal how they work while they travel.  And, if you are a current or recently returned RTW traveler, we would love to hear your thoughts so get in touch with me if you would like to be featured via the comments or at theroadforks [at] gmail [dot] com.