about
We are Akila and Patrick. Our minds (and waistlines) expand as we travel, cook, and eat our way around the world with our two dogs.
Our travels inspire our cooking. Join our feast around the world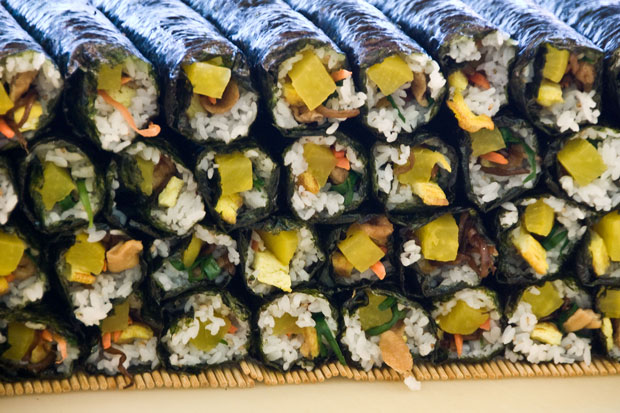 the transnational fast food theorem
The deliciousness of chain restaurants is inversely related to the distance from its home location. South Korea was our proof.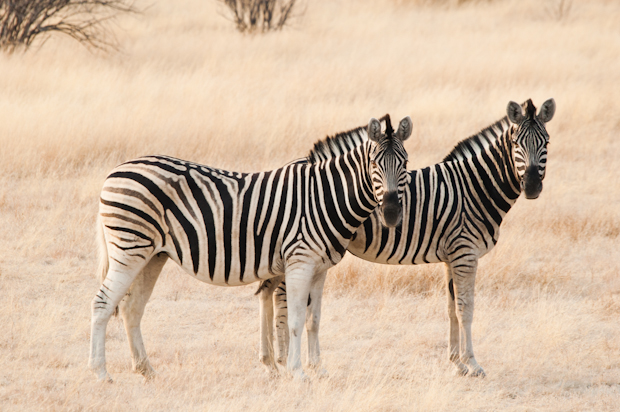 down by the watering hole
The ups and downs of finding wildlife at Etosha's watering holes.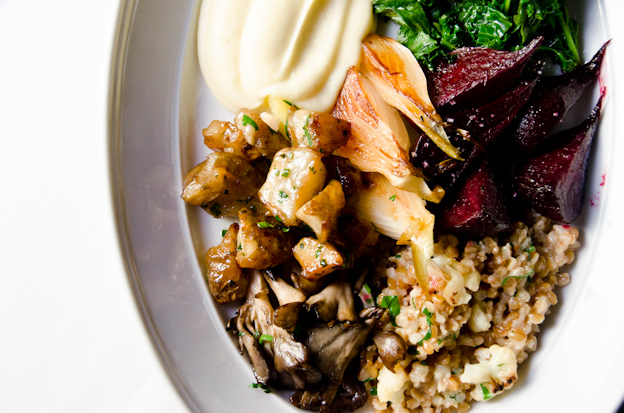 fig charleston
One of the best meals we have had in the last year.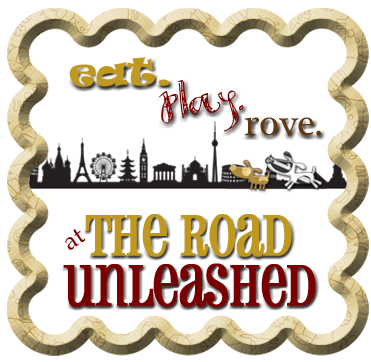 Five Random Links from our Blogroll :

Travel Calling
Y Travel Blog
FoxNomad
Carolina Nomad
Smitten Kitchen
February 3, 2011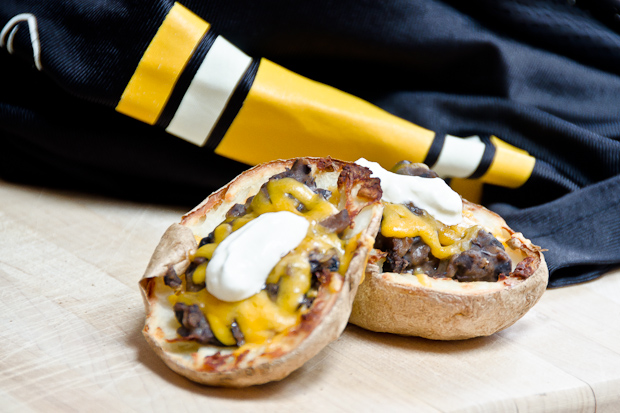 Steelers potato skins
There's a game this weekend, as you know.  In our house, the Super Bowl is an event every year . . . but, this year is more important than most.  Patrick is a proud Pittsburgh Steelers fan, part of the nationwide network of people who support the guys in black and yellow.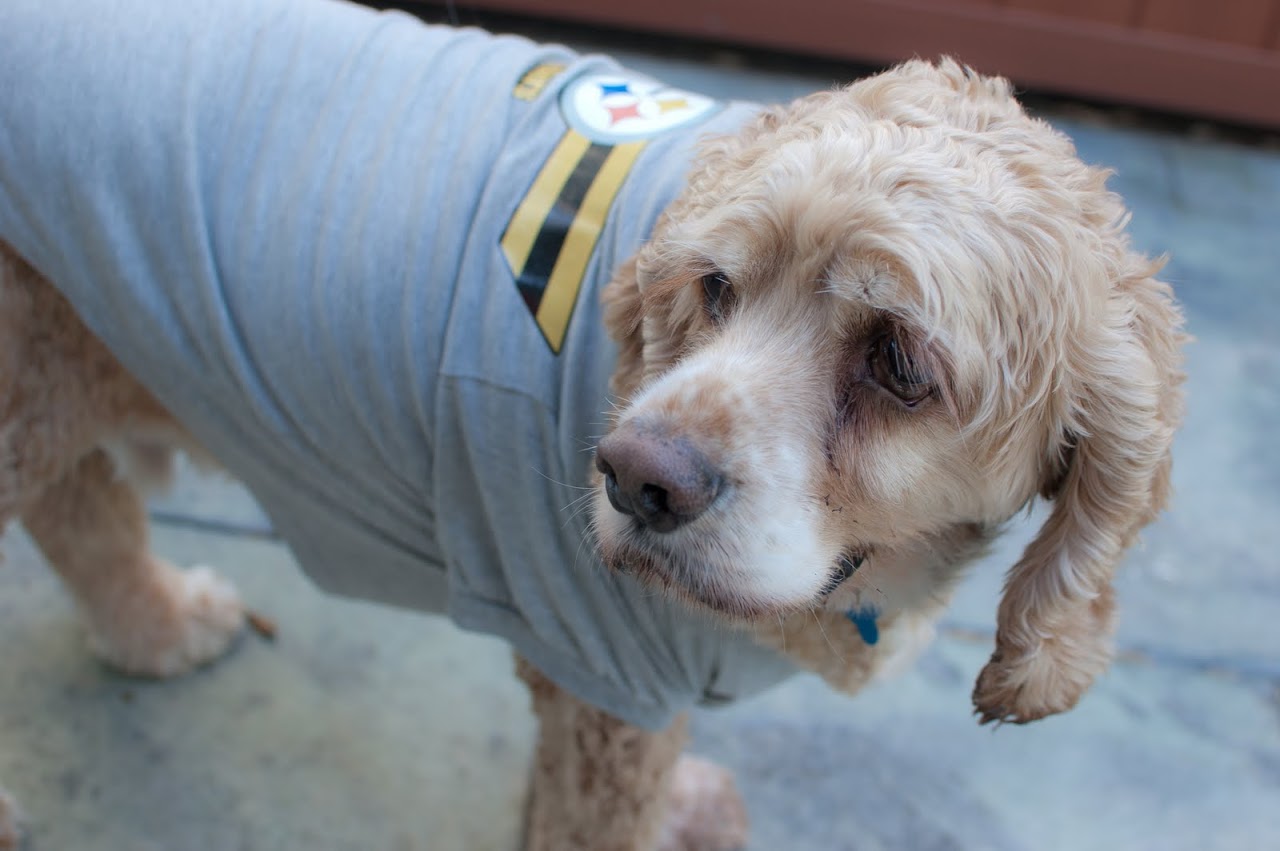 Chewy in his Steelers shirt
The idea behind this recipe came from Food Network's recent showcase of NFL themed potato skins , with Georgia Peach Potato Skins for the Atlanta Falcons and Wisconsin Beer Brats Potato Skins for the Green Bay Packers.  Clever, yes, but not very vegetarian-friendly and none of the potato skins showcased the team colors.  So, I fiddled around with a couple of versions and came up with this one: a black, yellow, and white potato skin recipe that's as tasty as it is full of team spirit.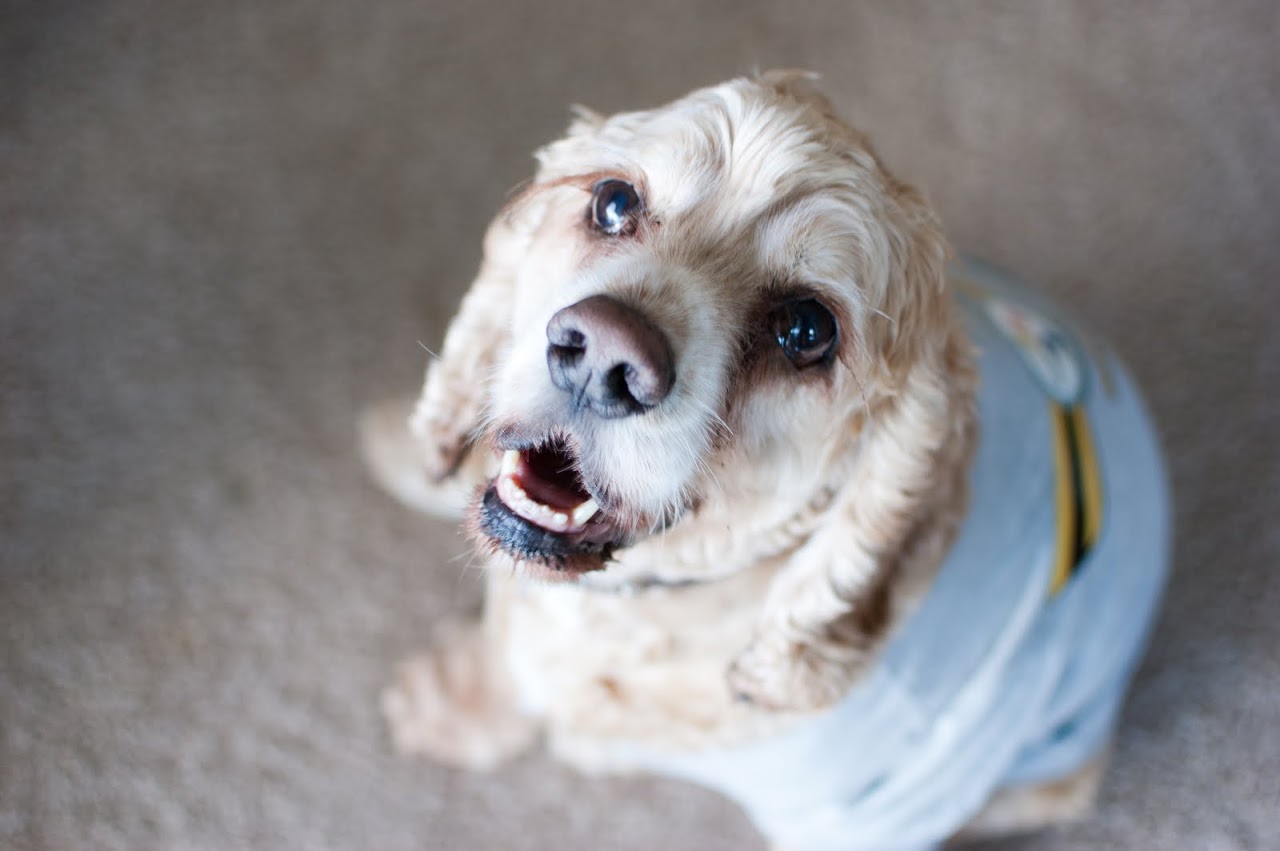 Chewy in his Steelers shirt
Steelers Nation, this recipe is for you.  (And, if you'll only be watching the game for the commercials and the awesome-looking Glee episode afterwards, this recipe is still for you.)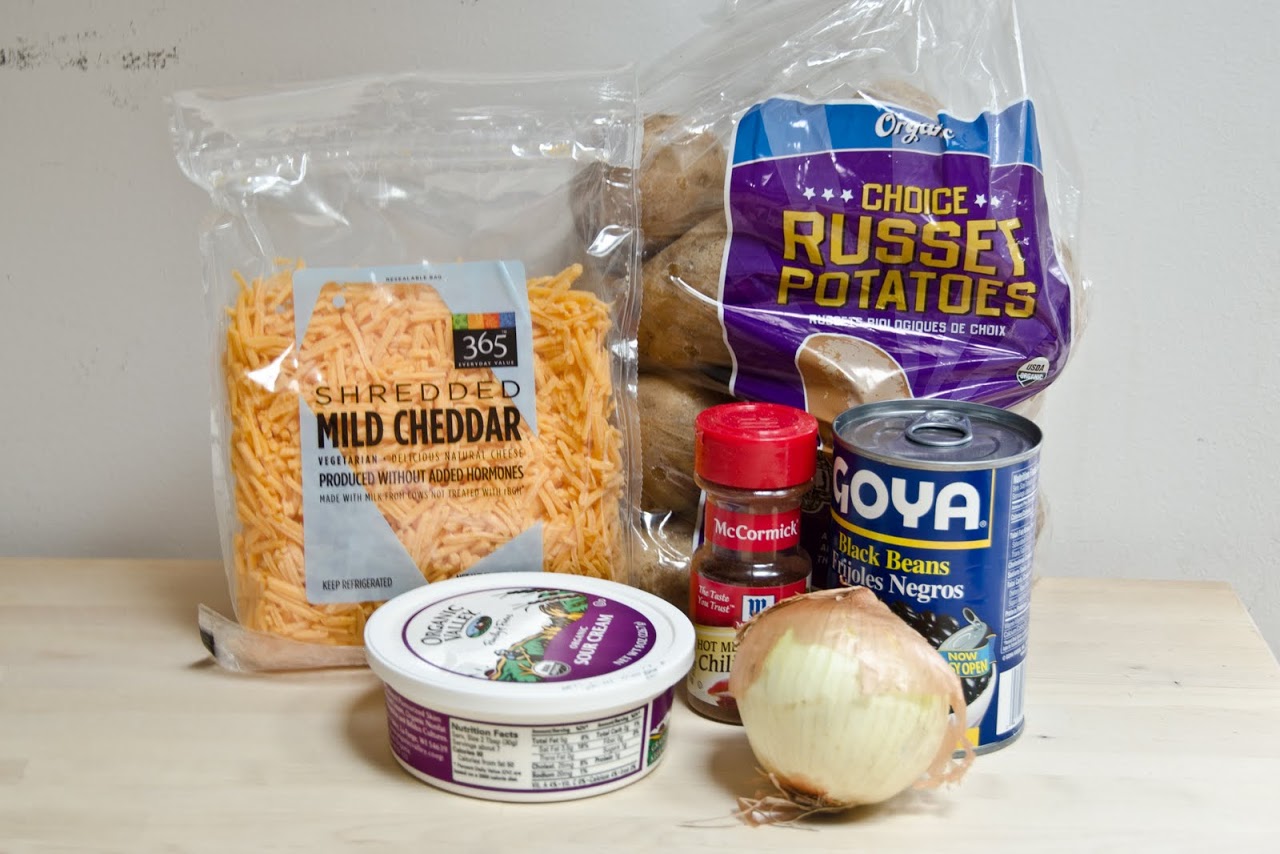 Ingredients
Even if you're stuck at home in the snow (which seems to be pretty much everyone living above the Mason-Dixon line on the east coast), you probably have everything you need to make this recipe: medium-sized potatoes, black beans, an onion, chili powder, cheddar cheese, and sour cream.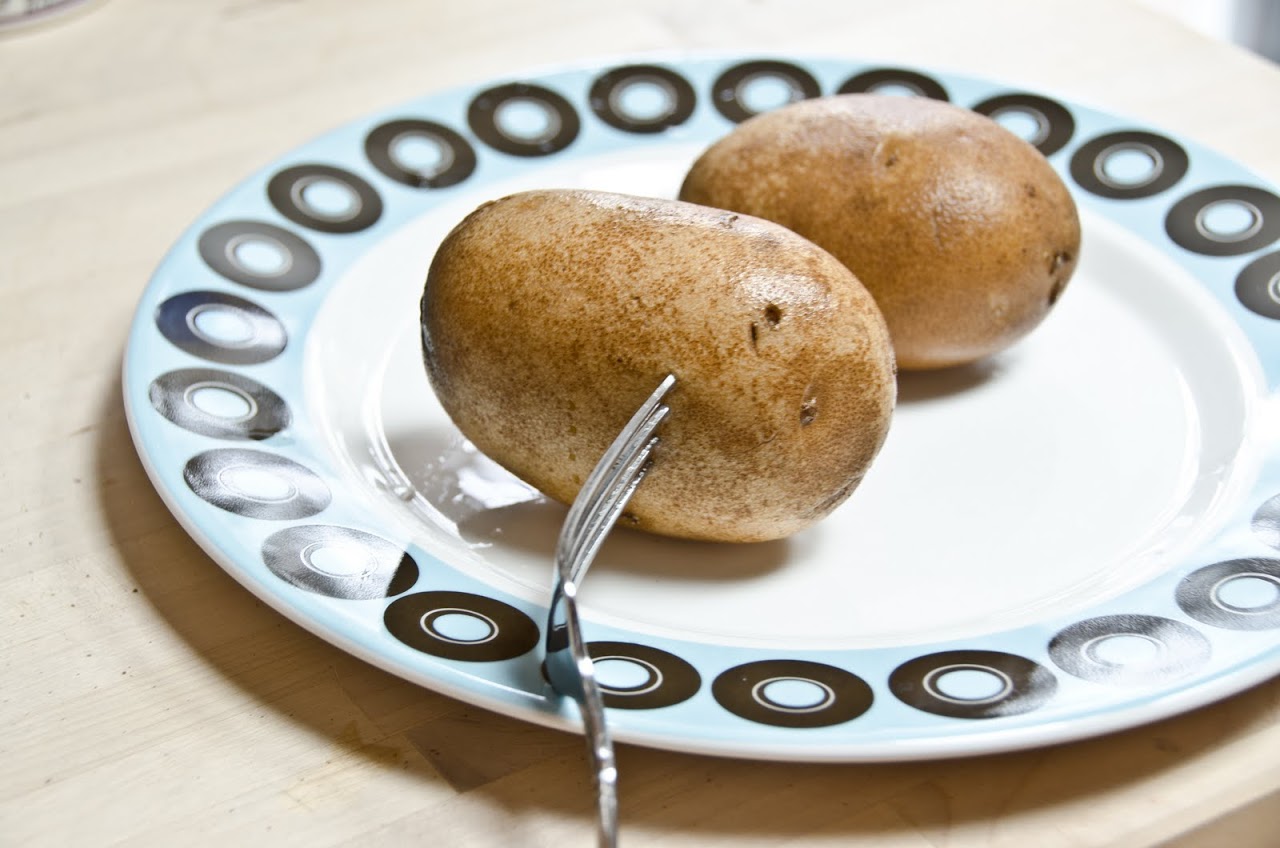 Potatoes
Here's what you do: poke some holes into your potatoes.  Stick them on a plate and microwave them for 5 minutes.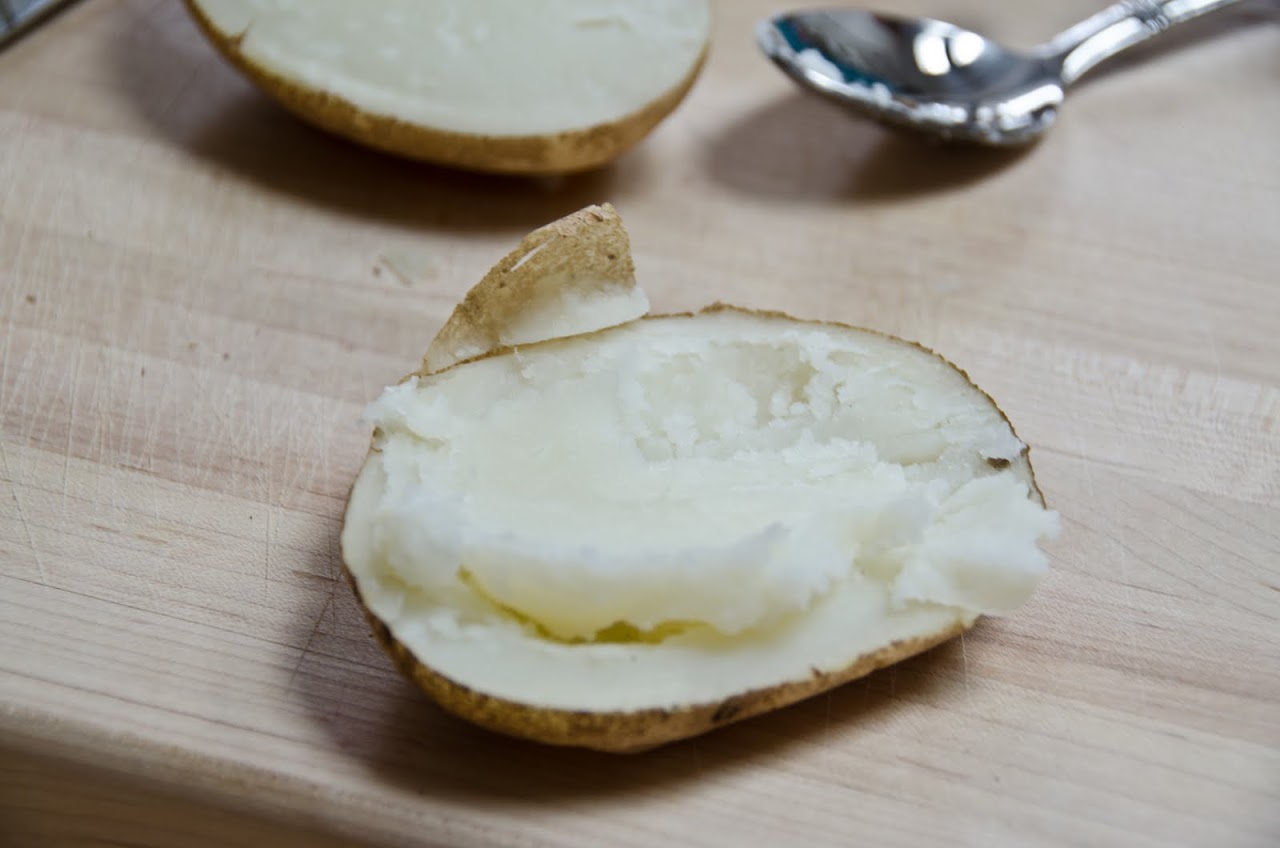 Potato shell scooped out
Cut the potato in half lengthwise.  The innards should be soft and flaky but not completely cooked through.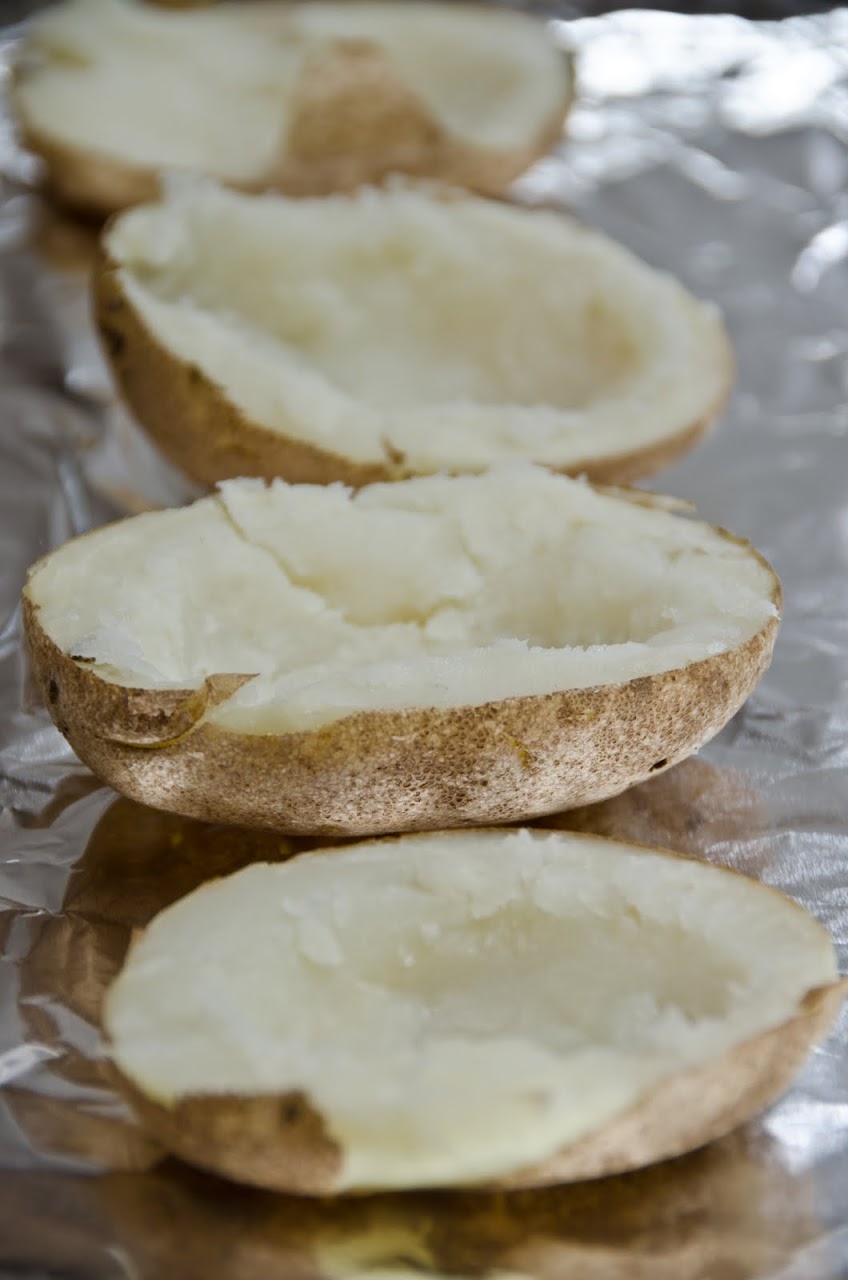 Potato shells
Remove some of the potato interior, leaving about a 1/4 inch thickness on all sides and the bottom.  Your potatoes should look like small bowls.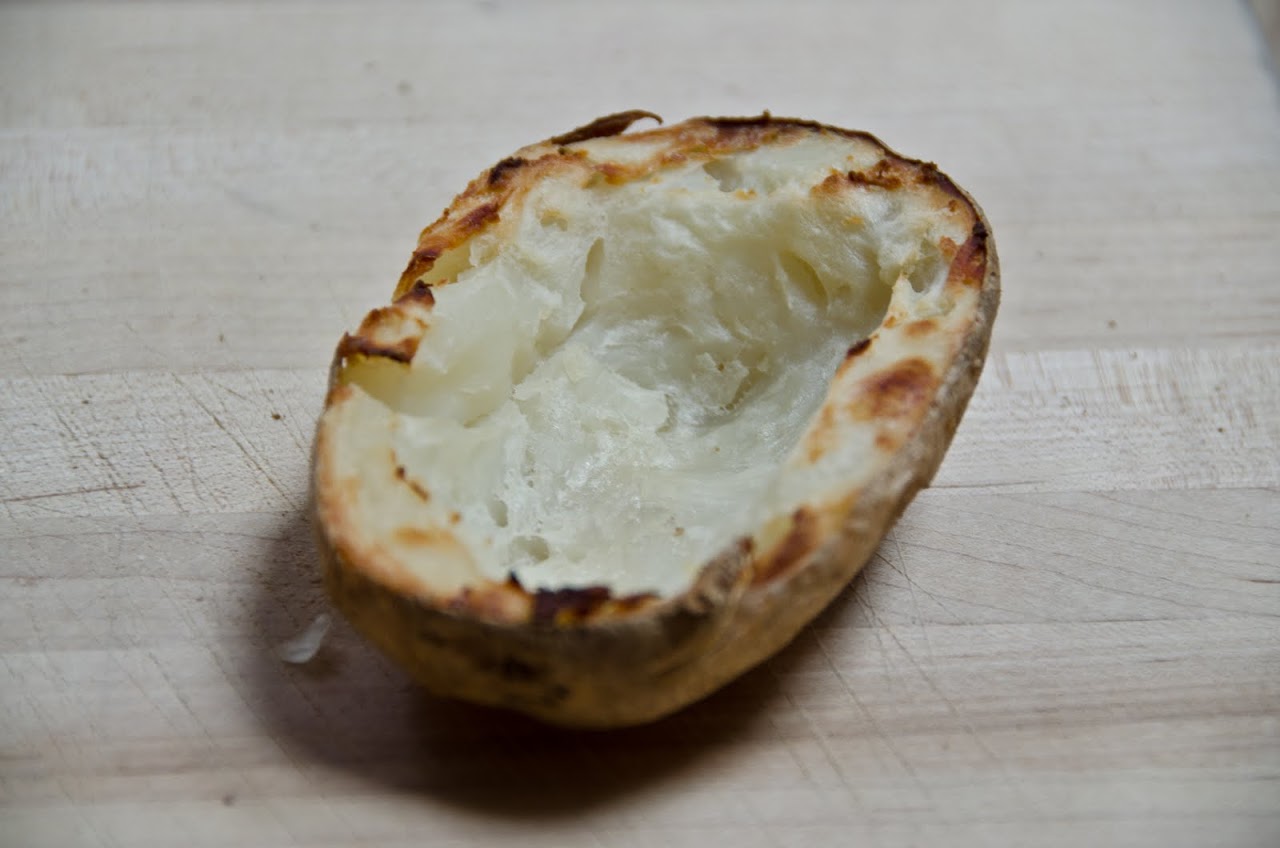 Baked potato skin
Bake your potato shells in a preheated 450 degree oven for about 45 minutes or until the shell is cooked all the way through when you poke it with a fork and the edges have a nice brown crust.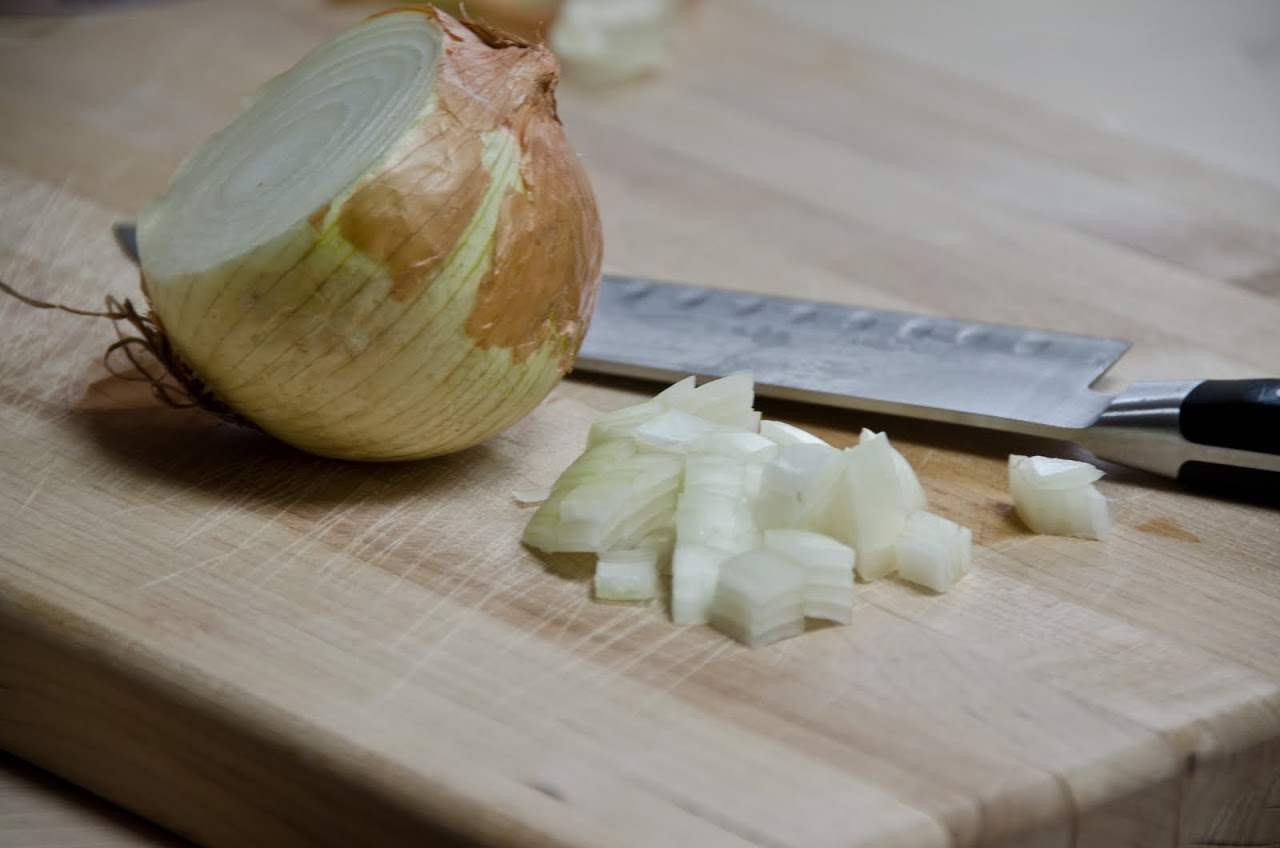 Onion chopped
While your potato skins are baking, chop up a quarter onion and saute in a pan with a teaspoon of oil over low heat.  Add a can of black beans and a half teaspoon of chili powder, depending on how much you like spice, and then mash the black beans against the sides of the pot.  You want your black beans to be thick and creamy so add a little bit of water if they get dry.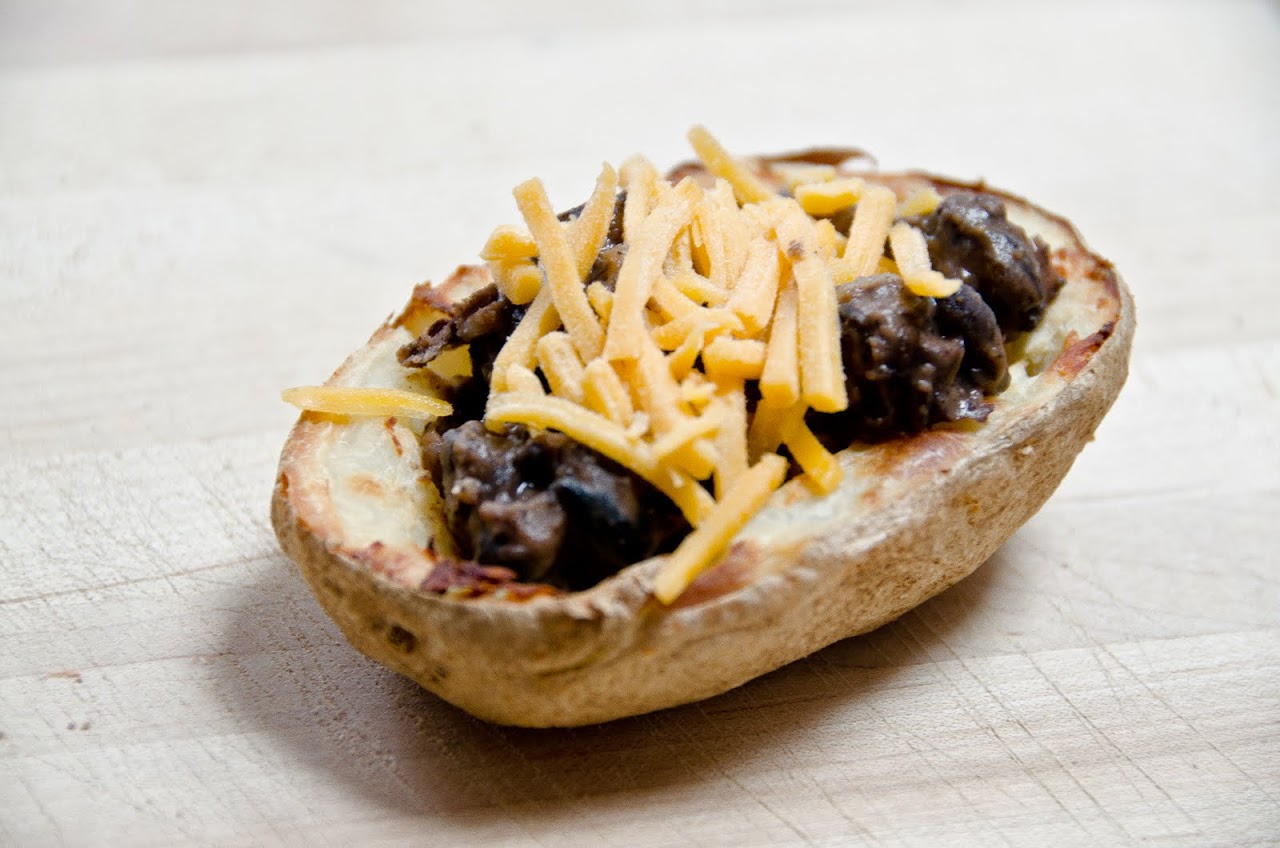 Potato skins ready for the last step
Once your potato skins are cooked, plop some of the black bean puree in each of the shells and top with a tablespoon of cheddar cheese. Then stick your potato skins back in the oven for 3 to 5 minutes, or until the cheese has melted over the black beans.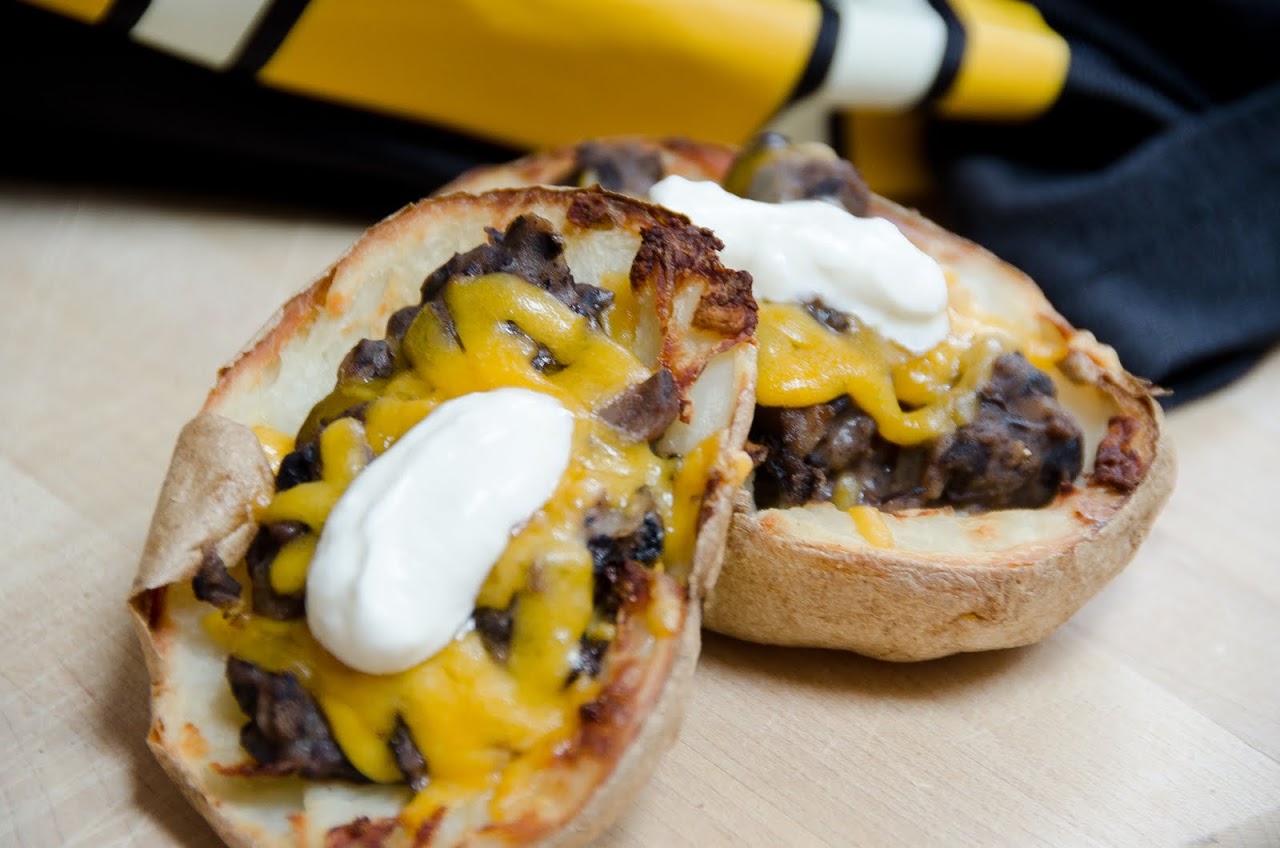 Steelers potato skins
Drop a dollop of sour cream on top and you're ready to root for your team.  Now, doesn't that just get you in the mood for some football?  [By the way, if you're rooting for that other team , you could substitute the black bean puree with a creamy spinach dip and top with yellow cheddar and sour cream for a green, yellow, and white potato skin.]
Steelers Potato Skins
Time: 1 hour
Serves: 4 people
Ingredients
4 medium russet or Yukon Gold potatoes
1/2 cup sharp yellow cheddar cheese
1 small onion, chopped
1/2 teaspoon oil
1 can black beans
1/2 teaspoon chili powder (or more or less depending on your spice tolerance)
4 heaping teaspoonfuls sour cream
Salt and pepper, to taste
Directions
1.  Preheat oven to 450 degrees Fahrenheit.
2.  Microwave potatoes whole for 5 minutes, or until they can be cut in half easily.
3.  Cut potatoes in half lengthwise.  Scoop out interior, leaving 1/4 inch thickness all the way around and at bottoms.   (Don't worry if they are not cooked all the way through because they will cook in the oven.)
4.  Place potato skins on baking sheets covered with aluminum foil and place in preheated oven.  Bake for 45 minutes.
5.  Meanwhile, heat oil over low heat.  Add onions and saute for 4 minutes, or until translucent.
6. Add black beans (do not drain water from black beans), chili powder, and salt and pepper to taste.  Mash black beans and onions together.  Leave over low heat for 5 minutes until the black beans come together to form a thick, creamy paste.  You may need to add an additional 1/2 cup to 1 cup water to make your black beans creamier if they start to become dry.  Set aside to cool.
7.  Remove potato skins from oven once you can easily pierce the flesh with a fork.  If your black beans have become dry, add a quarter cup of warm water and mix again.  Place enough of the black bean mixture into the potato to fill it.  Top with a tablespoon of cheddar cheese.
8.  Place in oven for 5 minutes or until cheese has melted.
9.  Top with heaping teaspoonful of sour cream.