about
We are Akila and Patrick. Our minds (and waistlines) expand as we travel, cook, and eat our way around the world with our two dogs.
Our travels inspire our cooking. Join our feast around the world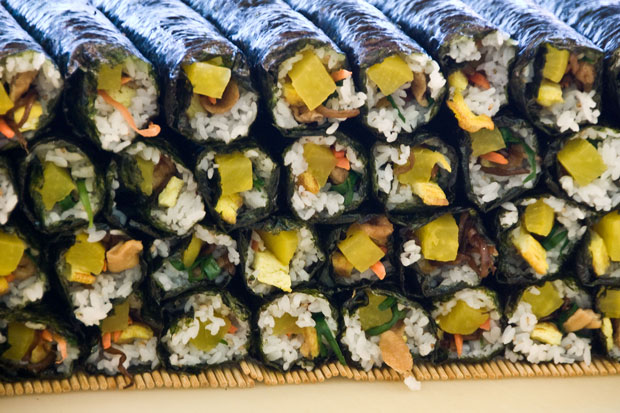 the transnational fast food theorem
The deliciousness of chain restaurants is inversely related to the distance from its home location. South Korea was our proof.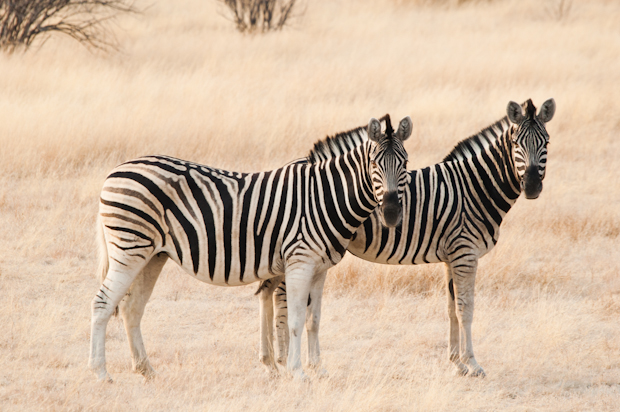 down by the watering hole
The ups and downs of finding wildlife at Etosha's watering holes.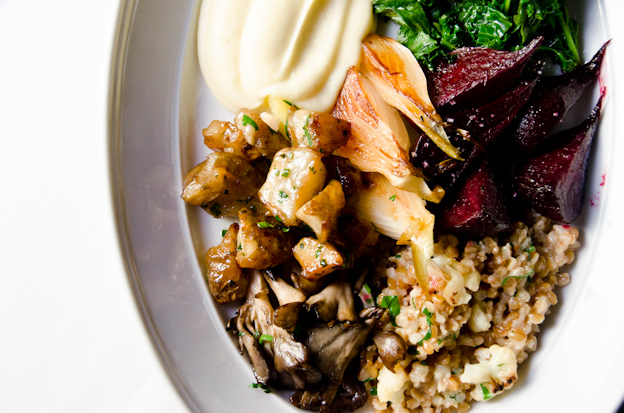 fig charleston
One of the best meals we have had in the last year.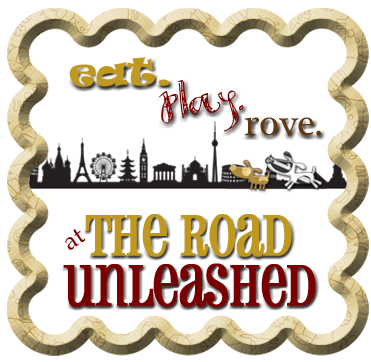 Five Random Links from our Blogroll :

Y Travel Blog
Final Transit
The Big Fat World
The Planet D
Nomadic Matt's Travel Site
December 18, 2013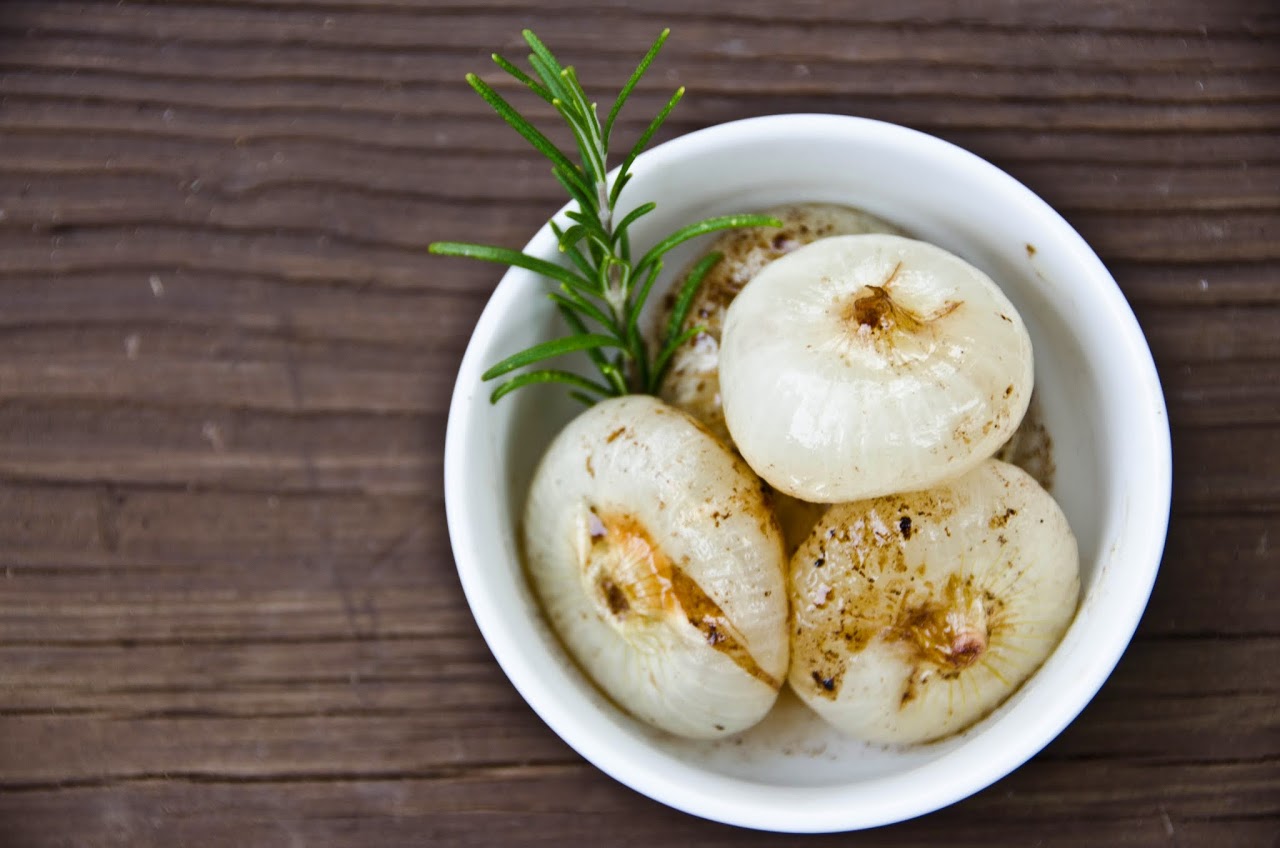 Venice is still busy in November.  There are tourists everywhere in the bright and sunny days.  (Though, is there ever a time when the tourists leave Venice altogether?  Probably not.)  We like the November evenings better than the summer evenings.  There's less heat, humidity, and stench.  I pull my fleece jacket close around my shoulders and Patrick zips his up to his neck.
We walk away from the Grand Canal, into small narrow alleyways, away, away, away from the noise.  We see a small door against a wall, light shining out as the door opens and closes, and men with half-filled wine glasses and burning cigarettes standing right before the entry, ushering us in with wafts of noxious smoke.  The decor is minimal, with a few wooden benches and tables crammed against the corner of a wall and men and women standing shoulder to shoulder in front of the long bar.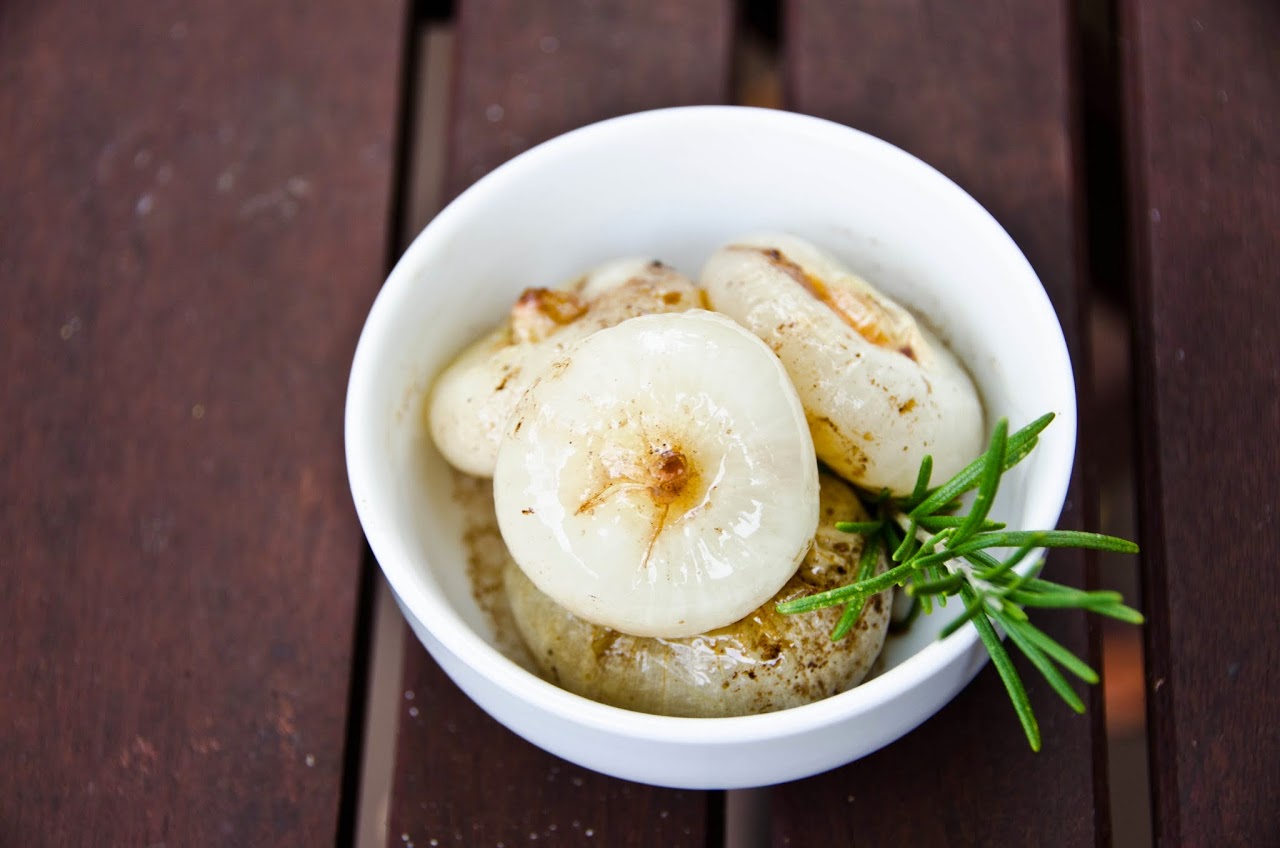 We immediately see the attraction.  Cichetti are arrayed in platters and bowls across the bar.  There is a good variety at this one: peperoni grigliata --- grilled and peeled red bell peppers; baccala --- pureed salted dried cod; carciofi grigliata --- artichoke hearts, marinated and grillled; mozzarella e pomodoro --- fresh balls of mozzarella with sliced tomatoes; bruschetta with prosciutto; calamari; and more.

And, there are the cipollines al aceto balsamico, or balsamic glazed cipolline onions.  The first bite surprises us.  Our mouths pucker from the vinegar and then relax as we taste the underlying sweetness of the reduced balsamic vinegar.  We try another bite.  This time we are prepared for the sensations of vinegar and sweet and we feel the texture.  Soft, billowing layers of onions melt against our tongue and we catch hints of rosemary and butter.  We go back to the counter and order them all.
And, we return the next night and order all the cipollines again.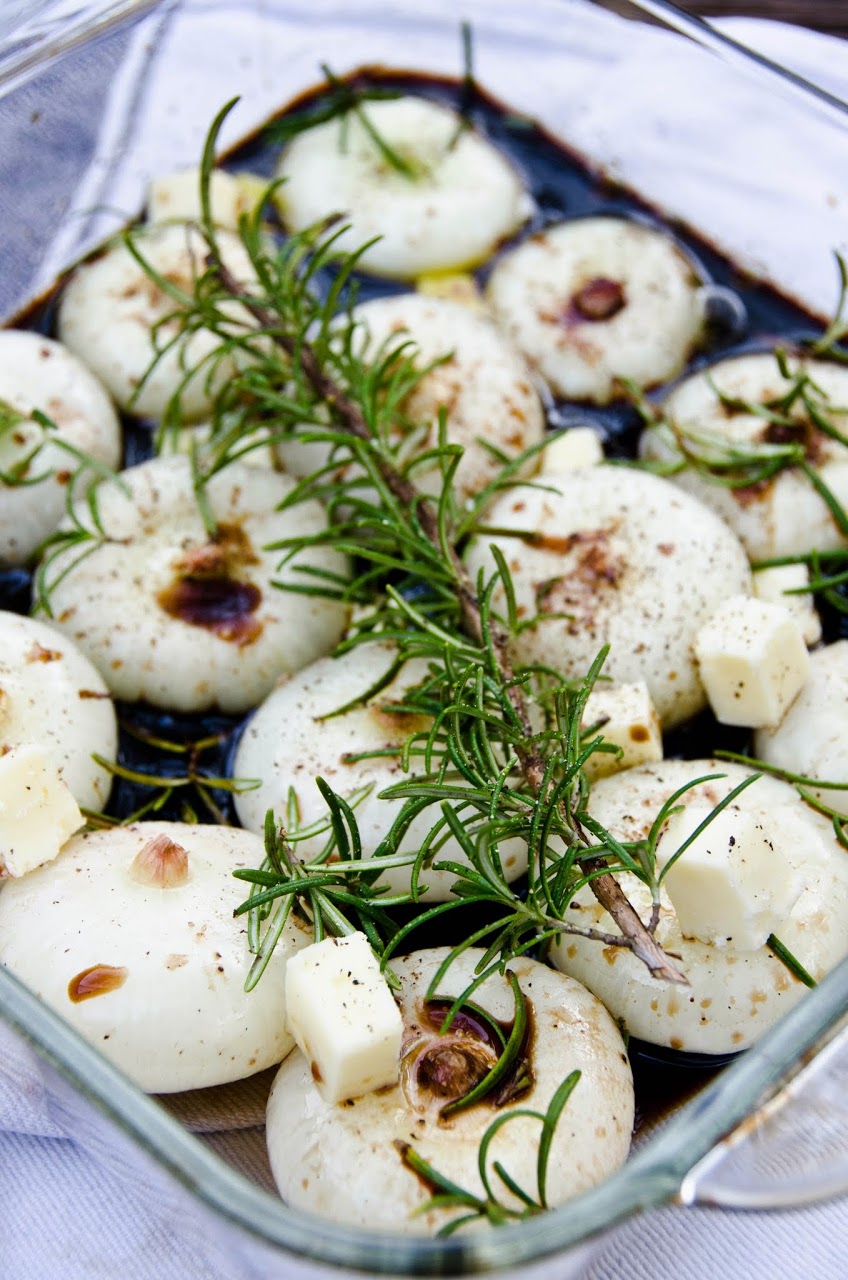 When we came back to the United States, I tried a whole host of balsamic glazed cipolline recipes including ones from Mario Batali , Deb from the Smitten Kitchen , and Bon Appetit magazine .  None of them had the puckering sweetness of the cipollines we tried in Venice and I realized that the problem is that every single one of these recipes relies on sugar to enhance the flavor of the balsamic vinegar.  I dropped the sugar and simplified the recipe.  The result has a less thick glaze than what you might get if you make Mario Batali's recipe but it is, I think, a purer and superior version of the dish.  It is a fundamentally Italian recipe --- very few ingredients of extremely high quality --- so that the cipollines take on the strong flavors of red wine and balsamic.  We serve it often in the winters, with rich casseroles and soups, as a small plate or side dish, sometimes for the holidays, to remind us of Venice's meandering canals.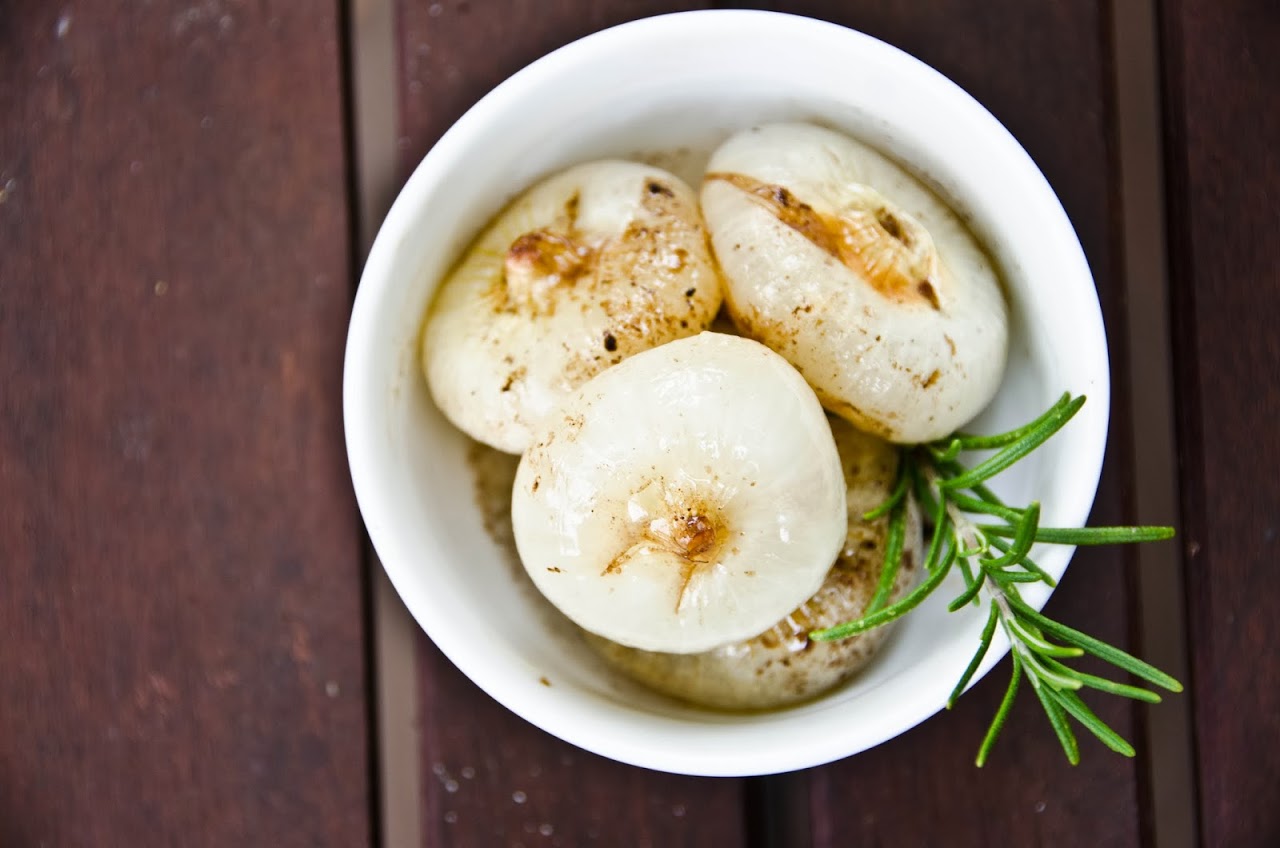 Balsamic Glazed Cipolline/Cipollini Onions
Inspired by a Venetian bacari
Serves: 2-4 as a side dish
Time: 45 minutes
Ingredients
12 small cipolline onions (we find these at our local Publix though gourmet markets also sell them)
2 tablespoons olive oil
3/8 cup of good quality balsamic vinegar
1 tablespoon red wine
1 long sprig of fresh rosemary (may be substituted with 1/2 teaspoon dried rosemary)
1 tablespoon butter
Salt/Pepper
Directions
1.  Preheat oven to 450 degrees.
2.  Prepare cipollines: Place unpeeled cipollines in boiling water for 1-2 minutes.  When peels begin to look translucent, remove cipollines from water with a slotted spoon.  Peel translucent yellow outer layers of cipollinis.  Cut both ends of cipollini onions.
3.  Heat 1 tablespoon olive oil in saute pan.  Place cipollines in saute pan for 2 minutes until each side is golden brown.
4.  Place cipollines in an oven-proof dish.  Pour remaining tablespoon of olive oil, balsamic vinegar, dots of 1/2 tablespoon of butter, and rosemary over the cipollines.  Season with salt and pepper to taste.
5.  Bake cipollines in pre-heated oven for 10 minutes.
6.  Reduce oven temperature to 350 degrees.  Bake cipollines for 20 minutes or until tender.
7.  Remove from oven and spoon cipollines in a serving dish.  Whisk remaining marinade with 1/2 tablespoon of butter and pour about 1/4 cup of the marinade over the onions.  Serve the remaining marinade as a salad dressing or with bread.