There are two ways to travel: the easy way and the hard way.  Read on to see the ways we chose to enjoy West Maui:
Sunbathing

The easy way: Relax on the beach, drink lots of fruity drinks, wade in the water, splash in the waves, turn a lovely bronze
The hard way: Slather on sunscreen, relax in the sand, jump in the waves, decide not to put on more sunscreen, let the sun beat down on our heads, find stingrays and dolphins, wind up with a bad headache and (for one of us, at least) really red skin [Yep, this one was us.]
Snorkeling
The easy way: Drive to the Black Rock, one of the many amazing snorkeling destinations in Maui, snorkel around for a little while near the beach, seeing turtles and colorful fish in sparkling water, return to the beach and find a bar
The hard way: Walk nearly a mile and then decide to swim around the dark sea urchin covered rocks to get to the Black Rock.  After about half an hour, decide to turn around and realize that we are swimming AGAINST the extremely difficult current and, after finally reaching the coast, have to walk across a ledge of rocks like shrapnel.  In the end, don't enjoy the snorkeling at all. [Us again.  You would think we would have learned by now.]
Volcano hiking
The easy way: Slowly drive past the eucalyptus trees and waving fields of the mountain of Haleakala, finally winding up at the Mars-like scenery of the inactive volcano, then avoid altitude sickness by taking a short hike into the crater [Aaah, now we get it.]
The hard way: Starting at the top of the crater, hike nearly three miles into the volcano, admiring the swirling red and gray scenery.
Relaxing
The easy way: Chill out on a electric-powered sailboat on our way to the stunning island of Lanai, drink mai tais and beers, snorkel in crystal-clear waters and find an incomparable forest of marine life, play on the beach as spinner dolphins show off, and return to a feast and luau set on the shores of Maui [A fantastic day.]
The hard way: Ummm, well, there is no hard way to relax, right?
If you guessed that we did everything the easy way, you are clearly overestimating us.  For those of you who guessed that we did everything the hard way, well, we're not masochists, people.  We (usually) do learn from our mistakes.
The Details
Hotel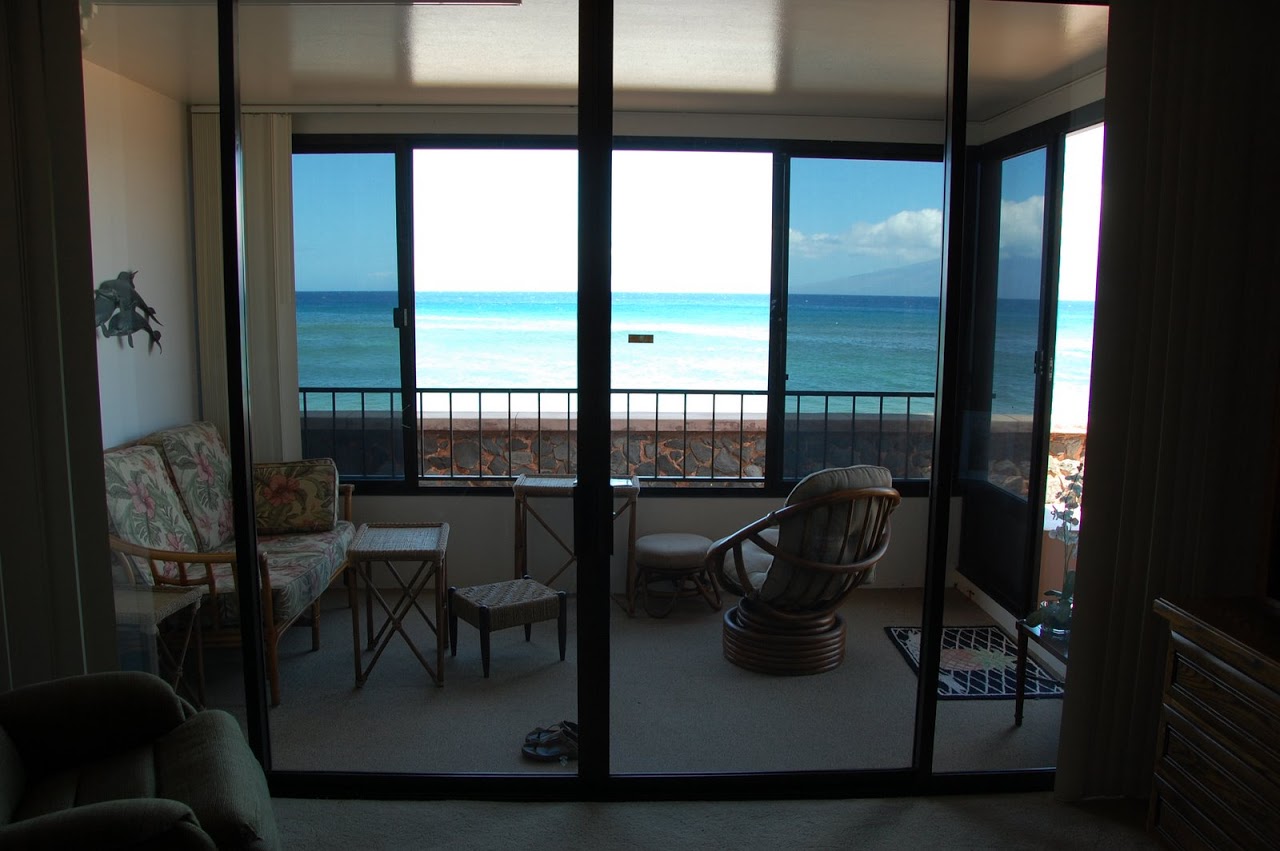 Right now, I am sitting on the lanai of our fantastic condo in the Maui Kai resort , condo number 108.  The ocean breezes gently flow through the lanai, and the view of the ocean is only surpassed by the views of Molokai and Lanai.  The golden sands of Kaanapali Beach are mere steps from our lanai door and the sounds of the ocean compel us to ignore the electronic conveniences of the indoors.  Yesterday morning, we saw about thirty dolphins swimming and playing in front of us, and as we meandered down the beach, we found three stingrays wrestling and gliding through the ocean.  The condo is lovely and large.  A compact newly remodeled kitchen faces into the spacious living room and the bedroom contains ample storage space and a queen sized bed.  A wonderful grocery store and a farmers market are within minutes of the condo, so our refrigerator is stocked with gold pineapple, sweet mangos, and fleshy papaya.  We feel lucky to be staying in such luxury at Maui-reasonable prices* and highly recommend this condo.
* Maui is expensive.  Very expensive.  So expensive that we stopped remarking to each other how expensive things are because we would be having the same conversation all day long.  A quart of milk here is $6.49.  A gallon of gas is $4.66.  An "inexpensive" meal runs about $50 for the two of us.  All hotels and condos have a 11.5% accommodation tax on top of the sky-high prices.  So, throughout these posts, you will see two types of prices---Maui prices and mainland prices.  If I say something is "Maui-cheap," it is at least twice the price of what I would consider cheap on the mainland.
Restaurants
The Good
Honokowai Okazuya – This is an inexpensive take out restaurant about a two-minute drive from the condo with fantastic food.  Patrick ordered the lemon mahi-mahi, which was braised in lemon, white wine, and olive oil, though he wished he had ordered it with capers.  The fish was incredibly fresh and cooked right in front of us.  The restaurant has seven vegetarian options, and I ordered the eggplant schezwan.  The sauce was light, spicy, and flavorful and complemented the eggplant perfectly.  The portions are huge and the price is mainland cheap (only $25 for our meals).  Highly recommended.
Gazebo – A tiny restaurant overlooking a spectacular view of Napili Bay, in the Napili Shores condo complex (see picture at the right), there is always a line and we waited almost half an hour to get our seats.  B ut, luckily, this place is worth the wait.  The Popeye omelet was stuffed with pepper jack cheese, mushrooms, and spinach, and for the extreme indulgence, smothered in hollandaise.  The specialty pancakes literally melted in our mouths.  We had three moist fluffy pancakes each containing a different tropical ingredient --- pineapples, bananas, or macadamia nuts---topped with whipped cream and macadamia nuts, and covered with either coconut syrup or maple syrup.  Highly recommended, though try to get there early to minimize your wait.
Plantation House - Every Maui guide recommends this restaurant and with good reason.  For appetizers, Patrick had a stunning small crab risotto with rock shrimp, and I had a somewhat soupy mushroom sauce with polenta.  Our entrees were exceptional.  The restaurant offers five preparations of their fish of the day.  The fish of the day was papiele (sp?), a fish that Patrick described as reminiscent of macadamia nuts, light with body, and layered in a tomato-butter sauce.  Patrick said that it is the best fish he has ever had and they clearly know how to cook fish.  Considering that he had over ten types of fish in West Maui, this is high praise indeed.  Vegetarians may choose tofu prepared in one of the five preparations of fish.  This is a simply brilliant idea and one that I have incorporated at home.  Why doesn't every seafood restaurant do this?  My pistachio-crusted tofu laid on a bed of Maui onions, local tomatoes, and spinach.  Pricey but worth it.
Kula Lodge Restaurant - At the edge of Haleakala, we found this rustic restaurant and lodge, high above the mountains of West Maui, amidst a garden of birds-of-paradise and small wildflowers.  In this incredible location, the margherita pizza emerging from their wood-burning oven incorporated the fresh mountain air into the crispy crust.  One pizza and a salad filled us both and allowed us to climb the volcano feeling refreshed and ready to hike.
Feast at Lele - Okay, I'll admit that this is a touristy thing to do.  But, how can you go to Hawaii and not go to a luau?  It just seems un-Hawaiian.  This isn't a traditional luau, because there are no buffets and no mass-dancing.  The luau focused on four lands, Hawaii, Aotearoa (New Zealand), Tahiti, and Samoa, and in each segment, beautiful men and women performed traditional dances and we were served pleasing food from each country.  This isn't a must-see but we enjoyed it, and we were happy we went.
The Bad
Poilipani – We meandered down Kaanapali Beach on our first day and stopped at this restaurant placed on the immaculate grounds of the Westin Kaanapali Resort. We ordered the potato chips with Maui onion dip as an appetizer for $8, and got a stack of Lay's potato chips with a store-bought tasting onion dip.  My veggie burger was about two steps up from chewing on cardboard and Patrick's chicken cordon bleu sandwich was mediocre.  The drinks, however, were good.  I was pleasantly surprised by my first Mai Tai and Patrick ordered an overly sweet Blue Hawaiian.  At a whopping $50 for mediocre food, we recommend avoiding this place.
Fish and Poi – This was not on my planned list of restaurants but our condo owners and the Maui Hawaii site recommended it as an inexpensive restaurant with good vegetarian options.  In our minds, this restaurant stands out for employing a weird waiter.  When Patrick ordered the Ahi tuna, the waiter responded, "Ahi.  Grrrrr.   When I see Ahi, I just have to grab it and go 'rarrr.'"  We still aren't quite sure what he meant, but we hope the waiter wasn't grabbing Patrick's fish.  The restaurant seared the top and bottom of the tuna, but didn't sear the sides, so Patrick basically ate sashimi mildly cooked.  My Maui onion soup was mostly broth with little onions, and my entree was a big mess of grilled vegetables, lettuce, quinoa, and goat cheese.  All in all, a disappointing meal with strange service, and we would not recommend it.
Maui Tacos -  Patrick thought the fish tacos were mediocre, and not worth the hype, though they were cheap.