Glengesh Pass, looking onto Ardara
{In honor of St. Patty's Day and Patrick's Irish heritage, today, I am reminiscing about one of our favorite destinations in Ireland, County Donegal.  Hope you had a fun filled St. Patrick's Day!}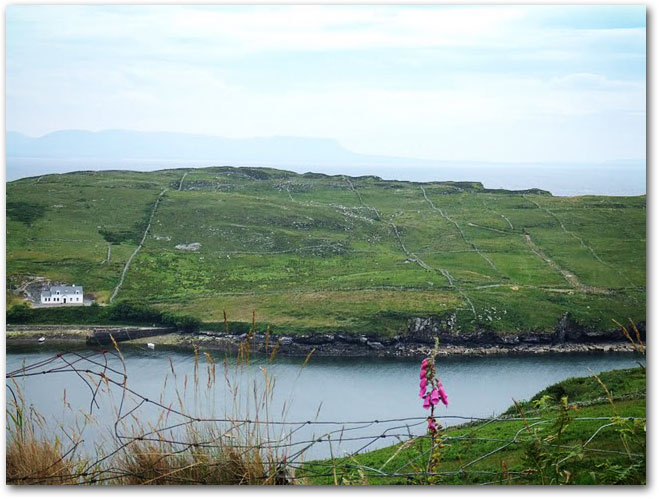 Views of Donegal (most of the white dots in the grass are sheep)
Off the bat, let me just admit that I married the first guy I fell in love with, so I am probably the worst person to be writing about broken hearts.  But, nonetheless, a broken heart is beautiful --- in an intense, wild, frustrating sort of way--- because it is lonely and untouched, but retains the majesty and ardor of something incredible and unexplainable.  And, I imagine that if a broken heart could be a living thing that we could see and touch, it would look like Donegal.
Signs and road to Slieve League Cliffs
Driving through County Donegal means driving through winding small roads, with mountains stretched high into the sky, valleys below, small cottages burning peat, thousands of sheep dotting the landscape, and a wildly tossing ocean looming at every turn.  When we drove through Donegal, we felt like we were the only living people in the world because rarely would we come across another car, and we could see for miles with no houses or people in sight.  There is no rhyme or rhythm to this County --- it just is beautiful and unkempt.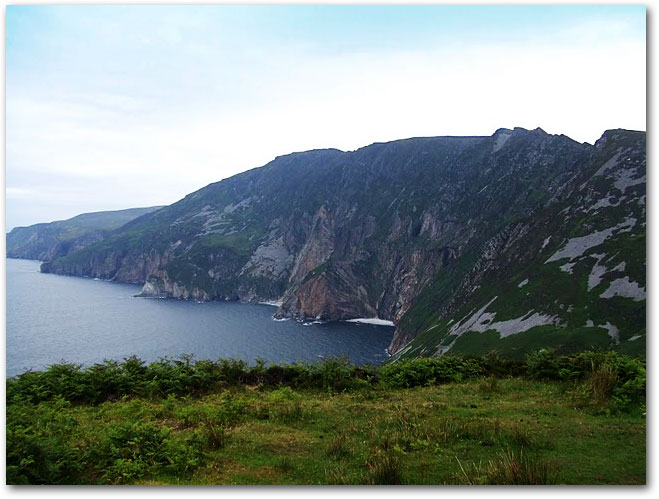 Slieve League Cliffs
Even the main attraction in Donegal County, the Slieve League Cliffs, involves a treacherous trip.  The signage is poor, and halfway through the drive, the signs converted to Gaelic only, and we were constantly afraid we missed the turn, not to mention that we were driving on one-lane roads throughout.  The entrance to the Cliffs is merely a metal gate with a cardboard sign reading "Please close the gate behind you."  We crept up a road no wider than our car, with sheer cliffs dropping into the ocean on the left, mountain walls on the right, and cars coming at us on the same one-lane road.  As one of the regulars at Nancy's Pub in Ardara put it, it is a "bloody 'airy drive."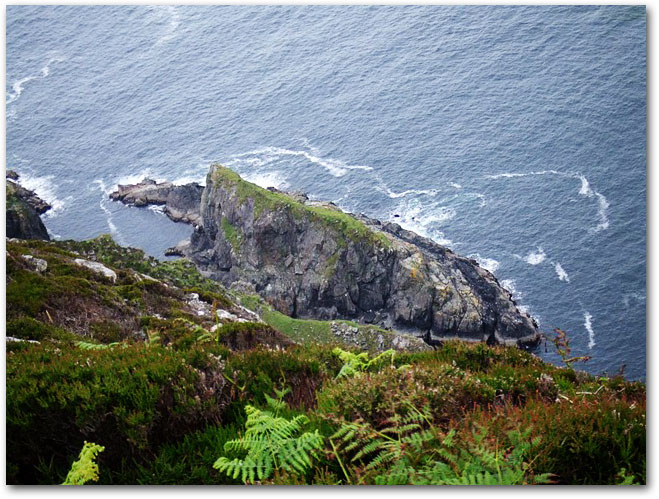 Slieve League Cliffs, looking down

But, at the end, we wound up at the cliffs, staring at a mass of rock, higher than imagination, gray, orange, and red, with green grass climbing over it, that crashed into the navy ocean below.