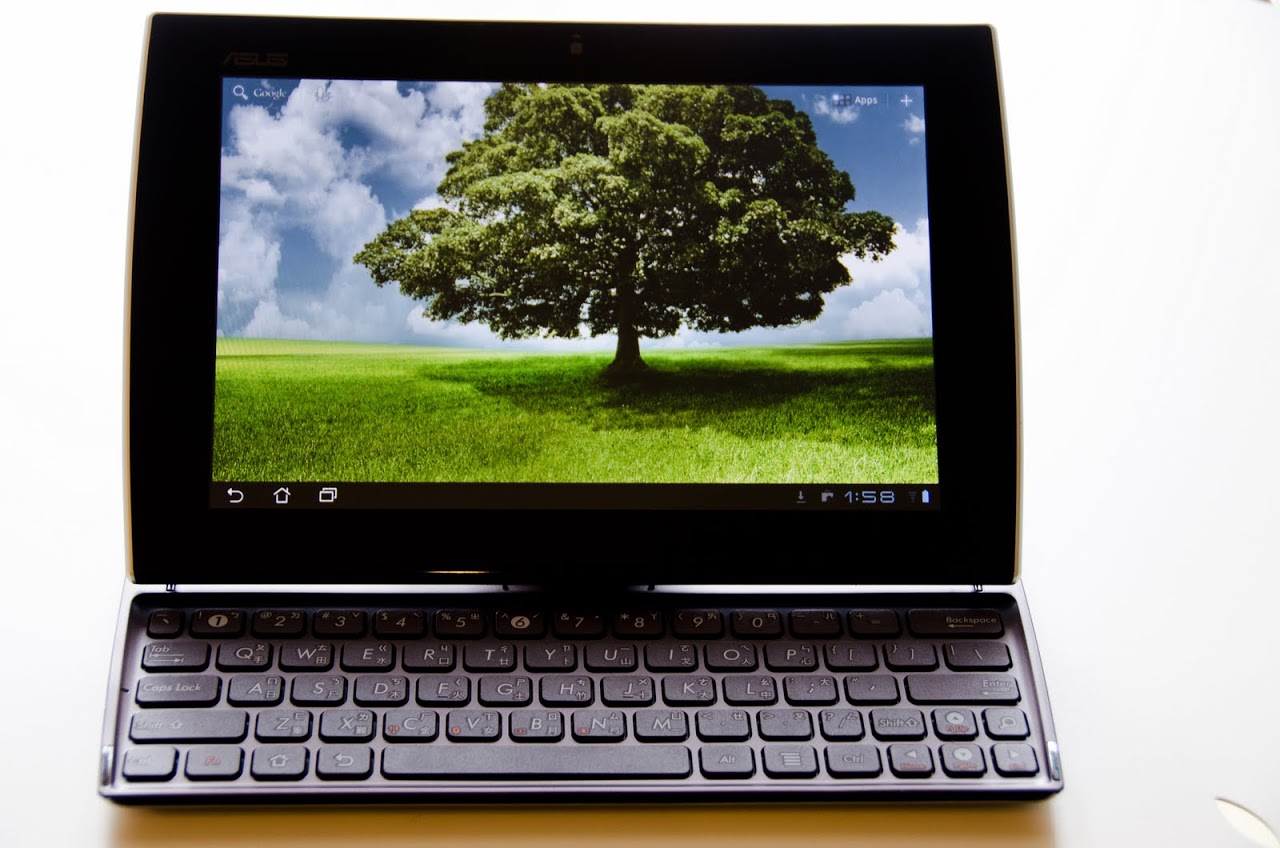 ASUS EEE Pad Slider SL101
When the marketing folks at ASUS contacted me to review their new ASUS EEE Pad Slider (discussed below as the "Slider") tablet/netbook, I said, "yes, please, absolutely."  I loved the concept: a tablet with a responsive touch screen that transforms into a netbook with a  keyboard.  For us total tech junkies, this is the future of the laptop: half-gaming machine and half-work tool with enough power to back our audio-visual fantasies.  (It's not like we're asking for a lot, are we?)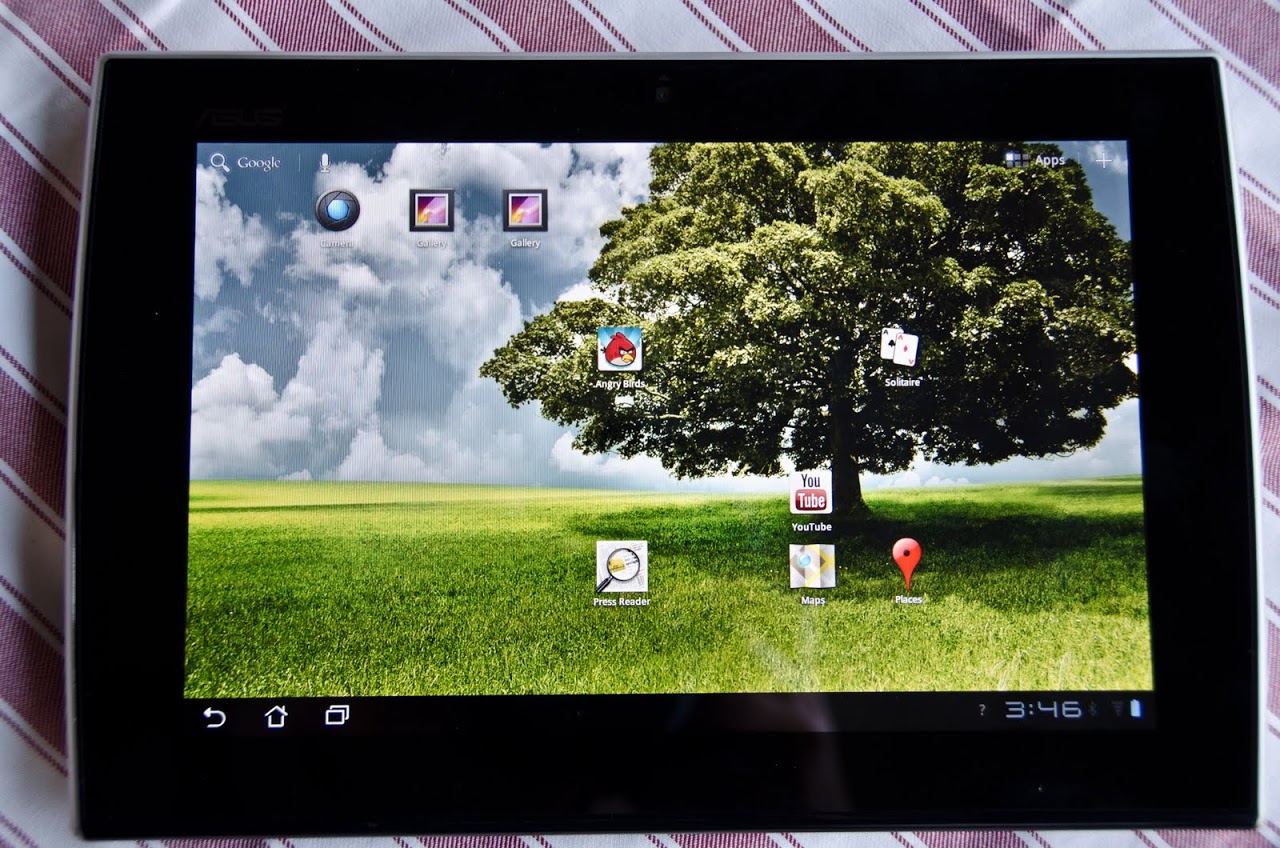 Slider in tablet form
So, how did the Slider stand up to our tests? We put it through its paces: we loaded pictures and attempted to edit them, ran a typing test, did regular word processing, worked on the Internet, used the e-mail functionality, loaded a game (the classic Angry Birds, of course) and played it, transferred files, tried out ASUS Cloud, and shot with the camera.  We compared its weight, size, and feel with the iPad2 (please excuse the duct tape holding our iPad2 together - my husband had a bit of an accident with it), my Sony Vaio Z series, and Patrick's Macbook Pro (we previously had a Macbook Air so we are also familiar with that computer.)  Our results are as follows: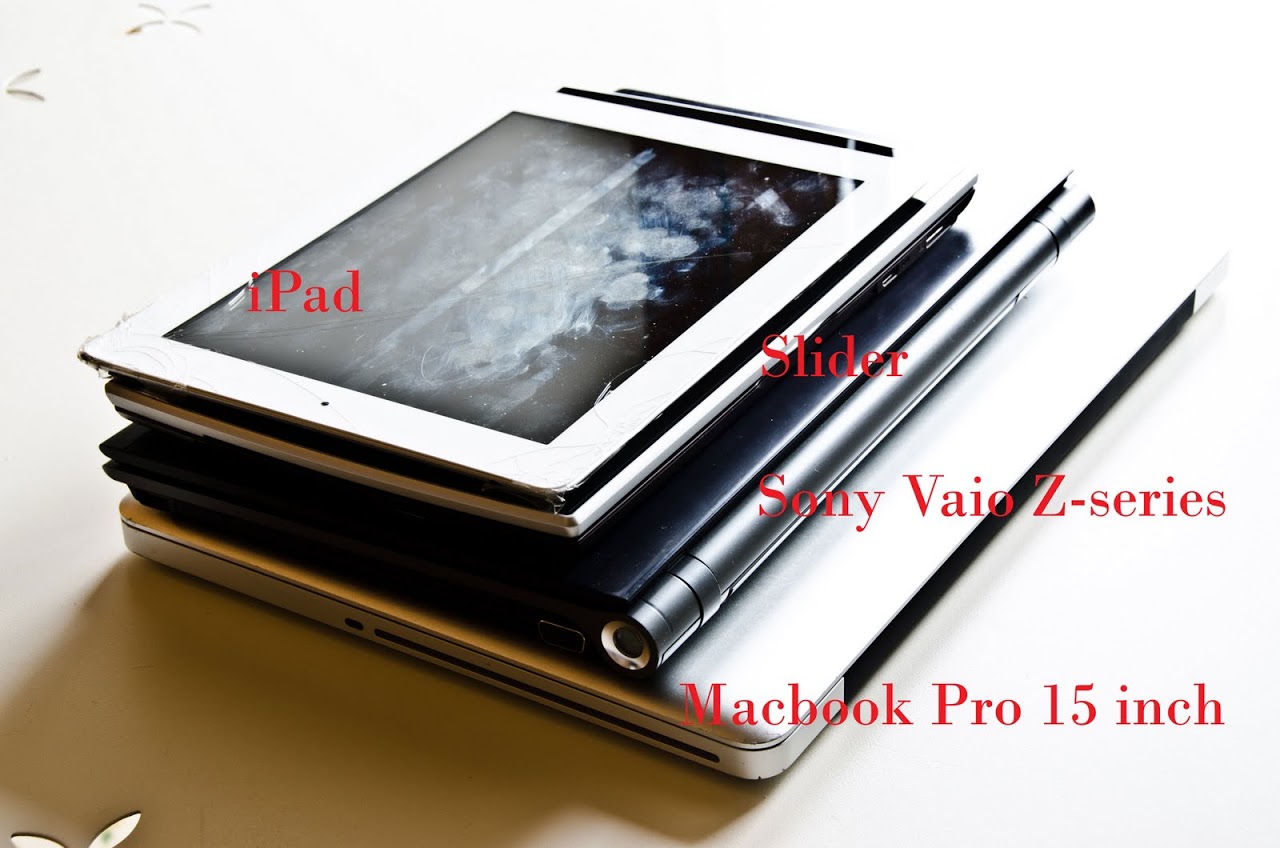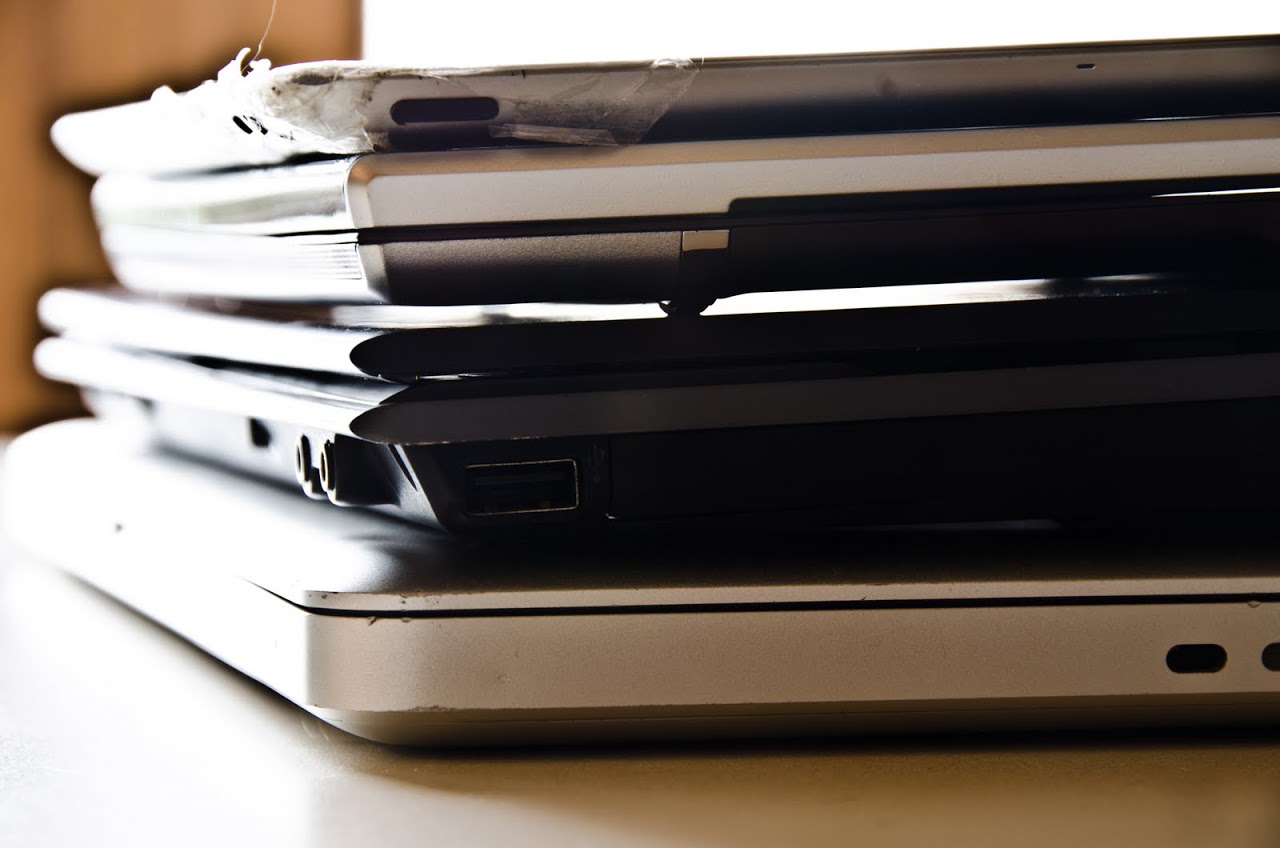 Width/height comparison
The look/touch/feel/specs: Initial hesitation resolved into pleasant surprise. Right out of box, the Slider lacked some of the iPad's pizzazz simply because it has the aesthetics of a tablet but is bulkier and heavier.

But, as soon as we flipped the tablet up to reveal the keyboard, we were very impressed.  The screen is on a spring-lock mechanism so that it slides up easily and quickly and latches in place to reveal a half-sized keyboard underneath.
Slider
iPad2
Vaio Z
Macbook Air
Display
10 inches
10 inches
13 inches
11.6 inches
CPU
1.0 GHz
1.0 GHz
3.4 GHz
1.8 GHz i7
Inputs

1 USB
1 MicroSD
1 HDMI
Audio

Audio
30 pin (meaning the weird connector at the bottom)
1 USB (note: mine has 3)
Audio
HDMI
SD
Memory Stick
VGA
2 USB
Thunderbolt
Memory
1 GB
512 MB
6 GB
4 GB
Disk
32 GB
16 GB
256 GB
128 GB
Weight
2.1 lbs
1.3 lbs
2.57 lbs
2.2 lbs
Size
273 x 180 x 17 mm
241 x 186 x 9 mm
13 x 8.27 x .98 inches
300 x 192 x 17 mm
Cost
$479
$499 (for the lowest end model)
approximately $3000 for the lowest end model
approximately $1200 for the lowest end model
Comparison chart for specs
Admittedly, the Slider is heavier than the iPad – by almost .8 pound – and is fairly close in weight to my Sony Vaio Z Series laptop (in my opinion, the best lightweight PC laptop on the market – but, with a hefty pricetag).  The Slider feels like a small laptop --- or equivalent to a netbook --- rather than a lightweight tablet.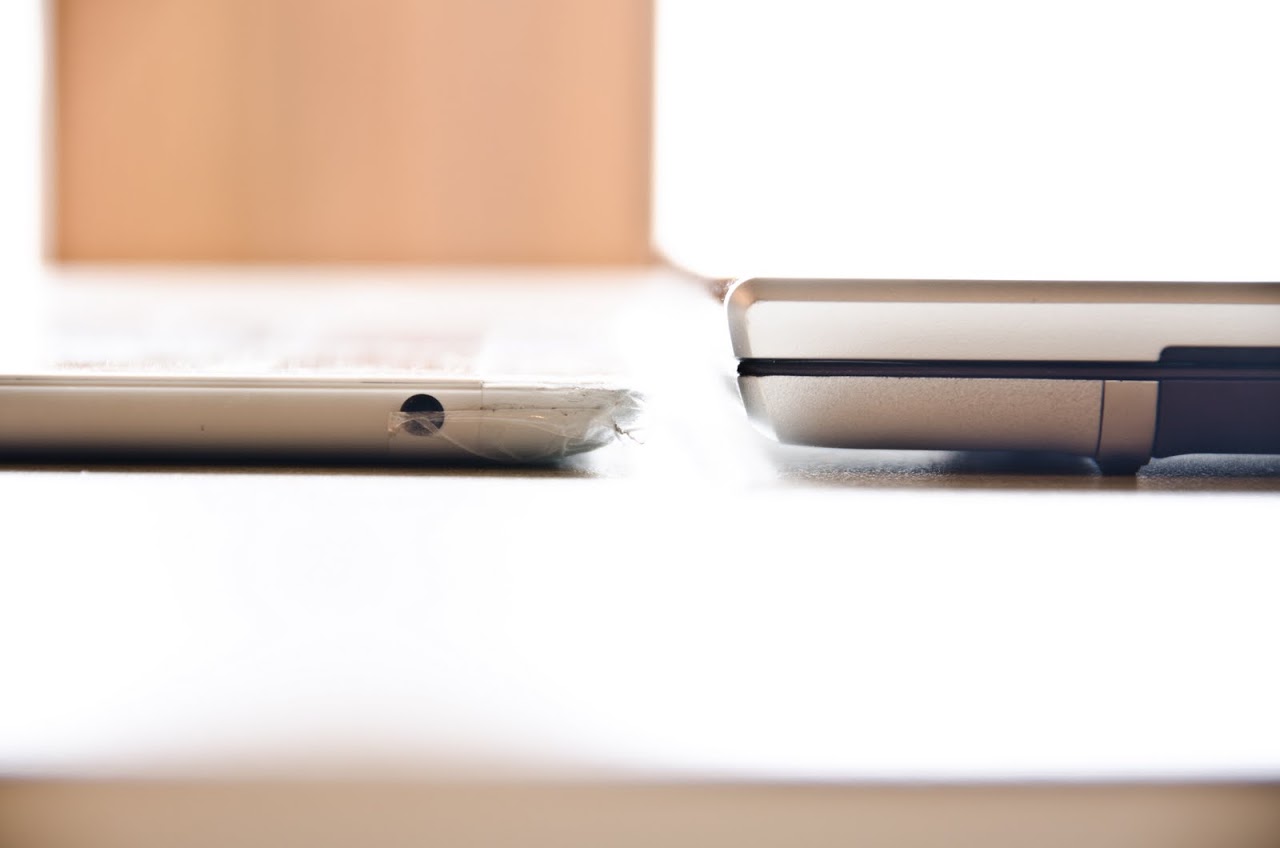 The other thing I don't like is the location of the power button.  The Slider hibernates after a short time and the power button is not a nice big button that is easy to find, but rather a small button next to the volume.  I wish that they had made the power button bigger.
The touchscreen: Fantastic. At least equal to, if not more responsive, than the iPad touch screen.  The screen is bright, sharp, and beautiful.  I played a round of Angry Birds and felt that the screen responded to my slight movements faster than the iPad but Patrick felt that the iPad screen was slightly more responsive, so this may be a matter of opinion.  ASUS has done an incredible job with this touch screen and we both think that it would be wonderful to watch movies and play games on the Slider.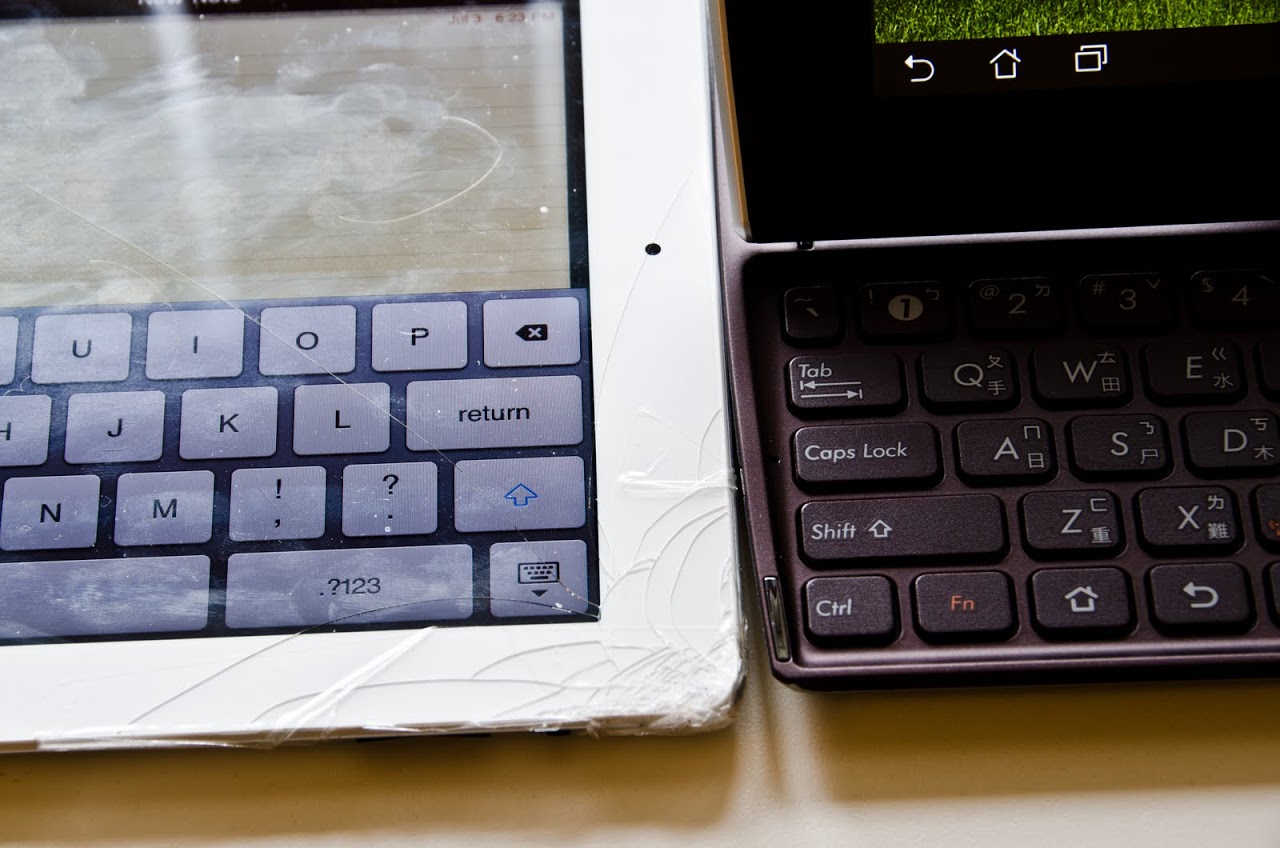 Comparison of iPad and Slider keyboards
The keyboard: Not as good as a full laptop keyboard but better than a touchscreen keyboard. We ran a couple of simple typing tests on my keyboard, the Slider, and the iPad touchscreen, using a two sentence test with a variety of characters.
| | | |
| --- | --- | --- |
| | Akila | Patrick |
| Full keyboard | 72 words per minute | 50 words per minute |
| Slider | 43 words per minute | 21 words per minute |
| iPad virtual keyboard | 16 words per minute | 17 words per minute |
Both Patrick and I had a great deal of difficulty with the location of the space bar on the Slider but that might be a quirk that you get used to after using the keyboard for a while.  The eee Pad keyboard is a half keyboard, meaning that if you have carpal tunnel or get tired from long spells of typing, this might not be the best choice for you.  However, I think it is a much better option than the excruciatingly slow virtual keyboard for the iPad.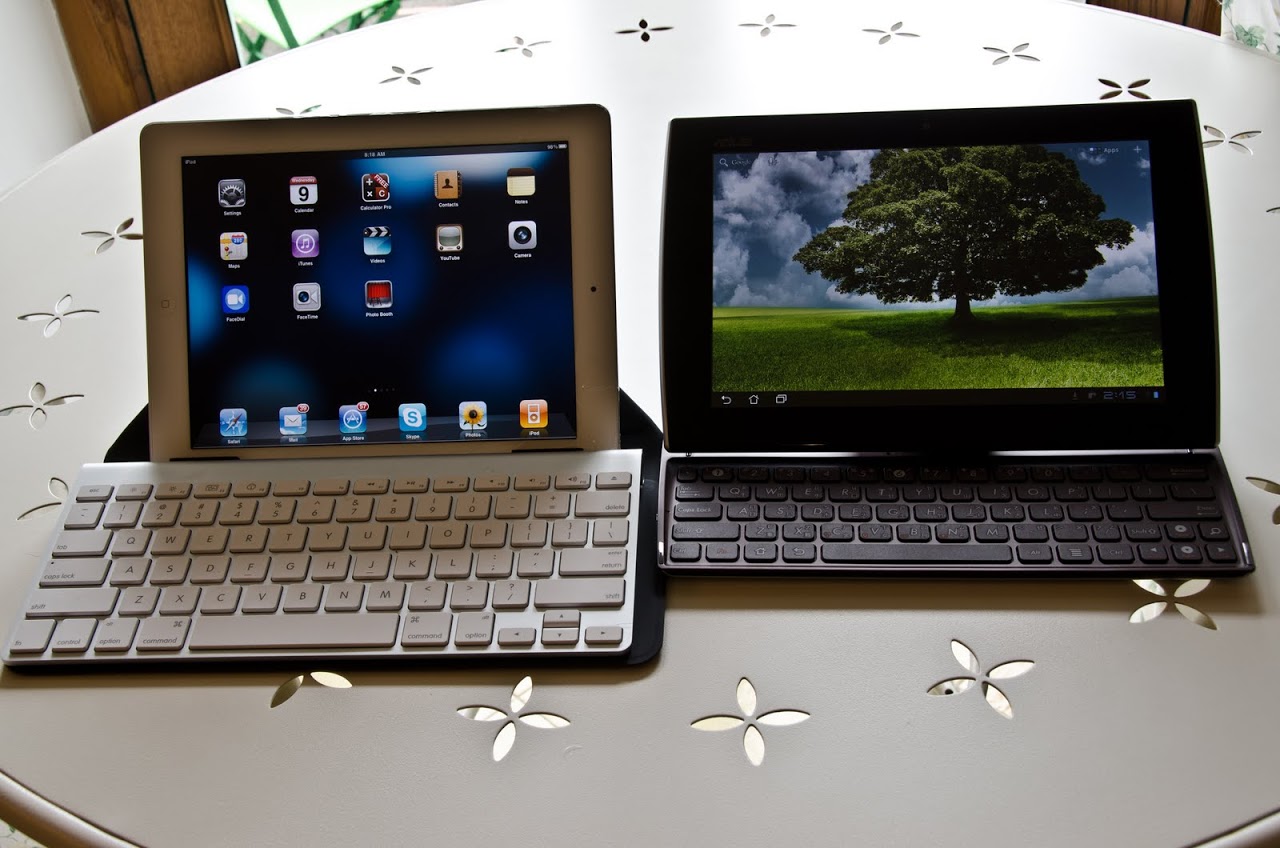 Our iPad setup with the external Bluetooth keyboard and the Slider
Android: Thumbs up. Simply put, we like the Android interface.  It is easy to use, works seamlessly with all Google apps, including Picasa, and has a nice interface.  We love that we can save files and manage files and folders just like on a regular Windows OS.  Our Slider came with the Polaris Word Processing program, which is a better solution than Pages, the Mac word processing option, though not a complete substitute because you cannot copy/paste columns in a table and do other more complex tasks.   The Android Apps market is similar to the Apple App Store, though with somewhat less options.

The Slider comes with unlimited Cloud storage, with both a Mac and PC app, and each file has an exclusive share link so that you can easily share your documents with other users.
Flexibility: Yes! The reason I would never travel solely with an iPad is because it lacks flexibility: if I need to load pictures onto it, I need to buy a dongle; if I want to attach it to a monitor to show pictures to family and friends, I need a dongle; if I need to save files, I need to find WiFi and upload to DropBox.  It's just too hard if you're like me and are often in places where WiFi isn't convenient or available.  And that's where the Slider has the iPad beat.  You want flexibility, here you go.  The Slider has an HDMI slot, a keyboard, a USB slot (yes!), a miniSD card-reader, and unlimited Cloud storage.  We were able to save some test files onto the Slider's hard drive and upload them to Cloud storage later when we had time which is far more practical for the frequent traveler/backpacker.

Camera and photo editing: Fine for the average photographer. The Slider has a built in camera which works well in daytime to capture simple shots but works poorly in low light because it does not have a flash.  Image stabilization is decent but, of course, not nearly as good as what you would get from a point-and-shoot or DSLR.

The Slider has a built-in miniSD card reader, which allows those who shoot with point-and-shoot cameras to load their photos onto the Slider.  If you have a DSLR, this will not work for you because the Slider does not have a full SD card reader and its RAW imaging capability is poor.  (In order to convert RAW to jpeg, you have to a buy an app and there is no Lightroom syste or equivalent for the Android systems, as far as we can tell.)  But, for the average photographer, shooting with a point-and-shoot camera, I think that the Slider offers a good option because it has a miniSD card, automatic import into Picasa, uploading to online albums through Picasaweb (which is attached to a Gmail account), and some minor editing using Photoshop Express or Picasa.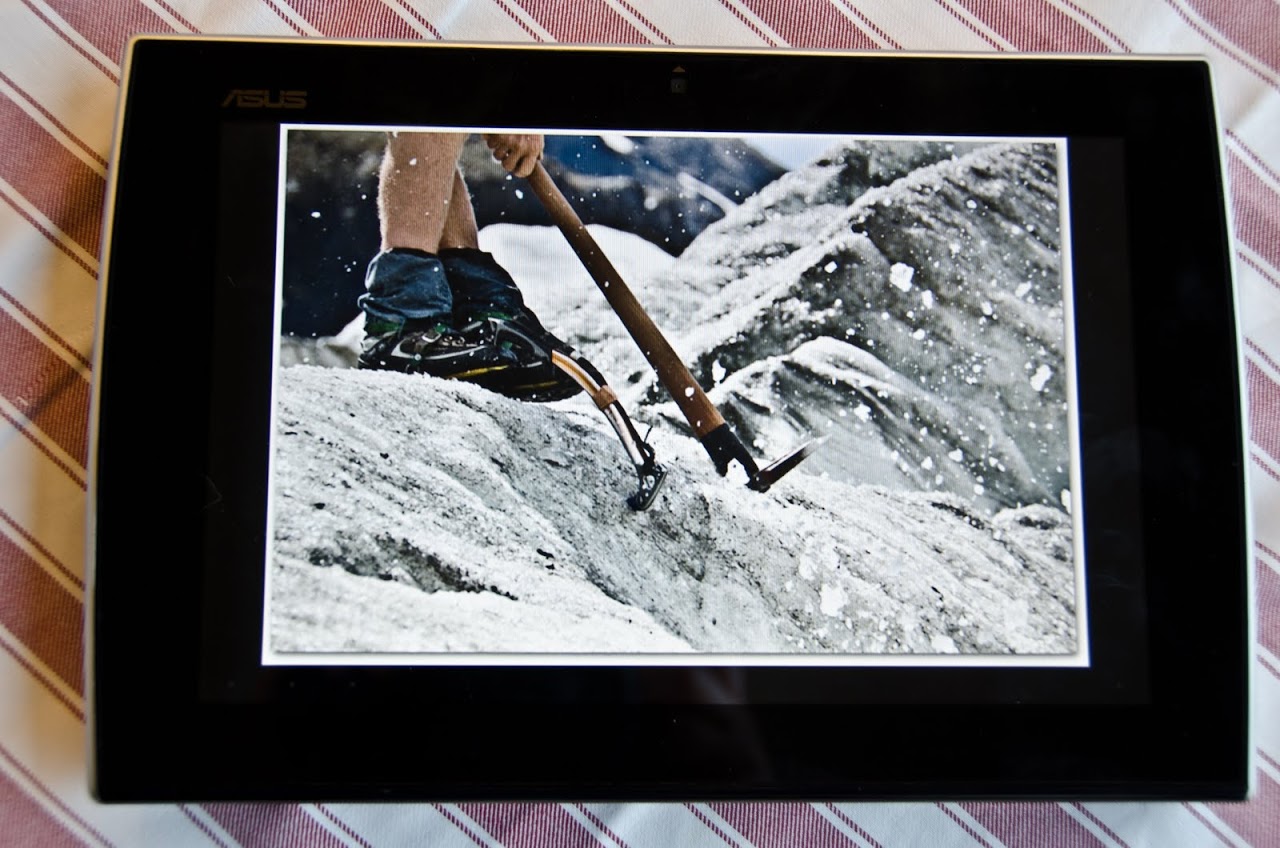 One of our New Zealand shots on the Slider's gallery feature
Photography viewing: Brilliant. The gallery feature on the Slider is one of my absolute favorite features.  It imports all the photographs from Picasa and showcases them beautifully on a black screen.  The clarity of these shots is astounding and makes our photographs look so much better than I have ever seen them on any screen.

Speaker quality: A little tinny but decent otherwise. The Slider's speaker quality isn't as good as the iPad and definitely not as good as Patrick's phenomenal Macbook Pro, but equivalent to my Sony Vaio Z-Series.   Sound generally tends to be a little sharp but not terrible.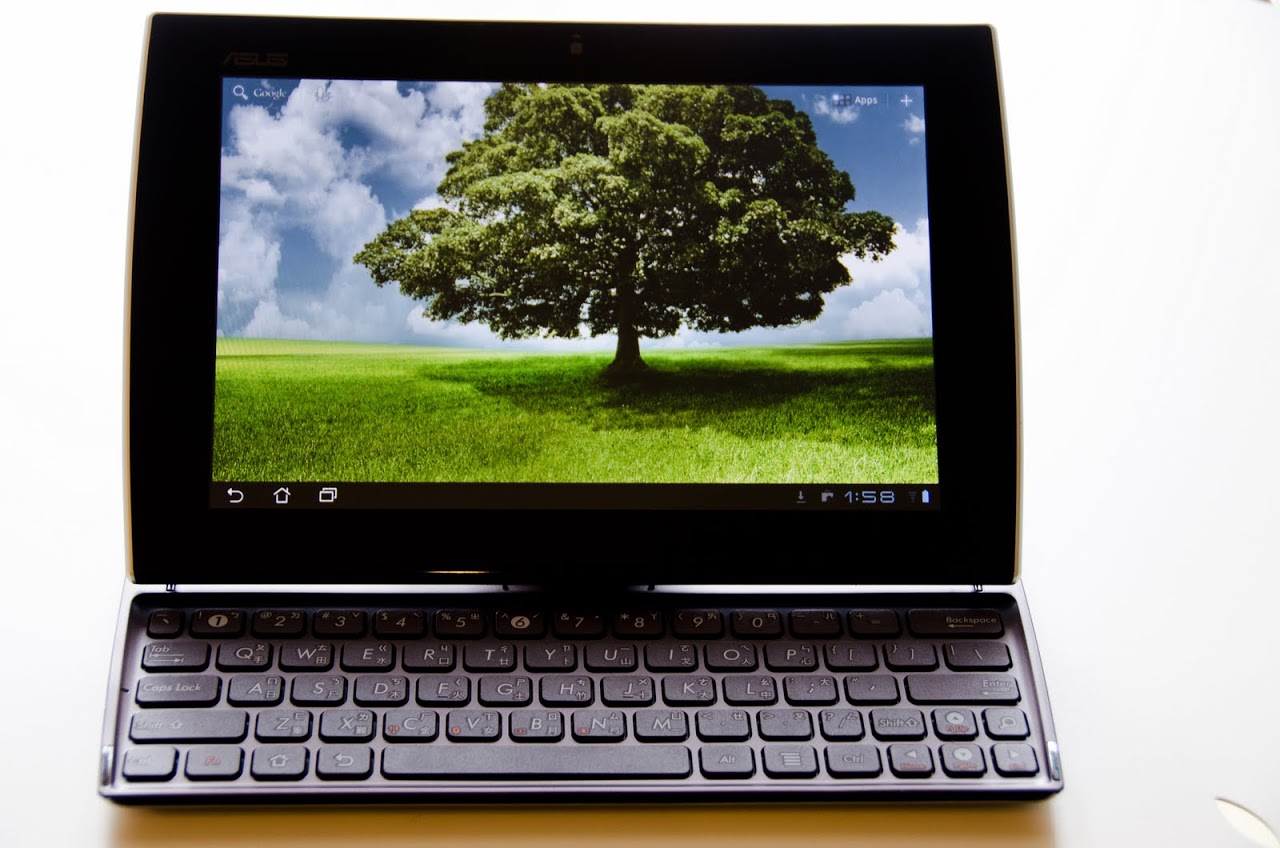 The verdict: A very solid netbook/tablet-alternative for the frequent traveler. I see the Slider as an excellent option for travelers who want something with more substance and flexibility than the iPad but less bulk and expense than a laptop.  We both could easily see a backpacker sitting in a hostel and whipping this out as an ultra lightweight tool to write up some blog posts and respond to emails.

Mind you, this is not a tool designed for those who plan on traveling with a DSLR and do a lot of photo or video editing or prolonged typing.  But, if you are a traveler who wants the benefits of both a laptop and a tablet --- that is, a system to read books (via the Kindle app), load jpegs from a point-and-shoot cameras, show pictures to people on the road, write blog posts without extensive photography, work on the Internet, and play games ---- the Slider is a great solution.  The price point at $450 is similar to the iPad .  We hope that in the next model, ASUS continues to make the Slider slimmer and smaller with a slightly larger keyboard and power button.

** And, you can win the ASUS EEE Pad Slider by signing into the ASUS Dream Trip Facebook App if you live in the UK, until November 16th.  (Sorry US residents!)  Our dream trip is the one that we're currently on --- traveling through Europe with our two dogs --- and we wish you luck in winning a Slider to embark on your dream trip or to use it at home.
**** This post was sponsored by ASUS who provided us with an EEE Pad Slider to review, tweet, and comment about, in conjunction with their Dream Trip Facebook campaign .  As always, every single opinion, word, and idea we express via this site or our social media is ours and ours alone.