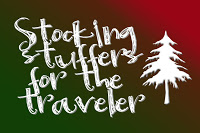 If you've ever been to India,  you know that Indians like to buy gifts.  It's just this thing that Indian people do: if you go to someone's house, you bring a gift; if they come to your house, you buy them a gift; if you're meeting them at a cafe, you bring a gift; if it's Diwali, buy a gift; if it's Christmas --- notwithstanding that my family isn't Christian --- we buy gifts.  So, people are constantly asking me what they can buy us and we respond, "Nothing."  It's not that I don't like gifts . . . it's that I have no space for anything else in our already crammed backpacks and suitcases.
Actually, that's not true.  I do wish more people would buy me plastic bags and deodorant.
No, seriously.  When my dad came to visit us in Tuscany, he brought us 50 poop bag rolls (for the dogs, not us, people) because the price of poop bags in Italy is simply outrageous.  He actually got the better end of that deal, though, because he brought us poop bags and we sent him home with Italian wine.  Our most coveted American purchase is Hefty Food Storage bags : these wondrous things currently store our liquids in our "pantry," our papers and receipts in our "file cabinet", and our toiletries in our "medicine cabinet."  And, as soon as I landed at Miami airport, I found a drug store that sold deodorant that costs less than $10 for a roll and actually has antiperspirant in it.  (Antiperspirant, praise the deodorant gods!)
But, obviously, if you're planning on buying Christmas gifts for the traveler, you're not going to buy them deodorant and Hefty bags (though you should cause it's what they probably want.)  So, what do I suggest for cheap stocking stuffers for the travelers?  Here we go:
For the Outdoor Adventurer

Nathan Bottle Sling - Black : We are totally aquaholics and, on any given day, probably drink over 2 liters of water, especially when hiking. But, I hate carrying water bottles --- they are bulky and cumbersome. The Nathan Sling is the perfect solution: a simple neoprene wrap that fits around the standard slim water bottle and we carry it across our shoulder. Brilliant!

For the Electronics Junkie

Sanyo Eneloop Ni-MH Charger and 8 Rechargeable AA and 4 Rechargeable AAA Batteries : If you have a lot of electronics (and especially an external flash), you'll need batteries. These Eneloop batteries work better than any other that we've tried, stay charged for a long time, and the recharger fits in the palm of the hand. Perfect for the electronics junkie!
For the Frequent Flier

nap Travel Flight Kit : I love the Brookstone nap collection. The supersoft NapSoft material just begs to be slept in and I like that the inflatable travel pillow and earmask fold up into a small little package, perfect for long-haul flights.

For the Flashpacker

Belkin F8B024 8-Inch Velcro Cable Ties : If you carry electronics (as most travelers do), then you also carry cords to charge them. We have two full bags of electronics cords and these simple velcro cable ties are essential to keep from pulling out my own hair (or my spouse's.)

For the Traveling Toddler

Crayola Color Wonder Travel Tote (colors & styles may vary) : Many of my friends have young children and will be crossing the country with them this holiday season, either by car or plane. We saw a toddler using this set a few months back and I loved the idea for any traveling family. The markers are completely mess-free and show up only on the included paper and the markers and paper store into a book-sized travel tote that doubles as a lapdesk in the car or a plane. Seriously - I want to buy one for every toddler who boards a plane with us!

For the Book Lover



Kindle, Wi-Fi, 6" E Ink Display - includes Special Offers & Sponsored Screensavers : Okay, this is a bit out of stocking stuffer price range but not by all that much, actually. The brand new Kindle is only $79 (with advertisements), lightweight, and still packed with the best of the Kindle's features: e-ink Technology, no backlighting, and built in WiFi. I can't imagine traveling without our Kindles and am excited that Amazon's making it so affordable for folks to pick up e-readers.

For the Traveling Teen

Luggage Tag - you won't look good in my clothes : I adore Inventive Travelware's set of tongue-in-cheek luggage tags: "You won't look good in my clothes"; "Take my luggage; do my laundry."; "On my way to Alaska to look at Russia."; "You have exquisite taste in other's bags." Love!

For the Backpacker



Pacsafe RetractaSafe 3-Dial Retractable Cable Lock : A good lock can save your luggage from being stolen or fiddled with --- especially by pickpockets and lazy thieves. A retractable cable lock is essential on long bus or train rides and hostel rooms.

For the Photographer

Nikon ML-L3 Remote Controller : This remote is smaller than a finger and only $13, yet it will change the way you think about night photography. (There's also a Canon version if you have a Canon). Set your camera down on a solid surface (a tripod, if you have it), change the settings to take with a remote, press the button, and voila! No handshake and a perfect night shot. It's also great if you want to take pictures of you and your travel partner without handing over an expensive DSLR to someone who might not know how to use it.

For the Vacation Home Renter

Travel Spice Kit : Most vacation homes don't come with spices other than salt and pepper and it's a bother to carry around lots of jars. We have something similar to this spice kit that we created ourselves using miniature jars I found at the Container Store. I like this version because the spices come pre-labeled and organized so any vacation home renter is ready to head to the cabin and start cooking.

For the Heavy Packer

Eagle Creek Pack-It Compressor Large - Clear : As soon as we started traveling with the dogs, we realized that we need to carry a lot more bulky stuff --- especially heavy dog blankets. These compression sacks make quick work of them, reducing the volume by about half, and ensuring that we can fit everything in. If you know someone who's planning a ski vacation and taking lots of bulky sweaters, these Compression Sacks will help them fit everything in to their suitcase.

For the Business Traveler

Tugo Luggage Cup Holder : It's almost mandatory that the business traveler juggle a laptop case, coffee cup, and carry-on aboard the plane, and I see them fumbling with the coffee cup while trying to hand their boarding pass to the flight attendant or do any other simple task. The Tugo Luggage Cup Holder is a simple swivel product that attaches to two handles of a regular carry-on case and prevents the coffee cup from spilling.

For the Honeymooners

Just Married Flip Flops - Stamp Your Message in the Sand! : Most honeymooners head to the beach and I think this is such a cute novelty gift for the blushing bride (they also make a matching set in black for the groom). The shoes stamp the words "Just Married" in the sand.

For the Armchair Traveler

The Travel Book : My sister-in-law bought us an earlier version of this book years ago and it remains one of my all-time favorite travel books. Bleeding with gorgeous photography and chock full of facts of every country in the world, this book will feed the traveler's soul even when he's at home.
* If you click on any of these links and buy something, we'll get a teeny bit of money - maybe enough to buy a glass of wine at our local pub.