about
We are Akila and Patrick. Our minds (and waistlines) expand as we travel, cook, and eat our way around the world with our two dogs.
Our travels inspire our cooking. Join our feast around the world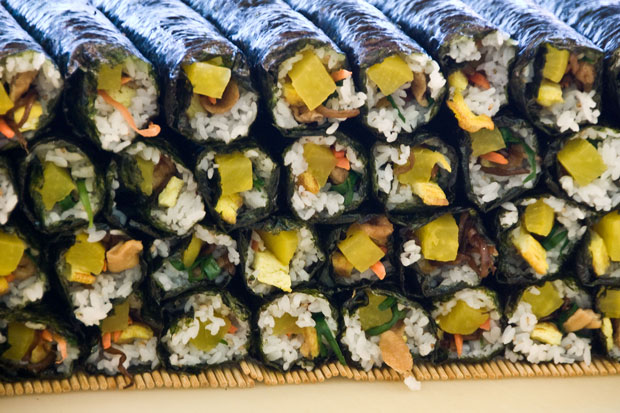 the transnational fast food theorem
The deliciousness of chain restaurants is inversely related to the distance from its home location. South Korea was our proof.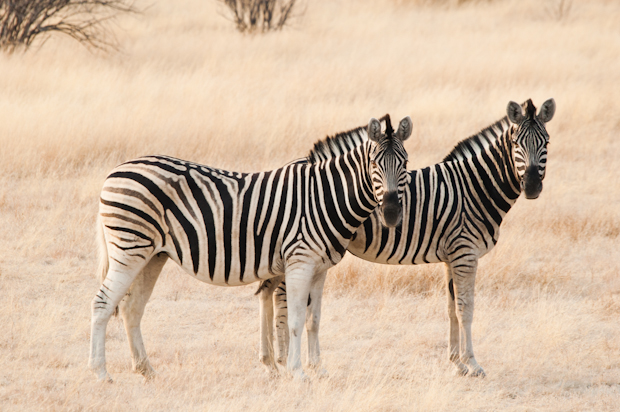 down by the watering hole
The ups and downs of finding wildlife at Etosha's watering holes.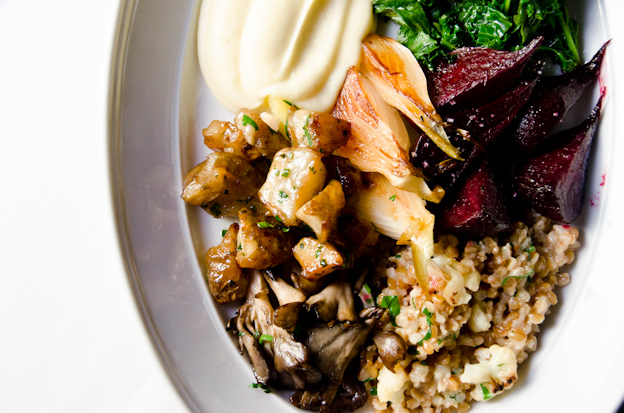 fig charleston
One of the best meals we have had in the last year.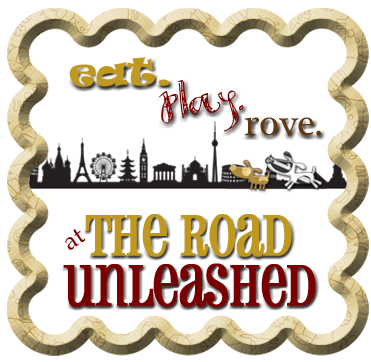 Five Random Links from our Blogroll :

Almost Fearless
Hungry Ghost
FoxNomad
Mom Says I'm Running Away
Eat Live Travel Write
January 18, 2010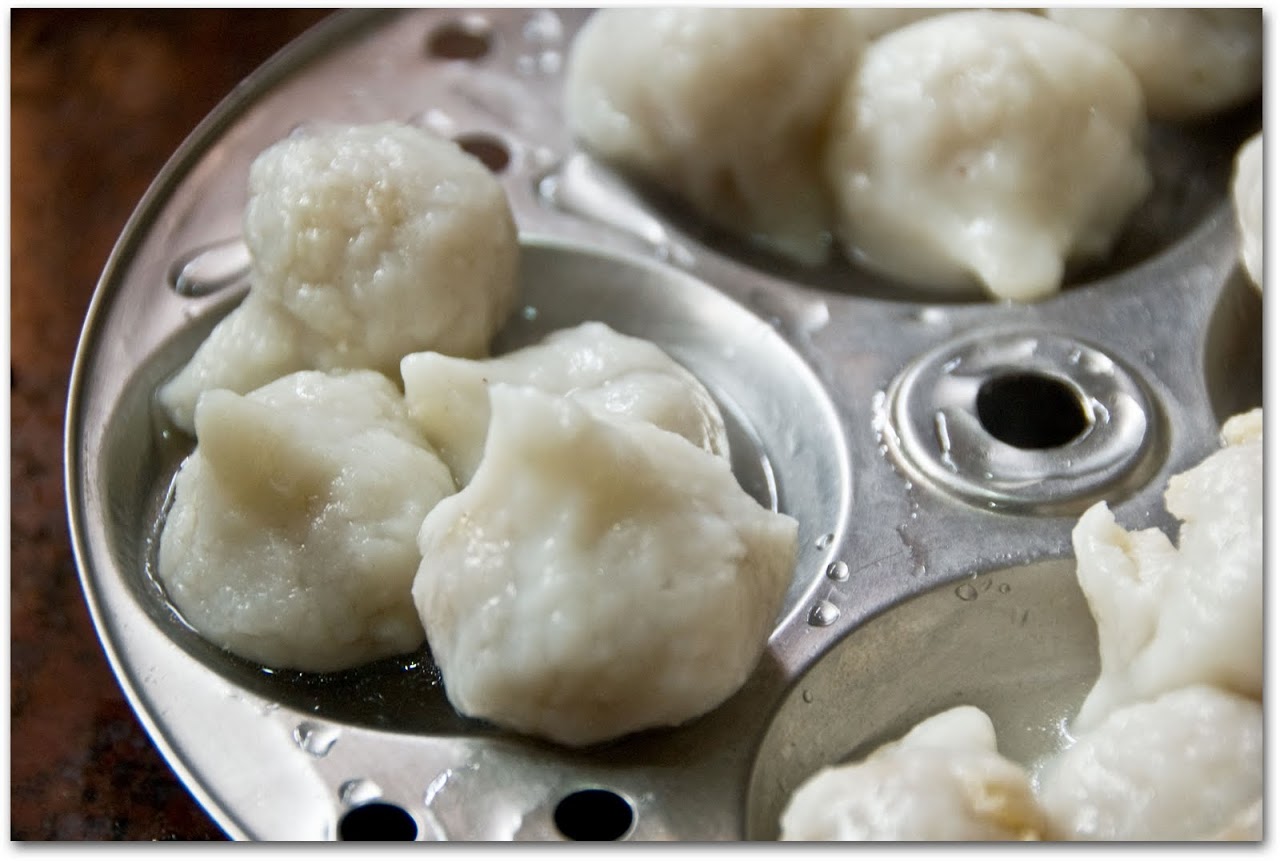 Kozhakattai
We cannot disagree with Lonely Planet that "[n]o matter how determined you are, you'd be pretty hard pressed to find much to gush about when it comes to Chennai."  Heat pounds the city year round and it is not uncommon for temperatures to reach 90 degrees Fahrenheit in the "cool" winter season.  Mangy dogs and cows graze from the trash that lines the clogged streets.  And, in the thirty years I have been coming to Chennai, the mingling odor of sweat, diesel fumes, sewage, and urine has never failed to greet me.
It is not the place but the people who draw us here.  At Marina Beach, I see more than the immensely wide beach ravaged by the 2004 tsunami because I remember childhood summers spent running into the water and searching for shells with my uncle and aunt.  We do not brave the sweltering midday sun and, instead, spend the time chatting with our relatives under the swirling ceiling fans.  And, of course, because it is impossible for Indians to socialize without food, we eat.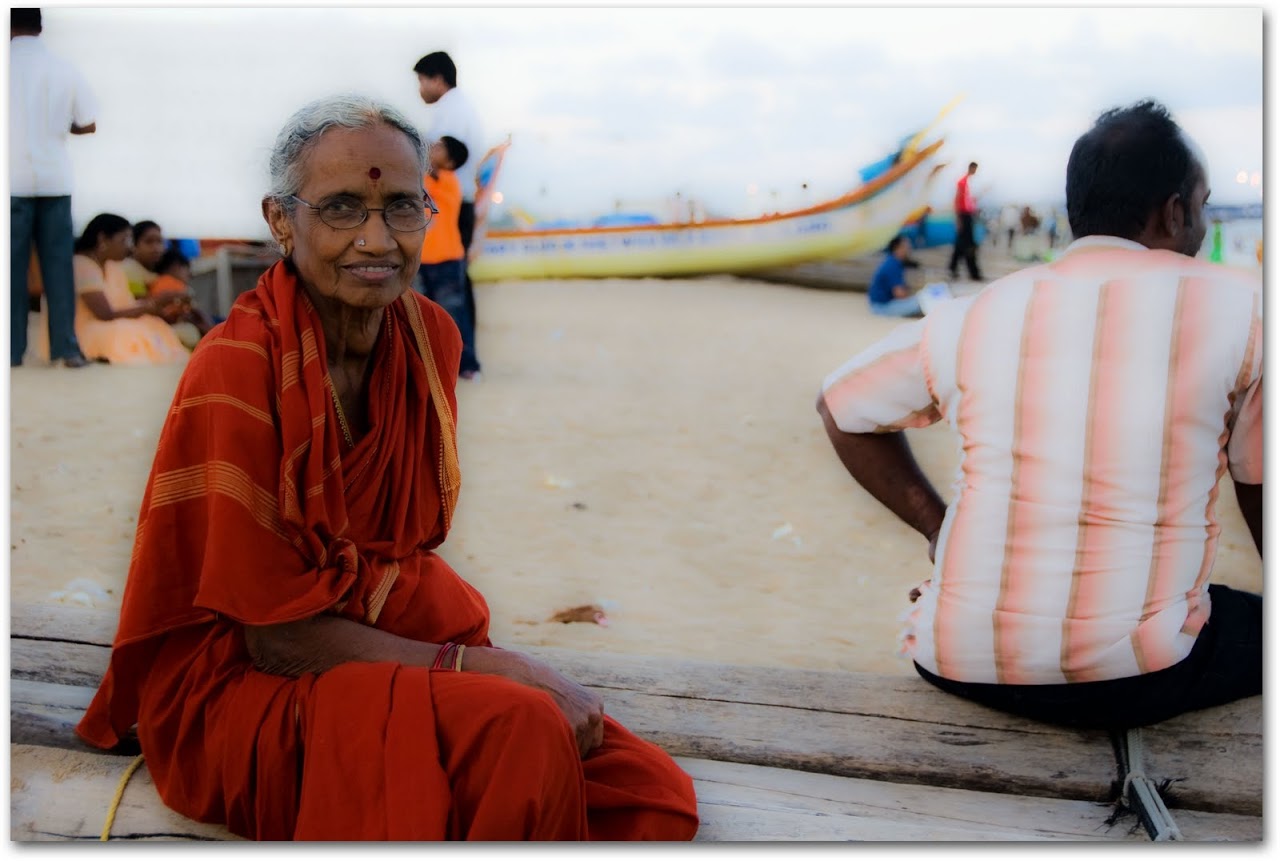 Patti at Marina Beach
I can trace my passion for food and cooking directly to my childhood spent at my grandmother's table. When I am with my patti, the Tamil word for grandmother said with an emphasis on the "tt", I revert to my ten-year-old self, as she presses dish upon dish upon me, making the same complaint that I always used to make, "Enough, Patti, enough.  I am so full already."
Coconut, grated coconut, jaggery, coconut and jaggery heated, filling, filling in balls
I have never met anyone who enjoys cooking more than she.  Now in her seventies, she still spends most of her day in the kitchen, concocting a myriad of dishes for every meal.  Her food stuns and entices: dosas so thin that they crackle, buttery parathas with a tender potato stuffing, and baby mango pickles that literally make my mouth water when I think about them.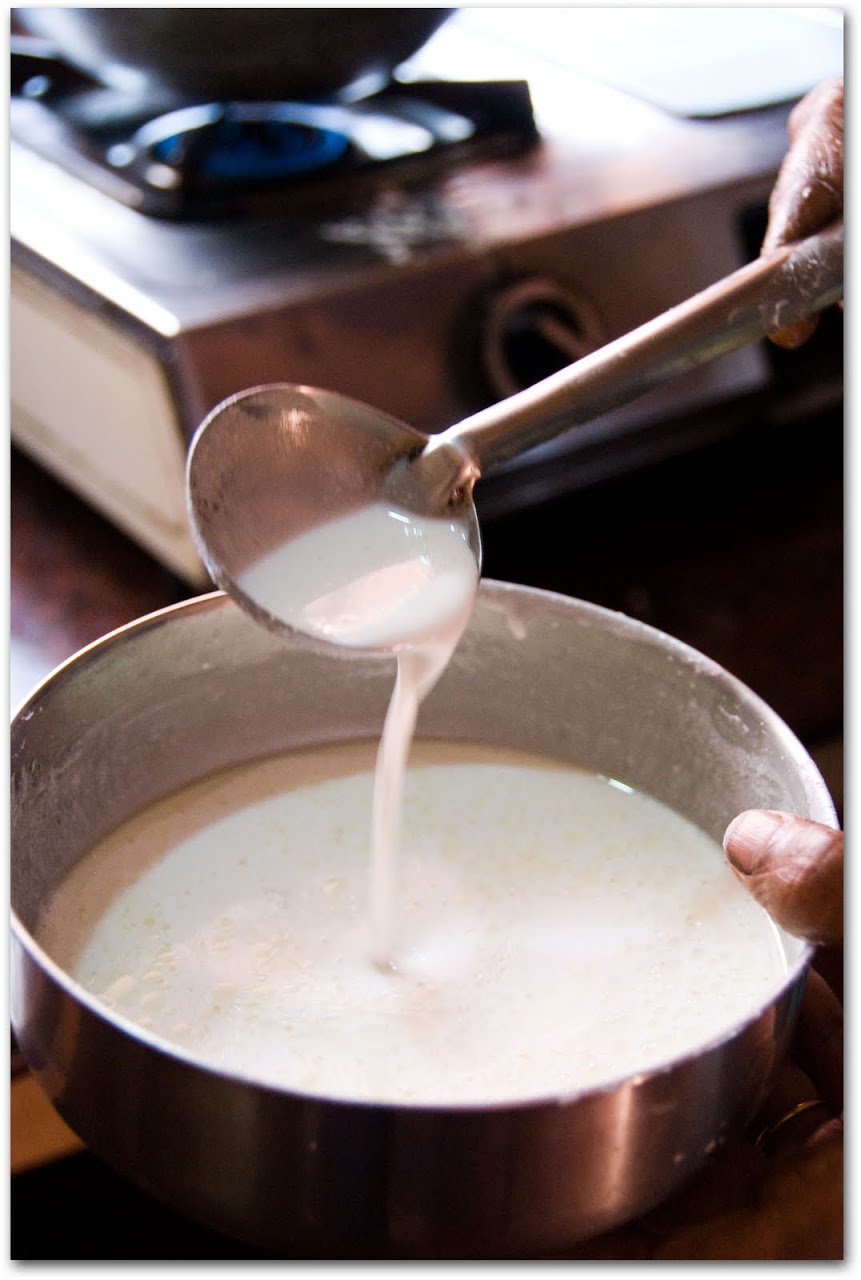 Kozhakattai dumpling batter
This time, when we visited patti in Chennai, I was bound and determined to learn how to make kozhakattais, sweet coconut dumplings, properly.  Patrick still struggles with the pronunciation---it sounds something like "korakatai" but the "r" is said by hitting the tongue to the back of the roof of your mouth and the emphasis is on the "tt"---but they are the only Indian sweet that he loves.
Kozhakattai batter being cooked; cooked; kneaded; formed into balls
You will never find kozhakattais in any restaurant or store because they are not fashionable, a bit fiddly, take time to make, and are best served steaming hot.  Their province is strictly in the kitchens of the South Indian home cook who has the time and patience to make these thumb-size desserts.
Contrast Patti's perfect round dumpling wrapper; my oblong, jagged wrapper with filling in middle
Ground rice and water form the dumpling wrap and the filling is freshly grated coconut heated with jaggery, a golden form of pressed cane sugar.  Making thin dumpling wrappers that stretch and curve gracefully over the copper coconut balls is an art, as I learned this week.  In the time it took me to make one kozhakattai, patti had made three, each perfectly round and smooth, while mine had cracks in the batter that I vainly tried to reseal.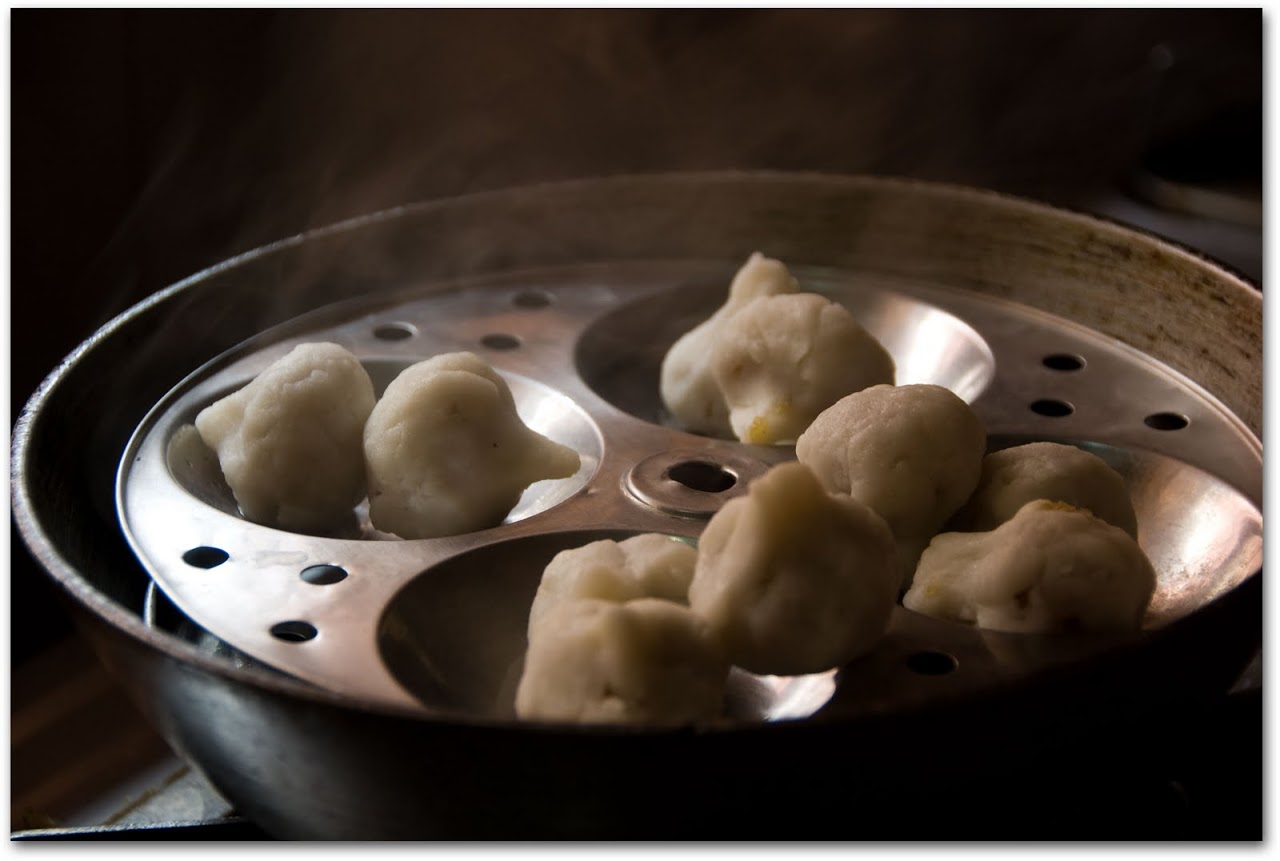 Kozhakattais ready to be steamed
I did get better at making kozhakattai that day.  Each one was a little rounder, with less cracks, and a smaller nose.  At my fifth attempt, patti generously complimented me, telling me that my misshapen kozhakattais were "perfectly cute."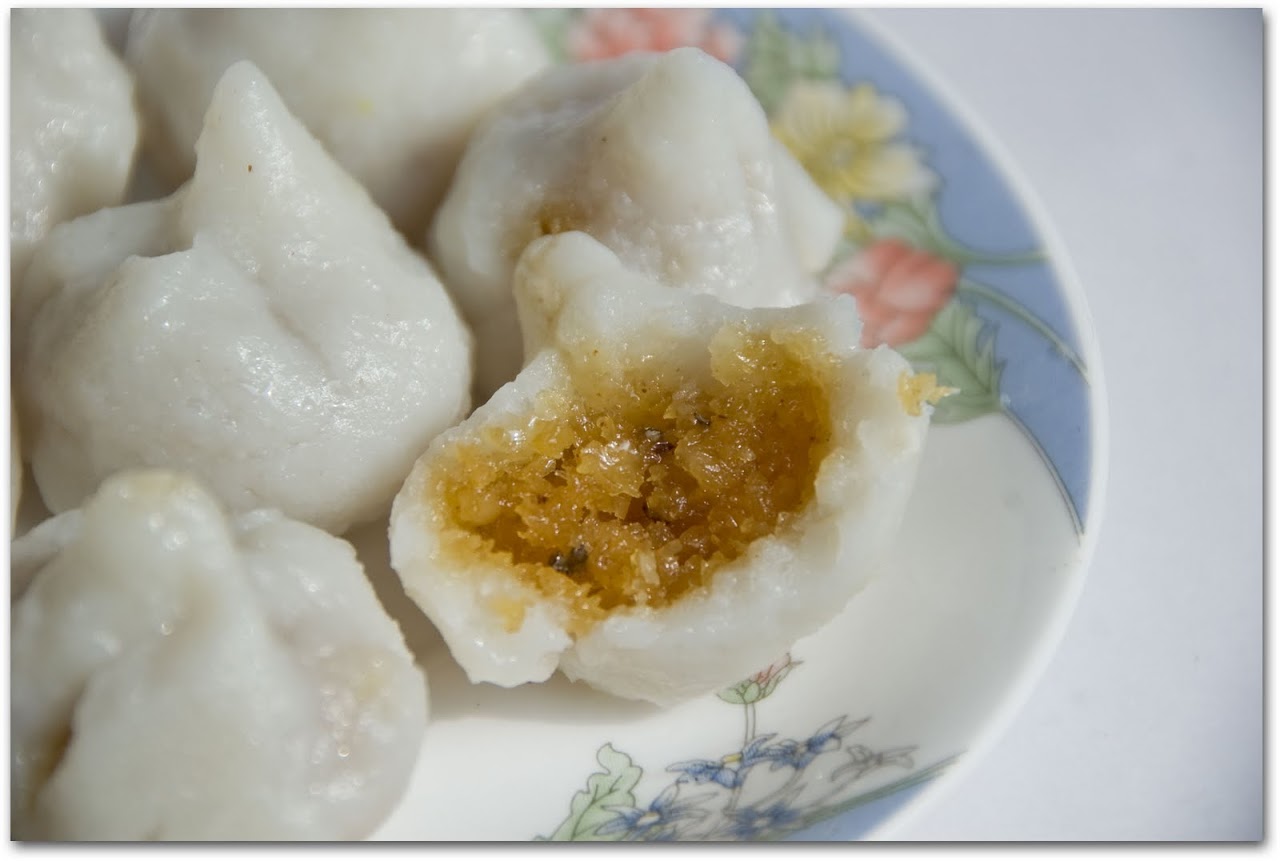 Kozhakattai
In any event, my imperfect dumplings did not matter so much because half the batch disappeared in minutes.  They are best eaten hot so the savory translucent skin melts and balances with the almost too sweet coconut flesh.  It is nearly impossible to eat only one, especially when they are made with a grandmother's love.
Kozhakattai (Sweet Coconut Dumpling)
Ingredients
3/4 cup white rice
1 cup packed grated unsweetened coconut*
3/4 cup jaggery**
3 cardamom pods, remove cardamom and finely grind
4 tablespoons canola/vegetable oil
Directions
Make the wrappers:
1.    Soak 3/4 cup white rice in water to cover rice for 2 hours.  Drain water from rice.
2.    Grind (using a food processor or grinder) rice with 1/2 cup of water until it becomes a smooth thin batter.  Add a pinch of salt and 1 1/2 teaspoons of oil.
3.    In a nonstick pan, heat batter over low heat, stirring continuously until it becomes  thick paste, almost like wallpaper glue.  Cover and heat for 3 minutes more over medium heat until the paste has formed into thick pieces.  Remove from heat, place in mixing bowl, and let cool.
4.    Begin by mixing about 1/4 cup water with the wrapper dough and knead dough for about five minutes, adding more water as necessary, until it feels like Play-Doh.  Add 1 tablespoon oil and knead into dough.
Make the filling (in Tamil, called poornam)
1.    Heat coconut and jaggery over low heat for about 15 minutes, stirring occasionally and breaking up jaggery pieces until they come together and turn copper.
2.    Turn off heat and mix in ground cardamom into coconut mixture.  Let cool.
Make the kozhakattai:
1.    Take pieces of dough and roll into small ping pong sized balls.
2.    Take filling and roll into balls about 3/4 of the size of the dough balls.
3.    Fill a small bowl with two tablespoons oil.  Dip fingers into oil to keep the dough from sticking to your hands.
4.    Create a small indentation in the center of the dough ball.
5.    Carefully moving your fingers around the edge and not the center of the dough ball, create a small bowl.
6.    Then place the bowl into a cupped hand and, using one finger from the other hand, gently extend the sides of the bowl, without create cracks in the dumpling wrapper.  The thinner your dumpling wrapper, the better the kozhakattai.
7.    Place filling ball into the dough bowl and crease the edges of the bowl into the center.
8.    If, at any time, the dough begins to be difficult to work with, add some water to the dough and knead the dough again.  If the batter begins to stick to your fingers, dip your fingers into the oil.
Steam kozhakattai:
1.     You will need a mechanism to steam your kozhakattai.  I have a steamer bowl that attaches to the top of my rice cooker but a bamboo steamer or a bowl with holes suspended over a pot of boiling water will work (what patti uses).
2.    Boil water in boiling mechanism.  Coat steamer pan with ½ teaspoon oil.
3.    Place kozhakattai in steamer pan and cover with a lid.
4.    After about five minutes, check your kozhakattai.  They should be shiny, translucent, and not sticky when you touch them.  Sprinkle one tablespoon of water on them.
5.    Serve to your admiring fans.

*If at all possible, use freshly grated coconut rather than store bought varieties because most of the flavor in the kozhakattai comes from the sweet creaminess of the coconut flesh. Alton Brown has an excellent method for grating coconuts, or you could purchase a coconut grating tool, that looks like a torture device, sold in Indian stores.
** Jaggery is a form of pure unrefined cane sugar sold in Indian stores.  I think you could substitute dark brown sugar for the jaggery, but the jaggery has a buttery undertone that dark brown sugar lacks.  If your jaggery has hard stones of sugar in it, then just like brown sugar, you can heat it in a small amount of water in the microwave gently for a few seconds and grind the jaggery to soften it.