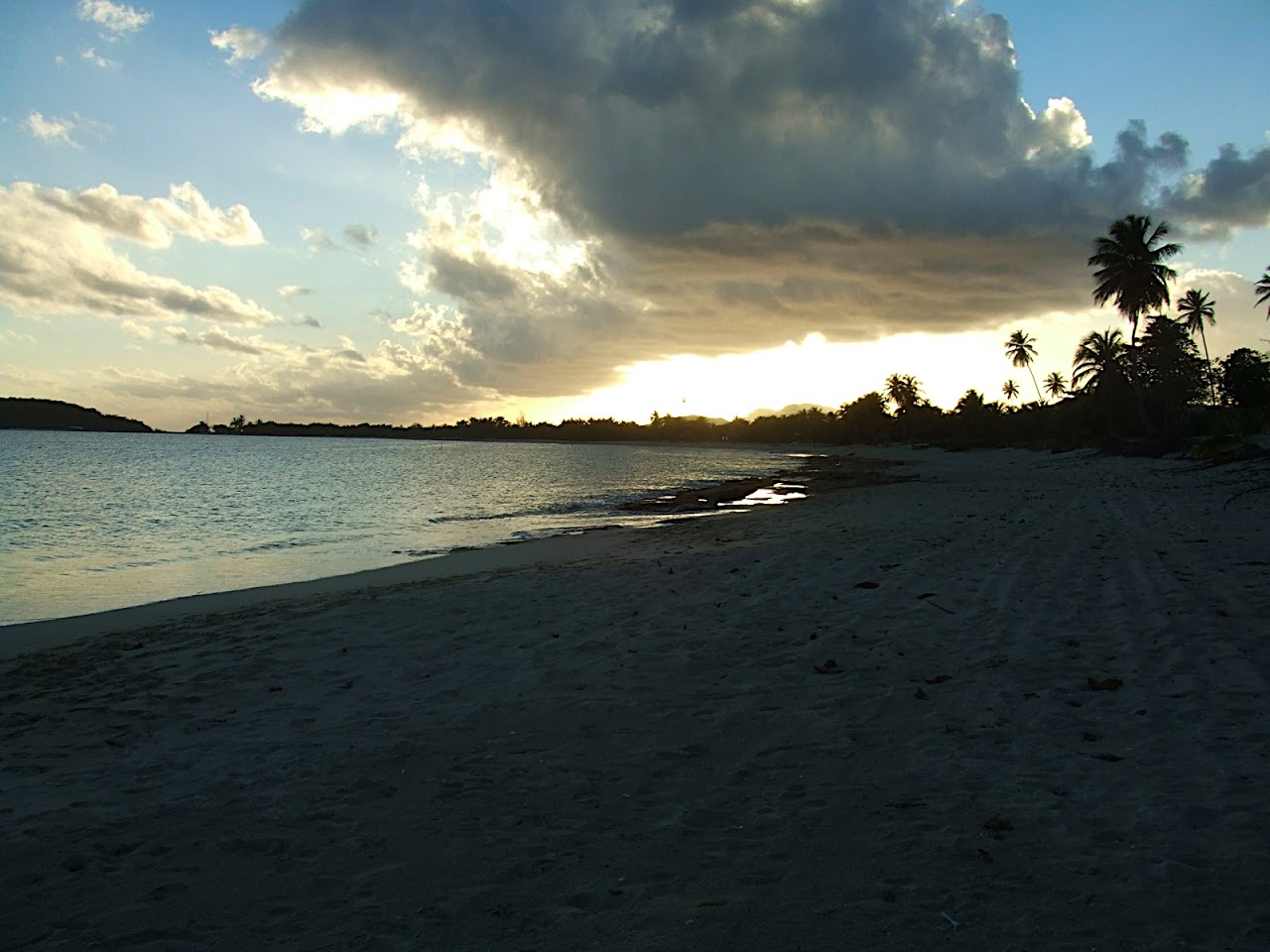 On I-85 near our house, there is an enormous billboard with a picture of a smiling shiny-faced middle-aged woman.  Above her face reads, "CURED!  Jesus cured my wife and will cure yours too!"  I have been thinking about that billboard for a while because Patrick has been feeling lousy for months due to mononucleosis.  On our third day in Vieques, I asked him, as I usually do, how he was feeling.  And he said "good."  For months, I have heard responses ranging from death's door to "okay," but "good" was good .
Vieques made us feel that way.  In this twenty-five square mile island, turquoise oceans lapped up to pristine white sands, and fish swam within inches of the practically empty coast.  The open-air bars let in afternoon breezes and time quickly passed as we plied ourselves with pina coladas and mojitos.  We floated through tunnels of mangroves, watching the herons fly, and the black crabs scuttle through the trees.  At night, the stars in the sky mirrored the pixie lights in the bioluminescent bay.
Vieques just feels good.  So, if you are in Vieques in the future and see Patrick's face on a billboard, you'll know why.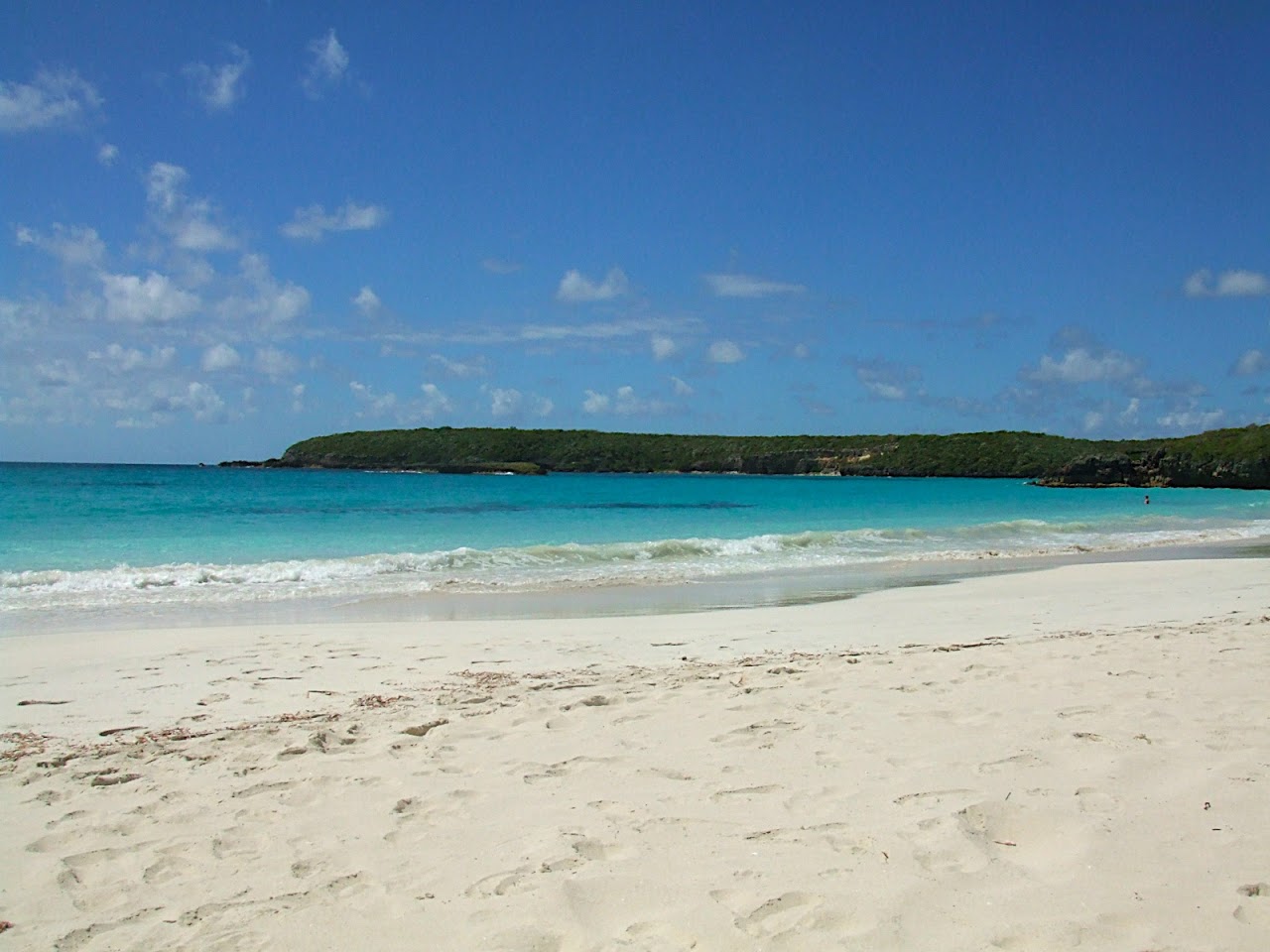 The Details
We stayed at Casa de Amistad for $85 per night.  The guesthouse was clean with small bedrooms in a residential area, where the roosters woke us every morning with their screaming voices.  The guesthouse was in the city of Isabel Segunda, the "capital" of Vieques, so there were a number of restaurants and stores.  However, the best beaches were in Esperanza, on the other side of the island, so, if we go back, we would stay near Esperanza.
We spent the afternoon on Abe's All in One Biobay Tour .  At $100 per person, it was a steal for a day and night of relaxing fun.  We began by kayaking through the mangrove forests, winding up on a secluded beach accessible only by kayak.  Then we snorkeled near the beach and ate a picnic lunch while the sun set, finally wrapping up our day in the gleaming bioluminescent waters.  Very highly recommended --- this is a must do activity.
Restaurants
Tradewinds - If I told you that you must, absolutely must, go to this restaurant for breakfast, would you listen to me?  Or would you need me to tell you about the blueberry pancakes, so fluffy that they barely fit in my mouth, filled with berries bursting with juice?  Or the eggs benedict with creamy dripping hollandaise slightly melding into the crispy potato hash browns?  Oh wait . . . can't type now . . . drooling slightly.
La Campesina - This was the best meal of the trip.  The restaurant is built in a cave and sparkling white lights run around the carved tables.  The food is, in a word, fantastic.  Patrick had a steak with island spices and mashed plaintain tostones.  I had a tofu steak encrusted with nuts and topped with a plaintain and mango salsa.  The only disappointment in our dinner was dessert, a slightly too-chewy brownie.
Bili's -  Bad food at expensive prices.  Patrick had undercooked fish (which is never a good thing unless you're eating sushi) and my "island-style" pasta, though innovative with plaintains and mango, was fairly tasteless.
Belly Button's - Breakfast was fairly standard greasy diner food.  I had eggs, sunny side up, with toast and hash bowns, and Patrick had the same with bacon.  Nothing special, but not bad either.
Banana's - Lunch at Banana's was very good.  Patrick had a beef burger and I had a veggie burger.  Food was good and hearty at reasonable prices.