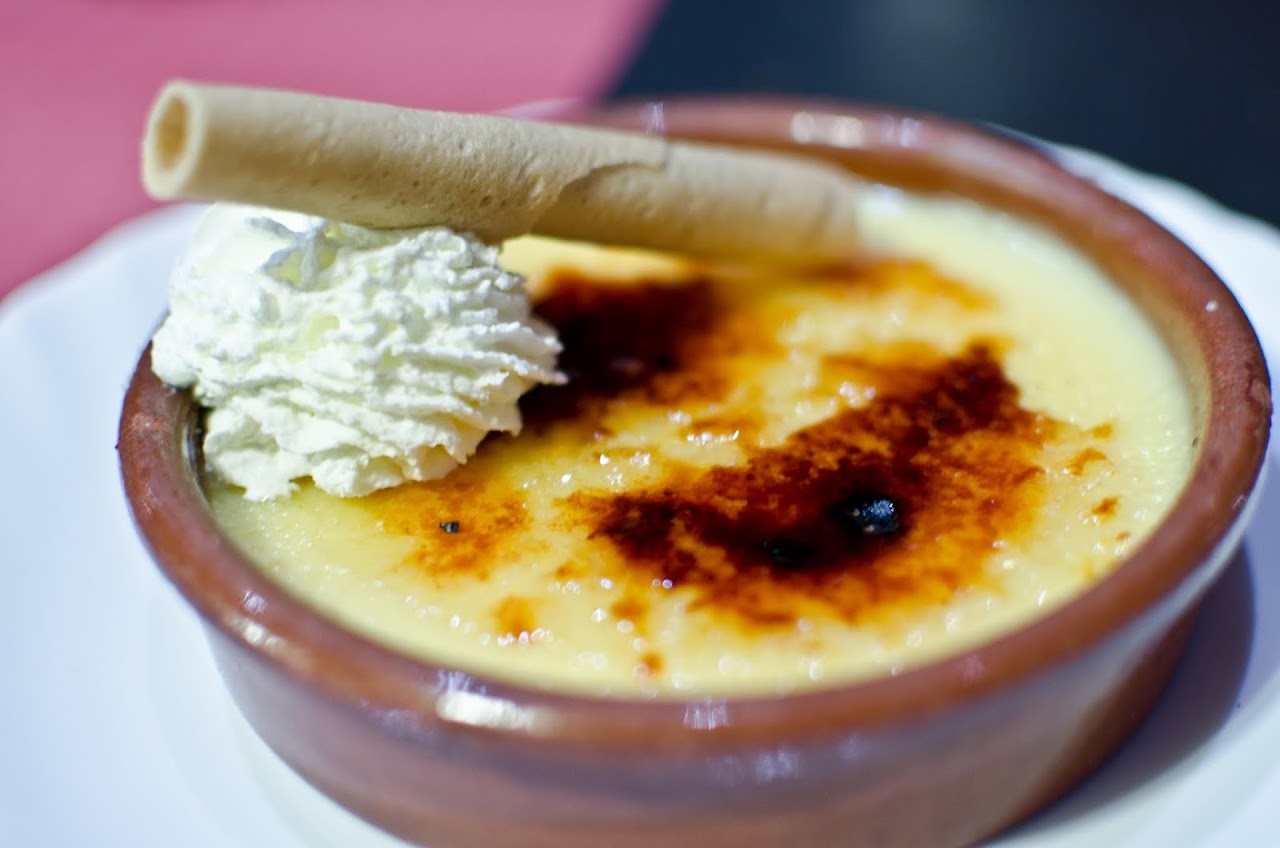 Crema catalan, Catalunya's famous custard dessert
Catalunya's food culture is undeniable: it is home to Barcelona which is regularly listed as one of the best food cities in the world and Chef Ferran Adria's El Bulli , the best restaurant in the world.
But, this is nothing new.  Catalunya has long been a stronghold of inventive cuisine.  Cookbooks found from the 14th century Catalan courts provide recipes that would fit well in any modern gourmet restaurant, including a sofregit of slowly fried onions with garlic, an almond sauce, baby eggplants stuffed with a herby goat's cheese, and fried fish escabache.  (From the Llibre de Sent Sovᅵ via the March 24, 2012 Telegraph article on Catalan cuisine .)  Another Catalan cookbook written by Rupert de Nola, the head cook to Alfonso V, who became king of Naples in 1443, utilizes flavors from Genoa, Arabia, and the Lombardy region in France.  He mixes sweet with savory, sweet with sour, and meats with fruits, resulting in mouth-tingling gastronomic creations that gained acclaim all across Europe.

Tintoreria Dontell
Given all this, I was a bit surprised when our guides from the Catalunya Tourism Board asked us to meet them at a laundromat for dinner on our second night in Barcelona.  We walked to the allotted spot a little early and stood staring at a plain laundromat, labeled in blue Tintoreria Dontell , half-obscured by scaffolding with the typical suits hanging by the front door.  We looked around for the restaurant but there was none to be seen.  Finally, Deb -- fearless Deb --- rang the bell and sheepishly asked, "Is this right?"
The impeccably dressed Spaniard (but, then again, aren't they all impeccably dressed?) smiled and buzzed us in.  I'd like to tell you more --- about the secret door, the amazing asparagus and pea soup amuse bouche, the sleek and chic purple and silver decor, and the goat cheese salad with cinnamon and nutmeg garnish --- but, I won't tell.  No, I won't tell you how to find it --- you need to figure this one out on your own -- and when you figure it out, you have to make reservations by calling and leaving a voicemail.  It's not your usual sort of place and that's why we loved it.  So, when you're in Barcelona, Don't Tell anyone that I told you about this very inventive laundromat.
Meal at Degvsta in Tarragona
Though Degvsta in Tarragona, Spain, did not have the neat effect of secret trapdoors, it remained one of the star restaurants I visited in Catalunya for its outstanding squash soup and succulent fried artichokes topped with a fried egg (yum!).
Eels, eels, and more eels, and dessert (consisting of a fried sweet squash blossom, crema catalana, milk pudding, and a walnut liqueur)
at L'Estany
The more adventurous of the meat-eaters in our group preferred the eel-based meal at L'Estany in the Delta de 'Erbe, where they literally got to try eels stir-fried, stewed, sauteed, boiled, and baked.  If there was a preparation of eel out there, L'Estany made it and the adventurous omnivores really loved the cuisine.
Alcohol from the Priorat region: Priorat robust red, vermut from the Priorat, and sparkling Cava
Beyond inventiveness, what struck me about Catalan cuisine is the focus on local, fresh, and seasonal ingredients.  The Catalunya region took the Slow Food movement one step further by creating the 0 km movement, meaning essentially, that all of the ingredients used in a 0 km restaurant traveled less than 1 km to reach the restaurant's doors.  The Priorat region , known for its high alcohol-content wines, is a leader in this movement.  Though the Priorat region is small, it is quickly becoming an important stop for wine and food enthusiasts with restaurants like Celler de l'Aspic and the biodynamic and organic winery at Mas Blanc , focusing on providing quality local products to its guests.  (By the way, if you're interested in visiting the Priorat region, I HIGHLY recommend that you get in touch with the folks at the lovely Hostal Sport , a hotel that has been continuously running for 90 years.  Their staff will help you organize the Priorat experience you desire, because many of the wineries are closed door, require reservations, or do not have bilingual staff.)
Calcots
It was in the Priorat region that our group participated in one of the most fun, delicious, and messy food adventures yet.  At Mas Trucafort , an agriturismo run by Roger, a trained chef, we ate "by fire."  Roger explained that fire is essential to traditional Catalan cuisine.  Our first course was calcots, a type of huge green onion found only in the Catalunya area.  The calcots are roasted on open flames until completely charred.  We then peeled off the char, blackening our fingers with soot and leaves, draped the tender onion within spicy romesco sauce, and then sucked it down our throats, resulting in many very necessary sexual innuendos.  (Because, come on . . . how you can help yourselves?)
Eating calcots with Dave and Jack and the rest of our meal at Mas Trucafort
Oh my gosh.  I know that eating onions with sauce doesn't sound all that exciting but, believe me, this is one of those things that I fundamentally believe every human being should try.  I could have eaten these all day and every single day.  Of course, after all this eating, we *had* to head to the table and consume heavenly grilled artichokes dipped in garlic aioli, roasted potatoes, and grilled chicken breasts.  We finished off this decadent meal with oranges and sorbet.   (Unfortunately, Roger is only offering this lunch to group tours BUT if you guys are in the area and get at least 6 people interested in going to lunch, he *might* put together a separate group lunch.  Mark this one down --- it's a great one and one of my favorite meals in Spain, especially for a vegetarian in the very often meat-heavy Spain.)
On the coast, we met Augustir Bertomeu who is on a one-man crusade to bring Catalan mussels and oysters to the Spanish eaters.  Until a few years back, 80% of the mussels and oysters farmed at Rapita on the Delta de l'Ebre coast were sold to France.  Augustir is trying to his best to get tourists and locals interested in their local delicacy, especially because Rapita is the only place on the Mediterranean where it is possible to taste mussels straight from the mussel bed.  The oysters were ridiculously cheap --- 4 Euros for one kilo (about 8 or 9 large oysters) --- and all reports were high.  Everyone on our trip said that they were the best oysters they had ever tried so this is a great inexpensive treat for you shellfish lovers.  (And, if you can believe it, the rice grown for paella making is also in the Delta de l'Ebre.  We hopped from this place to a point that reminded me vividly of Southeast Asia just a few miles away.)
A sampling of the delicious food prepared by the members of Al Teu Gust
Moving further north, we tasted the flavors of the Montsec region with Al Teu Gust , a cooperative of regional farmers and agricultural producers in the beautiful mountainous Montsec area.  We met Pere who infused orange zest into his sheep's milk cheese, Josef who made coca (a type of vegetable and meat-topped flatbread common to Catalan cuisine), Jaume whose family has been herding sheep and cows in the High Pyrenees since the 17th century, and Raul who makes wines in stone fermenters used by 12th century monks to make wine at Castell d'Encus .  The food was fantastic and made more so by the passion and drive of these people who create food using traditional methods and tools.
It's this passion for great food that keeps Catalan cuisine inventive and fresh, as it has been for hundreds of years.
Read more on Catalunya's amazing cuisine here:
* My trip to Catalunya was sponsored by Catalunya Experience, but, as always, all opinions in this post are mine and mine alone.