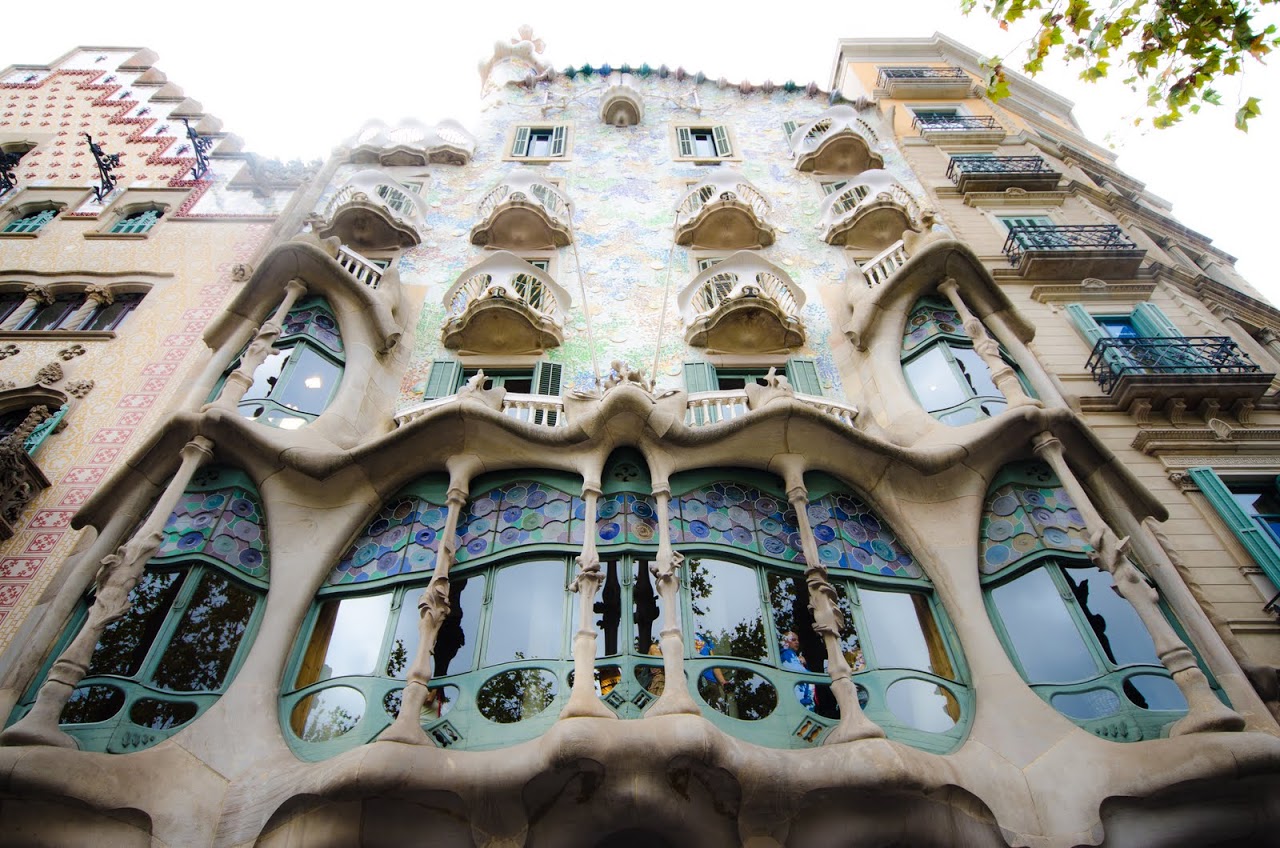 Casa Batllo
There was an urban legend in my old law firm about a very senior partner --- who was already a millionaire many times over --- and had bought a lottery ticket at the same gas station every day of his adult life.  At age 60, he won something like $40 million in one fell swoop.  And, then, get this . . . he kept working at the law firm until his scheduled retirement date.
Exterior of Casa Batllo and the Illa de la Discordia
We sometimes play that game: "If I were a multi-millionaire, I would . . . "  Would we quit our jobs and buy a fantastic house?  Would it be a masterpiece or something simple?  I read a while back that J.K. Rowling spent half a million pounds to buy and tear down her neighboring property and convert it into a greenhouse.  Will anyone except for Rowling and her children ever enjoy that space?  Or, in another hundred years, will it be a museum set aside for future generations of Harry Potter fans to enjoy, as we now visit Shakespeare's birthplace ?

Living area, backyard, and interior hallway
In the early 20th century, Josef Batllo was a prominent and wealthy textile industrialist in Barcelona who married the daughter of the largest newspaper owner in the city.  Suffice it to say, the couple was rolling in money.  They bought a large traditional home in the Eixample area of Barcelona and hired Antoni Gaudi, then the hottest young architect in Barcelona who had recently completed the innovative Parc Guell , to renovate it.
Blue interior hallway
The Batllos did not stifle Gaudi's vision.  What resulted is an amazing building: part Tim-Burtonesque horror, part-Dali drooping and curving lines, and with all of Gaudi's genius.  Intended to evoke the feeling of being underwater, the exterior is a harmonious blend of pinks, greens, blues, and yellows, reminiscent of Monet's Water Lilies .  Inside, wavy glass, a ceiling scalloped like a conch shell, and a blue interior hallway with fisherman's netting balconies made us feel that we had been dropped into a mermaid's palace.
Attic, wooden handles, chimneys, and backyard
Even the attic and the washing rooms are stunning, done in all white with white curving lines, and Gaudi individually designed all of the door handles and knobs to be ergonomic, beautiful, and unique.
It might not be what I'd spend millions on but I am so glad that Batllo did, so that we get to see Gaudi's genius at work in this beautiful house.