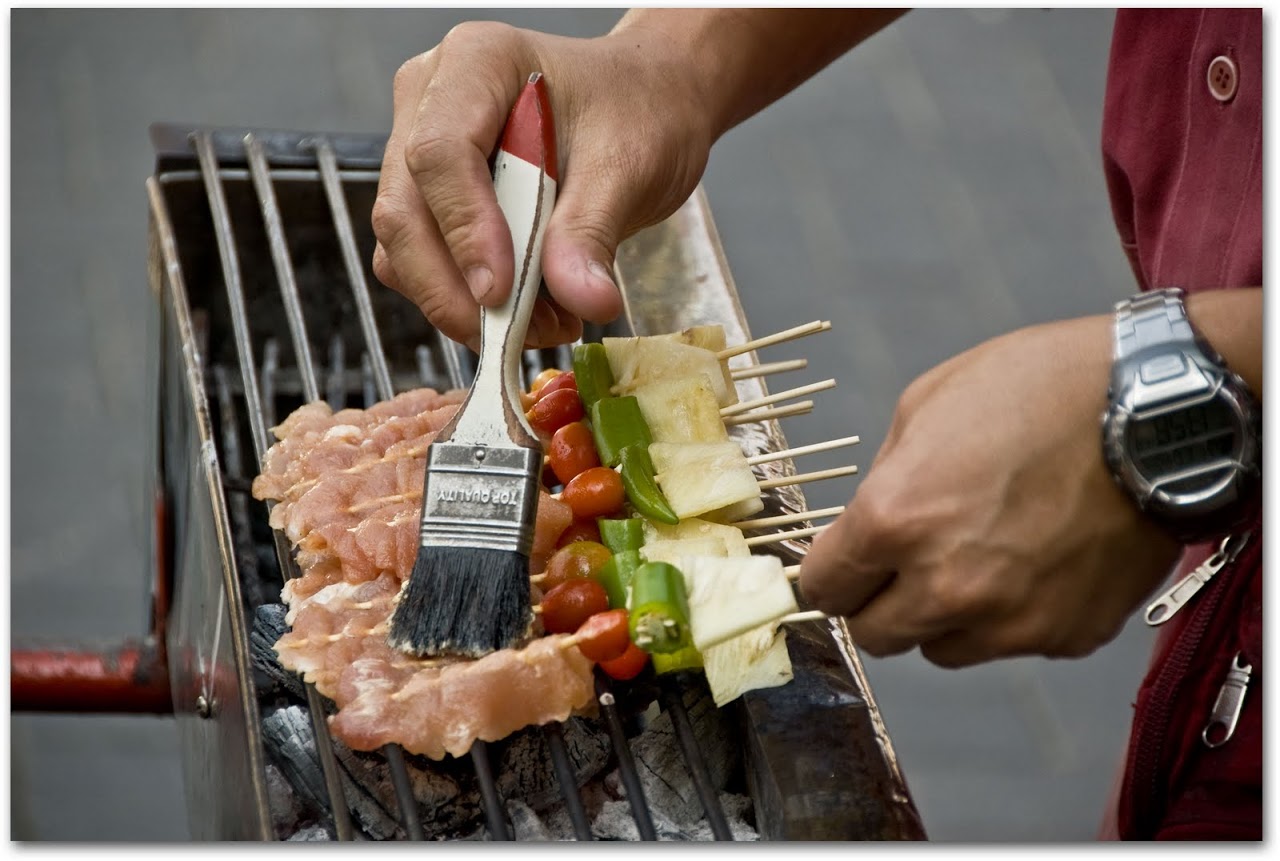 Chicken satays
Thailand threatens to make us terribly chubby.  We can't help ourselves in this country.  On every street corner, in every tiny storefront, and in every market, we find vendors selling noodles, curries, satays, vivid fruit, and coconut water.
Roses, morning glory, chile pepper plant, vegetable spring rolls, fried insects, shallots at Chiang Mai market
We spend our days meandering through markets filled with fresh vegetables, fruit, smelly fish, and other . . . interesting . . . items.  We have found vendors selling fried insects and yesterday we found one selling huge live frogs, tiny white rats, and splashing eels.
Chiang Mai Night Market
In the evenings, we haunt the night markets, searching out the stalls with the freshest ingredients and best looking marinades.  On our third day, we decided that we needed to learn why the food here is about ten times better than the Thai food we get in the United States.
Asia Scenic cooking stations; miang kham
We booked a class at Asia Scenic Thai Cooking school, one of about fifteen cooking schools in Chiang Mai.  After a visit to their organic garden and the local market, we began cooking.
Cooking pad thai and pad see ew
Most Thai noodles, stir fries, and curries are seasoned using a simple formula: 1 teaspoon of sugar, 2 teaspoons of fish sauce (or soy sauce), and 3 teaspoons of oyster sauce (or mushroom sauce).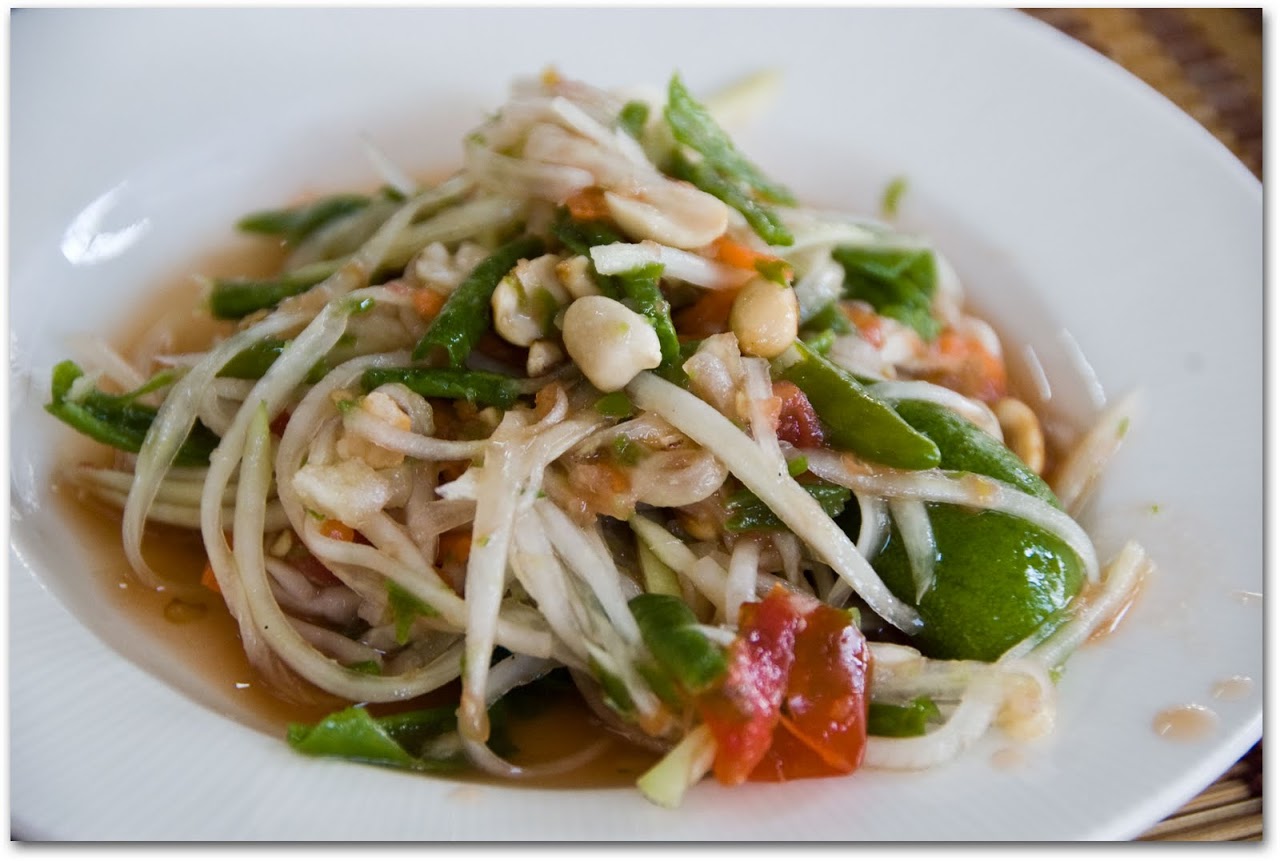 Som tum (green papaya salad)
We learned that Thais consider just one chile pepper in a dish to be merely "decorative."  Our mouths disagreed when we tried two peppers in the green papaya salad.
Making red curry; red, panang, and green curry pastes; cooking panang curry; grinding green curry
Curry pastes are best made using a mortar and pestle.  The scent of crushed chiles, coriander, garlic, and turmeric emanating from those stone vessels delighted us.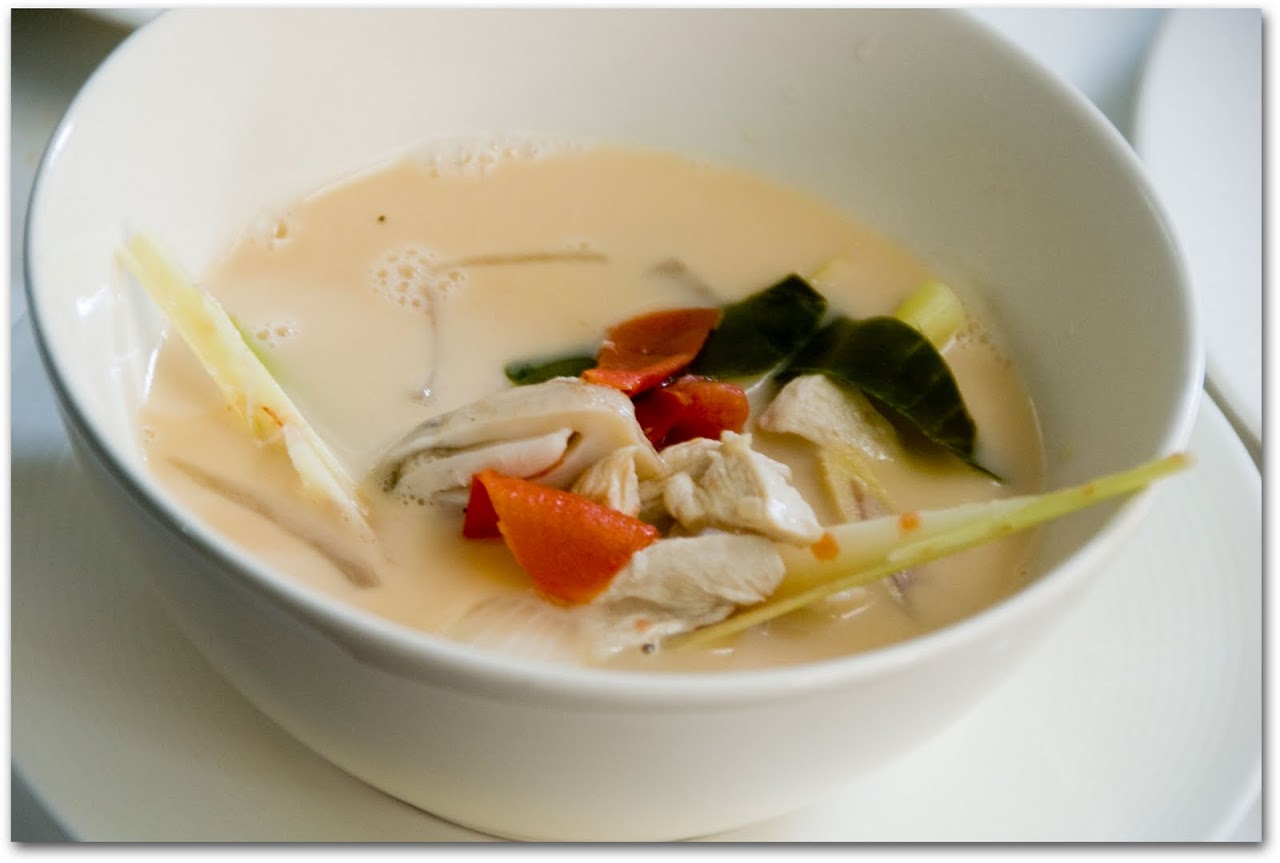 Tom kha soup
A cooling tom kha soup, with lemongrass and kaffir leaves, helped counterbalance the spiciness from the curries.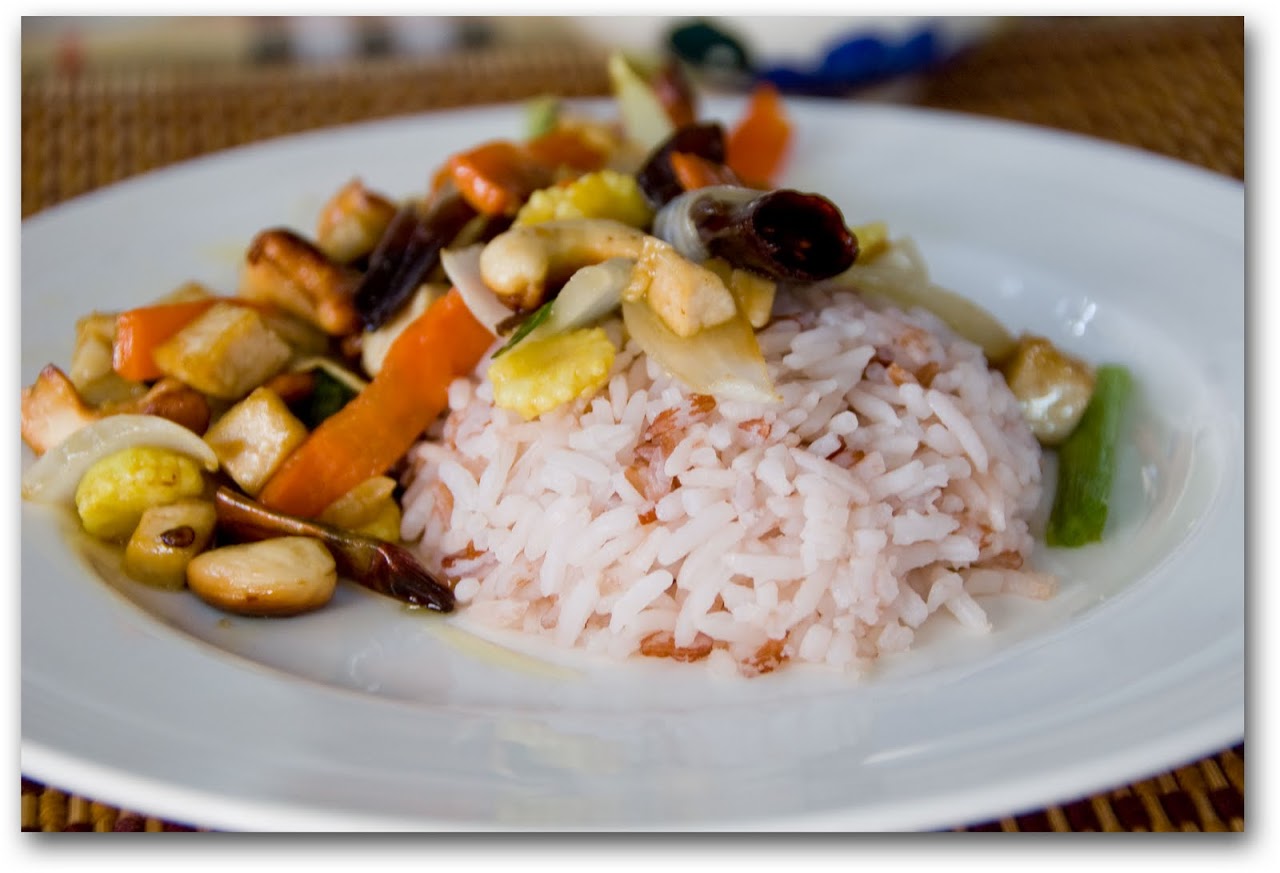 Cashew nut stir fry
My favorite dish was a simple cashew nut stir fry, full of vegetables, and layered on top of jasmine and brown rice.
Fried bananas, mango with sticky rice
After all this, we managed to eat dessert.  I didn't really want to know how much coconut milk goes into my favorite dessert, mango with sticky rice.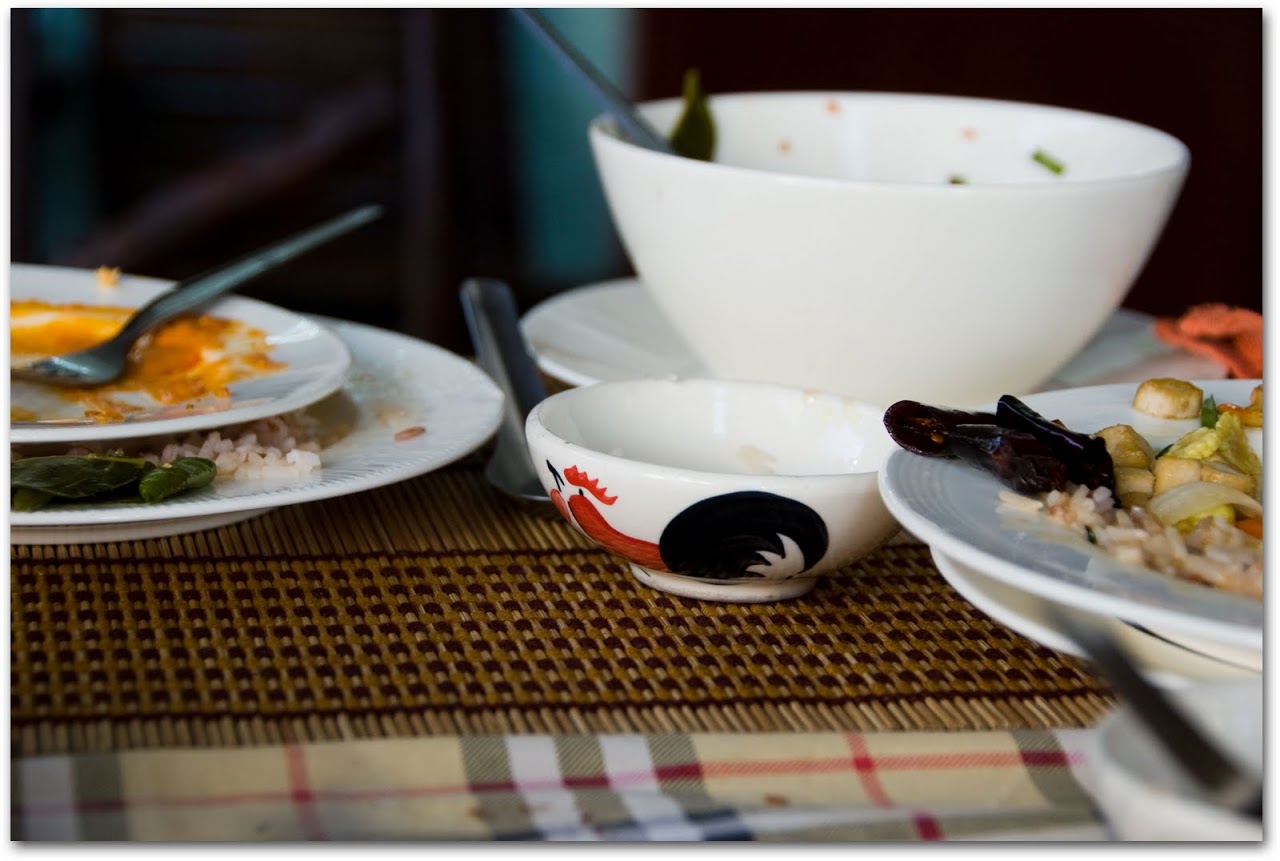 Afterwards
At the end of the day, we patted our bellies, pleased that the best meal we have had in Thailand was cooked with our own hands.
Details
We thought Asia Scenic was a good option.  Our teacher, Ornriya Missalae, spoke excellent English and had a wonderful sense of humor.  The recipes were easy enough for beginners, but the class was fast-paced enough for more advanced cooks.  They can easily accomodate vegetarians and people with allergies.  Each student had his/her own prep station and wok and we made our own meals.  The only reason you may want to choose a different school is because Asia Scenic does not appear to limit their class size like many other schools and we had over twelve students in our class.