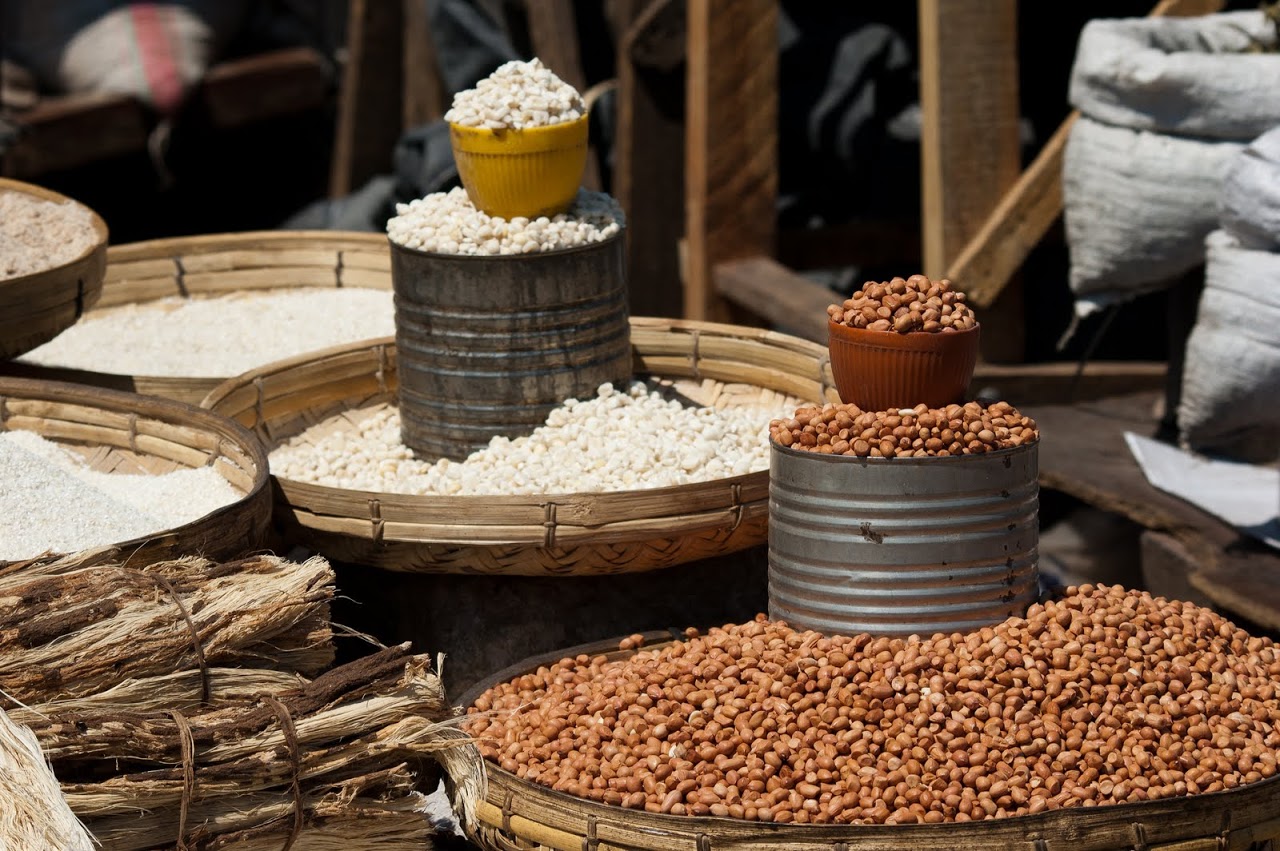 Beans and dried greens at Zambian market
We tourists rarely gain access to the food that fills the bellies of a nation.  Even if we try to eat at the restaurants frequented by locals, those locals will be eating something very different at home.  The home kitchen might serve meals that are less greasy and fatty than a restaurant kitchen, or rely on the freshest ingredients, or perhaps the cheapest ingredients.  But, we don't see that; we don't know what the locals eat because those home kitchens are closed to us.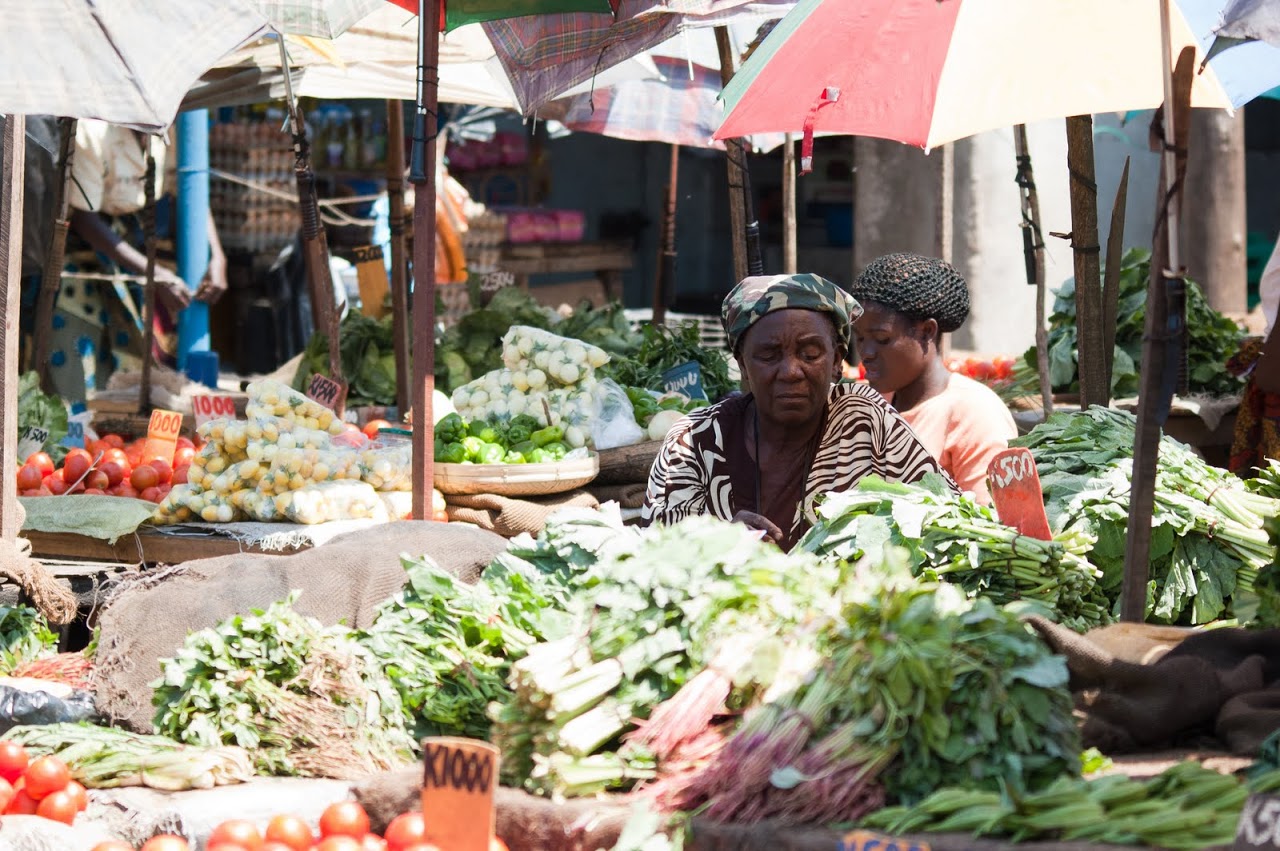 Zambian market
It's a problem we have found all across the world, but especially in those places that rely largely on tourism.  In a city like Livingstone, Zambia, where tourists flock to the famous Victoria Falls, we found plenty of Italian restaurants, traditional English five-star restaurants, and restaurants serving "African fare" with traditional African dancing as entertainment.  But, after several days in the country, we had no clue what the locals ate.
And, so, we signed up for a cooking class booked through our fabulous hostel Jollyboys Backpackers .  We didn't expect our eyes to be blown wide open.
Anna helping me tie on a chitenge (and a close-up of my chitenge)
Anna was a skinny African woman with beautiful wide eyes and short cropped hair in a polo shirt clearly two sizes too large for her.  I suspected that she was a decade younger than me, and she confirmed later that she was not yet 21.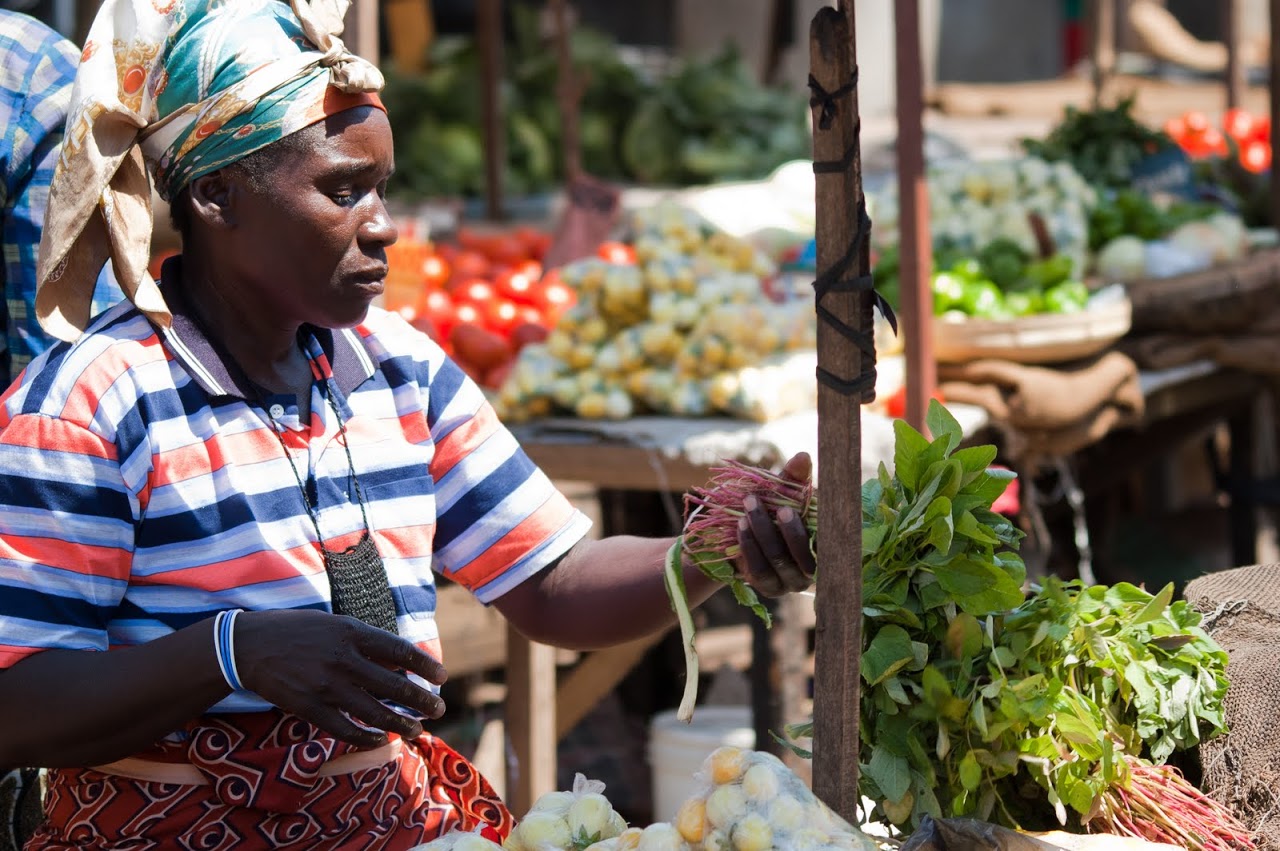 Women at Zambian market
We rode to the market, a sprawling assortment of stalls and stands well past the touristed areas.  Chickens squawked noisily and women sat under umbrellas in the blazing sun.  They wore bright woven chitenges wrapped around their waists and we soon bought one for me to try.  Mothers walked with infants slung across their backs, swaddled and tied to the mother's back with another chitenge ---- the cheap and easy predecessor to the Baby Bjorn, I suspect.
Brooms, tamarind pods, beans, dried fish, and soap sold in slabs
Most of the vegetables I knew.  But, some I did not.  Anna picked out bunches of chibwaba (pumpkin leaves), bitter leaves, and a green leafy vegetable she called rape (which is what we use to make rapeseed oil), dried okra leaves, and sweet potato leaves.  We bought some of the vegetables themselves --- okra, tomatoes, and onions --- but others like sweet potato and pumpkin were considered too rich for daily consumption.  We in the United States would never consider cooking the leaves of many of these vegetables but these greens were the foundation of the Zambian diet.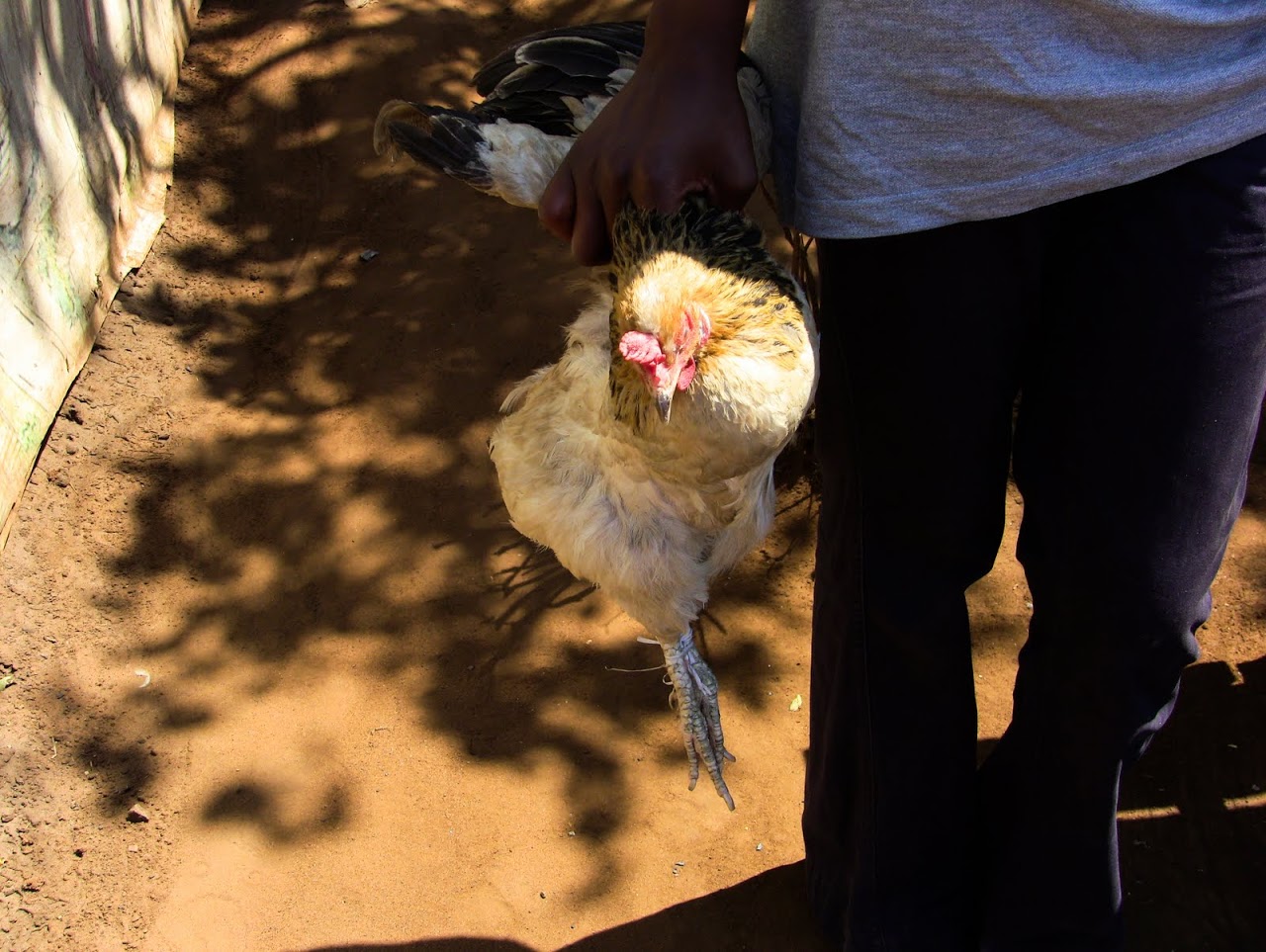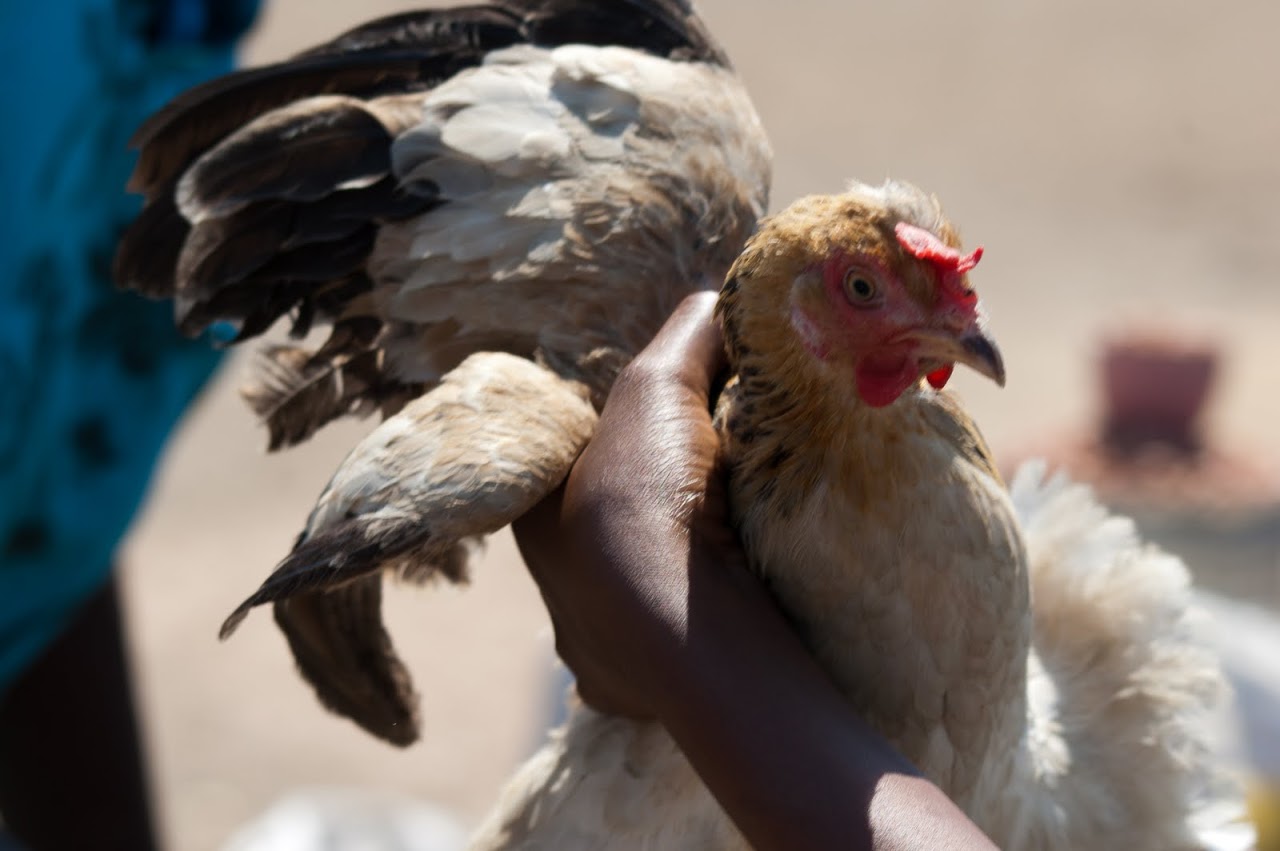 The chicken that eventually went into Patrick's stomach
And, there was a chicken.  Anna picked out a squawking live bird and stuck it in the trunk of the car.  When we reached the small hotel at which we would cook, she asked us whether we wanted to watch her kill it.  We vigorously shook our heads no.  She walked to the back area and whacked off its head, returning in moments after rinsing off her hands in water.  Anna's assistant plucked the feathers off the chicken, then boiled it in water for about 30 minutes, and finally sauteed it in oil.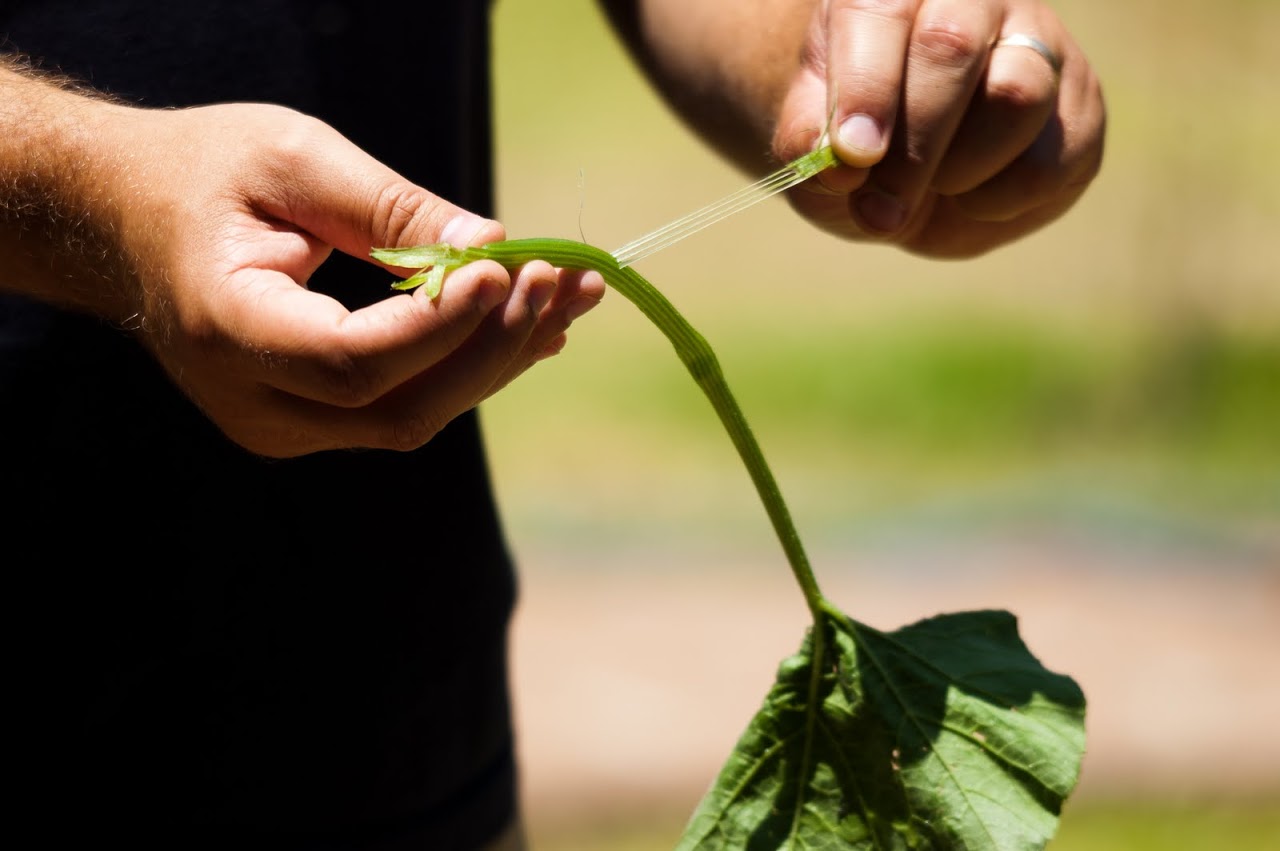 Pulling the tough inedible strings off the pumpkin leaves
We stood at a table, chopping vegetables under the shade of an acacia tree.  At first, she did not want to talk much, but I've never been known to shy away from a conversation, and pretty soon, we chatted like old friends.  She told us how she learned to cook.  At thirteen, every Zambian girl goes to her home village to learn how to be a woman: to cook, clean, and care for a man.  At fourteen, every Zambian boy does the same.  By nineteen, she was pregnant but she lost her boyfriend soon after to a disease that haunts all of Africa.  She told me that she and her son live with her sister, while the rest of the family remains in the village, many of these infants being raised by grandparents.
Cutting vegetables the Zambian way
She laughed when I could not master the Zambian way of cutting greens: a method involving gathering a bunch of the roots in one hand and sharply running the knife blade directly through the vegetable while still held in the air.  Only children use cutting boards, she said, though she gave me a plate to use if I needed it.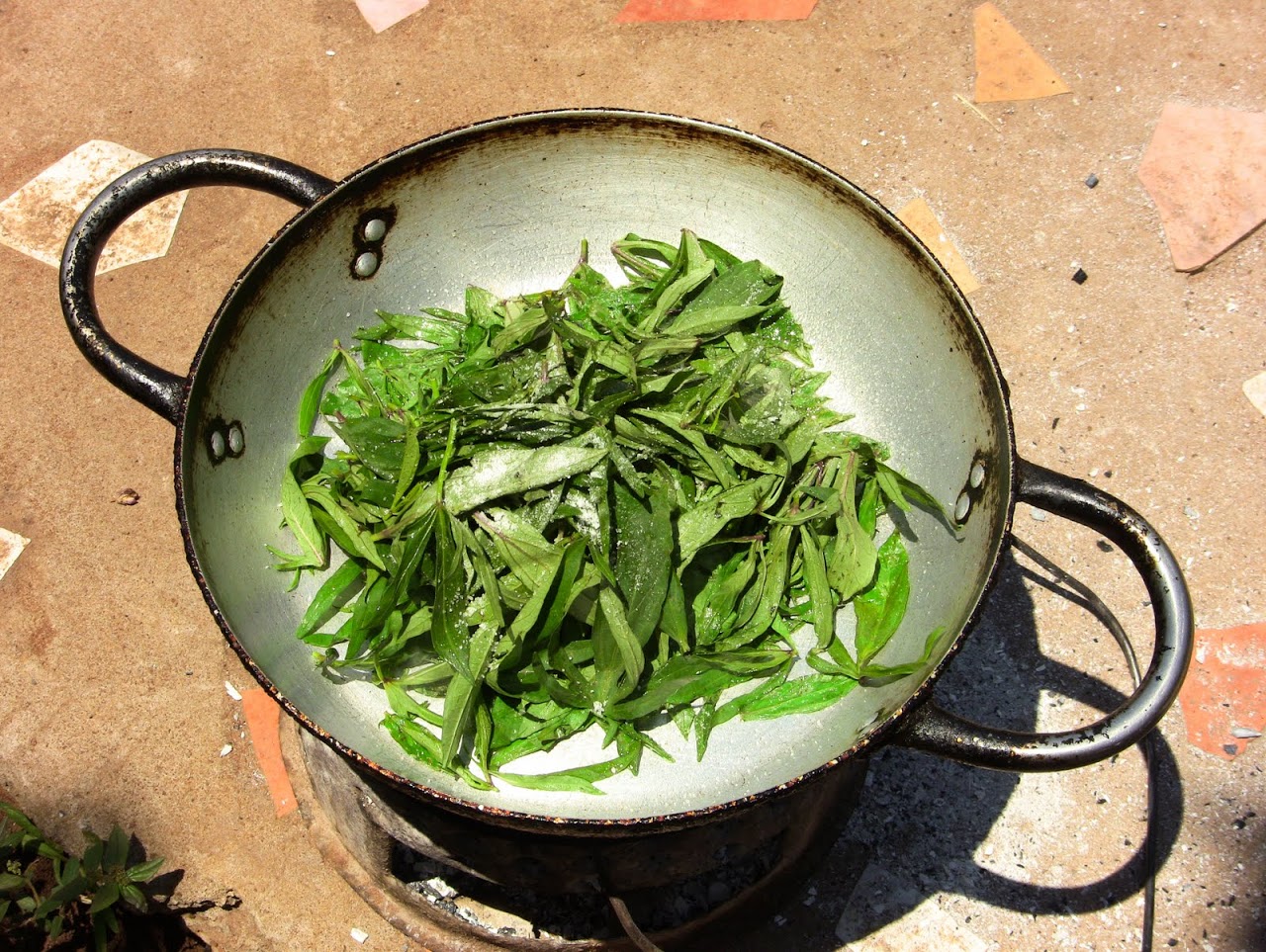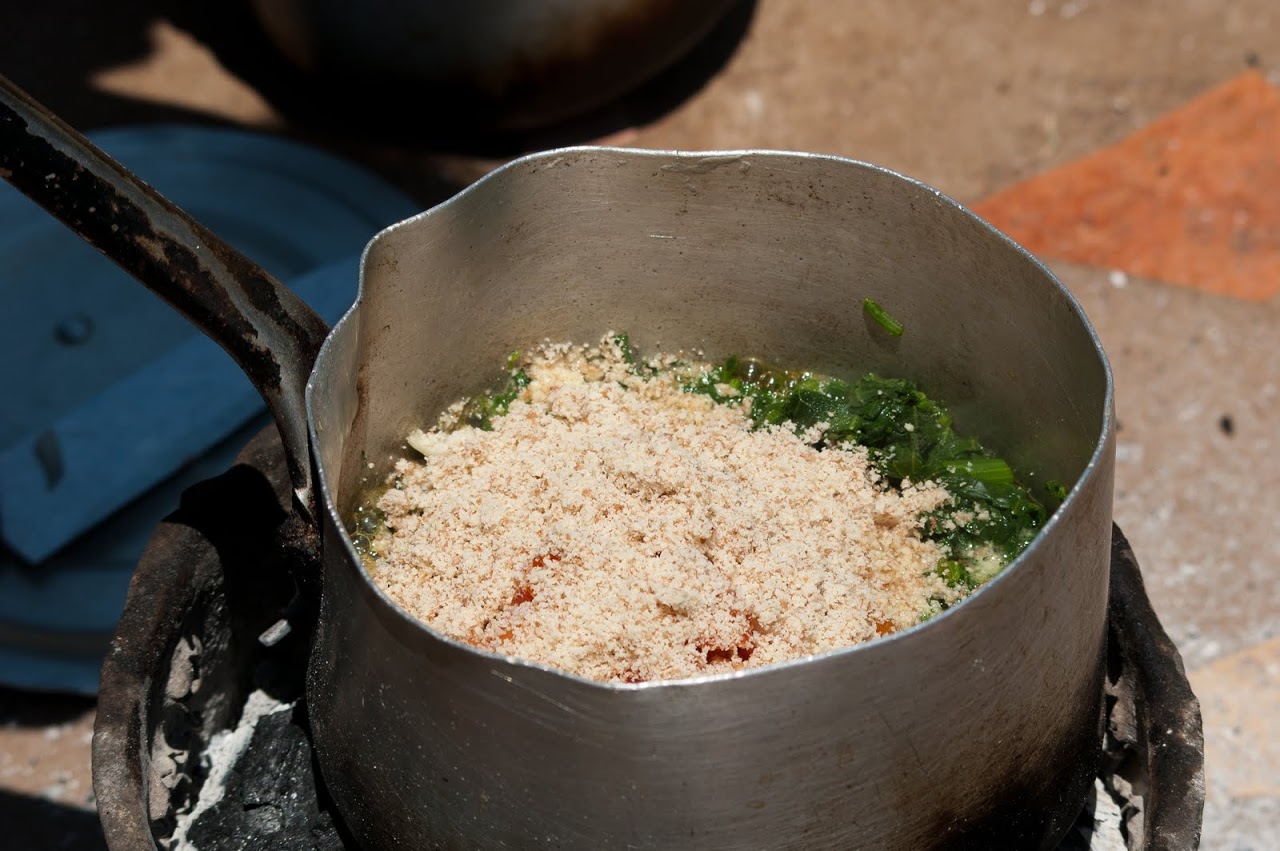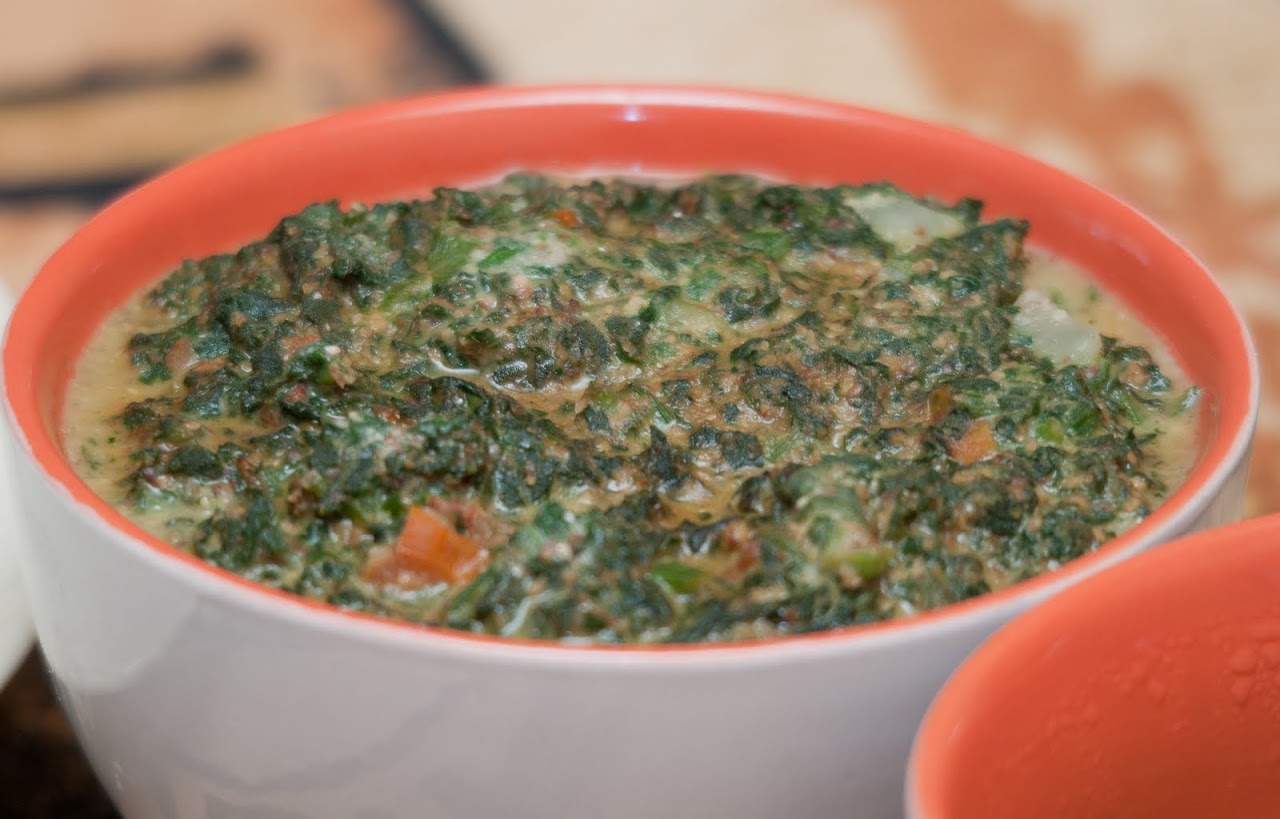 Sauteed greens with tomatoes and onions and greens with ground peanuts
For each of these vegetables, we used one of two main cooking methods.  In the first, we sauteed tomatoes and onions in oil and then dropped the greens into the pot shortly after, allowing the ingredients to meld together before taking them off the pan.  In the other method, we boiled a small amount of water, dropped in the greens, and added a thickening agent, such as ground peanuts, maize flour, or a pinch of baking soda, after the leaves wilted.  Anna liberally salted all of the dishes.
Making nsima
Last of all, we made nsima, the staple of the Zambian diet.  If you're a Zambian girl, you better be able to make a proper batch of nsima, or no mama will marry you off to her son.  Many Zambians consider making nsima akin to an art form.  Like polenta, pap, and grits, nsima is nothing more than cornmeal poured into boiling water until it forms a thick consistency.  The cook uses a wooden paddle rather than a spoon to stir the nsima together, resulting in thick almost-doughy wedges.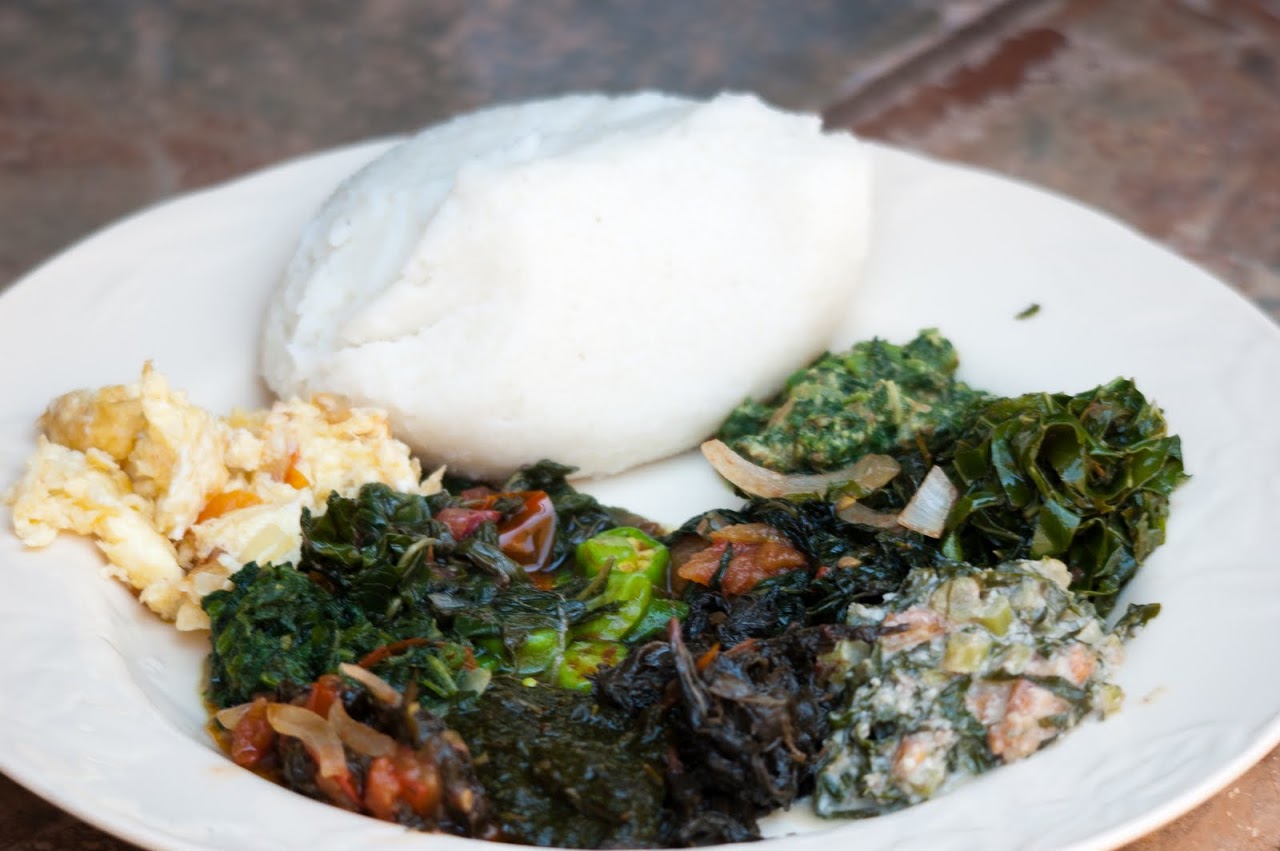 The variety of vegetables
When we were done cooking, we had a feast of:
nsima,
pumpkin leaf with peanuts,
pumpkin leaf sauteed,
rape with peanuts,
rape sauteed,
bitter leaf sauteed,
dried bitter leaf boiled,
dried okra leaves sauteed,
okra boiled with soda and tomatoes,
sweet potato leaves sauteed,
natural wild greens sauteed,
eggs with tomato and onion,
and chicken with tomato and onion (whew!)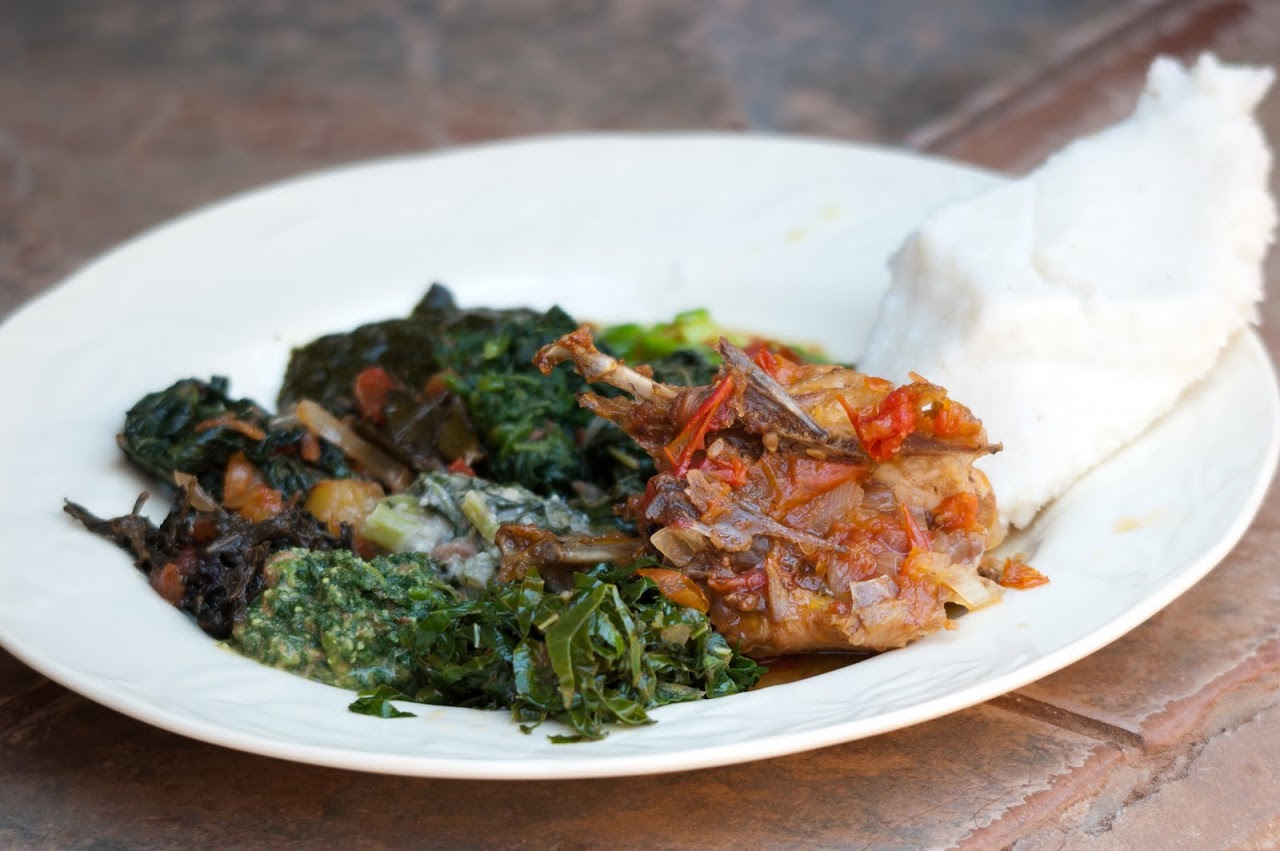 Vegetables with the chicken at the right hand side
To eat, we grabbed a small ball of the nsima, rolled it into a ball with our palm, and pressed a hole into the center of the nsima ball, which we used to pick up one of the vegetable relishes.  Everything was delicious, though the clear winners were the sauteed okra leaves, the pumpkin leaves with peanuts, and the sauteed rape.  All of the greens had a slightly bitter flavor which contrasted nicely with the bland nsima.  We went back to our hostel, satiated and stuffed, happy in the knowledge that we finally understood a little bit more about the Zambian lifestyle.
Details
To be honest, even if the food had been bad, dry, and disgusting, we still would recommend this cooking class as a fantastic way to penetrate the glass wall of tourism.  As it turned out, the food was among the best we had in Africa and we can highly recommend this tour.  We booked through Jollyboys Backpackers in Zambia and paid 500,000 kwacha (about $100 USD) for a full day's worth of activities and a very heavy meal for two people.  (This might sound expensive but activities in Livingstone tend to be quite pricey, so this is actually a very reasonable price for a fantastic excursion.)