Chewy with his squirrel
Chewy and Abby have a toy from every country that Patrick and I have traveled in . . . and, now that the four of us are traveling together, we find them dog toys to commemorate some of the sites and things they have seen while traveling.
Chewy ripping apart an ostrich toy
It might seem like a silly tradition but it's a useful one: the dogs get new toys to replace the ones they rip up and we get to share a little piece of our travels with them.  In this last year, we have brought back the following toys:
All the toys: giraffe, shark, leopard, wildebeeest, ostrich, and penguin
South Africa : We went overboard in South Africa .  We saw so much incredible wildlife (and, yeah, if you clicked on that link, that's a whole bunch of butts) that we wanted to bring back a little bit of all of the animals for the dogs, so we found the following toys to match our wonderful wildlife sightings: an ostrich , leopard , wildebeest, penguin , lion (missing in action), giraffe , and shark .  All the toys were big successes but especially the wildebeest and leopard.
Cheetah toy
Namibia and Botswana : As soon as we saw the cheetahs on our overland expedition , we knew we wanted to bring back a cheetah for them.  Unfortunately, this toy has not shown our dogs that cheetahs are awesome .
Zambia/Zimbabwe: We tried incredibly hard to find a hippo toy for Zambia and Zimbabwe because we saw so many hippopotamuses in the Zambezi River .  Unfortunately, we never found a hippo toy.  Funny enough, when we came back to the States, one of our friends bought Chewy a hippo for his tenth birthday , just by coincidence, so they now own a hippo toy (not pictured).
Squirrel toy
United States : This squirrel represents all the squirrels Abby has chased across the Southeastern United States , and especially in the months traveling through Savannah and Asheville .  She has never caught one but has found no reason to give up yet.  Surprisingly, Chewy likes the squirrel toy much more than Abby.
Jamaica toy
Jamaica : We didn't have much of a chance to find a non-overpriced toy in Jamaica , since we spent most of our days in our resort , but when the bus back to the airport stopped at a small store to use the restroom, we went and found this little puppy dog with a Jamaica shirt.
Canada toys
Canada : I went up to Vancouver to attend TBEX in June and, though I didn't see any of Canada's famous wildlife --- bears, eagles, and wolves --- I picked up some of those toys for Chewy and Abby.  They didn't seem to mind that the toys didn't match what I saw.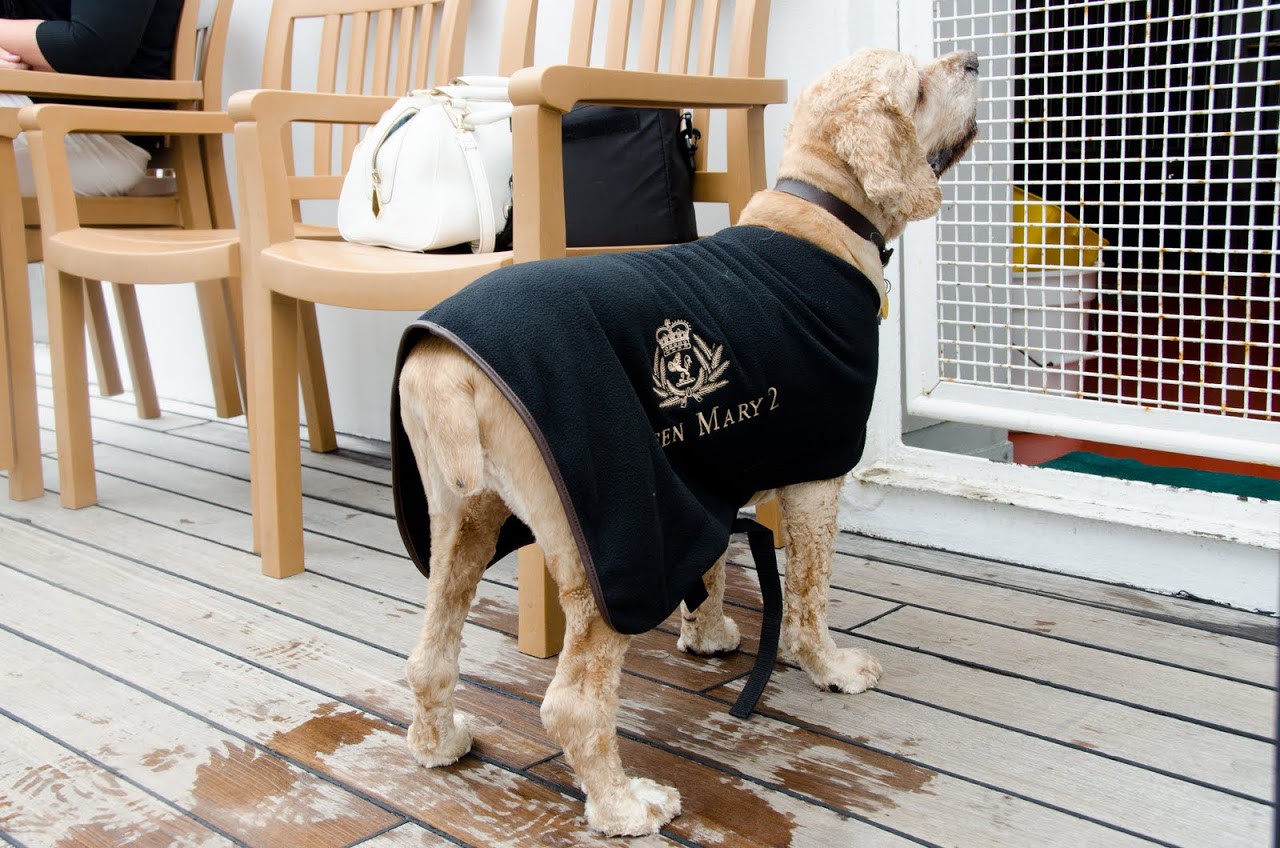 Chewy and Abby in their QM2 coats
Queen Mary 2 :  We didn't buy anything on our QM2 transatlantic journey (in large part because of the expense), but the kennels provided these lovely QM2 jackets for free which we put on the dogs and they then had "official portraits" taken by the QM2 photographers.
England: So . . . Patrick decided that the dogs don't need a toy from each country while they're traveling with us which makes complete sense, given our limited luggage space and the fact that they already have plenty of toys.  Therefore, we have no toys from England.
Spanish Casa Batllo toy
Spain: But, then, I decided that the dogs deserved a toy from each country since they are doing all this traveling with us.  We picked up this dragon at the amazing Casa Batllo designed by Gaudi.  The roof of this marvelous home is said to resemble a dragon with a white cross at the top, representing the lance of Saint George, the patron saint of Catalonia.  Um, yeah, I HAD to get this toy for the dogs.  (I'm also hoping to find a toy that will mimic the cool lizards at Park Guell, too.)
Abby with penguin
And that's it.  A year's worth of scavenging for the perfect dogs' toys to be immediately chewed up by our dogs.  We wouldn't have it any other way.