Venice in One Day: A Time-Lapse Video
Let's get the obvious out of the way: Venice is gorgeous.  Medieval and Renaissance facades crumble into narrow canals, bridges appear out of seemingly nowhere as if they were dreamed up by a manic architect, and shoulder-width streets face that majestic Grand Canal where candy cane striped gondoliers row their black boats.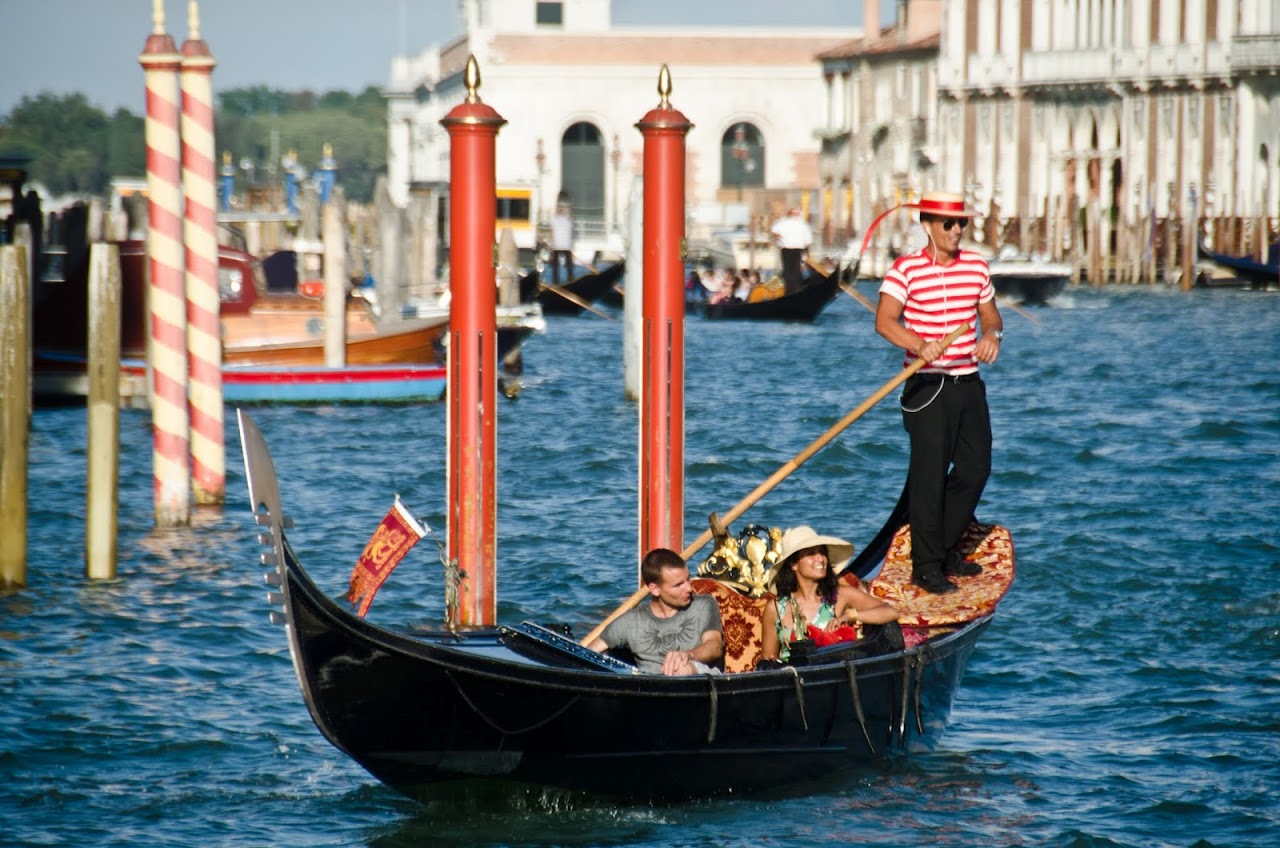 Gondolas
That being said, we have to admit that we were underwhelmed by the city on our first visit in 2007.  Mainly, there were too many people everywhere.  We were constantly bumping shoulders against tourists, eating pseudo-Italian fare, and wandering the streets searching for a tiny bit of authenticity among the legions of visitors and disgruntled locals.  (Even this time around, every time we made our way into the main tourist zones, we found the locals acting very hostile toward tourists: someone screamed at Patrick on the vaporetto when Patrick bumped him with his backpack and then tried to apologize.  We chalked it up to the overwhelming heat and general grumpiness that usually results in hot, crowded places.)
This time, we decided to do Venice differently and experience Venice like a local.

| | |
| --- | --- |
| | |
| | |
Go With Oh apartment in Venice
First off, we avoided hotels.  We stayed in an apartment in the Cannaregio area , hosted by the lovely folks at Go With Oh ,  The Armonia apartment : wow.  We were impressed by the photos and especially the cool floor plan (seriously, if you've never checked out the Oh Apartment sites, you definitely should, because they use pro photos and floor plans which is SO helpful when choosing an accommodation online).  But, the apartment was even better than expected with a huge ground floor, cute kitchen area, outdoor space, and a bedroom upstairs with remote controlled window shades.  Swanky!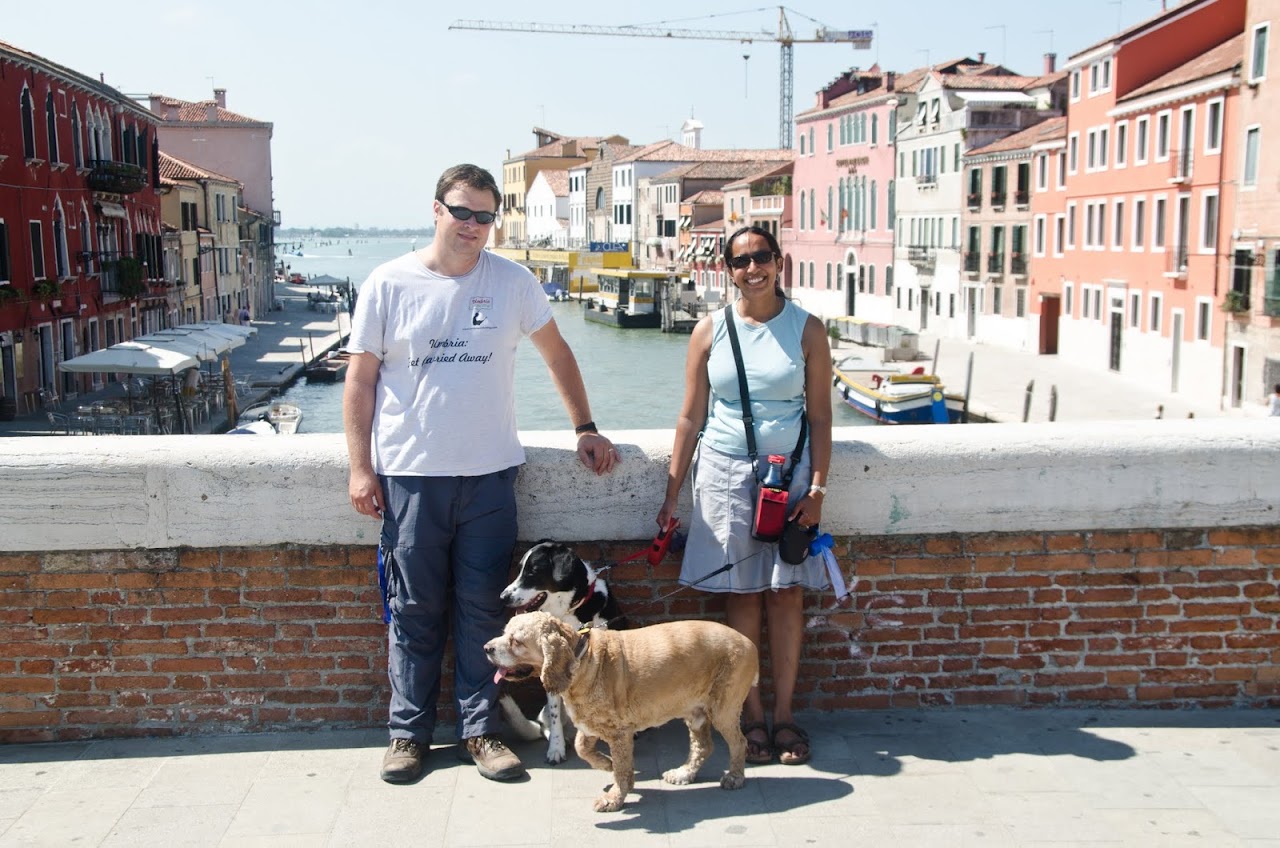 Us in the Cannaregio area
We avoided the main tourist neighborhoods.  The apartment's location in the Cannaregio area (see the video above for more about this area) was ideal.  Cannaregio is the northernmost district in Venice and the home of the St. Lucia train station and the old Jewish ghetto.  From the 15th to 18th centuries, Venetian Jews were forced to live within the walls of the Jewish ghetto and were locked into the area at night.  Today, the Jewish ghetto still has Jewish vestiges, with Kosher restaurants and temples scattered through the canals.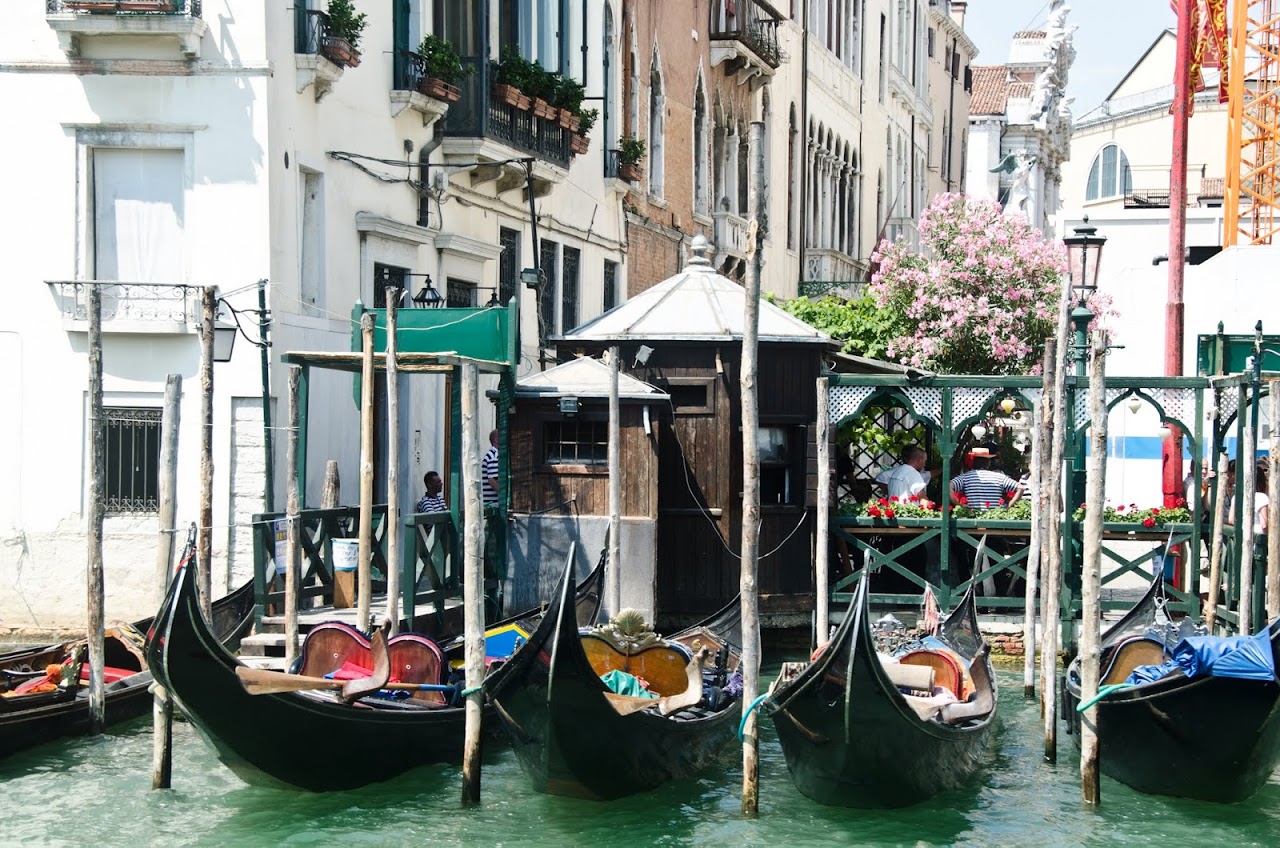 Gondolas hanging out in Venice
But, the Cannaregio is also a neighborhood, filled with local Venetians trying to escape the madness of the San Marco and Dorsoduro areas.  Within a five minute walk of our apartment, we found three different green parks (one with a children's playground), hidden away from tourists but filled with locals soaking up the sun and green grass.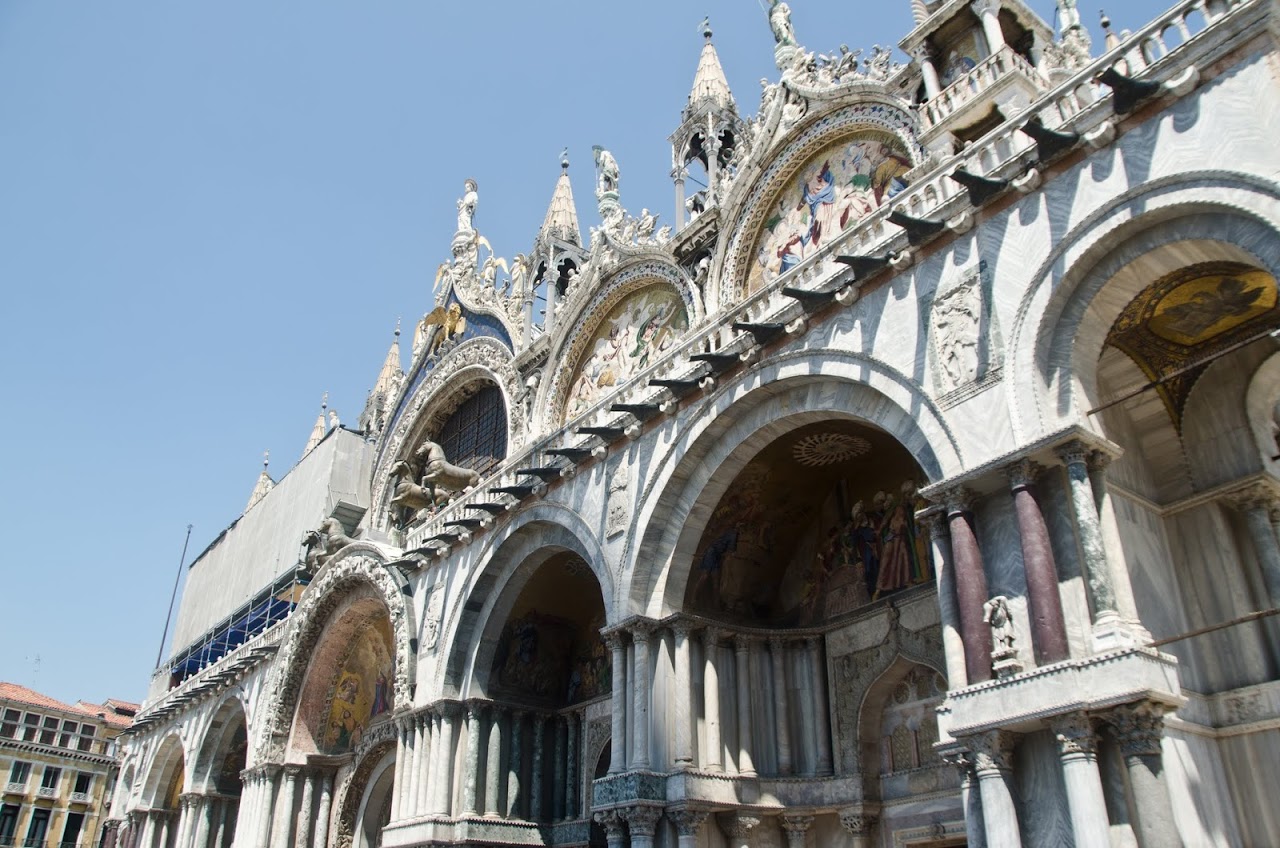 Piazza San Marco and buildings on the Grand Canal
We avoided the main tourist sites.  We walked through Piazza San Marco but didn't go inside the famous cathedral and never took a gondola cruise, either.
Context Arte Veneziana walk
Instead, we stuck to lesser known churches and took the Arte Veneziana Context Walk of the Accademia, the underappreciated yet beautiful home of Venetian art.  Erica, our Context docent, explained that, unlike tumultuous Rome and Florence, the stability of Venice actually set back its artistic innovations and the Renaissance never reached Venice.  Nonetheless, by the 16th century, masters of Venetian art, such as Tintoretto and Titian emerged, who focused on darker colors and hues to separate their work from those of the neo-Renaissance painters.
Though there are many reasons to visit the Accademia, the best reason is to see Victori Carpaccio's mural based on the book called The Golden Age, which shows a romance story of a girl named Ursula.  The meticulously detailed murals showcase 16th century Venice, replete with the Rialto Market filled with slaves and crowds of important Venetians in the Piazza San Marco.  We were so pleased that we visited this gem of a museum, and especially with Erica who helped us understand the differences between northern Italian and southern Italian art.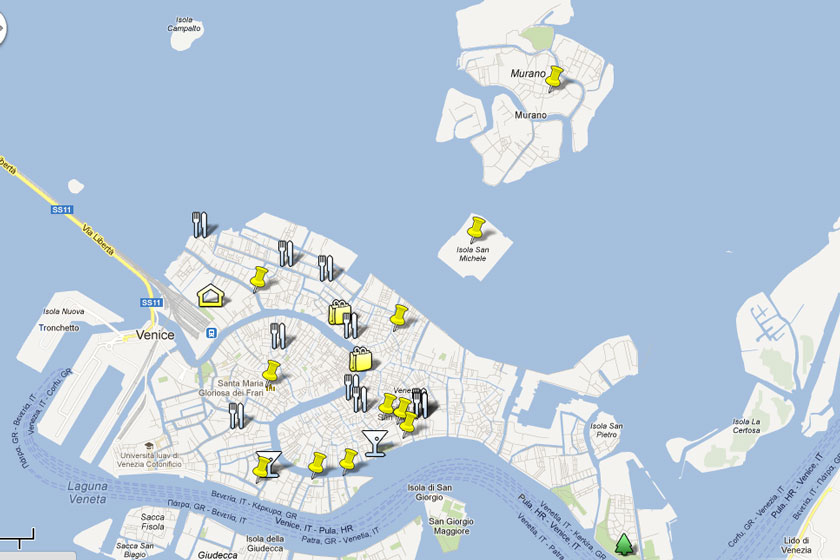 Suggestions from readers for Venice restaurants and activities
And, we avoided guidebook or Tripadvisor recommendations for restaurants.  Instead, we crowdsourced restaurant advice from our Facebook fans and Twitter followers and, boy, did they deliver!
Restaurant Gam Gam in Venice
Guido, the owner of Armonia Apartment, recommended Ristorante Gam Gam , in the Jewish Ghetto:  This was our favorite restaurant in Venice, which served up unusual Venetian fare, with an Israeli/Middle Eastern twist.  We particularly loved the fried artichokes and the eggplant stuffed with chickpeas.
Al Prosecco
@arttrav recommended the wine bar, Al Prosecco, in the tucked away Campo San Giacamo dell'Orio.  The cheese plate and meats plate were simple and stunning and they offered a traditional ringed biscuit, that has been eaten in Venice since the 16th century.  Of course, the prosecco is not to miss and I particularly enjoyed a dry rose prosecco.
Aciugheta pizzas
@nickelmoon suggested that we try Aciugheta for their pizzas.  We liked the pizzas but they weren't the best we tried in Italy --- though they did have a good crispy crust.

Harry's Bar
@bhasday recommended that we pop into Harry's Bar where they invented peach bellinis to try out their signature drink.  It's definitely overpriced --- 11 Euros for a bellini and 55 Euros for a plate of carpaccio (also invented at Harry's) --- but worth the stop in to drink at Hemingway's Venetian spot.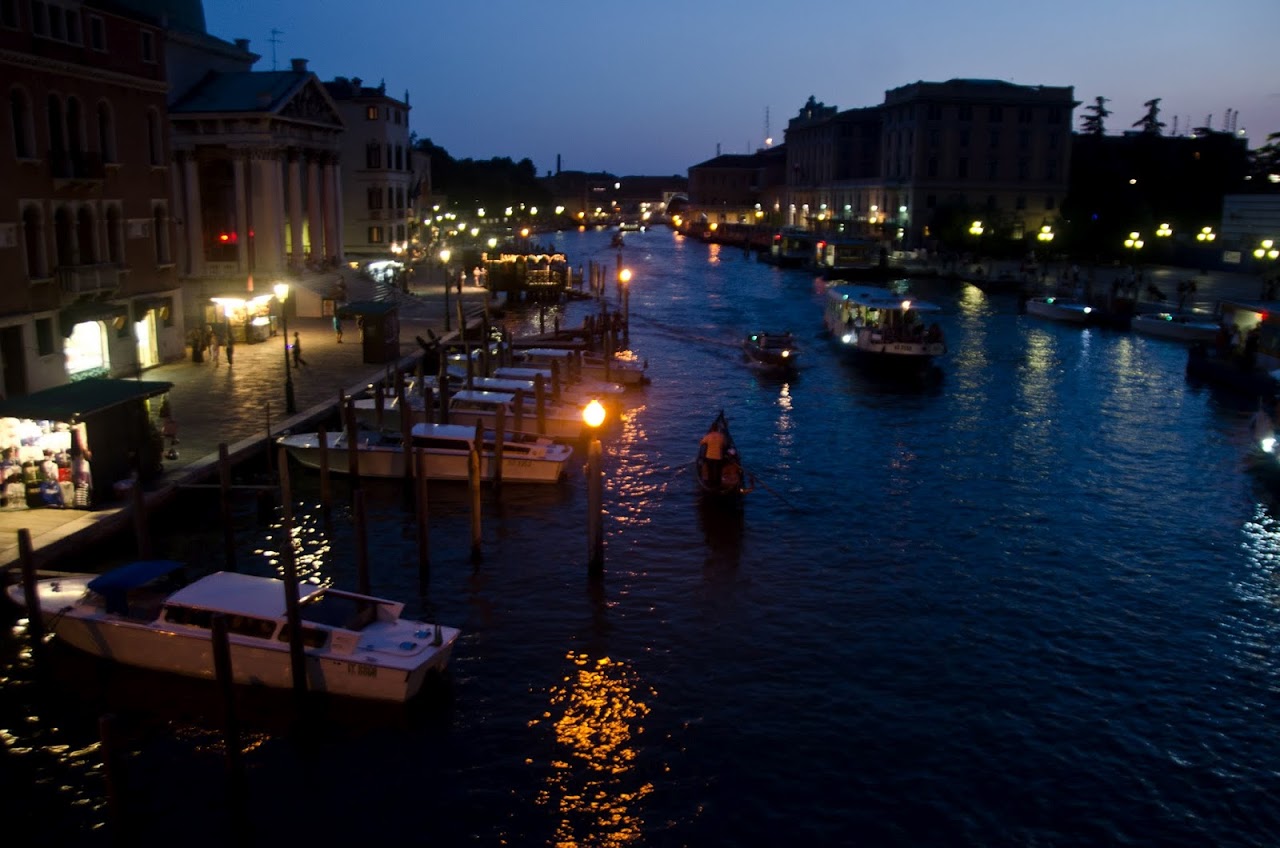 Venice at night
I won't say that Venice is our favorite Italian city but, after a few days spent visiting Venice as a local, we feel much warmer to this city than we did before.
* Go With Oh Venice sponsored our stay in Venice at the beautiful Armonia Apartment .  Aside from Venice, Go With Oh also has apartments in many other cities, including Barcelona . Context Travel sponsored our Arte Veneziana walk through the Accademia.  As always, all opinions are ours and ours alone and unimpacted by our sponsorships.