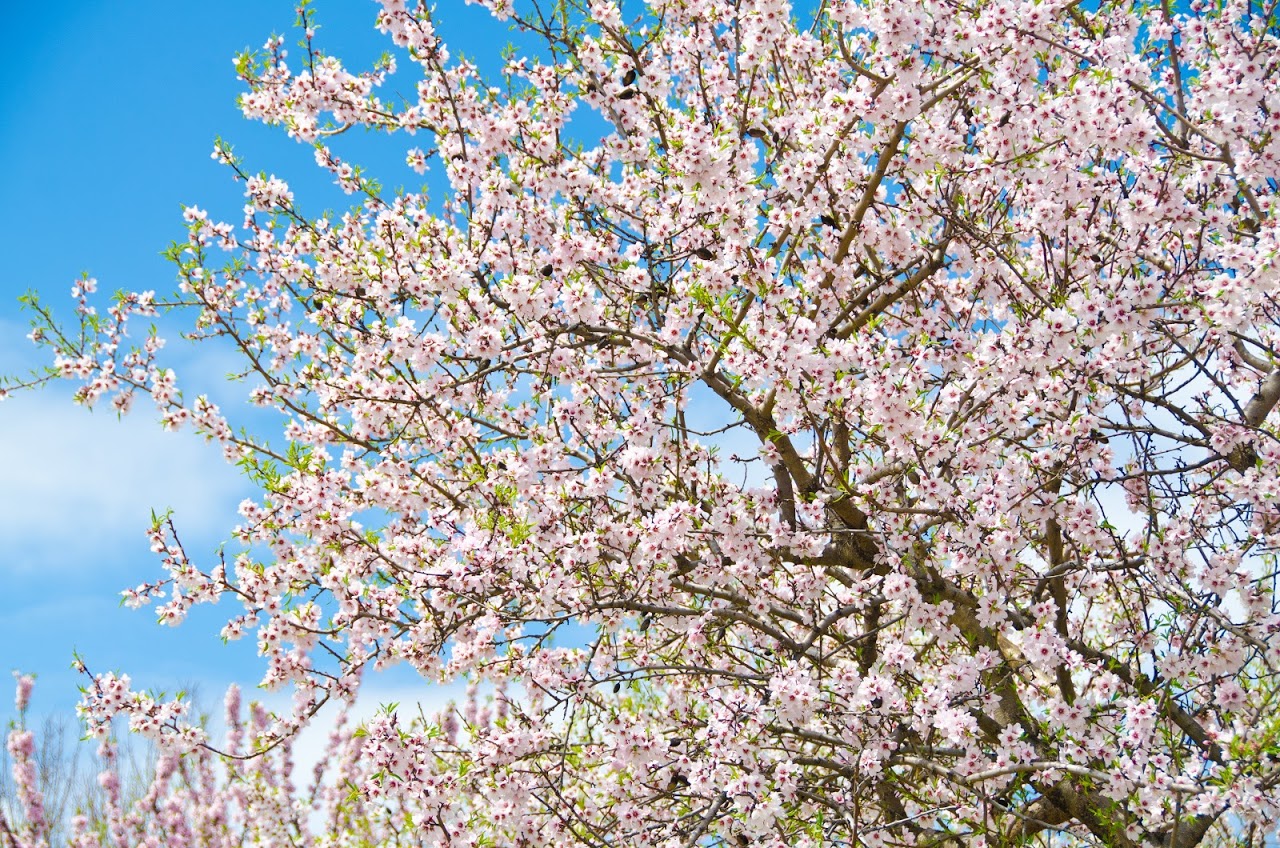 Cherry blossoms in Bulgarian countryside
This year, I'm sitting in my own house in Atlanta, watching the last of the cherry blossoms fall from the trees in our backyard.  Last year, at this time, we were in Bulgaria, watching the cherry blossoms bloom.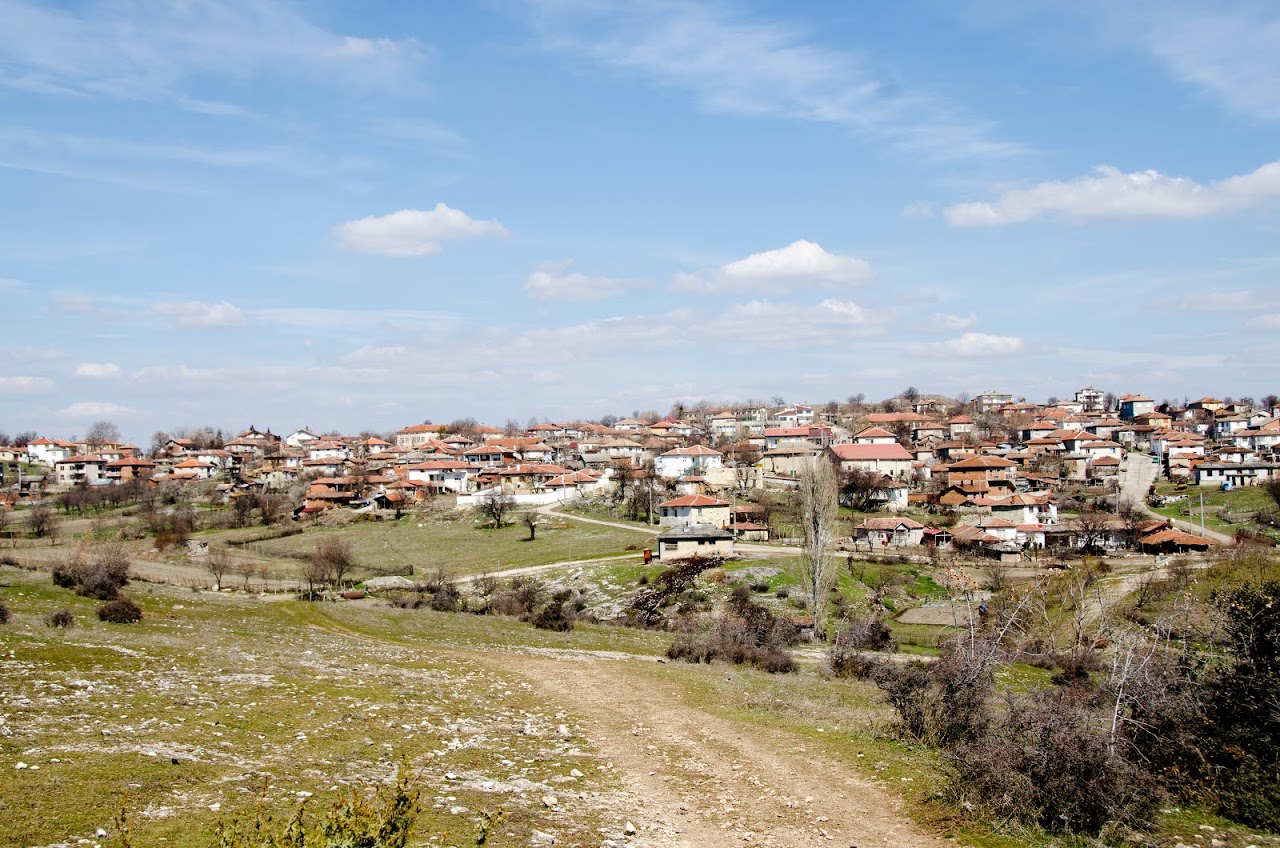 View of Svirachi village (our house is the one in the very center with the white walls around it)
Bulgaria was a choice of necessity.  We had to find a country that would accept Chewy and Abby without additional paperwork that was also outside of the Schengen zone since we had already used up our days within the Schengen countries and acceptable to our car insurance (Serbia, as it turns out, is not European car insurance-friendly).  So, we ended up taking the long way from Budapest to Turkey , via Romania and Bulgaria.
Views of Svirachi village
Bulgaria has some big tourist attractions but our timing was off: March was too early to enjoy the Black Sea beaches and too late to enjoy the ski resorts.  Instead, we decided to hunker down and get some work done in an out-of-the-way spot and found a Flipkey rental house deep in southern Bulgaria, close to the Greek and Turkish borders.
Views of Sofia, including guards, Hagia Sofia, and wishes for babies and fertility tied on trees in the springtime
We spent a night in Sofia, the capital city of Bulgaria, in a high rise Hilton (because Chewy and Abby only stay at the best), next to an American-sized mall with a McDonalds across the street.  Eighty miles past Sofia, we jumped from the trappings of the 21st century to the 19th century . . . or Amish country.
Cart and horse
We wound off the nicely paved interstate into pockmarked two-lane streets where the Bulgarian cars zoomed around us, gleefully missing the trucks bound for Turkey by just a hair, while we screwed our lips tight.  Road eventually became a condition meant for dreamers as we exited the asphalt lanes onto dirt and sand pathways with human-sized potholes and rocks jutting through the bare earth.  We soon realized that these roads were not meant for such modern inventions as automobiles; no, in this region, the primary means of transport is horse-drawn, or more likely, donkey-drawn cart.
In and around Ivailovgrad, Bulgaria (the top left is a view of a road that we actually drove on, until I got too scared and we stopped the car and walked the rest of the way to the scenic monument)
Sheep caused traffic jams --- that is, if you can call two cars on the road "traffic" --- while Communist-era vehicles perched against the edge of sidewalks, unused and undisturbed, as the villagers preferred to use donkey, horse, or foot to reach between villages.  In mornings, we woke to the sounds of the shepherds and their dogs walking with the sheep over the hills that separated Bulgaria from Greece.  In the afternoons, we toted an empty five-gallon plastic jug to the public spring, where we filled up our drinking water supply for the day, brought into the village from undiluted and untreated mountain springs, as pure and delicious as water should be.  Every few days, we drove into the "city" of Ivailovgrad from our village of Svirachi, where we stocked up on groceries in a market the size of an American 7-11.
Interior of Fig House and view of Greek hills
As we drove in to the pocket-sized village of Svirachi and to our stunning villa, we worried: how would we manage to get in good Internet time in a place where donkeys outnumber automobiles?  Yet, here, where we rarely met another car on the road and the big city of Ivailovgrad has a population of about 4,000 people, we hooked up to blazing fast Internet speeds, with download times that would handily beat out any other European country and could rival the Internet stronghold of South Korea.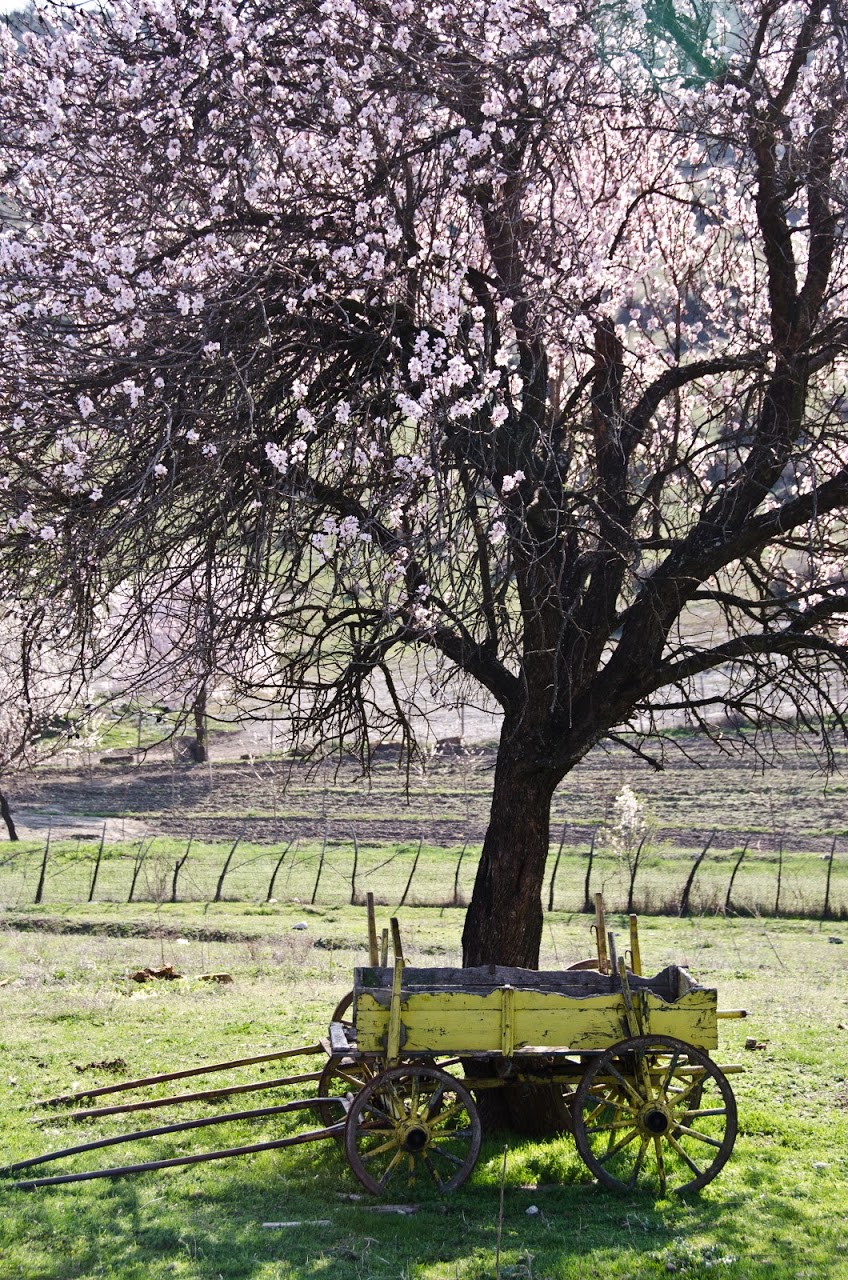 Donkey cart under a cherry blossom tree
It was only the first of the many strange anachronisms southern Bulgaria soon revealed.
Details
We spent a month in the Fig House in Svirachi village in the Ivailovgrad province.  The house is absolutely stunning and huge, with a beautiful pool that could be used in the summer months, and uninterrupted views overlooking the Greek hills.  Dimitar, the house manager, is a great guide to the region and a truly helpful guy who did his best to make sure that us and the dogs had a lovely stay.  There was no shortage of walks and hikes in this region and a few noteworthy attractions (to be discussed in a later post), but, mostly, it was a great place to relax, rest, and unwind with the aforementioned blazing fast Internet speeds that kept us busy with work and blogging.  We recommend this property without reservation --- it was one of our favorite stays in all of Europe.
This post was brought to you by Flipkey , which is the website we used to find the Fig House .  If you're not interested in Ivailovgrad, Flipkey has many other available properties throughout Bulgaria and provides inspiration for other great European vacations .  As always, every opinion on this blog is mine and mine alone (with a bit of input from Patrick).