Turgutreis Homeaway rental
The break was inevitable and necessary after our hectic spring months: houseguests, bustling Istanbul, two blog trips to Umbria and Catalunya , and a week in touristy Cappadocia .  We arrived in Turgutreis, Turkey, saw the apartment, set down our bags, and did not want to move.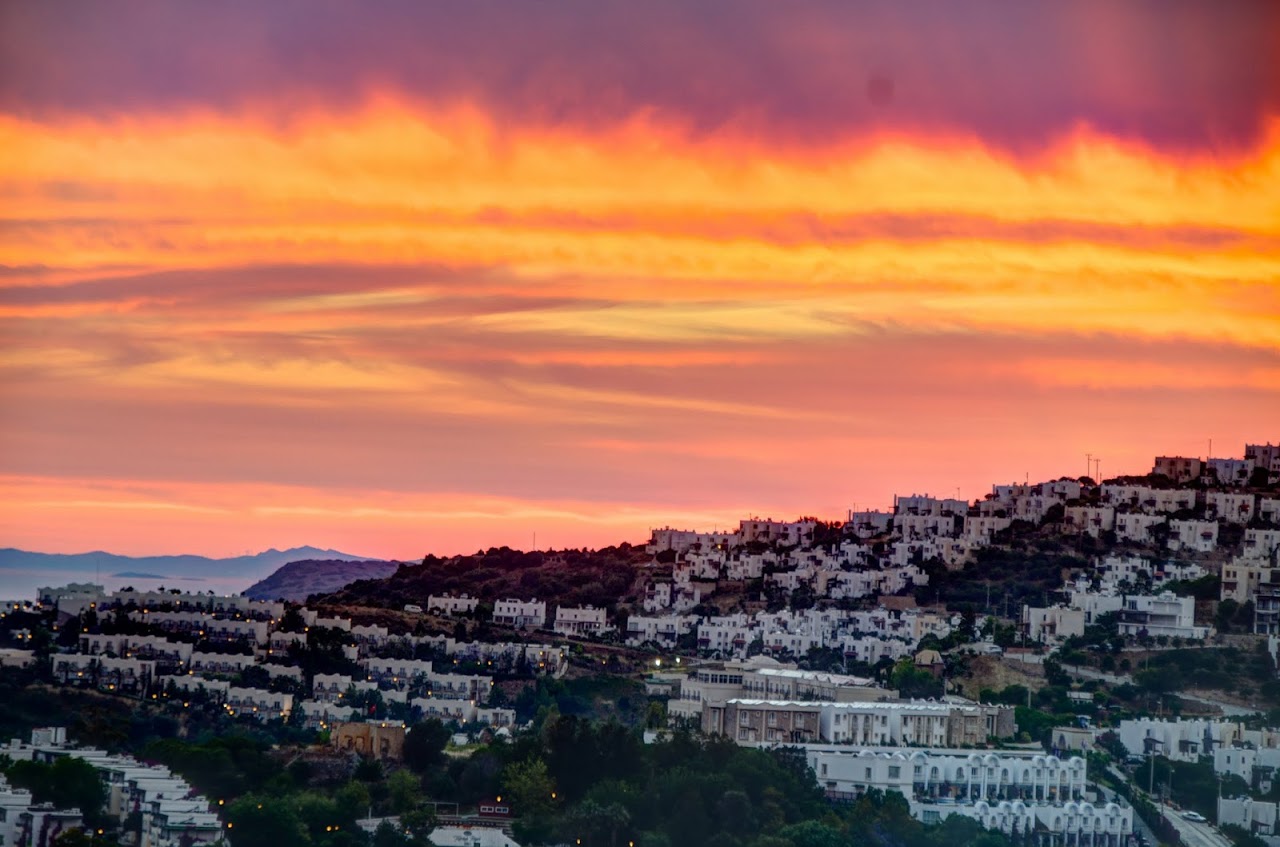 The setting sky one night; view from our apartment
(And, really, can you blame us?  We have stayed in some amazing apartments and hotels in our time but I can safely say that we have never had a better view than our Homeaway rental in Turgutreis , where we woke every morning to the clouds lazily drifting away from the Greek islands to the evenings when the sun set over the fishing villages surrounding Turgutreis.  We drove all over the Aegean coast and never saw a better view than the one we had on our back porch.)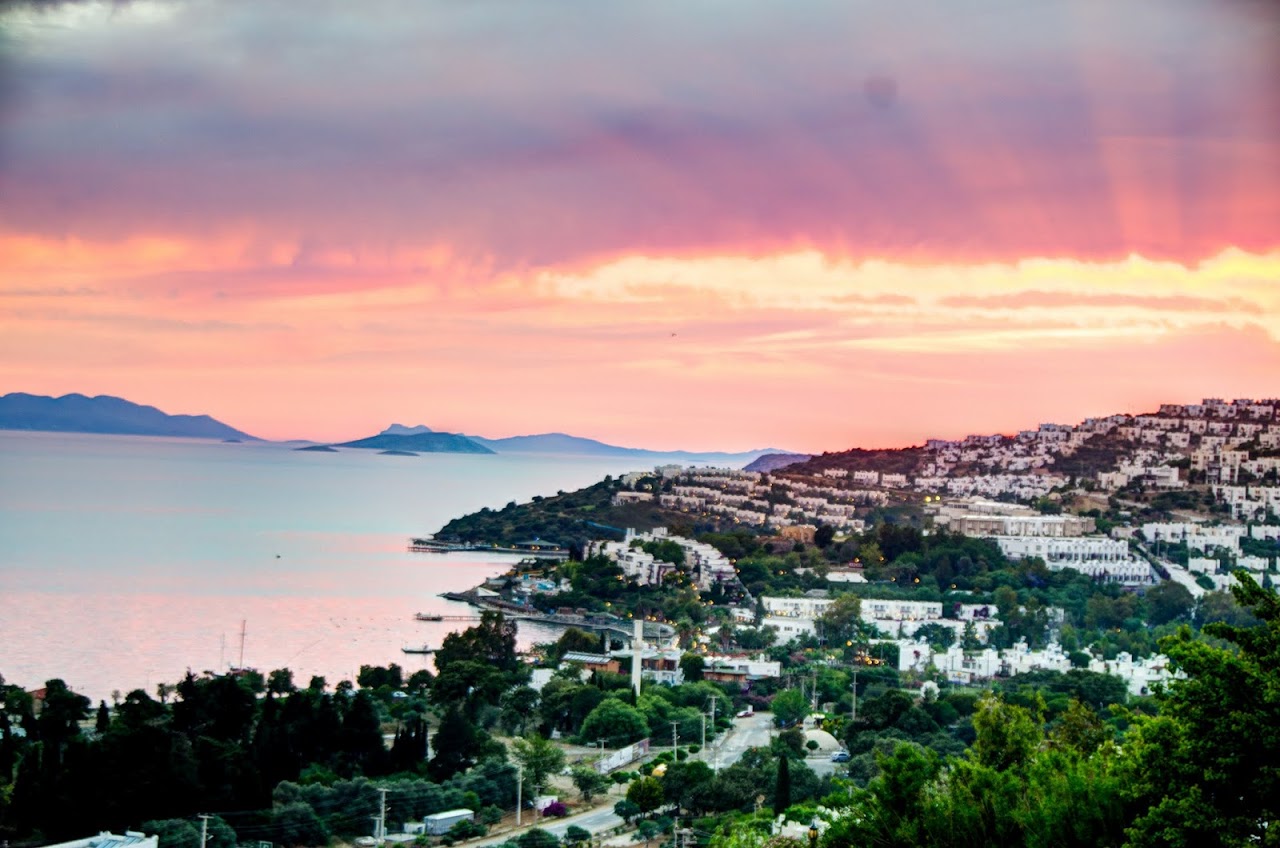 View of Kalymnos (I think) at sunset from Turkey
I occasionally get the question from relatives and friends who don't read our blog on what our daily life is like.  And, I respond that my daily life isn't all that different from theirs --- it's just that I'm moving around quite a bit more.  We wake up in the morning, eat breakfast, take the dogs for a walk, work on the Internet, do some walking around, shopping, or market-exploring, and wind up with a nice meal out or cook dinner ourselves.  Sure, there are days when we're hot air ballooning , canyon jumping , and scuba diving , but, most of the time, we're simply trying to be in a place.
Shots of Turgutreis
Being in a place is different than touring a place.  It's the difference between rubbing on a tiny bit of perfume from the magazine pages so you get a whiff of the newest scent versus spraying on enough so that the folks in the next two seats catch your aroma.  You're going to smell good either way, but the intensity of the experience isn't remotely the same.  (And, then, there's bulldozing through a place --- which we've done when limited by time constraints --- which is more like dousing yourself in enough perfume to beat out the old ladies ten rows behind you.)

Views of Bodrum, from and around Bodrum Castle
None of these ways are the wrong way to travel --- we've done all of them, as I'm sure all of you have --- but, if possible, we prefer to be .  And, the Aegean Coast is perfect for that sort of trip.  There's some nice things to do: a complete scrub down at the traditional hamam in Bodrum, where my friend and I stripped down and two ladies scrubbed, soaped, and massaged us, all the while exclaiming at our unusual curly black hair.  We walked through the Bodrum Castle, spent time on the beaches (though none were as white sand and pretty as the ones in the Dodecanese Islands), did a tiny bit of scuba diving, and roamed the massive Turgutreis market on Sunday.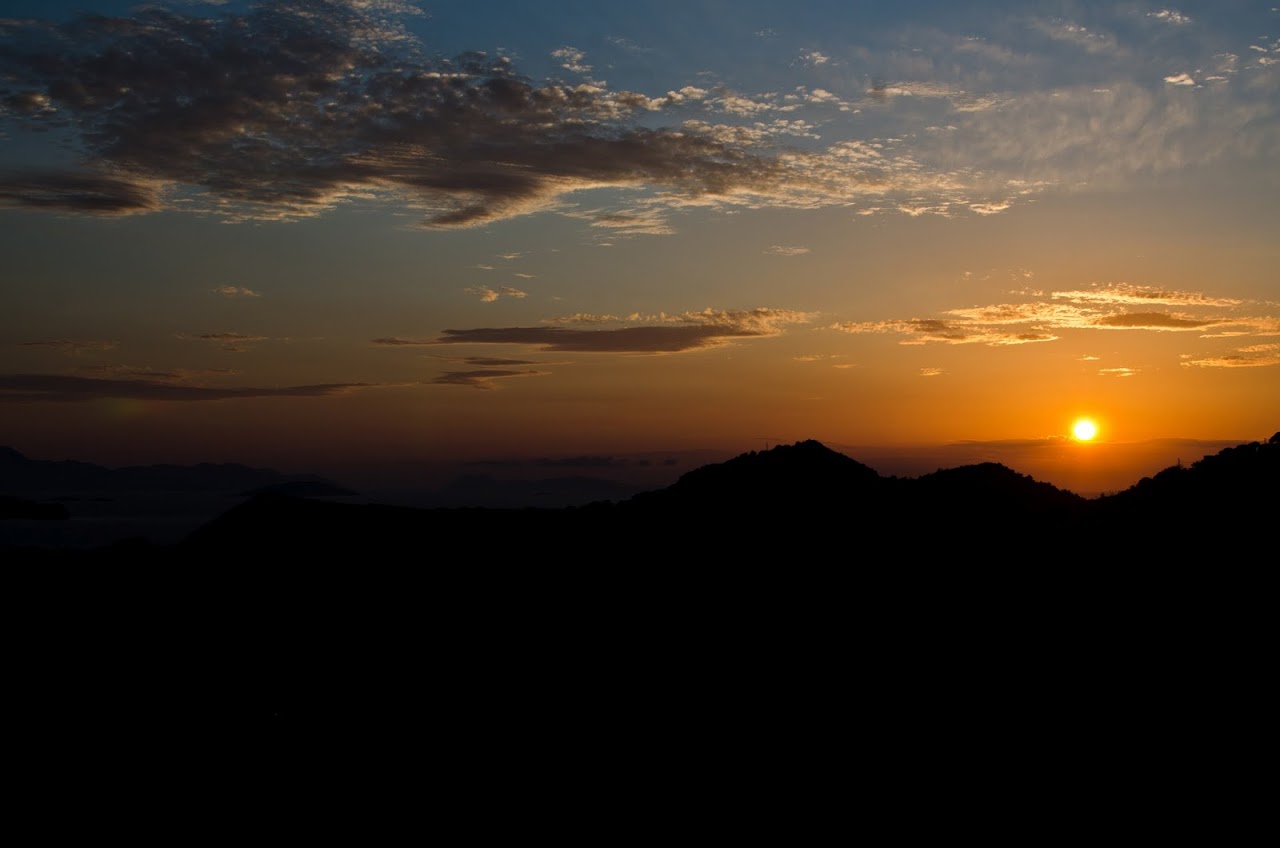 Sunset in Bodrum
Other than that, we ate a lot, sat on our back porch, admired the views, and simply were in the place where Turkey meets Greece.  It was lovely.
Details
Our Homeaway rental in Turgutreis is one of our all-time favorite vacation rentals.  The apartment is a beautiful, clean, and modern two bedroom/one bath, with a comfortable double bed in one room and two twins in the second.  The views out the backyard are just incredible and it's located a short walk away from the beaches.  A car is necessary but the town of Turgutreis is only a few minutes away and there are plenty of excellent restaurants nearby.  We preferred Turgutreis to Bodrum because it is much less touristy but with all of the amenities --- including a yummy kebab stand --- that any visitor to Turkey might need.  We also felt that the house was very reasonably priced at around 50 GBP per night (though the prices increase depend on the season.)
Best of all, Erol and his wife Charlotte are perfect hosts.  They did everything in their power to make our stay comfortable, including bringing us gozleme and pastries when their housekeeper made them; watching, feeding, and letting our dogs out when we took a day trip to Ephesus and a two day trip to Pamukkale (incredible!); and giving us a host of recommendations on restaurants and things to see in the area.  They helped confirm that the Turkish people are amongst the kindest and most welcoming in the world.  We feel so fortunate that we were able to stay in their home and highly highly recommend their apartment to anyone interested in spending time on the Aegean Coast (especially if you're traveling with children or pets).  We will DEFINITELY stay at their place again if we are back on the Aegean.
* Note: Our stay in Turgutreis was partially sponsored by Homeaway , but every single opinion is mine and mine alone (with a bit of input from Patrick), without any bias whatsoever.