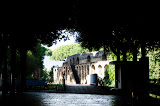 View of Pompeii Amphitheatre
I've never seen a picture of Pompeii that did it justice.  In fact, before going to Pompeii, I questioned whether it was worth the time and energy to go there.  The architecture looked less impressive than the ancient architecture in Rome at the Pantheon, the Roman Forum, and the Colosseum.  The scenery was less stunning than that of the gorgeous blue and yellow Amalfi Coast.  But, we went because we were staying in Sorrento, were only 45 minutes away from Pompeii, and it seemed foolish to miss one of Italy's most popular attractions.
Walking through the streets of Pompeii
And, I'll be the first to admit that our pictures don't do this place justice.  What's missing from the photography is a sense of the vastness of this place.  Pompeii was a living, breathing city with a population of around 10,000 people in about five square miles before 769 AD.  To put that into perspective, that's about the population density of New Orleans, Sydney, or Montreal today, and more dense than Miami, Antwerp, and Las Vegas.  Of course, our cities today are much larger than five square miles but, when we went there, we could feel how the city once bustled.
Cafe/restaurant; bakery and ovens
We started at the less touristed side of the city, at the point where most of the populace lived, and walked all the way to the main public areas at the far side of the city.  Like New York or Sydney or any major city today, Pompeii had places for worship, markets, government buildings, and public arenas and amphitheatres.  It had more than 33 bakeries with huge lava mills, turned by donkeys to grind the wheat, and ovens in which the bakers brought out thick flat bread, cut into wedges and sold to the citizens.  It had over 200 cafes where Pompeii citizenry --- especially the poor --- sat at long bars to eat from food ladled out of large jars set into the marble counters (kind of like a buffet).
Houses in Pompeii
We walked for hours.  Hours and hours.  Into and out of houses.  Into and out of mansions.  Through gardens with fountains.  Through gardens with statues of gods and goddesses at the center.  Through places where there were vineyards.  Into mammoth buildings where judges and politicians discussed and determined the way in which the rest of the Pompeiians should live, while those ordinary citizens went about their business, raising families, improving their homes, and generally living the best lives they could.
Marble and temples
It wasn't long before we realized that these people --- these people who lived over 1,500 years ago --- weren't all that different from us.
Public areas of Pompeii
Pompeii is, ultimately, a lesson in humility.
Pompeii by moonligh t
Patrick and I have seen many, many amazing ruins all across the world: Angkor Wat , Ephesus , and those in Rome immediately spring to mind.  But, Pompeii is unique in that it showed us how the ordinary people --- the people like us --- lived.  In Ephesus and Angkor Wat, we saw the structures built to celebrate the gods.  But, we never thought about the more humble structures necessary for man.  The bakeries, brothels, canteens, and warehouses are lost in those places, tumbled down into rubble and then built over many, many times.
Decorations in mansions
These people sold and bought goods at the markets, with products imported from all across the vast Roman empire.  They lived in houses decorated in granite and marble.  They walked streets and stepped carefully over the "speed bumps" built for horse-drawn carriages.
As we stood there at ancient Pompeii, looking over the busy city of modern Pompeii, we couldn't help but imagine the tourist of 3,500 AD.  Will they look at our houses, built mainly of the natural materials used for over 2,000 years --- wood, stone, and metal --- and think our architecture is curiously primitive?  Will they stand in front of the remnants of our granite kitchens with gleaming stainless steel appliances and wonder why we would try to preserve our food in such an antiquated mechanism as a refrigerator?  They will surely laugh at our smartphones and computers, and ask how we could build monuments like the Twin Towers with such simplistic devices, in the way that we wonder how Roman architects built huge structures using mental and handwritten arithmetic and an abacus.
It was a strangely humbling place as we realiized that, one day, when we are long gone, the cities and the people of the year 2013 will be ancient in the same way that Pompeii and its citizens are ancient to us.