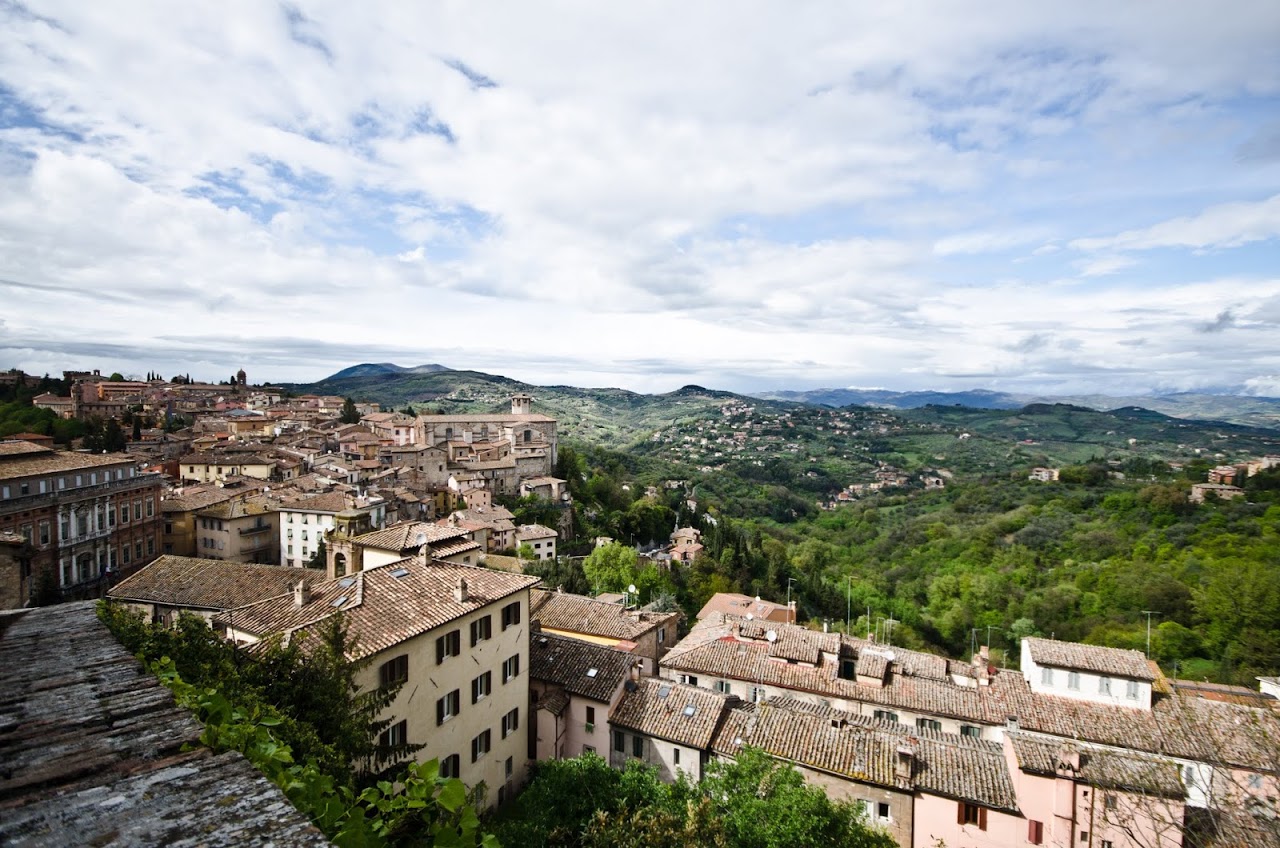 View of Perugia from TBU photowalk
Please take this post with a gigantic grain of salt --- make that a cupful of salt --- because this isn't normally how travel bloggers eat, otherwise we'd all be rolling ourselves across the world.  But, last week: wow.  I'm always joking about how we're gaining weight but, last week, at the Travel Bloggers Unite conference in Umbria, Italy, I literally gained three pounds in six days.  At the end of the week, we only half-joked that we needed a group liposuction because the amazing Umbrian Tourism Board organized such good food.
So, without further ado, here is a photo essay of what we saw and ate in the lush and decadent Umbrian region.
The Opening Ceremony at the Valle di Assisi Hotel near Assisi, Umbria: though a bit far from Assisi and with hesitating Internet, I couldn't fault the outstanding food, the way they accommodated all food restrictions throughout the conference, and the gorgeous views
Dinner in Perugia with Steve McCurry, the award-winning National Geographic photographer
The artwork of Luigi Frappi , who focuses on still-life images of fruits and vegetables, in the medieval village of Bevagna .  The gray-haired man above is Luigi Frappi and the Italian next to him is fabulous Fabio, our amazing tour guide through Umbria.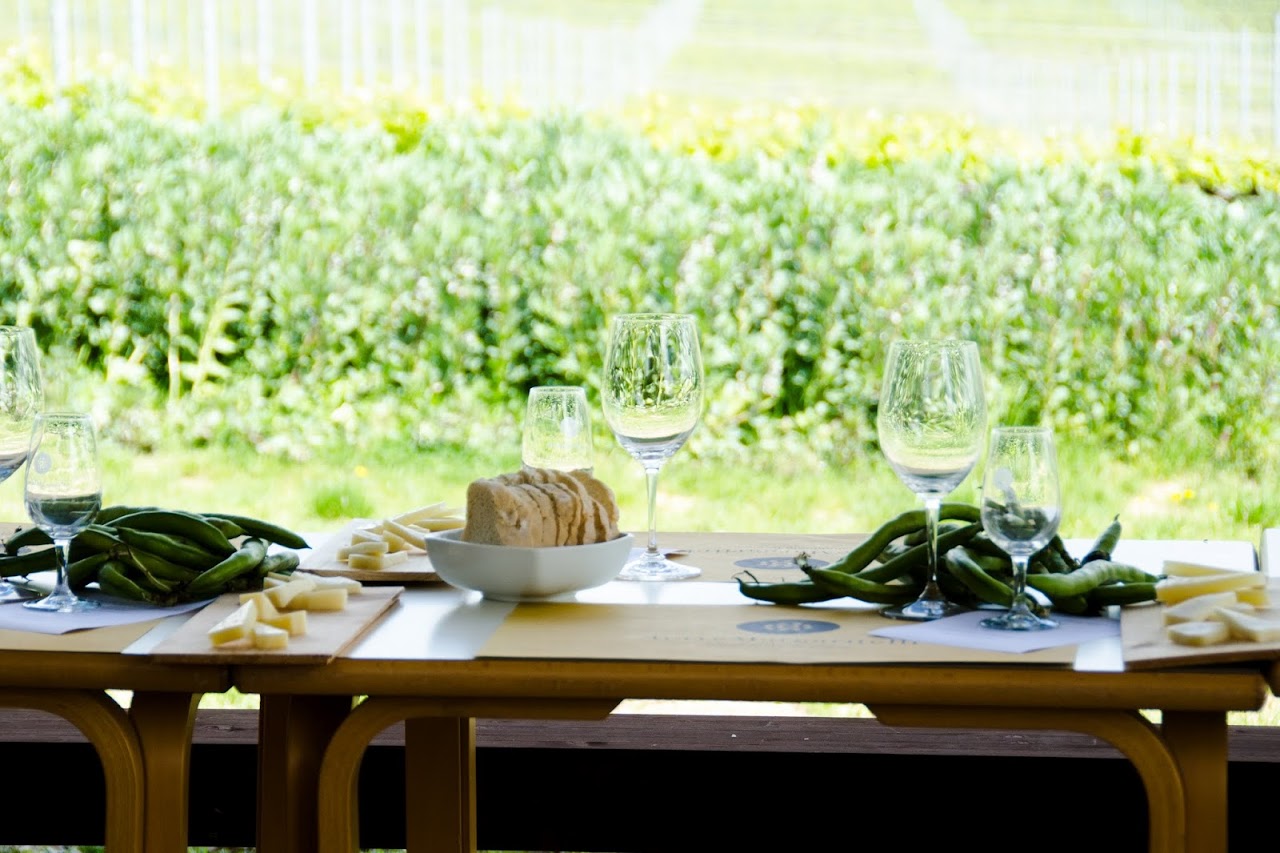 Our lunch at Terre Margaritelli winery, in Torgiano, where we had locally cured meats and cheeses, marinated saltwort, farro salad, sausages with grapes, stringozzi (a type of eggless pasta) with stinging nettle pesto, and their red and white wines.
The sensational crostata di ricotta di pecora (sheep's milk's ricotta tart) with chocolate and orange peel (I want this recipe!) served by Jennifer, chef at Terre Margaritelli, and teacher of cooking classes in Umbria called Life . . . Italian Style and Kash eyeing the tart hungrily.

Lunch and wine at the Arnaldo Caprai winery in Montefalco where we ate traditional dishes including fava bean and pecorino salad with their homemade grassy and bright olive oil, rocciata filled with vegetables and a sweet rocciata with apples.  Rocciata is a typical Umbrian dish, similar to a strudel, though the dough is eggless and made from a combination of flour, olive oil, and wine.  We topped off the delicious meal with the best wine I tried in Umbria, a sweet Sagrantino dessert wine from the Caprai winery and produced only in Montefalco, Italy.  The wine is pricey --- 30 Euros for a half bottle --- but an excellent special occasion dessert wine and one that I highly recommend wine connoiseurs try.
Fabio, our guide, told us that we were going to end the night with a "simple farm meal," which turned out to be not simple at all but rather a mouth-watering smorgasbord of vegetables, breads, and soups, made by Mamma Wanda at the Agriturismo I Mandorli .  It is an absolute shame that I Mandorli only offers dinners to its agriturismo's guests because I think that everyone should try this type of homestyle Umbrian cuisine, but I'm sure that they approach their agriturismo with the same hospitality as they approached our dinner.

We wound up that night with a lesson on how to make gelato with liquid nitrogen at the modern Delfina Palace Hotel .  One of the other bloggers said that she would gladly swim in the strawberry sauce that the chefs made there and I could eat that gelato every single day of my life.
Wine from Lungarotti winery in Torgiano, Umbria, and porchetta and fava beans at the incredible feast of St. George
.  As night fell in Torgiano, the locals lit a giant bonfire of twigs snapped off from the dead vines.  This is a tradition passed down for centuries to signal the start of spring and new growth on every April 23rd.  People laughed, talked, ate, and drank, as the fire flickered and danced around us.  I felt fortunate to experience this beautiful night with old and new friends in lovely Umbria.

*I cannot thank the Umbrian Tourism Board enough for hosting me (and the rest of the 200 bloggers who came to Travel Bloggers Unite) and introducing me to this beautiful part of the world.  As always, though this trip was sponsored, every single thought, picture, and word on our blog is mine and mine alone (and, of course, Patrick sometimes gets a little bit of say in what I'm going to write).