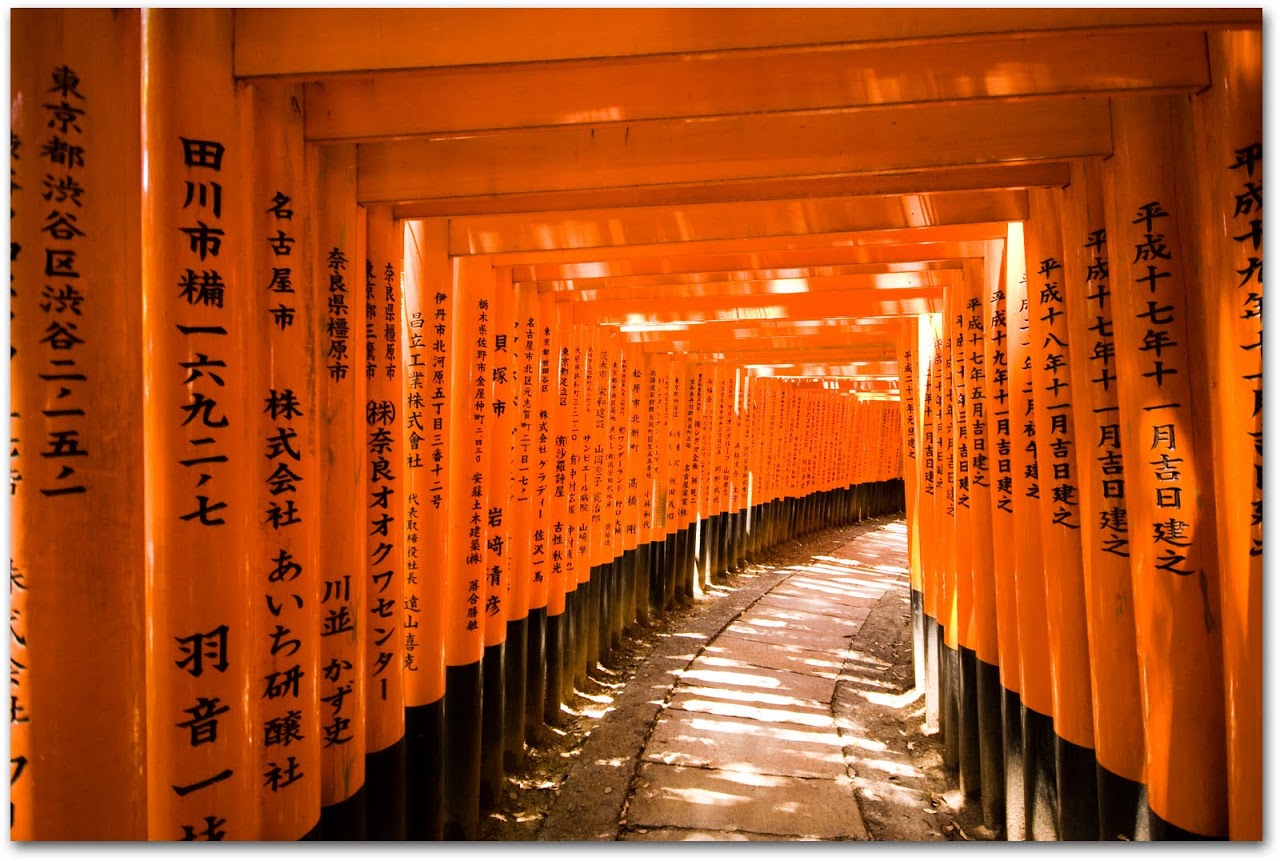 Fushimi Inari Shrine
We knew that Japan was expensive before we came here but expensive is a relative term.  We thought  food in Japan would be like the cost of New York or London.  Whoa, were we off base.  We didn't expect that a Starbucks Tall iced coffee is about $6, nearly double the price in the United States, or that we would pay $70/night for a small room with a shared bathroom.  A "cheap" meal runs about $20 for the two of us, which is the cost of the most expensive meal we ate in Southeast Asia.  So, we have been searching for ways to keep Japan within our budget.  This post, focusing on free attractions in Kyoto , is the first of three posts on traveling in Japan on a budget (the other two will cover the cost of transportation and food, so if you have any specific questions that you would like addressed, let me know.)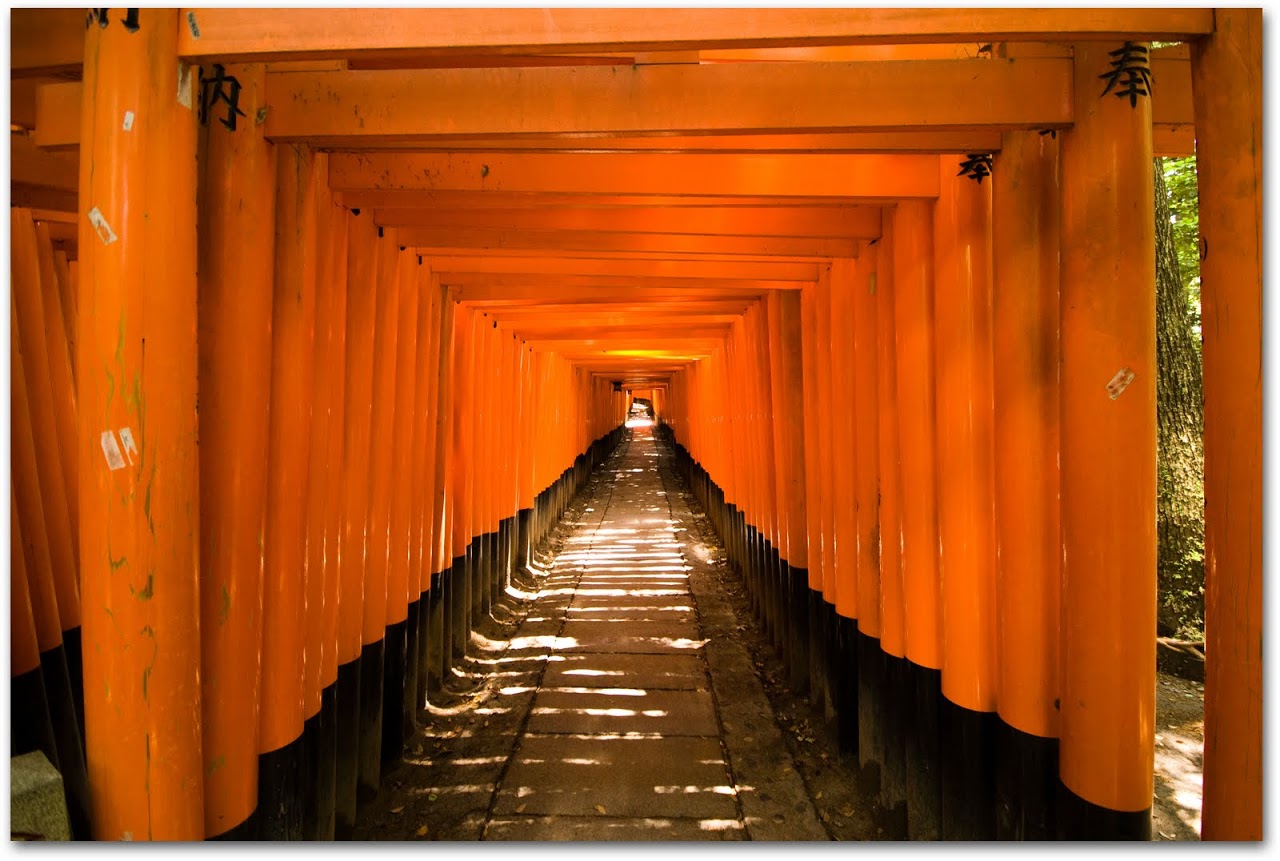 Fushimi Inari Shrine
Fushimi Inari Shrine : One unexpected expense is the cost to enter temples and shrines.  Unlike Southeast Asia, India, and most of Europe, where religious institutions are free, in Japan, most temples and shrines charge between 300 to 500 Yen (about $4 to 7 USD) to enter.  Fushimi Inari in Kyoto was a beautiful and unique shrine, unlike anything else we have seen in Japan or Asia, and completely free.  The  Fushimi Inari shrine is the head shrine of the Inari, a Shinto kami (deity) represented by the fox, and consists of thousands of vivid orange torii gates.
Fushimi Inari Shrine
A four kilometer walk uphill meanders past gates, statues of foxes, bamboo forests, and rivers.  The view of Kyoto about 1/2 kilometer up offers a beautiful perspective of the city.  Fushimi Inari is located directly in front of the Inari Station on the JR Nara line.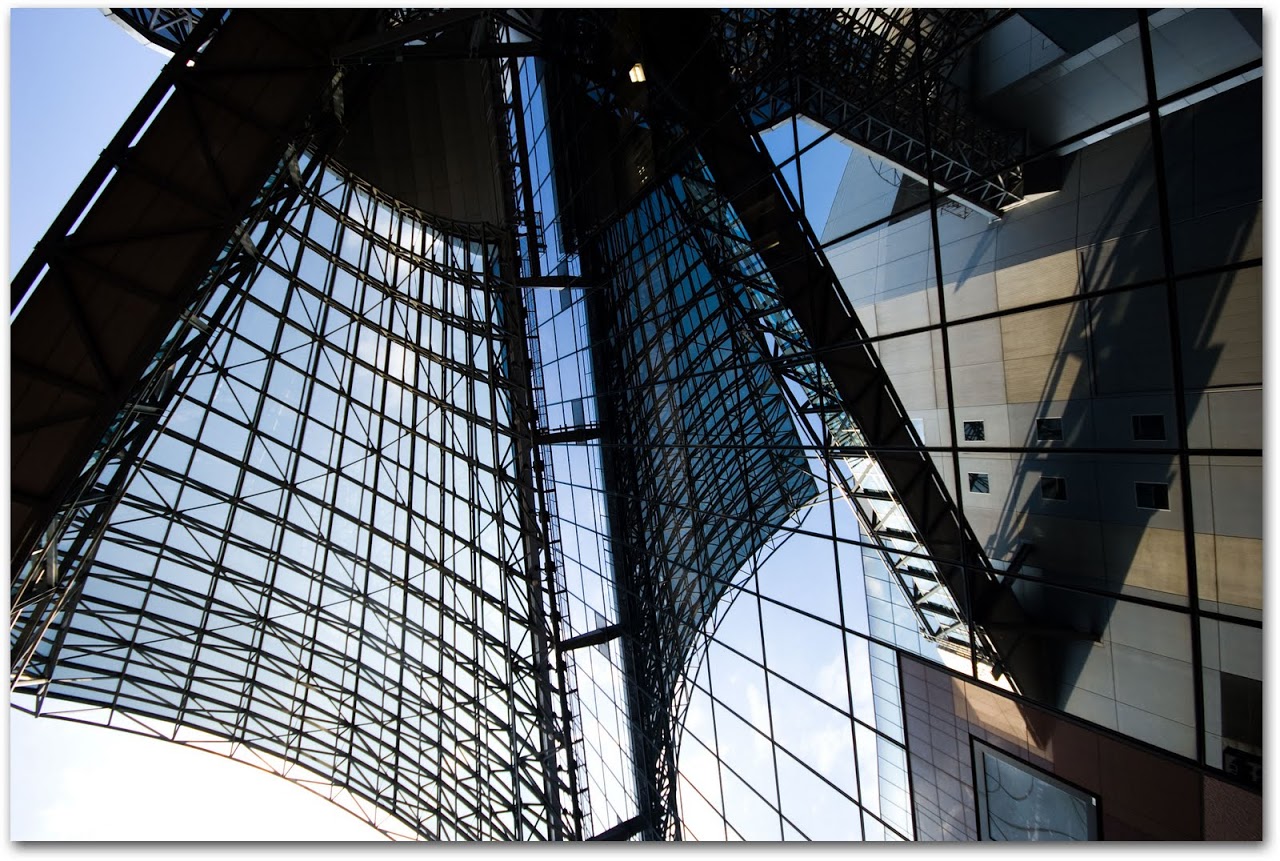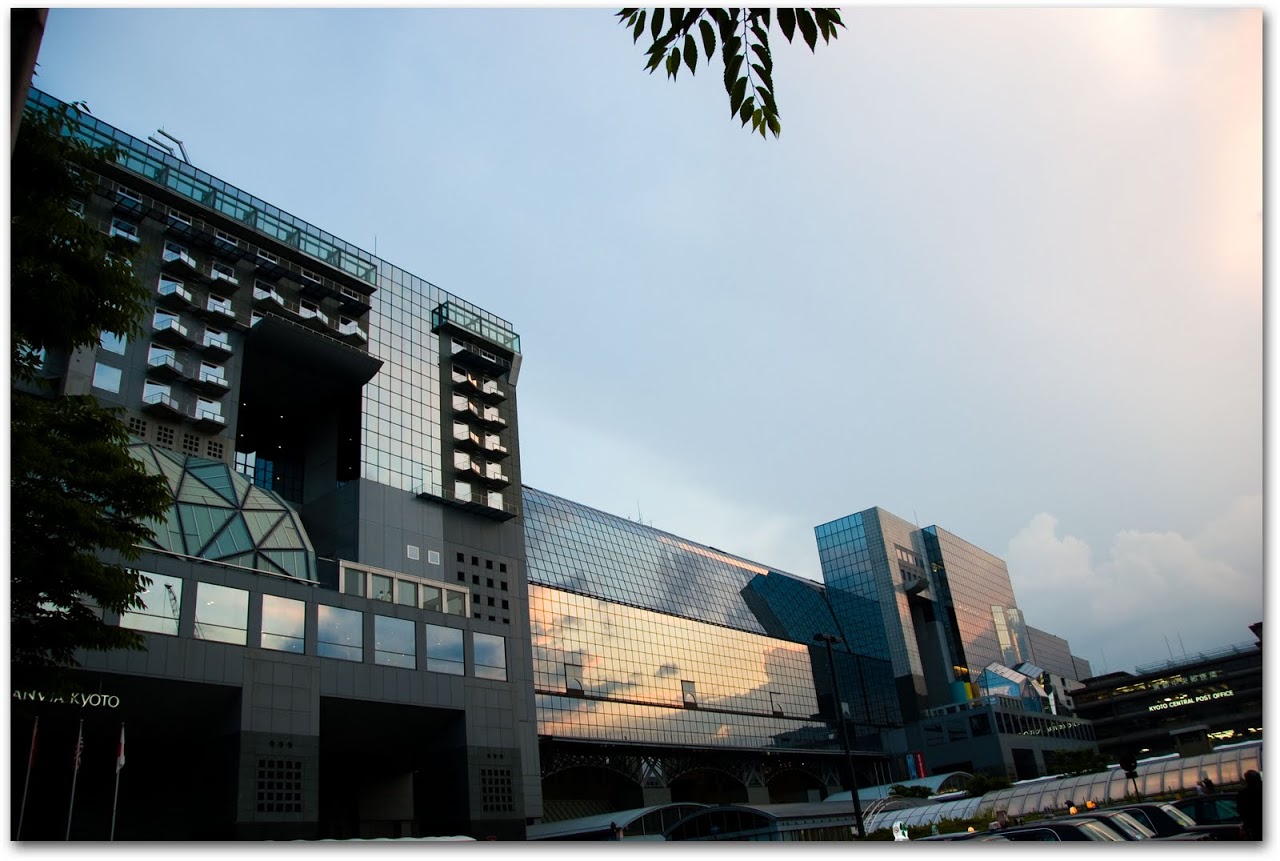 Kyoto Train Station
Kyoto Train Station: The Kyoto Train Station is a soaring amalgamation of steel beams and glass.  Escalators reach higher and higher to the top of the train station, providing a 360 degree view of the city.  The 10th floor is packed with ramen shops, the 11th floor contains about 15 different restaurants, and the basement in the attached shopping malls are filled with a stunning array of meats, vegetables, bento boxes, pickled vegetables, and fruits.  The shopping malls are great places to ogle silk kimonos and expensive fans.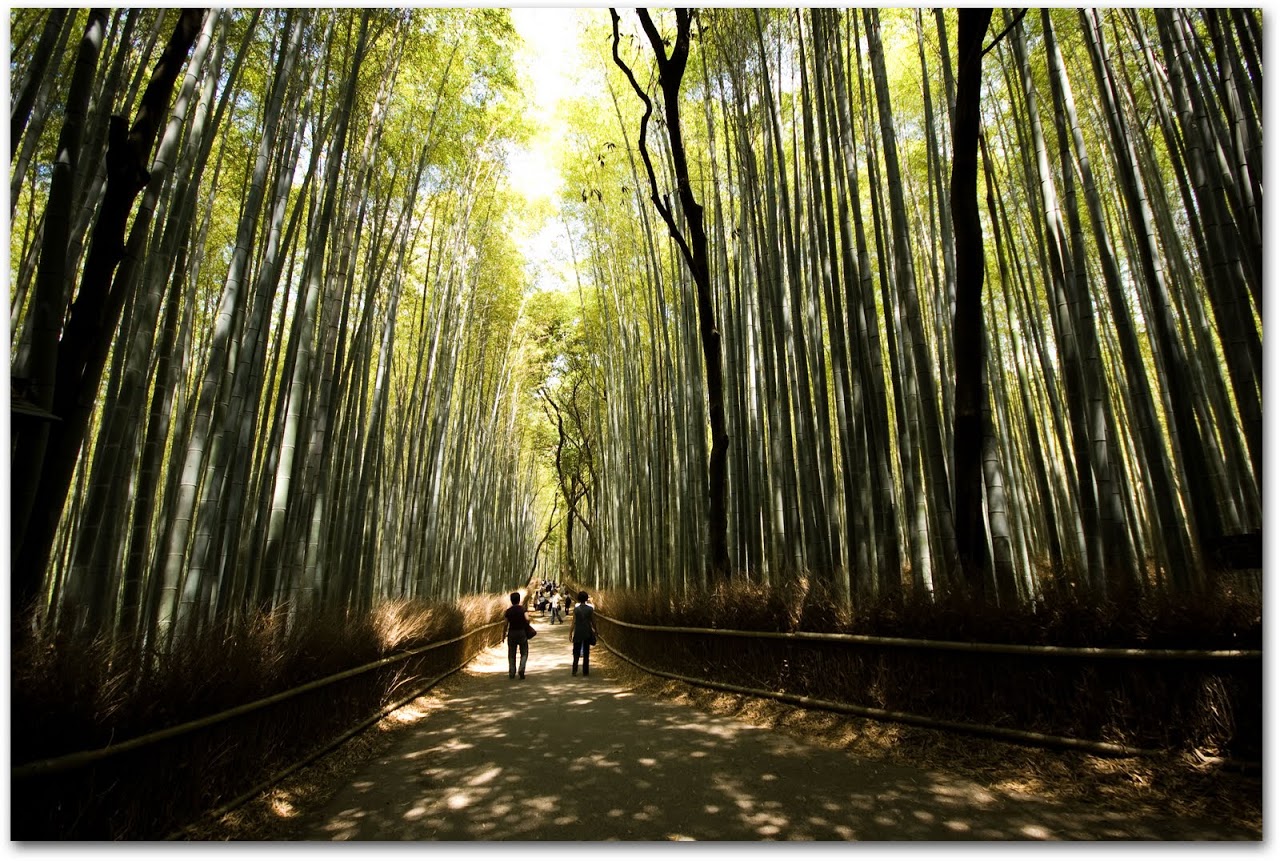 Bamboo path, Arashiyama, Kyoto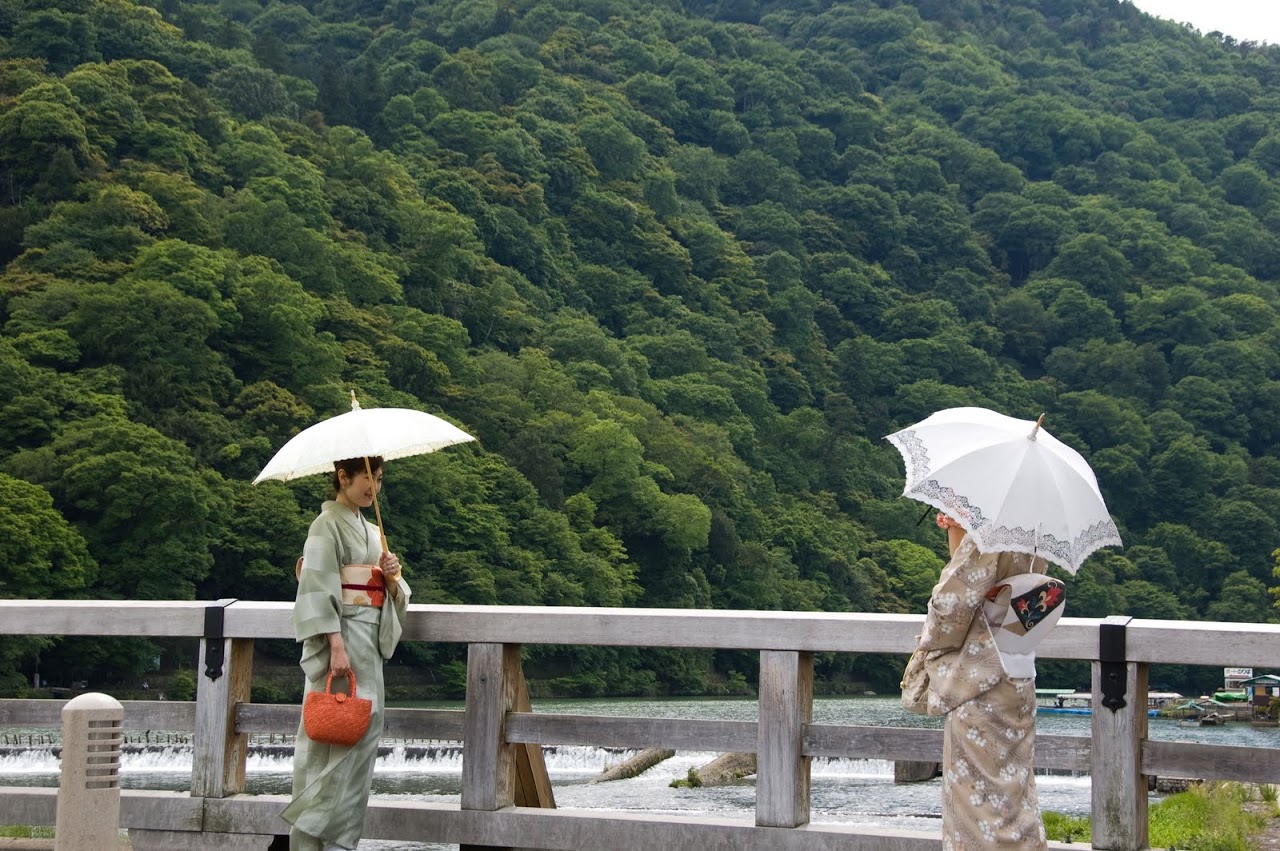 Women in kimonos on the Togetsu-kyu Bridge, Arashiyama, Kyoto
Arashiyama neighborhood :  A path of tall bamboo stands at the center of the Arashiyama neighborhood, in the northwestern part of Kyoto.  Quaint wooden shops selling sweets, tofu, and yuba line the road ending at the Togetsu-Kyo Bridge.  Though perhaps not a must see site like the Gion area, the Arashiyama neighborhood offers a gentle view of a different Kyoto, without cost.