Scenes near Brienz Lake

My one and only skiing experience began and ended with me flat on my butt.  I don't know why I expected anything less: nine years of detested gym classes (as soon as I got into high school, I figured out a way to avoid gym altogether) plus two years of abhorred gymnastics revealed a complete lack of balance and athleticism.  Patrick is never surprised when I trip over my own feet in the middle of a flat, unmarked street.  It's just my way.
Chewy in the snow
Anyhow, so, we had this plan to go skiing in Switzerland.  Why?  Well, it's the thing you do when you go to Switzerland . . . you ski, eat cheese fondue, and drink hot chocolate.  But, we had to cut our time in Switzerland to a very short three days which meant that we wouldn't have time to take ski classes and ski while there.  Which, in the long run, was probably a good thing for me, my body, and the rest of the Swiss population, because I can only imagine that they would have been mortified by me constantly falling flat on my butt.  (As a side note, the Swiss literally begin learning how to ski as soon as they are taught how to walk.  We talked to a ski instructor at the resort who said that she recently had a 22-month-old in her ski class and that the 5-year-olds were practically experts.)
Views of Meiringen and Sherlock Holmes statue
We reached the Bernese Oberland region, most famous as the scene of Sherlock Holmes' "death" while battling Moriarty, and I started thumbing through the brochures, wondering if there was a way to enjoy the stunning winter wonderland without skiing.  And, there was.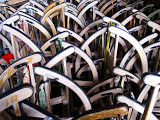 Sleds stacked
I always thought that sledding was a kid's activity and a relatively tedious activity at that: trudge up a hill, slide down, trudge back up, and so on.  But, in Switzerland, sledding (or what they call sledging) is no child's game.  In Switzerland, you take ski lifts to the top of a mountain, sled down a specially groomed run for about three kilometers (about a mile and a half), reach the bottom and head back up the ski lift again.  And again.  And again.
Sledding and the sledding runs
It's pretty much the most fun wintertime activity ever.  I'm whizzing down the mountain, taking curves around the hills, charting how long I can go without stopping, and staring all the while at huge hills of snow piled on top of tree branches and houses.  It takes me an hour to reach the bottom of the first sledding run and when we go back up, we get better --- or more daring --- not stopping or slowing even when the curves rush at us, and we're down at the bottom of the mile and a half sledding run in forty-five minutes, and the next time we make it down in thirty minutes.
Super short sledding video
Snowflakes flutter through the air and the cold wind is in my throat and I want to scream "Whee!" but I don't because I am, after all, a grown up.  And sledding is a grown up activity here in Switzerland.
Details
We stayed in a fantastic holiday rental in Brienzwiler between Brienz and Meiringen, both of which are very cute little towns.  We went sledding on the Hasliberg mountain , at the edge of Meiringen town.  There is a large tourist shop at Meiringen next to the railroad where we purchased one-day sledding passes for 37 CHF (about $45 USD) each which gave us unlimited access up and down two different ski lifts.  We rented sleds at the Magisalp ski lift for 12 CHF (about $15 USD) per day.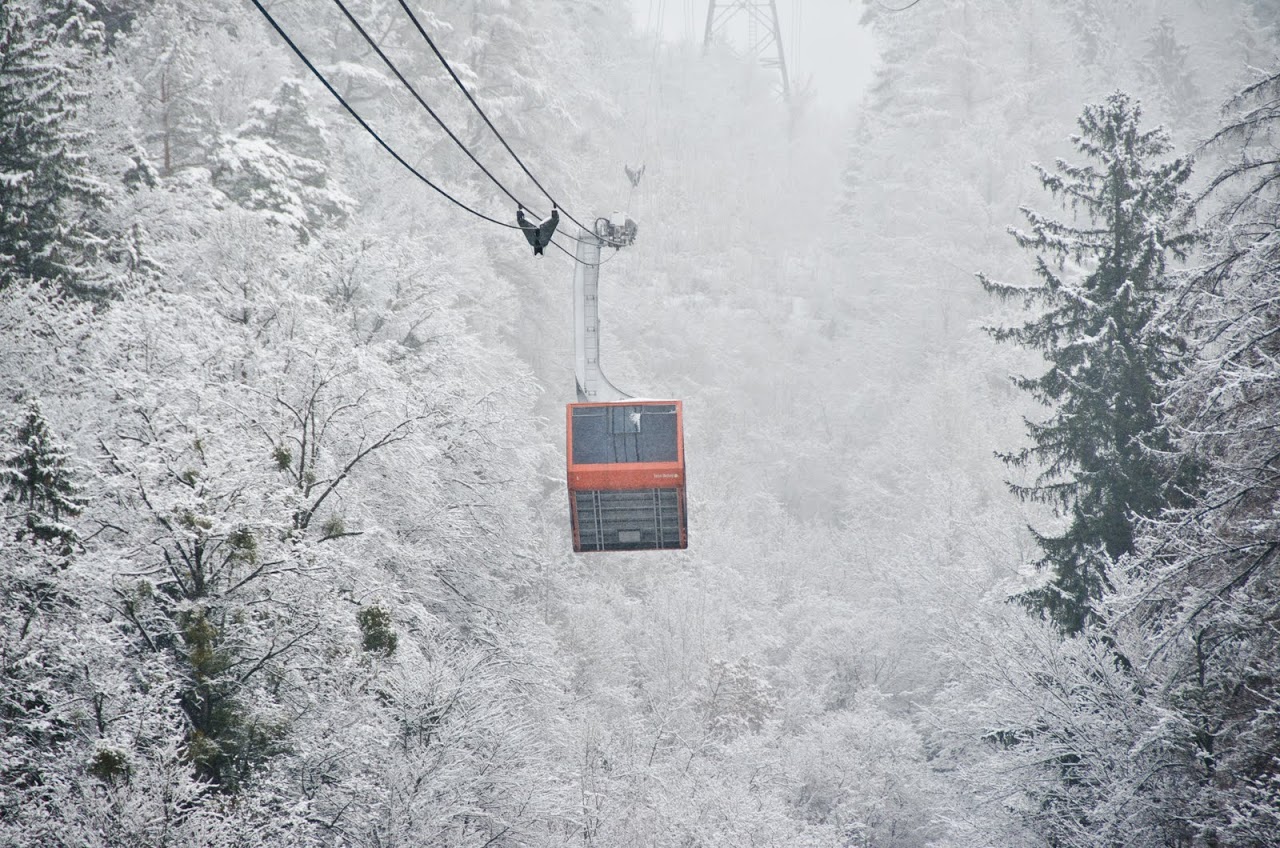 Magisalp ski lift
We started at the Magisalp ski lift and sledded down to the Bidmi ski lift.  There are several restaurants, lockers, and a small shop at the Magisalp ski lift so it is definitely possible to spend the whole day sledding.  It's a great activity for all ages because it's exhilarating enough for adults but safe for kids.  On the day we were there, we saw mostly adults sledding, sometimes holding onto a family dog which ran ahead of the sled.  Dogs are allowed on the ski lifts and down the sledding runs.
Warm jackets and gloves are essential while sledding and we also wished that we had rented ski boots because snow quickly soaked our shoes and socks and we had to cut short our sledding because our feet were so cold.
Wiener schnitzel, rosti, fondue
Though we normally try to avoid super heavy and cheesy food, we craved fatty food while in Switzerland because of the cold.  Swiss food delivers with delicious, creamy, and cheesy options at every meal.  We highly recommend the Steinbock Hotel Restaurant in Brienz where Patrick indulged in a mushroom covered crisp wiener schnitzel and I chowed down on a hearty and decadent vegetable rosti.  We also enjoyed our meal at the Restaurant Laterne in Interlaken with its choices of excellent fondue and rosti (though the rosti was not as good as the one we had at the Steinbock).
And, oh yeah, if you're wondering why I'm posting about winter weather in March . . . it's because it is still very much winter here in Europe.  We got snow flurries two days ago --- I am very envious of all the warm weather that folks in the United States are getting.