See: The Florence Duomo

I have lived in the South nearly my entire life so I know about big churches.  In Seattle, you can stand at a Starbucks and see two others; in my hometown in Alabama, I could stand at a church and see two larger churches.  When we lived in Atlanta, we knew people who went to church in a converted Harris-Teeter.  But, Italy takes the prize for really big cathedrals.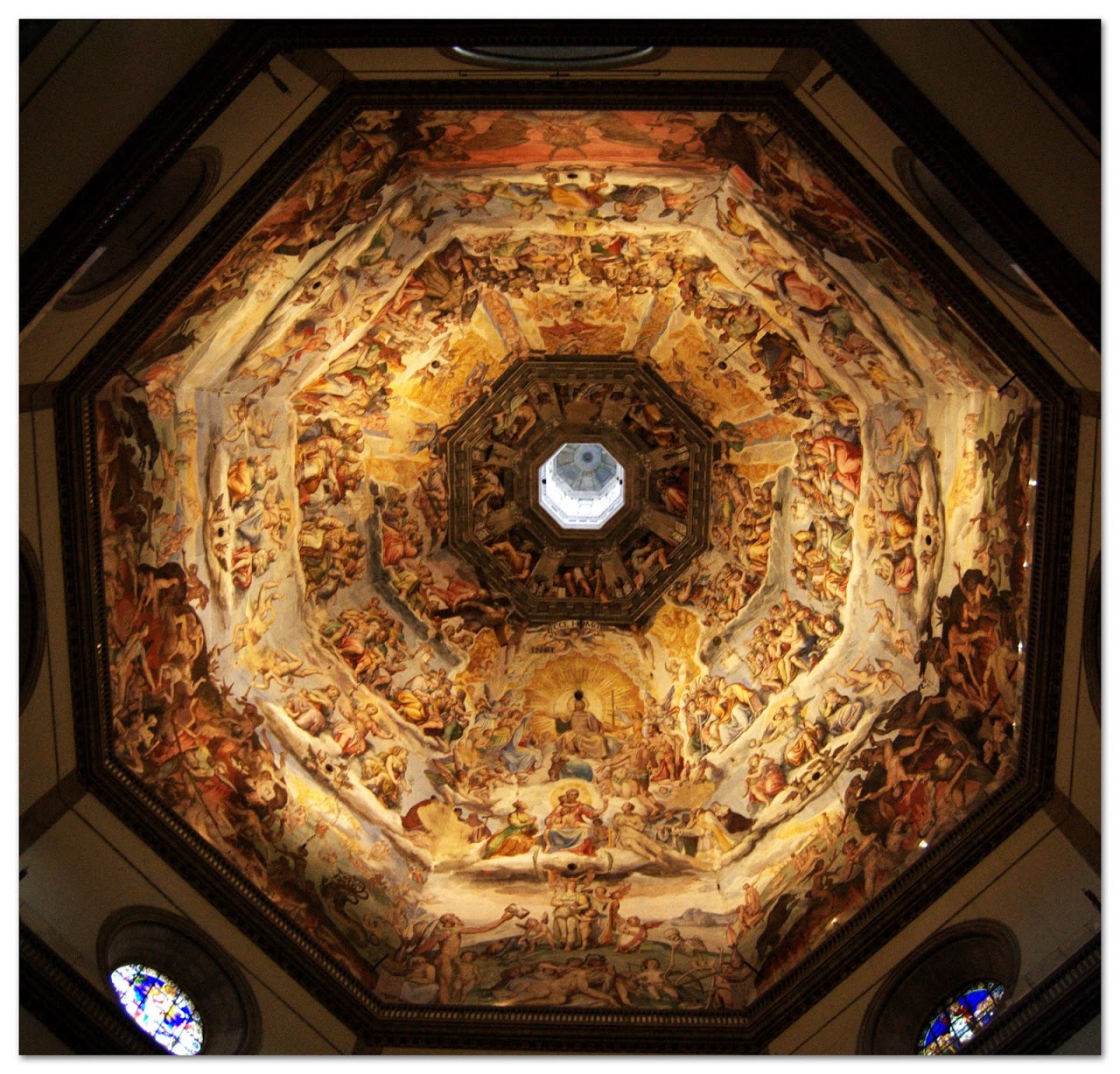 The Duomo dominates the city of Florence.  Every detail of the pink, green, and white facade is meticulously detailed and the interior dome designed by Brunelleschi is even more amazing.  Of course, we both had cricks in our neck from staring at the ceiling for so long through our binoculars.  If only they would let people lay on the floor with pillows to admire the ceiling.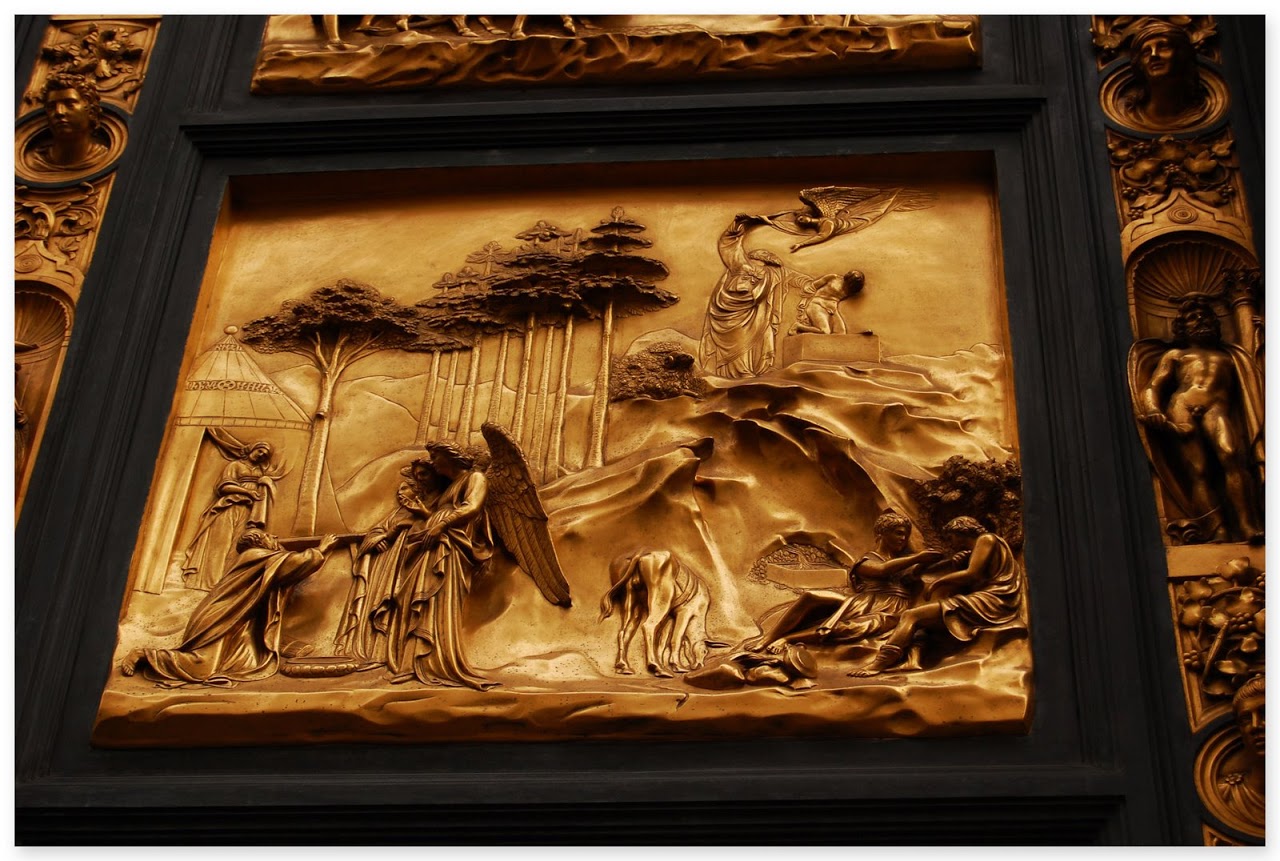 Though, I actually preferred the smaller Baptistery.  The exterior golden door by Ghiberti and the interior dome covered in gold are both masterpieces.  Somehow, the fact that the exterior door was a copy of the original masterpiece did not bother us.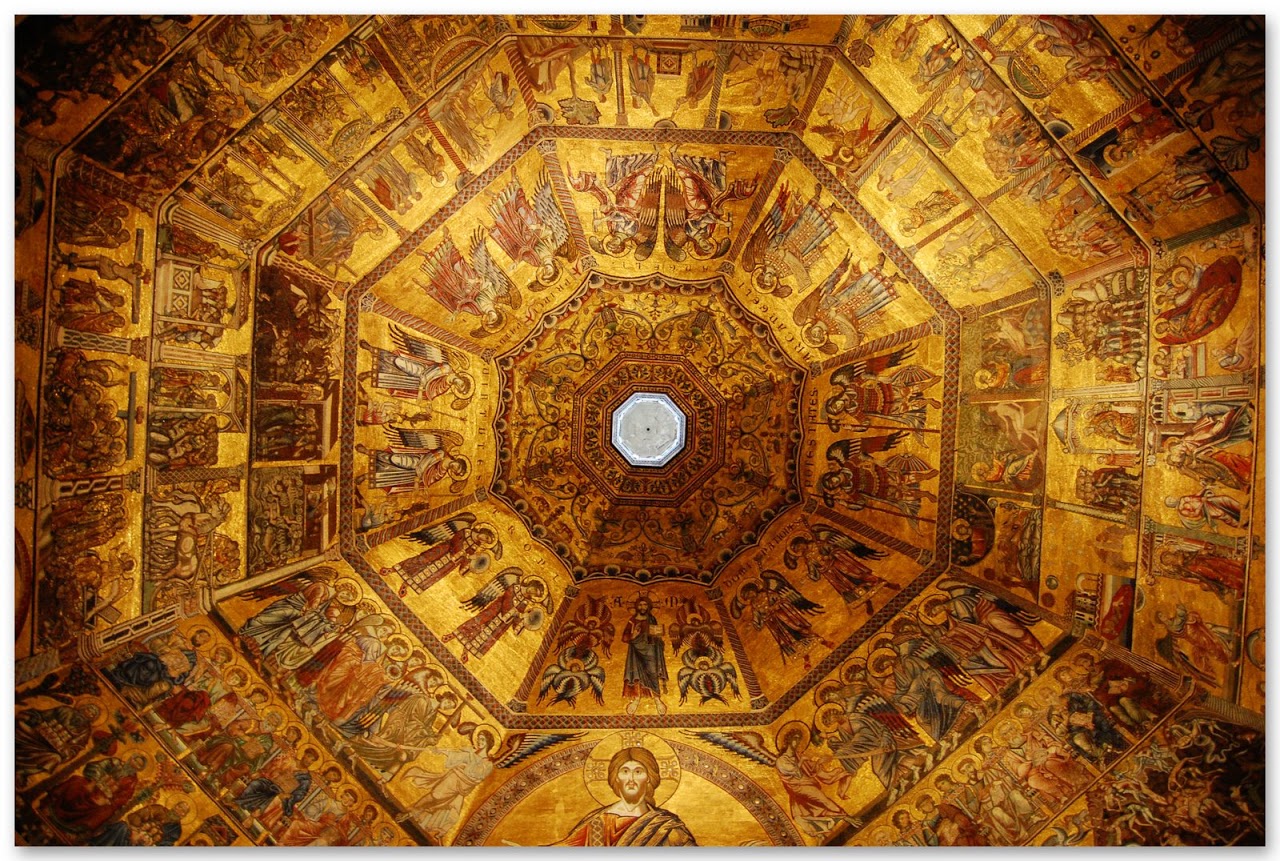 The climb to the top of Giotto's campanile was long and high.  My calves screamed bloody murder and, several hours later, Patrick and I found ourselves in a pharmacy attempting to explain the chemical properties of "Icy Hot" to an Italian pharmacist.   After we kept pointing to our legs and explained "hurt" and "pain" in Italian, the pharmacist gave us Momendol, an even better pain reliever than Icy Hot.
But, the climb was worth it for the views of the Tuscan countryside and city landscape.  Beautiful.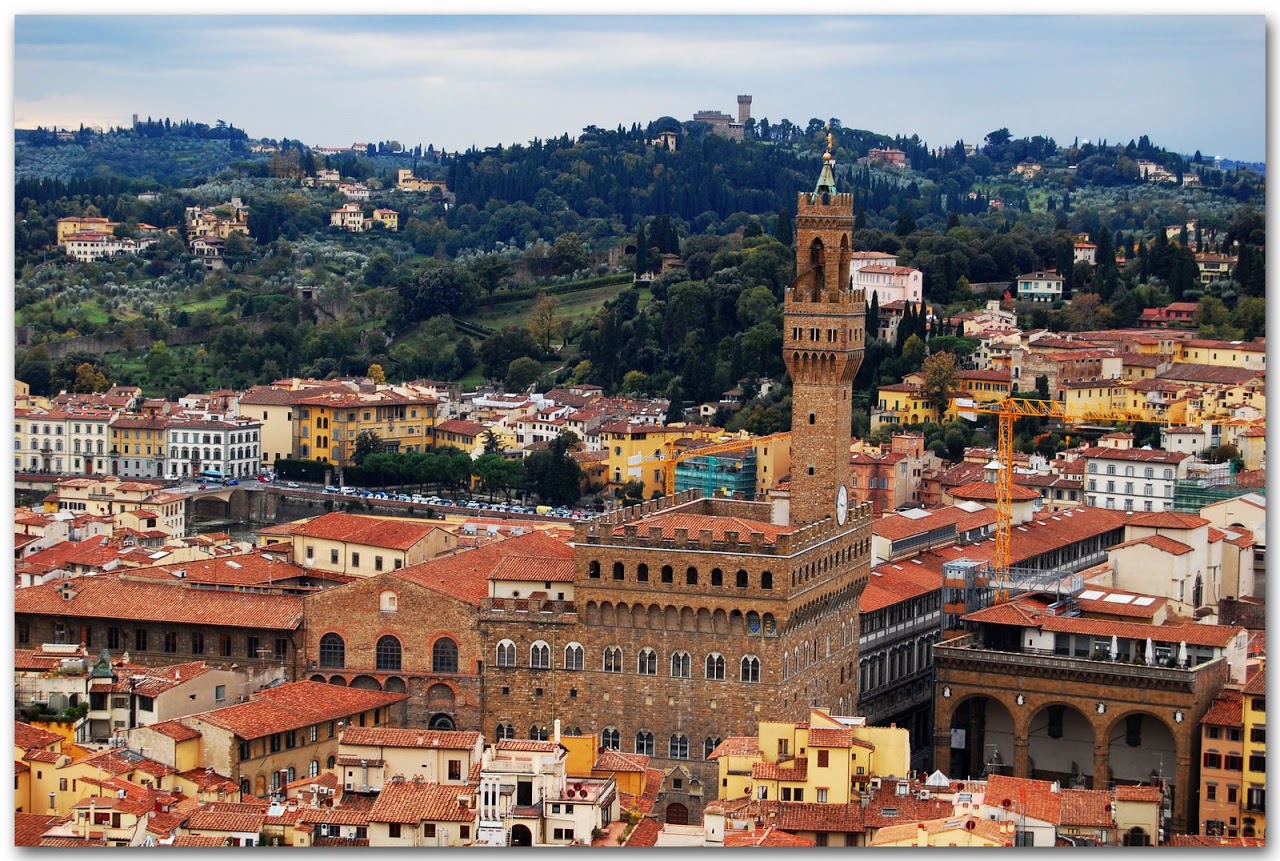 Eat: Trattoria Le Mosacce, Il Dante di Rosso
Trattoria Le Mossacce - On Via del Proconsolo, this trattoria oozes Florentine charm with its rustic communal wooden tables and dried garlic strands hanging from the ceiling.  Florentine business people and elderly men and women filled the restaurant.  The portly gentleman sleeping in the corner against a wall, obviously sated from a good meal, only added to the decor.  Patrick ordered the tortelloni, cooked perfectly al dente filled with a thick meaty mixture, with a simple bolognese sauce.  My spinach and cheese ravioli in tomato sauce was also very tasty.  Patrick's secondi of veal was a little tough but with an excellent gravy.  I ordered a minestrone packed with vegetables and a contorni of spinach sauteed in lots of butter.  Overall, a delicious meal at 25 Euros (and that included a liter of wine at 5 Euros).
Il Dante di Rosso - My zucchini risotto was incredibly bland and the grilled vegetables con scamorza had no seasonings, not even salt and pepper.  Unlike the scamorza at Osteria dei Cavalieri , this cheese tasted like the cheese used by Papa John's to make pizza --- and that's not a good thing.  Patrick's salami was good but his lasagna was boiling hot and contained too much cheese.  We would not recommend this restaurant because the food was mediocre and expensive.