See: Montepulciano Farmers Market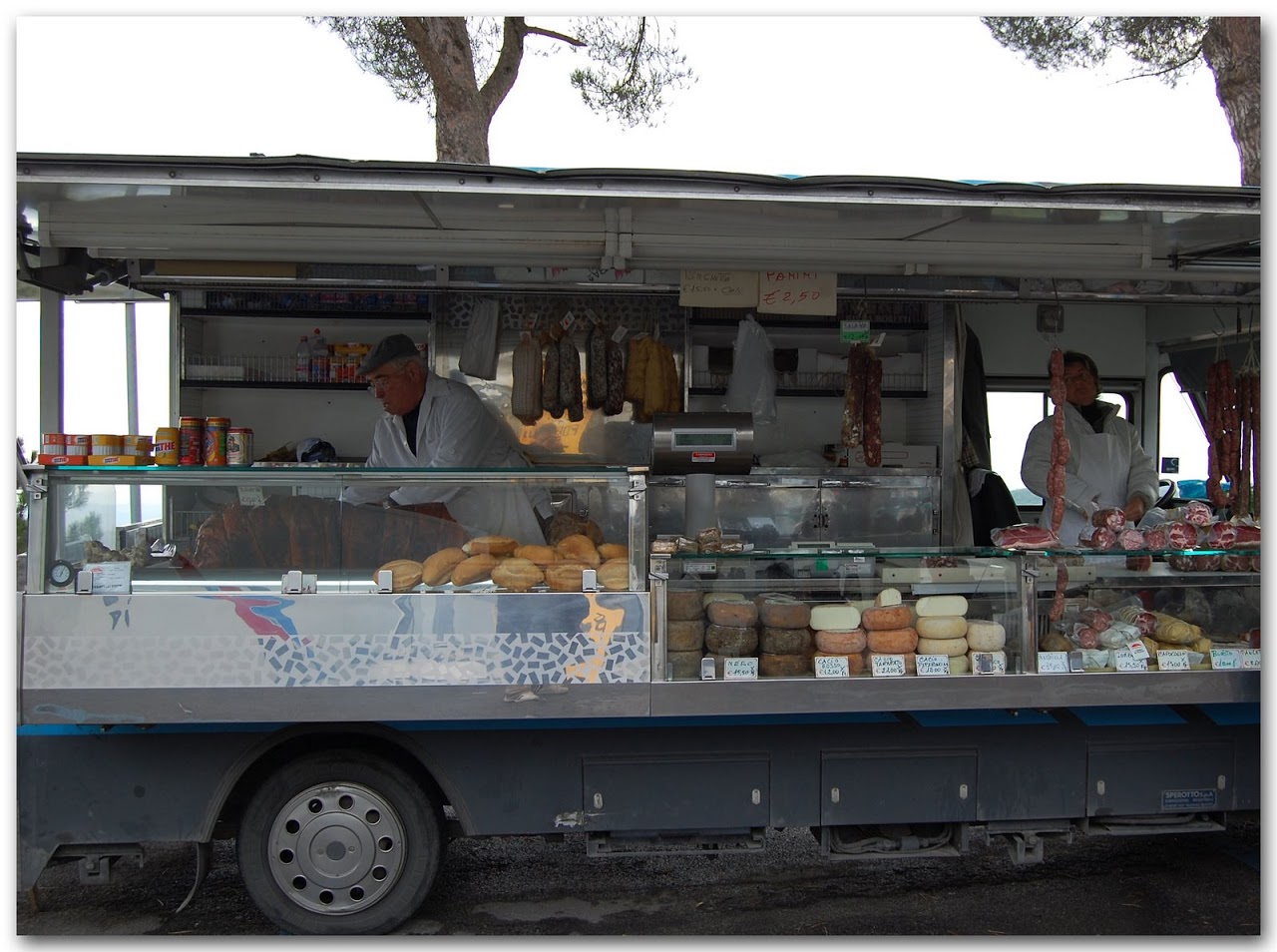 I stood in the parking lot of the bus station with my arms in an awkward position, my elbows touching each other, the wrists jutting out, and the tips of my fingers meeting together at the top.  Patrick was behind me, shaking with laughter, as I tried to explain to the portly gentleman (and his flock of hens) exactly what I wanted.  I had begun my conversation with him, slowly and carefully.  "Avete uovo?" Do you have eggs? The man, dressed in the uniform gray pants and button-down shirt of every farmer in the Montepulciano market, looked at me curiously.  He responded, "No.  Pollo,"  turning and pointing to the cages and cages of chickens behind him.  "Si," I struggled to find the words to explain that eggs came from chickens, "pero uovo descendente desde pollo."  I had combined Italian with my college-level Spanish and left this poor man even more confused.  I tried again but with visual help by fixing my arms into an egg-like shape, and asking him again, "avete uovo?"  "No, no.  No!  Pollo,"  he said roughly pointing to all the chickens behind him, "No uovo!  Pollo."  I walked away shame-faced, certain that I had not improved the image of the American tourist by this encounter with the Montepulciano citizenry.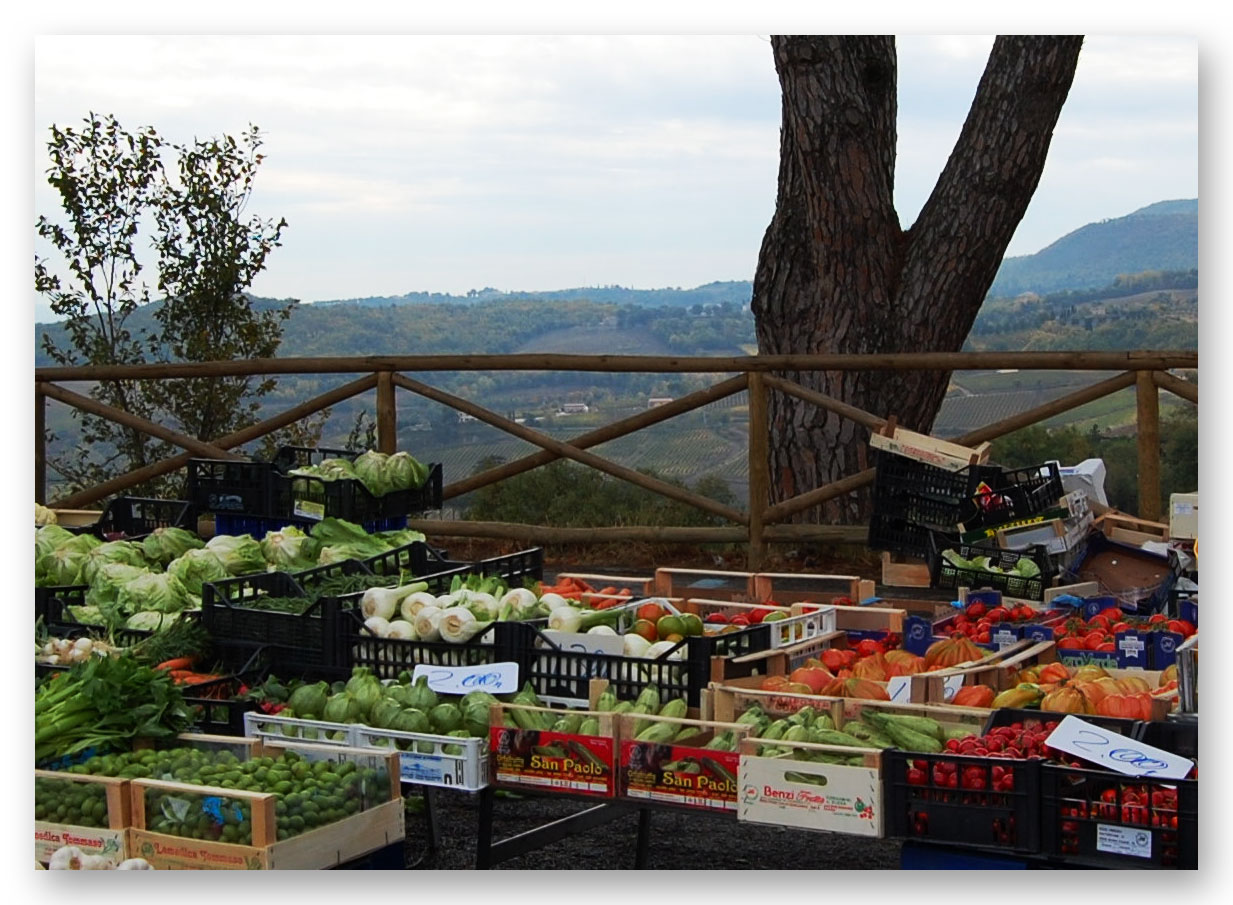 But, our excursion to the Montepulciano farmers' market was not a waste.  Patrick found thinly-sliced prosciutto and pungent pecorino romano from the butcher wearing white in the white cart filled with meats, cheeses, and one dark brown roasted pig.  Why is it, I wondered, that the merchants with the bloodiest, messiest products only wore white to sell their goods?  The mountains and valleys of the Val d'Orcia stood behind the fruit merchant as he handed us a bunch of green grapes telling us that they were "dolce."  Those grapes were the closest I have tasted to the ones C.S. Lewis described as being grown by Bacchus and the Maenads: "[A]nd whatever hothouses your people may have, you have never tasted such grapes.  Really good grapes, firm and tight on the outside, but bursting into cool sweetness when you put them into your mouth."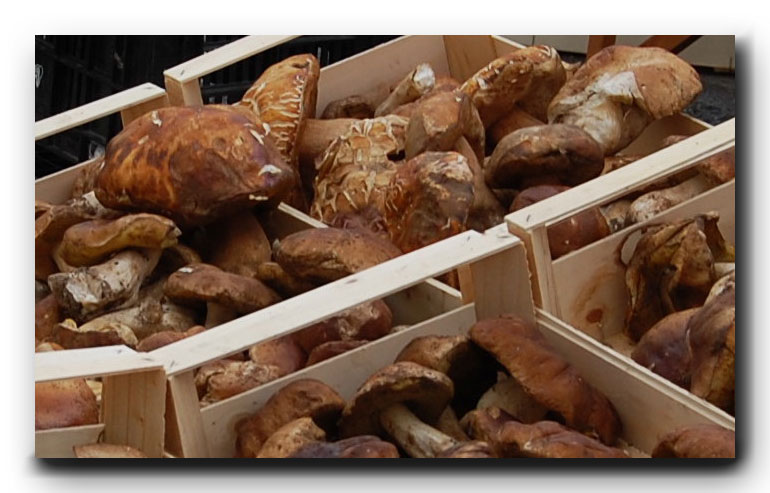 We bought red, red tomatoes and porcini mushrooms larger than my hand.  The mushroom merchant gently lifted two giant handfuls of apricot-colored chanterelle mushrooms, placed them in a bag, and then charged us the appallingly low sum of 3 Euros for this slice of wonder.  After our egg-buying fiasco, we walked to the neighboring Conad grocery store and searched high and low for the eggs, unable to find them anywhere in the refrigerated section.  Then, finally, we found them --- unrefrigerated and sitting on a shelf like we would find loaves of bread.  Perhaps it was this lack of refrigeration that led to the vibrant color of these eggs.  The yolks were not yellow, nor even orange, but an orange-red to rival the sinking sun.  They were delicious in the morning, scrambled with onions, chanterelle mushrooms, and topped with slivers of pecorino cheese.
. . . keep reading tuscany: happy stomachs after the jump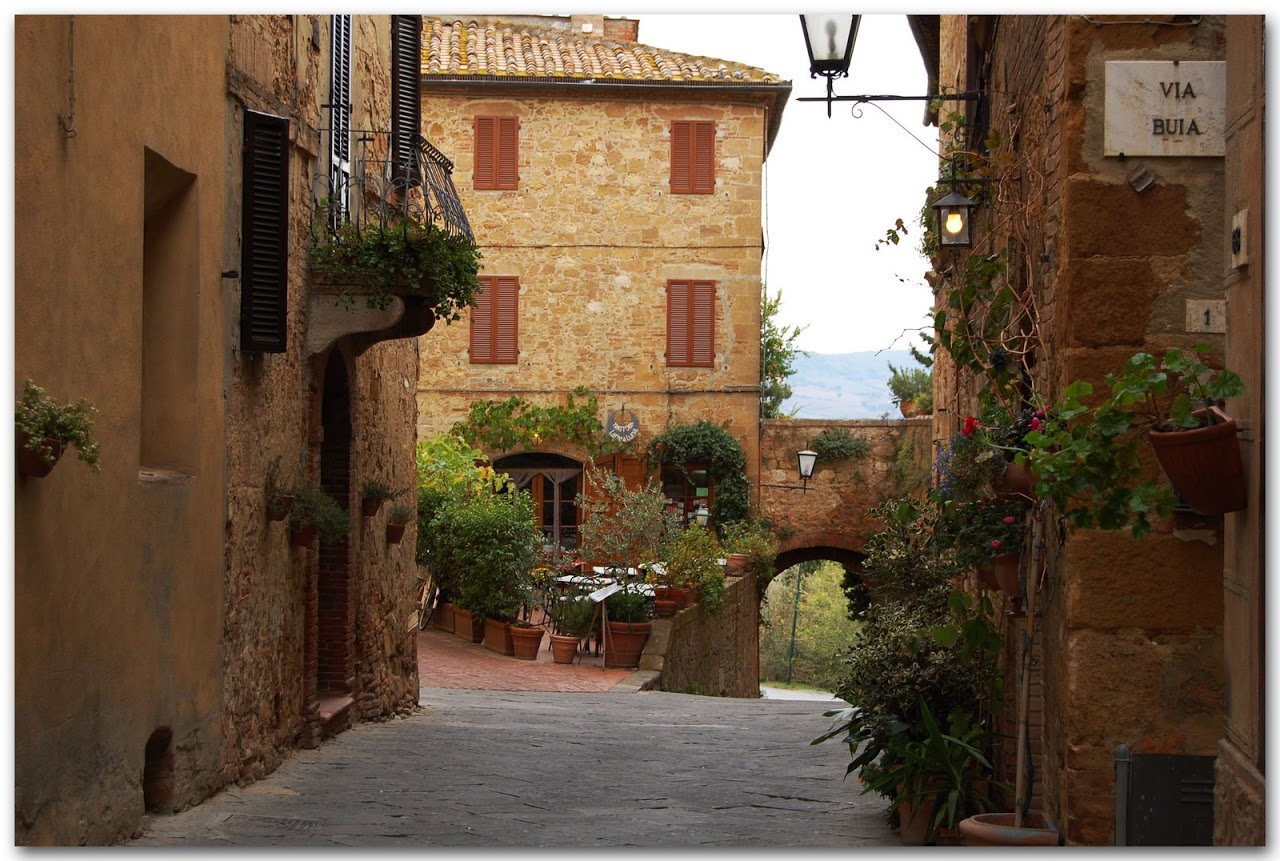 Our morning venture to the market left us hungry.  So, we made our way to Pienza.  Lovely, lovely Pienza.  We could not get enough of this town --- the cobblestones, the fading yellow houses, the miniscule shops filled with multi-hued pasta and wine, and the flowers peeking out from every window and door.  We ate a truly sensational meal at Latte de Luna, the popular trattoria, and then made our way through the Val d'Orcia following the famous itinerary of Fodorite Stu Dudley.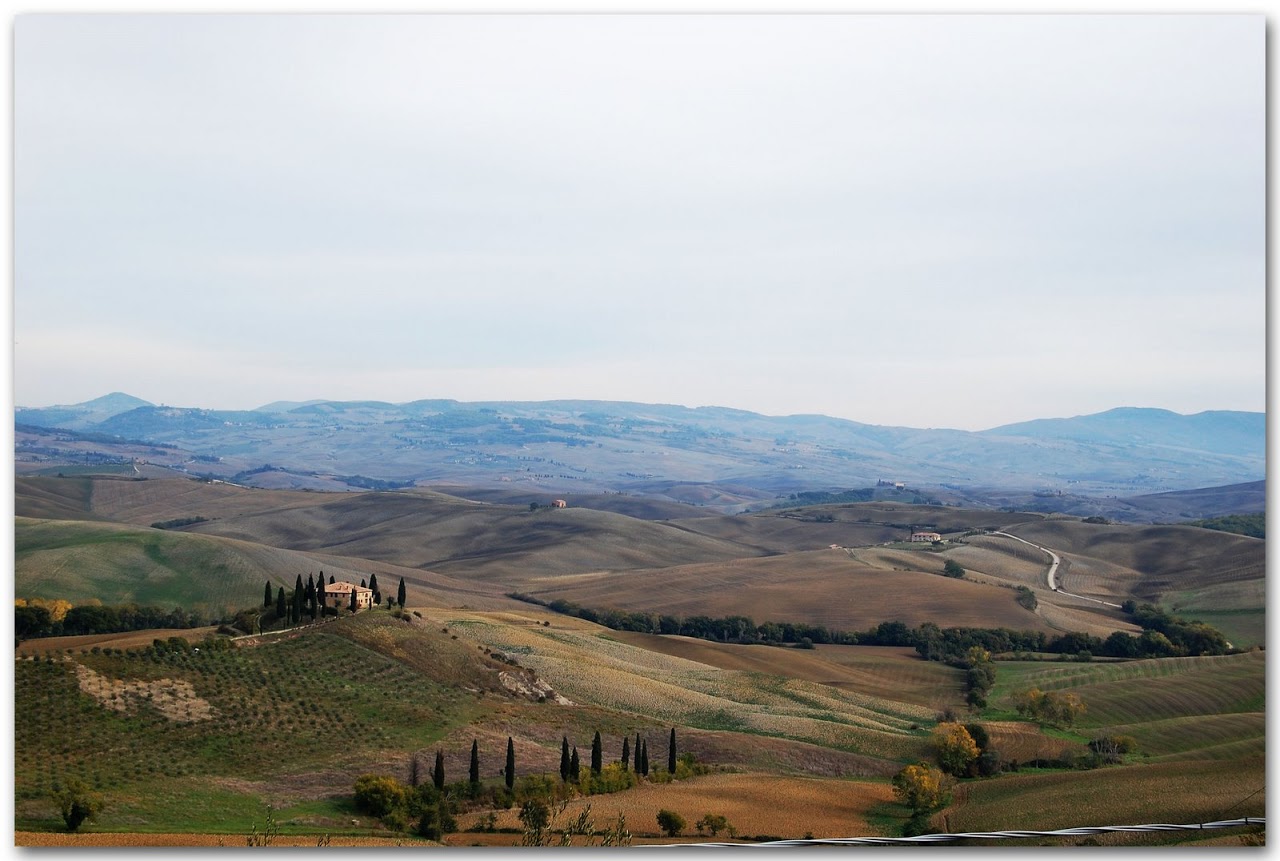 We strolled through San Quirico and Montalcino.  In Montalcino, we drank wine in a little taverna and watched groups of retired men play chess.  We carefully timed our arrival to the Sant' Antimo Abbey but missed the chanting by just a few minutes.  We did not quite make it to Monticchiello before the light grew dim, so we turned around and made dinner in our apartment.  All in all, a lovely day with two very happy bellies.
Eat: Latte de Luna
Latte de Luna sits at the corner of a street with ivy above the doorway and flowering shrubs lining the patio area.  Oh, the food.  Wonderful, wonderful food.  We both started with the tagliatelle with truffles.  It was our first time eating fresh truffles and we were not quite experienced for the culinary sensation.  When we placed a sliver of the truffle on our tongues, it felt like cardboard and had no taste.  But, mixed with the perfectly al-dente pasta and truffle paste, the truffle imparted a strong flavor.  The flavor was not quite mushroom-like, but more intense and earthy.  The pasta was luscious, indulgent, and everything we expected and hoped of our first truffle experience.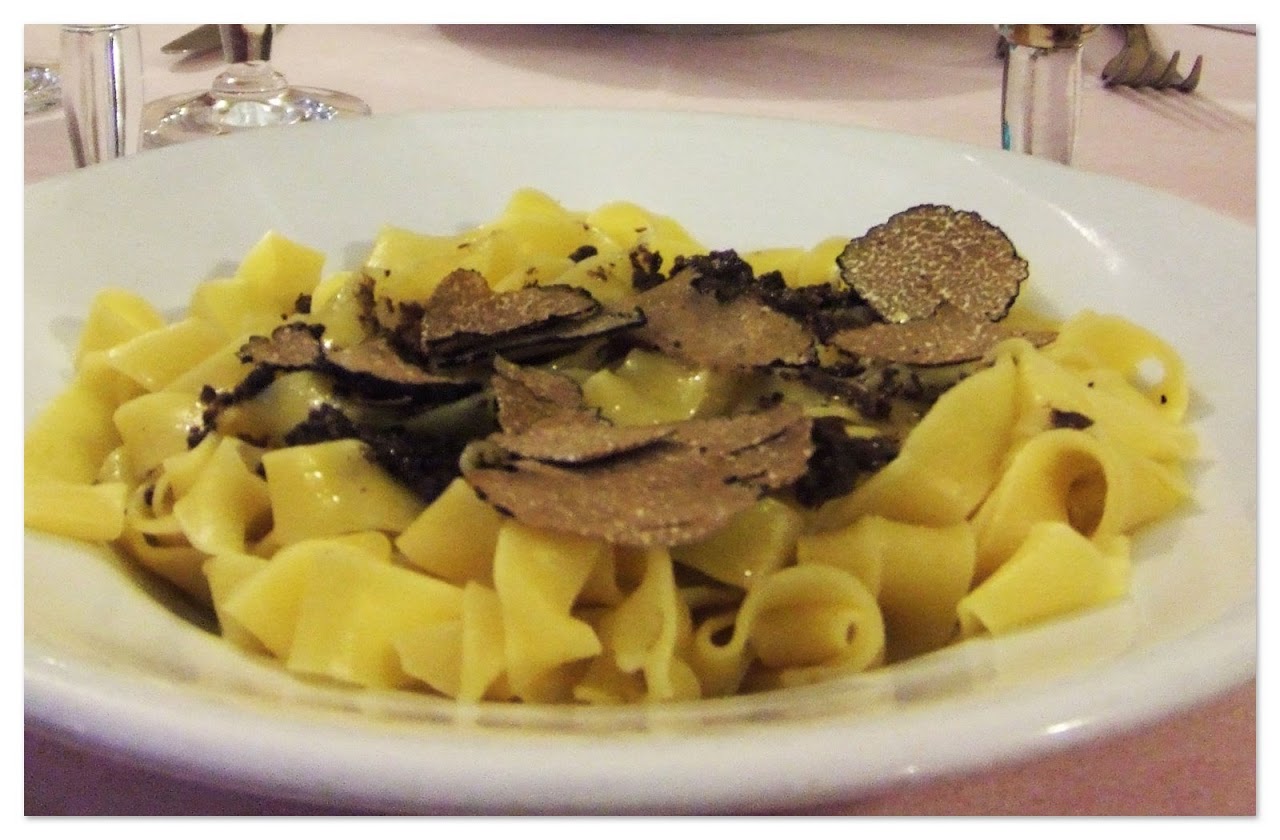 For his main course, Patrick had the roast duck with the olives.  He practically licked his plate clean.  The duck was tender and succulent, and the purple olives were plump and oily.  I had the zucchini souffle which was soft and light; however, the zucchini flan at Osteria dei Cavalieri was a bit better.  We finished with a very sweet cantucci con vin santo.  One of the best meals of our trip - a must eat destination.
For dinner, we tackled the produce we found at the farmers market.  We had a tagliatelle with tomatoes, onions, and chanterelles and we sauteed porcinis to a golden brown for our side dish.  We sat back in our little apartment and patted our bellies while drinking glasses of Montepulciano d'Abruzzo.