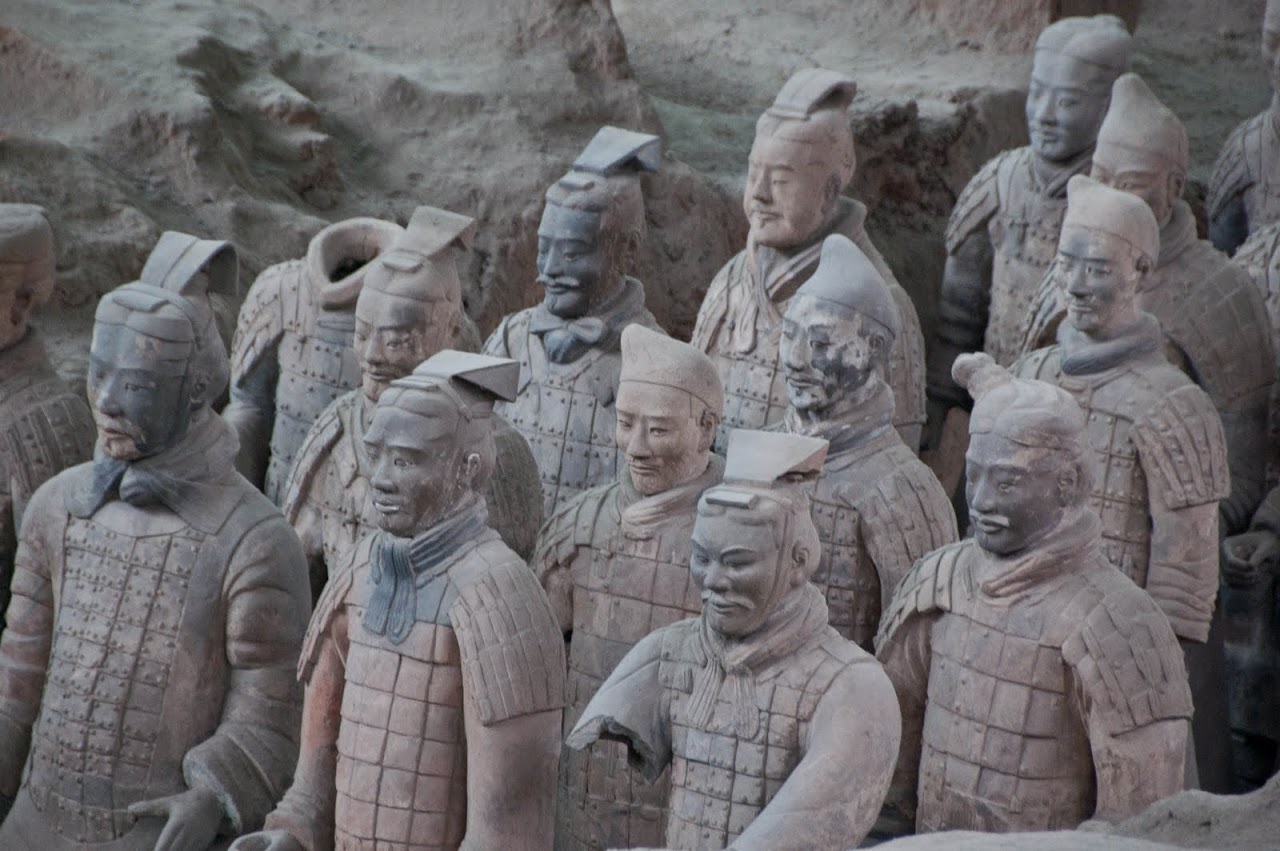 Terracotta Army
We got back to the United States a few weeks ago after spending three weeks camping through Africa. [And, yes, if you are wondering why I am still posting about China, it is because I am behind.  Very, very behind.  But, I will tell you about Africa, soon, I promise!]  We had no internet, television, radio, or telephone, so we were virtually cocooned from everything happening around the world.  We landed in the United States and within moments, we were bombarded.  Apparently, there was an election last week.  Did you know that?  You probably did . . . because you weren't camping in the middle of Africa.
Pits 2 and 3
Anyhow, we got back and I was immediately smacked in the face with the "crazy talk."  "So and so doesn't care about the needs of our people" and "so and so has no control over the economy" and "so and so isn't American" and so on.  Let me tell you, it is a bit jarring to land in the middle of vicious catfights after spending three blissful weeks disbarred from the world.  At the same time, no matter how insane people sounded, there are crazier politicians out there.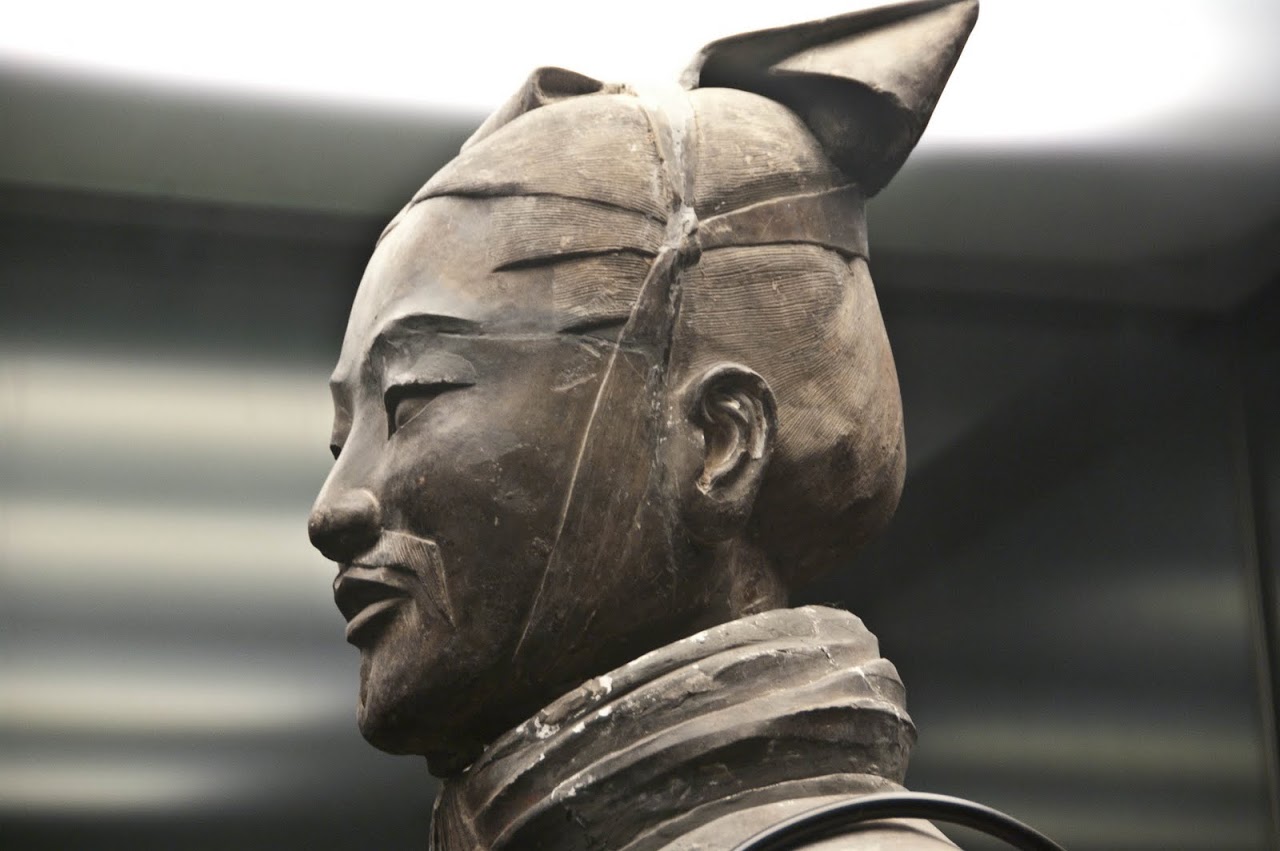 Terracotta Soldier in Pit 3
Qin Shi Huang, the First Emperor of Qin (259-210 BC), was one of those truly crazy people.  He became emperor when he was just 13 years old, barely in his teens, and the power floated right to his head.  Like most of these old emperors, he had a bizarre birth and childhood: he turned out not to have been the biological child of the previous king but rather the biological child of his father's chancellor and the concubine who seduced the king (yeah, it sounds like a soap opera, right?).  He conquered much of the land that is modern-day China and set thousands of slaves to work on the predecessor to the Great Wall of China.
Faces, horses, hands in Pit 3
From an early age, he was obsessed with his own death.  He searched for the Elixir of Life and investigated innumerable potions to grant him long life.  At age 13, he ordered the construction of an immense mausoleum and tomb.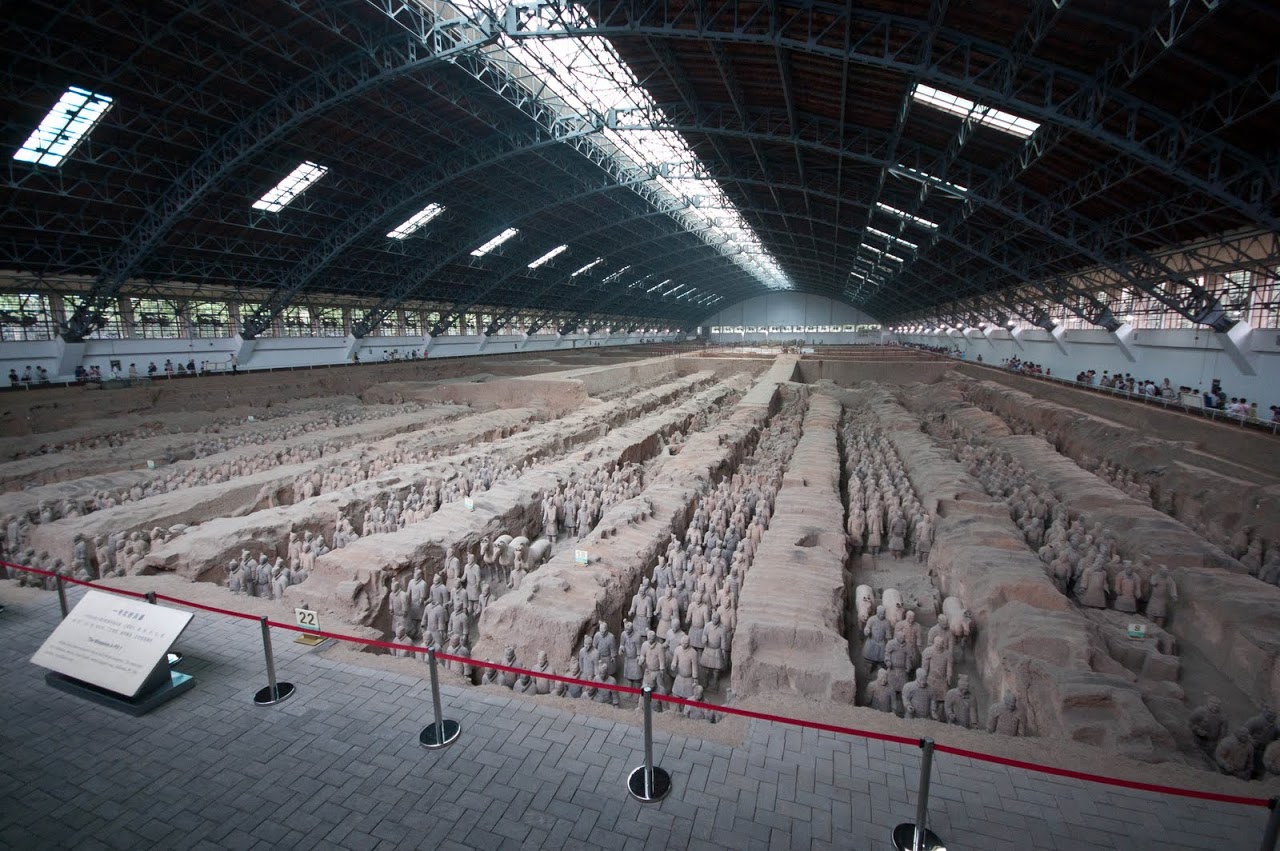 Pit 1
Archaeologists believe that anywhere from 70,000 to 700,000 men were consigned to construct the huge chambers, halls, and soldiers, and each was ordered to his death afterwards, so that none would know of the Emperor's hidden immortal army.  (In fact, the terracotta army was only discovered in 1974 when a local farmer was digging a well and uncovered a piece of a sculpted soldier.)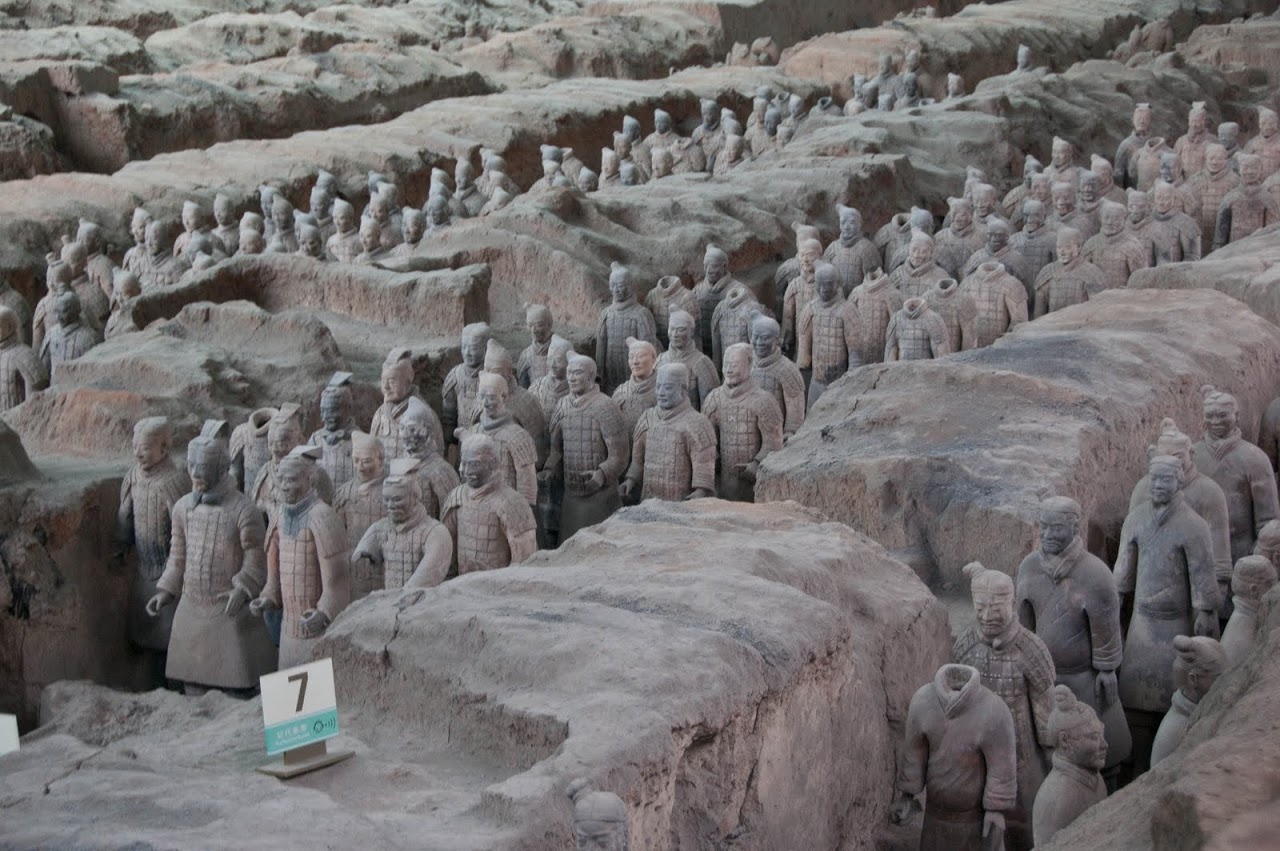 Terracotta Army in Pit 1
Today, archaeologists have excavated 8,000 terracotta soldiers, cavalry, and officers that would guard the Emperor in the afterlife.  Each soldier is life-size and life-like, carved in amazing detail.  When we stood there looking at the legions of terracotta soldiers, we were staggered by the sheer number and the fact that there are potentially thousands more terracotta soldiers to be excavated.
Terracotta soldiers, incense burning
Ironically, the Emperor died from mercury poisoning after taking mercury pills that his doctors claimed would make him immortal.  Now, regardless of whether you are happy or disappointed by the results of last week's election, aren't you glad that our politicians aren't this crazy?
Details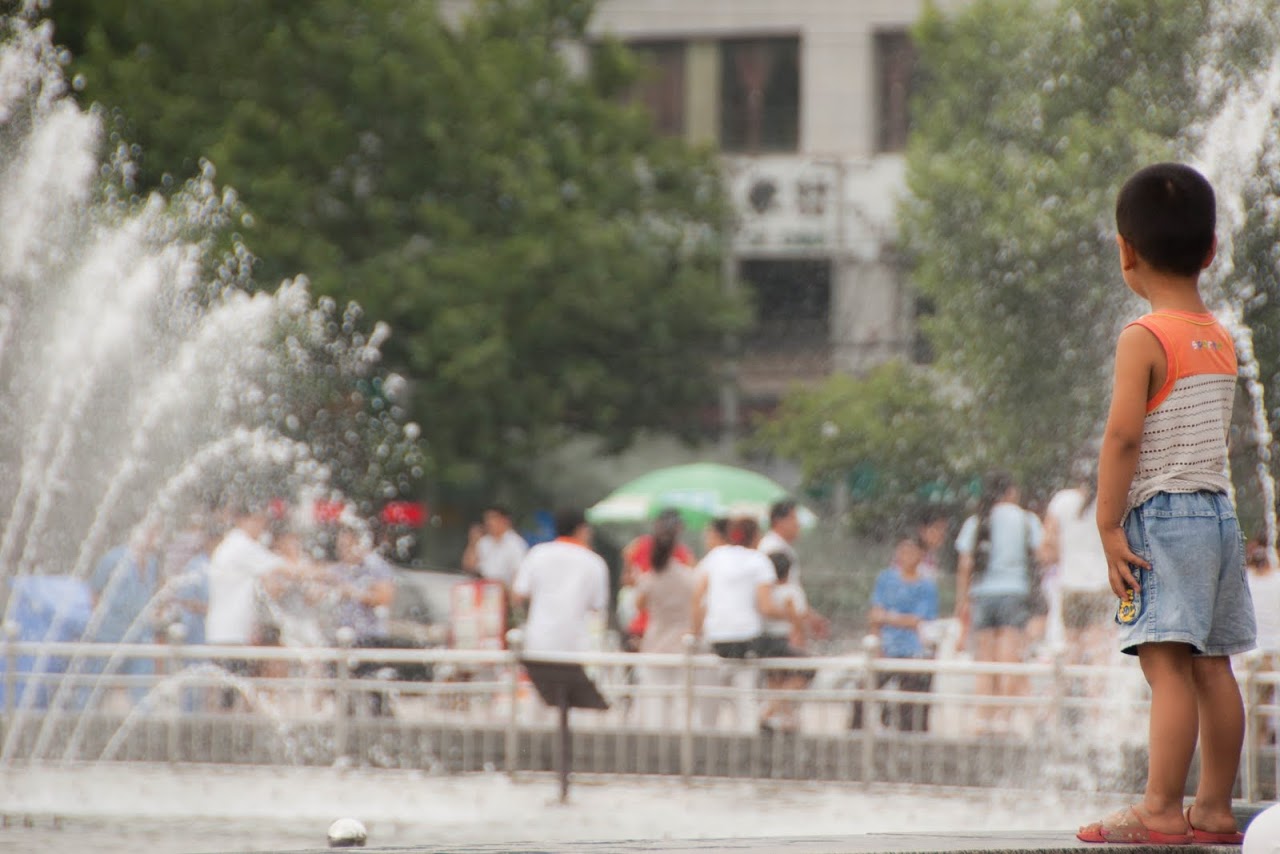 Boy looking at fountain in Xian
Xi'an is a really lovely city and we wish that we had more time to spend there.  We stayed at the fantastic Han Tang Inn hostel where they threw big parties every night, including a tasting party on Thursday night with Xi'an specialties.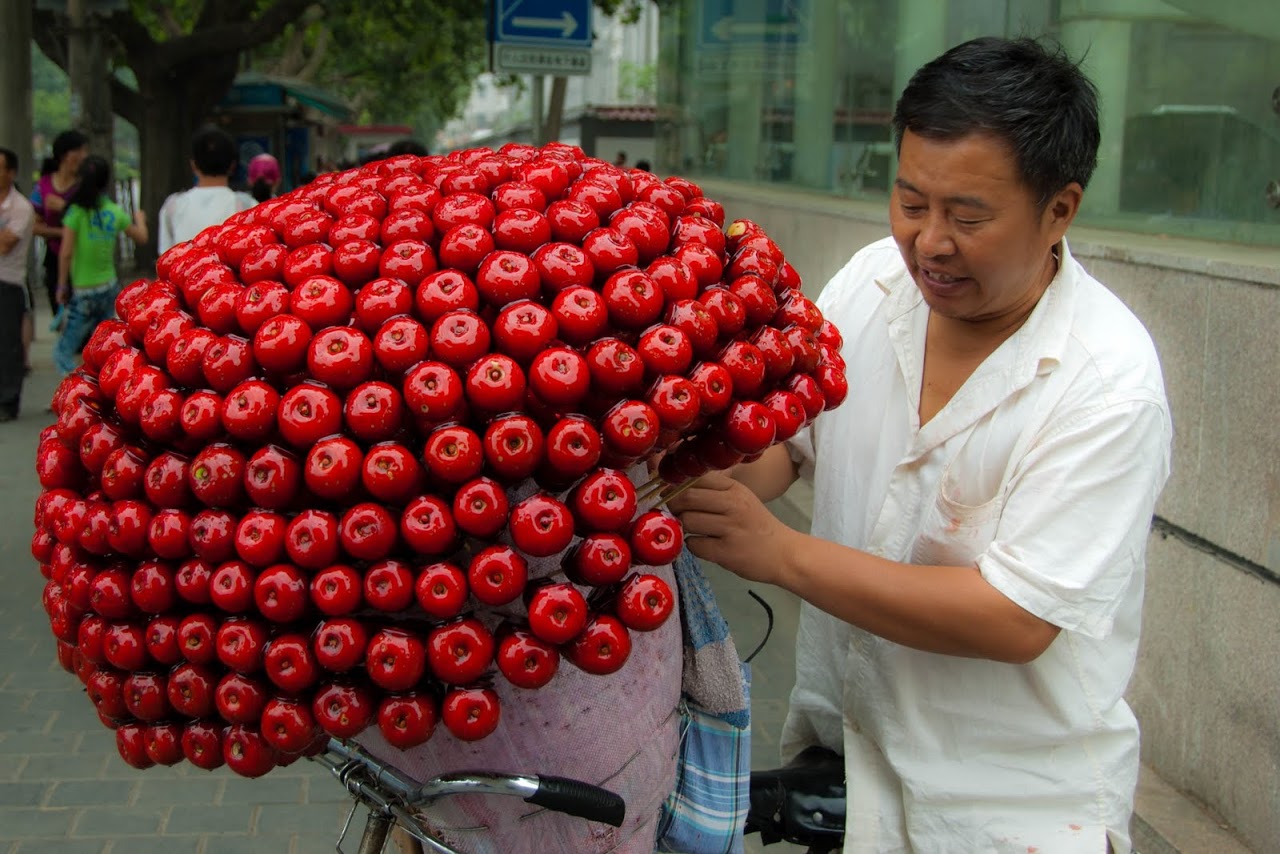 There is lots to see in Xi'an, including an amazing museum and several really nice temples, fountains, and other monuments.  If you are feeling energetic, you can rent bikes to roam around the city walls.