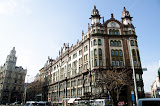 Views of Budapest
Some cities soak into the soul , others creep into the heart in a slow trickle, while others never quite make it to that cherished place.  But, this place, Budapest . . . well, damn.  In fact, dial it back, imagine Chris Tucker's voice, and let's do that again: "dayuuuuum Budapest."
We arrived on a Monday in full-fledged winter where snow and ice coated the streets.  We woke up on Tuesday to sudden spring and sunny blue skies reflecting against the Danube.  And, despite the horrid chest colds we had inherited as souvenirs of Croatia , we were in love.
Parish Church, Theater, and some of the buildings on Vaci Street
My dad says that we love everywhere.  We claim that everywhere is beautiful , everyone is kind , and everything we eat is delicious .  He doesn't say that this is a bad thing but rather that it's a consequence of our long-term-traveling-induced-optimism .  Yeah, that might be true.
But, please believe me when I say that Budapest is special.
Gorgeous building on Vaci Street
Maybe what I love about this place is that it feels very much in the past.  Modernity hasn't touched it in the same way that it has touched so many other European cities.  The Danube constrains the city's landscape, brilliant 19th century architecture prevents new glass and steel structures, and the people still celebrate centuries' gone achievements.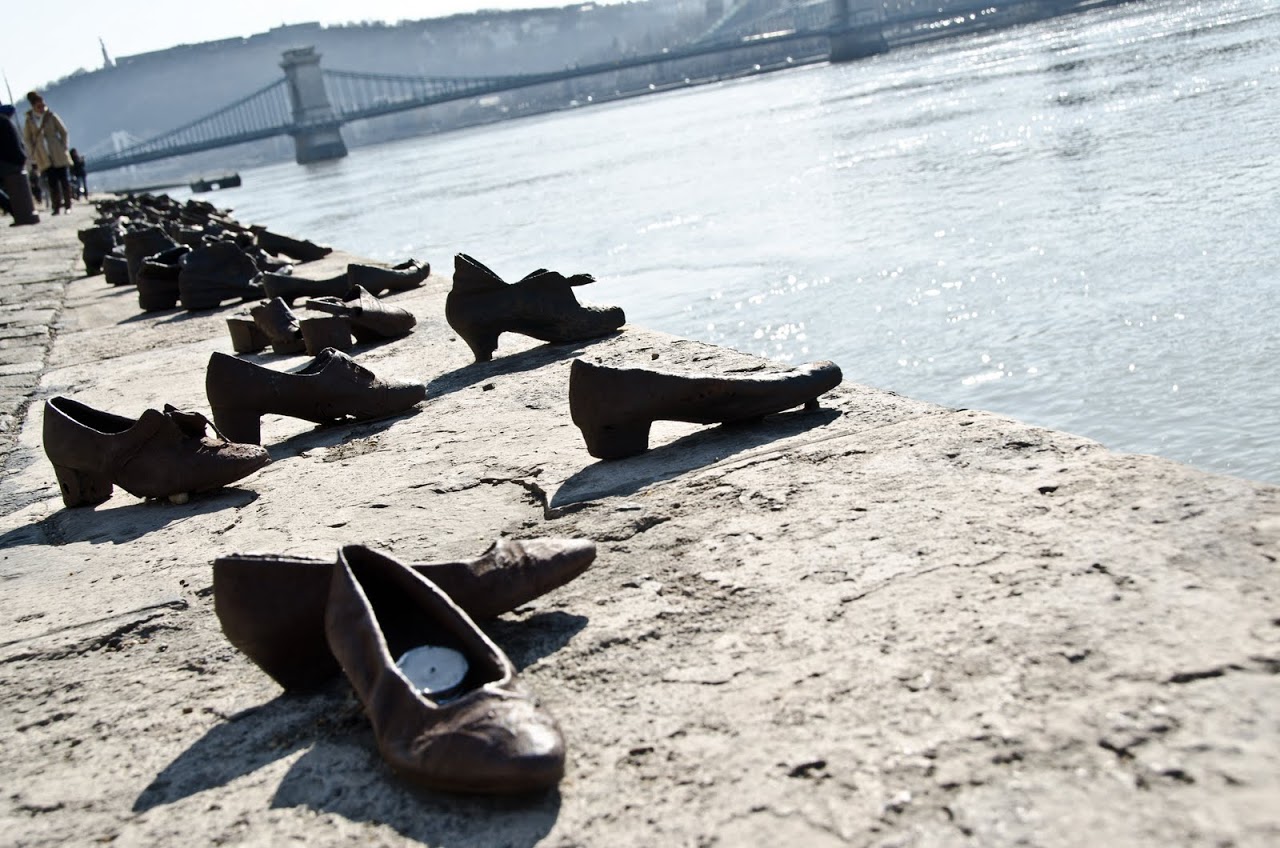 Bronzed shoe monument on the Danube, commemorating the Jewish people who were slaughtered at the river's edge
It's more recent history is not that cheerful: huge human casualties in the Austro-Hungarian military during World War I, a quarter-century under brutal Nazi rule followed by a half-century under Communism, an uphill climb to embrace capitalism and democracy, followed by recent troubles with entering the EU.
Heroes Square and statues of the early Magyars
But, in centuries past, Budapest was a city of accomplishments and achievements.  In 896 A.D., many milennium after the Romans, Etruscans, Thracians, and Greeks had carved out strongholds in Europe, the Magyars --- a tribal people famed for their horses and strategic guerilla warfare tactics --- crossed the Carpathian mountains and settled into what is today Romania, but at that time was part of Hungary.  The Magyars built three villages around the great Danube River called Buda, Pest, and Obuda.  Eventually, those cities were consolidated into the Hungarian capital of Budapest and became a stronghold of power and wealth in central Europe
Hungarian Parliament
On the thousandth anniversary of the Magyars settling in Hungary, Budapest threw a celebration that changed the face of its city.  Heroes' Square was built in which a central pillar celebrating the first Magyars to cross into Hungary and each of the subsequent Magyar kings.  The city commissioned the building of the opulent Hungarian Parliament at that time along with the huge City Park, some of the famous baths, and much more.
| | |
| --- | --- |
| | |
| | |
Views of St. Stephen's Basilica and the mummified fist (to the bottom left)
Today, things are, of course, different.  St. Stephen's Basilica, known primarily for holding the mummified fist of the first king of Hungary , sits across from a Starbucks and Vaci Street, the most fashionable district of Pest, houses Gucci and Cartier.  Almost all students learn English and speak fluently because they are required to pass fluency tests up to college.  Restaurants --- even in non-touristy areas --- have English printed menus and McDonalds abound (a sure sign of a burgeoning capitalist environ.)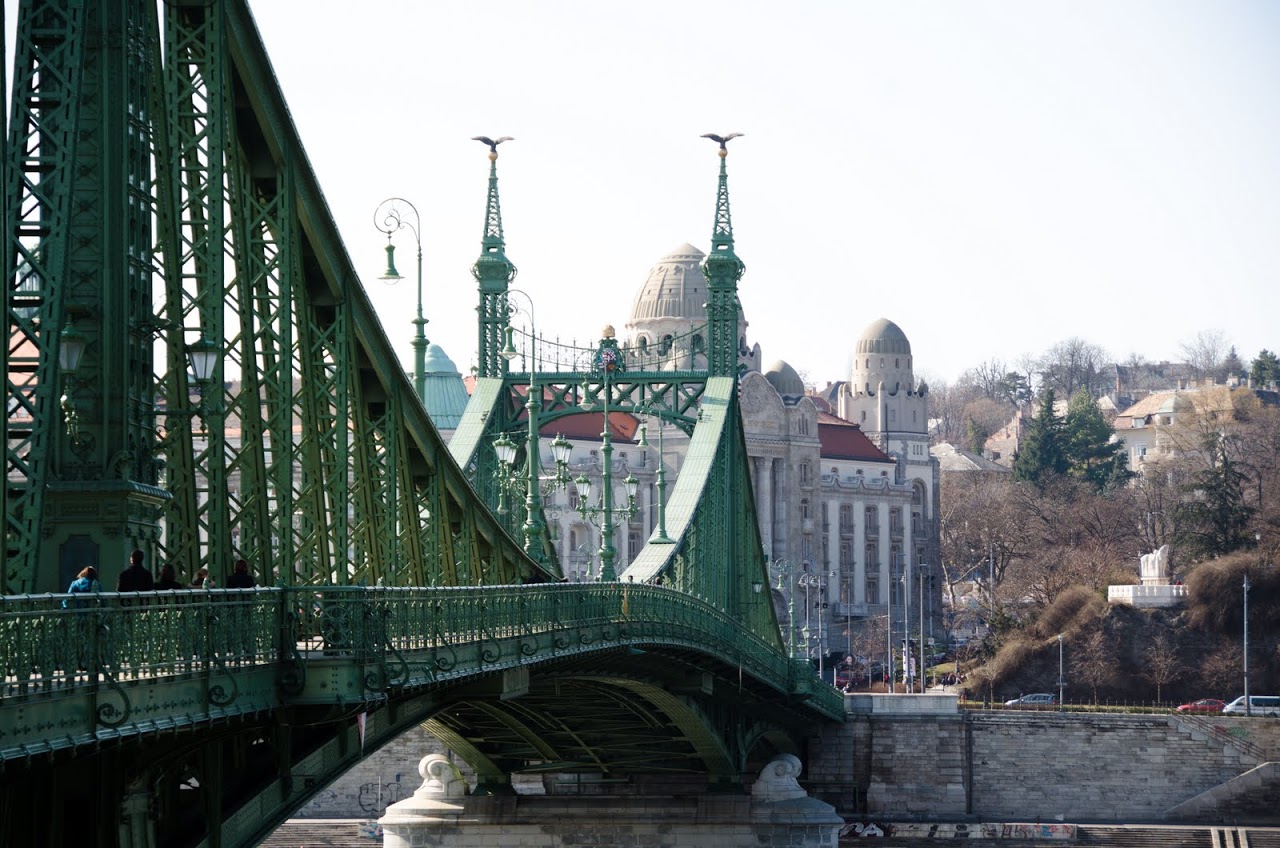 Bridge in Budapest to Buda
And, that's just it.  Budapest has the big things we look for in a major tourist city: amazing architecture, welcoming people, historic sites, yet convenient stores, many English-speakers, and good restaurants.  Despite having all the charms of a Paris or London, it also feels a bit undiscovered.  The packed tourist throngs aren't here in shoulder season as they are in other major cities, it's easy to find cheap and high quality Hungarian fare, and the locals use the famed baths more than the tourists.
So, you can have your Paris and London.  Let me fall in love with Budapest.