Two years! We have been permanent travelers for 730 days.  And, boy, have we done a lot in this last year.
South Africa : We started off the year in beautiful South Africa, one of the most interesting and varied countries we have visited in the last two years.  We saw unbelievable wildlife throughout South Africa: from the lions and giraffes at Kruger , majestic elephants at Addo , whales and sharks at Gansbaii , and penguins on the Cape Drive .  We considered the after-effects of Apartheid and the way we were treated as an interracial couple .  We slowed down on the Wild Coast , flew through the trees of Tsitsikamma , took in the amazing scenery of Table Mountain , and the magnificent flowers at Kirstenbosch Gardens in Cape Town .  And, of course, we ate: truly South African foods like bunny chow, malva pudding, and biltong ; at high class restaurants like La Colombe ; and at new versions of what we thought we knew, like at Waffle House in South Africa .
Namibia and Botswana :  Immediately after South Africa, we launched into three weeks of camping and driving overland through Namibia and Botswana with Africa-in-Focus.  We learned a lot about the ups and downs of taking a group tour and an overland expedition through two of the most remote countries in the world.  And, we fell in love with Namibia, from its mountains of red sand , jaw-dropping wildlife teeming at the watering holes , the huge herds of elephants , and the astonishing 25 lions we saw in 24 hours .  We touched cheetahs that have been raised as family pets and watched smelly seals play together .  And, in Botswana, local mokoro oarsmen pulled us through the Okavango Delta and a hippo nearly knocked over our boat in Chobe National Park .

Zambia and Zimbabwe :  We wound up our Africa-in-Focus tour in Zambia at Victoria Falls.  The Zambian side of Victoria Falls did not impress but then we jumped into Devil's Pool on top of the falls and saw the craziness we had undertaken on the Zimbabwe side of the Smoke That Thunders.  After three weeks camping and hanging out mostly with tourists, we were thrilled to glimpse traditional Zambian cuisine and culture in one of the best cooking classes we have taken in the last two years.
Even now, our hearts ache for Africa.  Africa, as a continent, touched our souls and fed our spirits in a way that no other continent has --- perhaps because of its sheer wildness, amazing variety, and the warm-hearted people who welcomed us at every turn.  We hope to go back very, very soon.

United States :  And, then, we were back in the United States for a very special birthday that we celebrated in high style .  We started off roadtripping with the dogs --- a whole new adventure --- by spending four months roadtripping through the Southeast.  We ate our way through delicious pizza in Atlanta , lipsmacking traditional Southern fare in gray and green Savannah , nouveau cooking in Charleston , and finally wound up in mountainous Asheville, one of our favorite cities on the planet.
Jamaica: For our tenth anniversary, we hopped down to Jamaica for some unmitigated luxury at Couples San Souci, before returning to my parents' home in Alabama to reorganize before heading on our next big adventure.

Queen Mary 2: On July 27, 2011, Chewy, Abby, Patrick, and I boarded the Queen Mary 2 in Brooklyn, New York, to sail for England.  We spent seven days in high style , where Chewy and Abby had a professional kennelmaster who fed them and cleaned up after them (much to our relief), and Patrick and I lived it up in our balcony suite.  We spent our days hanging out with the dogs, taking high tea, searching for the best fruitcake I have ever eaten, attending astronomy lectures, and eating way too much food for our own good. *More posts about the Queen Mary 2 are coming soon.*


England: To introduce the dogs to England and take advantage of England in the summer, we stayed far from big cities and spent a month in bucolic Cotswolds and Cornwall.  We spent a magical evening wandering through Stonehenge, lazy days roaming through lovely Bath, the golden-hued Cotswolds villages, and the peaceful gardens of England --- including the Lost Gardens of Heligan and the sustainable Eden Project.  We discovered the wonder that is clotted cream and asked ourselves on more than one occasion why we had never tasted clotted cream before last month. *Posts about England are coming soon.*

Spain: An overnight ferry in the pet-friendly Cap Finistere brought us from Portsmouth to Bilbao, Spain, where we spent a quick morning roaming around the Guggenheim, before heading to leafy green Madrid.  I remembered more of my college Spanish than expected and we reveled in the relaxed schedule of the Spanish day: lazy mornings, two hour lunches, afternoons spent wandering through world-class museums and gorgeous old parks with dogs roaming everywhere, late nights spent lingering over tapas, and a pre-bed dessert of churros con chocolate.  We are currently in Barcelona, doing much of the same and also incorporating a bit of beach time into our life.  Suffice it to say, we love Spain. *Posts about Spain are coming soon.*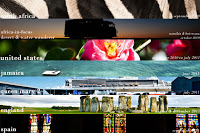 And that's been our year.  Whew!  We have done a lot and been to so many places that, at times, we wake up and wonder where we are right now.  In the next year, we are going to be in France, Italy, Croatia, Bosnia, Germany, Ireland, Scotland, England, and the Netherlands.  By the time our third year travel anniversary rolls around, we will be back on the Queen Mary 2, heading toward the United States.
Sometimes, I think that this next year might be the end of our permanent travels and that when we return to the United States, we'll settle down, buy a house, and live normal, respectable lives.  But, then, I remember that today I am within a stone's throw from a cafᅵ that serves chocolate that I would dunk my head face-first in and eat, and I wonder why we would ever quit traveling.  Either way, I love sharing our crazy journey with you.  Thank you for being here with us as we start our third nomadic year.