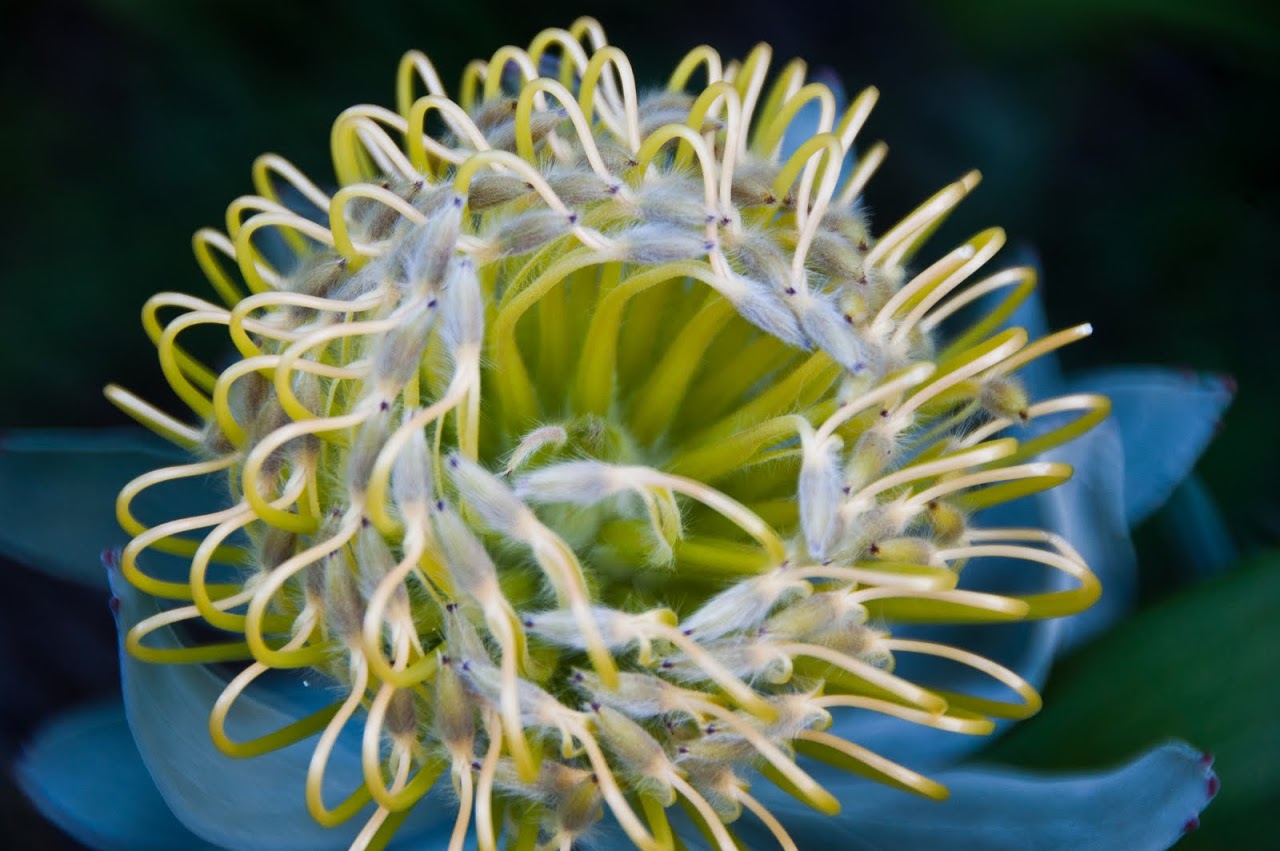 Fynbos
What We Did: 37 days in South Africa spent as follows: 3 days in Johannesburg , 8 days in Kruger National Park , 3 days in Sodwana Bay scuba diving, 3 days in Durban, 5 days in the Wild Coast, 1 day in Addo National Park, 3 days in Plettenberg Bay on the Garden Route, 3 days in Hermanus/Gansbaii, 7 days in Cape Town.
Would We Do It The Same Way: Kind of.  We would have skipped diving in Sodwana Bay, cut down on the days in Cape Town, and added time to the Cape Peninsula.
Best food: Bunny chow , the quintessential Durban dish of spicy curry ladled into a bread bowl.
Worst food: All of the food served at the restaurants in Kruger .  Bland, overpriced, and uninteresting cuisine; we were better off eating peanut butter and jelly sandwiches.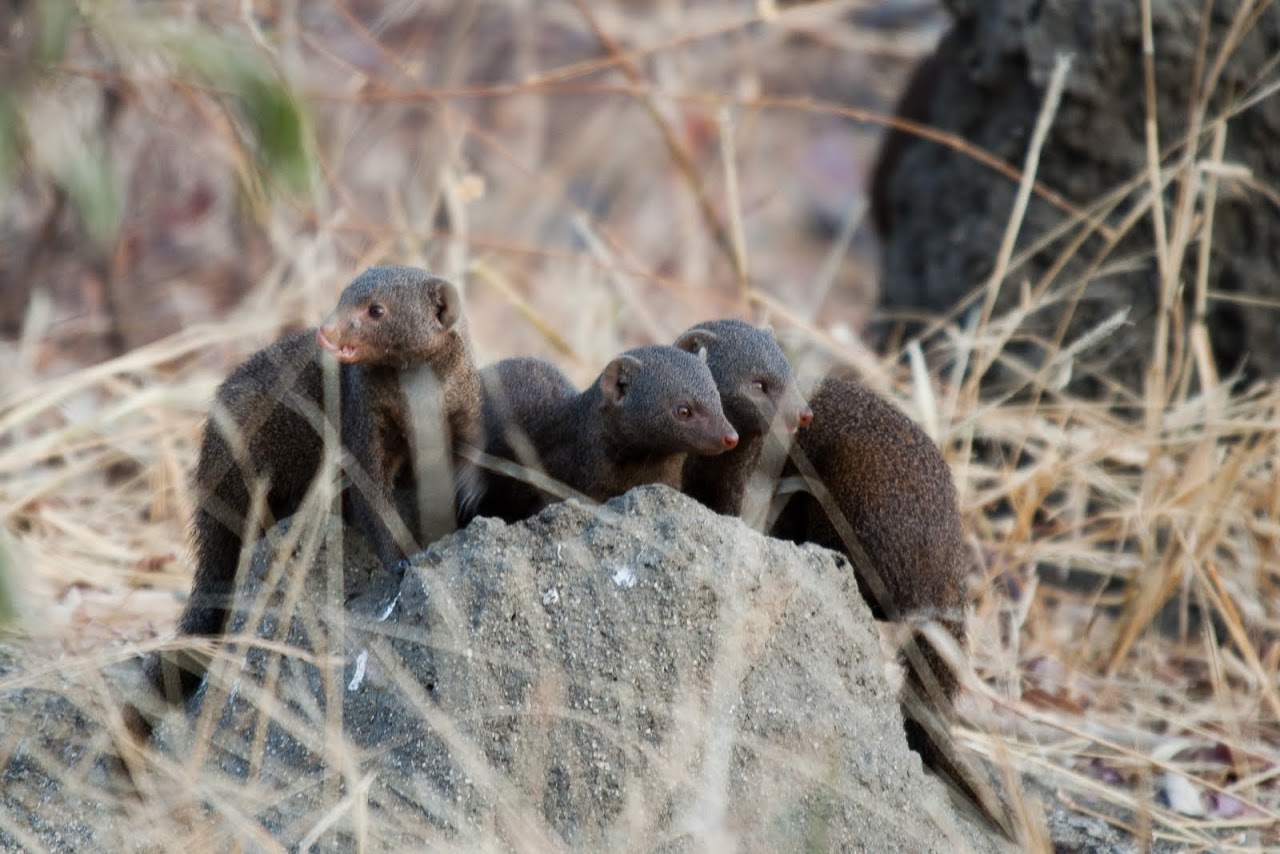 Mongoose
Our favorite part of South Africa: The unbelievable wildlife we saw all across South Africa, from the big game in Kruger and Addo , to the whales, sharks , and penguins all across the coast.
Our least favorite part of South Africa: The physical and virtual barriers in South Africa between people .  We did not expect the huge fences and security barriers in front of most houses and the lack of interaction between races and hope that these barriers will continue to fall.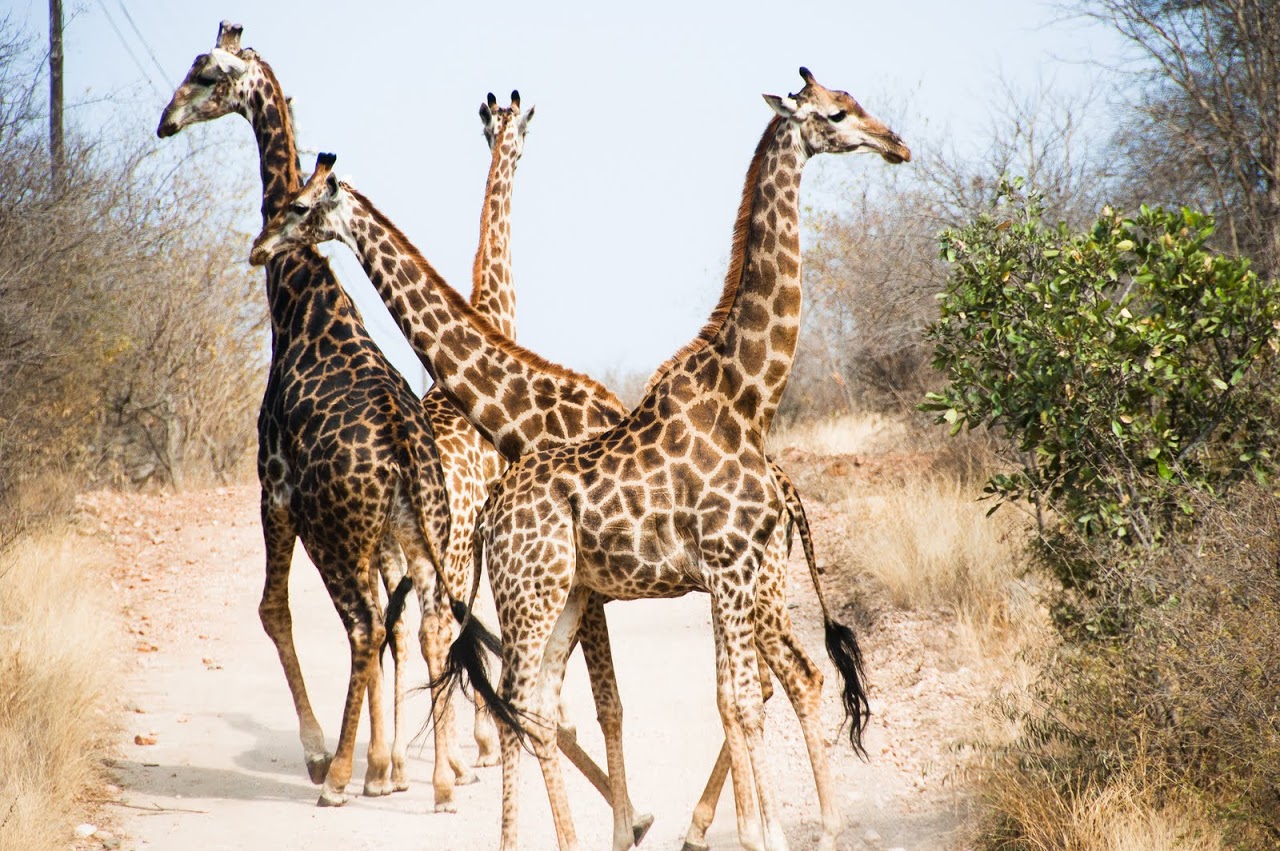 Giraffes at Kruger (shot with the telephoto lens)
Indispensable item/gear: For photographers, at least a 300 mm lens but we used a 120-400 mm lens with optical stabilization, which allowed us to shoot wildlife throughout South Africa.  In particular, photographs of whales would have been impossible without that lens.  For non-photographers, we recommend a good set of binoculars with optical stabilization.
The best deal: Buccaneers Backpackers in Cintsa .  We paid 300 Rand ($ 42) for a clean bungalow overlooking the beach and paid a small amount per night for a huge and delicious dinner.  You can take surfing or kiteboarding lessons, join in visits to the local schools and charities, and participate in a wide variety of activities or, you can do as we did, and just relax.  Buccaneers has been praised as the best backpackers in South Africa and we can't disagree.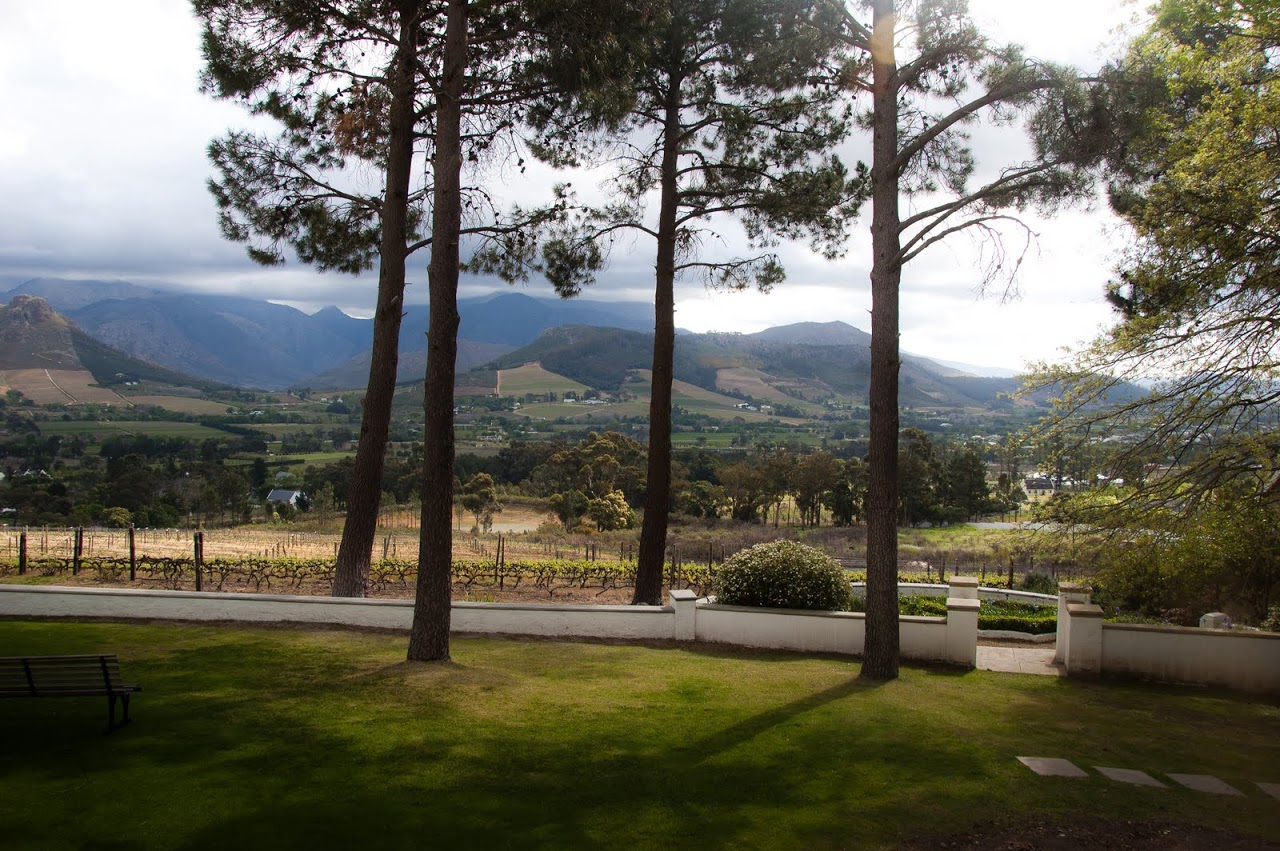 View from behind La Petite Ferme
The biggest rip off: Lunch at La Petite Ferme in Franschhoek in the wine region near Cape Town.  It has been written up as one of the best restaurants in the world but, unlike our fantastic meal at La Colombe , the food was uninspired, few of the tables took advantage of the beautiful position and the meal was not worth the price.
Best new experience: Shark diving .  Despite the frigid and murky waters, floating inches away from these amazing deadly animals was an awesome experience and one of the most amazing things we have done in the last two years.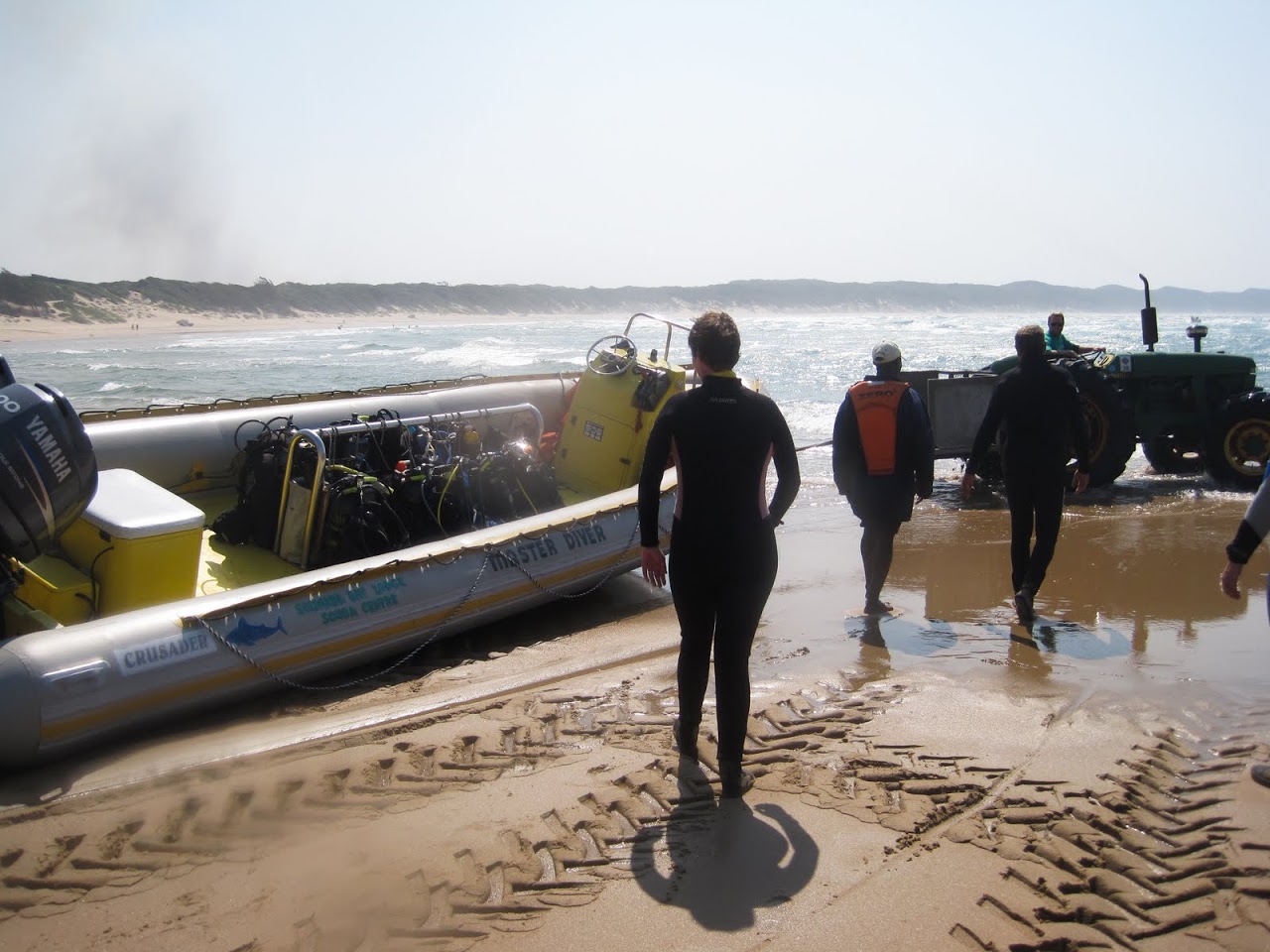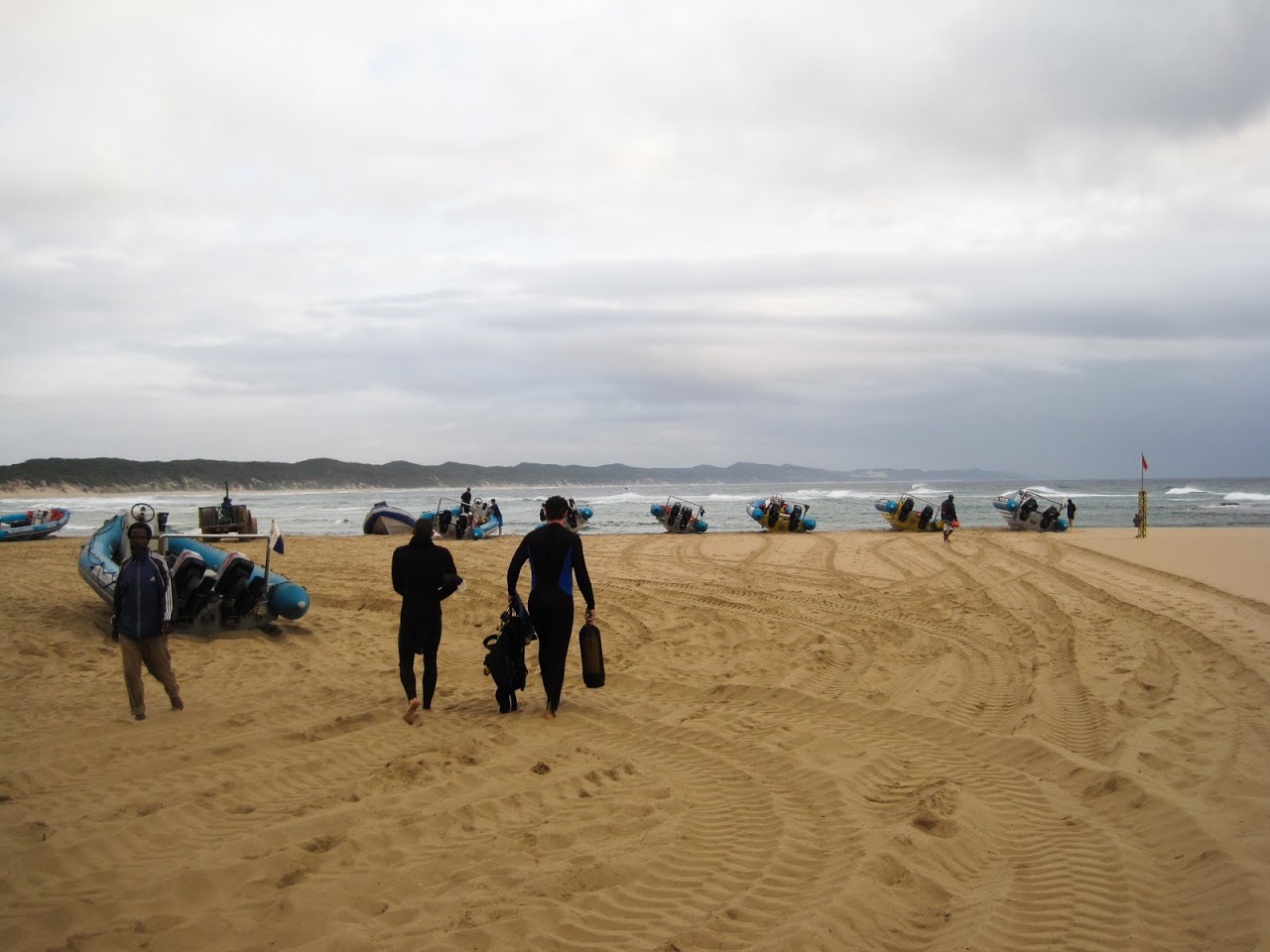 Walking toward the boats to pull us into the coral reef (and you can see how turbulent they are from the second picture)
Worst new experience: South African scuba diving.  The cold, turbulent waters off the South African coast have wrecked hundreds of ships, meaning that there is phenomenal sealife and wreck diving under the waters.  Unfortunately, getting to the dive sites are so rocky that my stomach revolted and the waters are so buoyant that Patrick needed 6 extra pounds to weigh him down.  We barely swam because the drift pulled us along and it was an experience that we would not repeat unless we were much more comfortable diving.  We recommend diving in South Africa only for advanced divers.  (All this being said, we have heard that diving in the warmer months of January and February is much better than in September, which is when we dove.)
The must see attraction: Kruger National Park .  The wildlife is simply superb and we loved being able to see the animals at our own pace in this self-drive park.
Most overhyped attraction: Night safaris at Kruger and Addo.  The night safaris are expensive at around $60 USD/person but we didn't see much on any of the night drives.  On our first night drive in Kruger, we saw one leopard, a few elephants, and not much else.  The night drives tended to be long and cold, too, and while we think it's worth doing once just for the experience, it might not be worth the cost otherwise.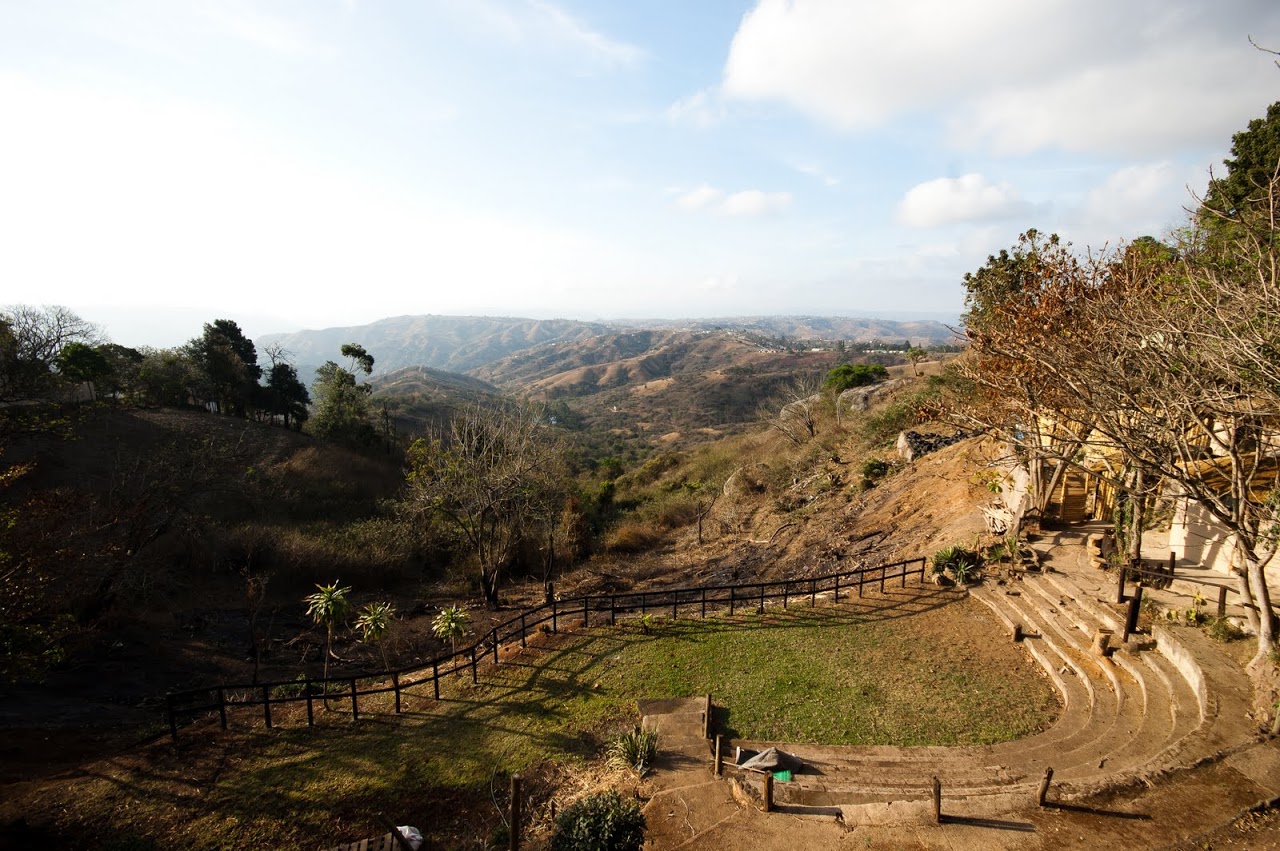 Views in the mountains near Durban
Favorite town/city: Cape Town .  The stunning city, surrounded by mountains and oceans, captivated us with its charm, gorgeous gardens, and fantastic restaurants .
Least favorite town/city: Johannesburg .  Though we loved our time there because we spent it hanging out with family, we weren't particularly impressed with it in comparison to many of the other towns and cities.  It's pretty much a city --- nothing particularly attractive and lots of traffic.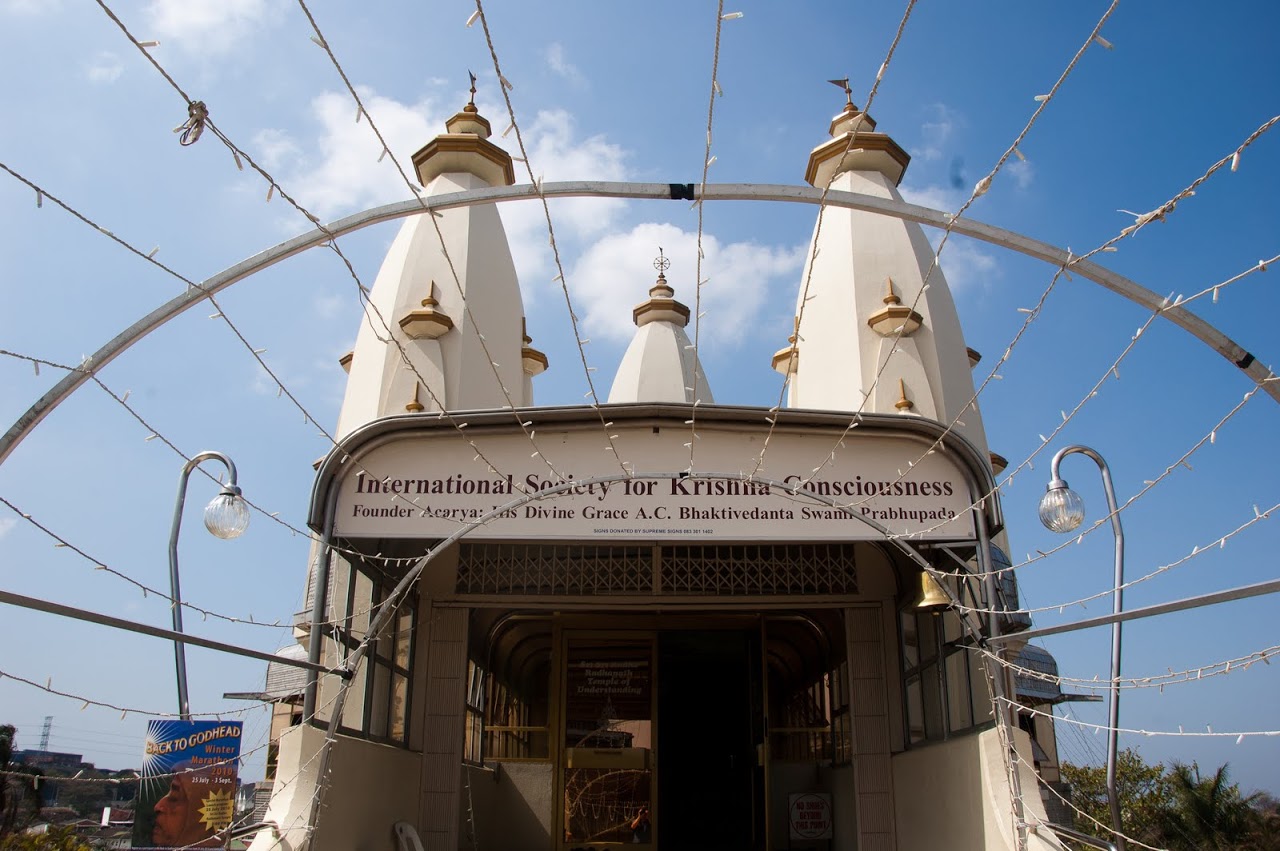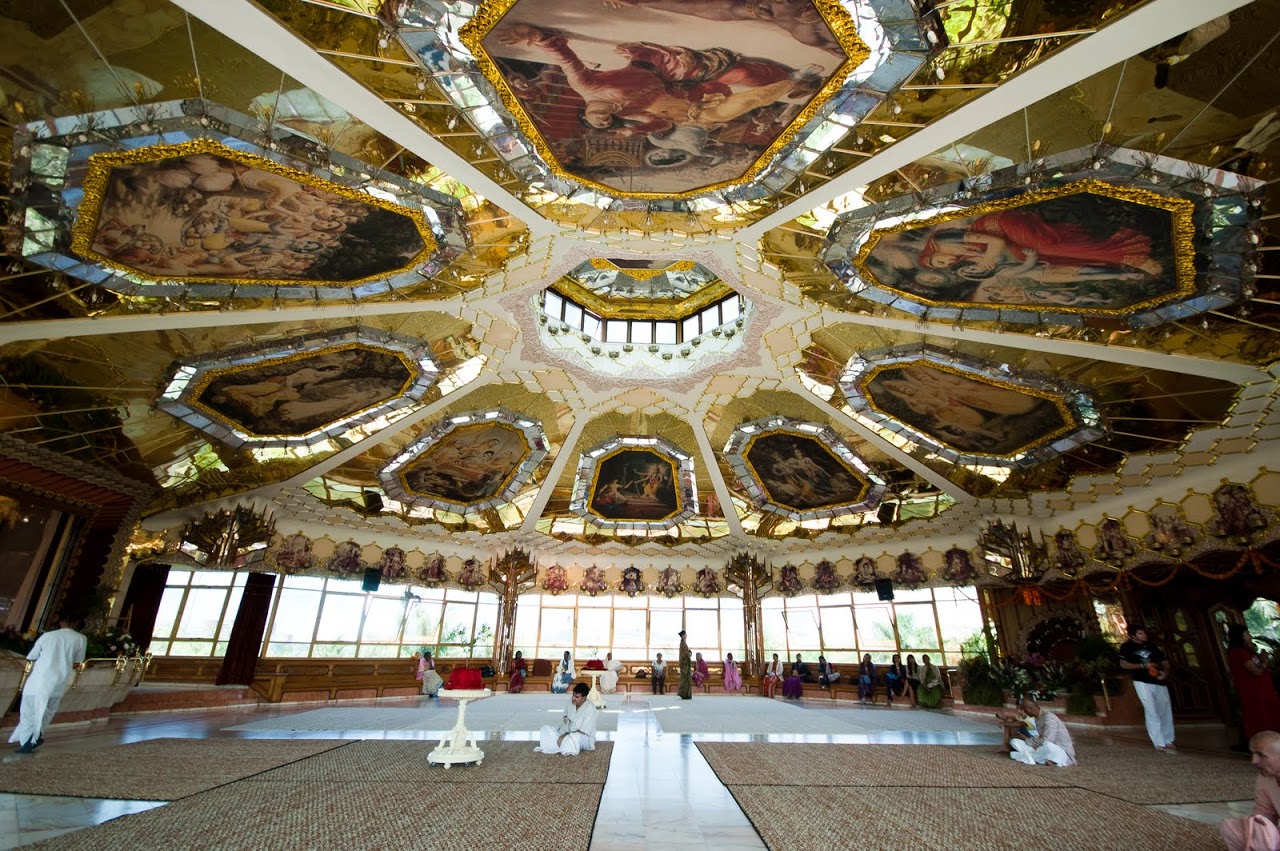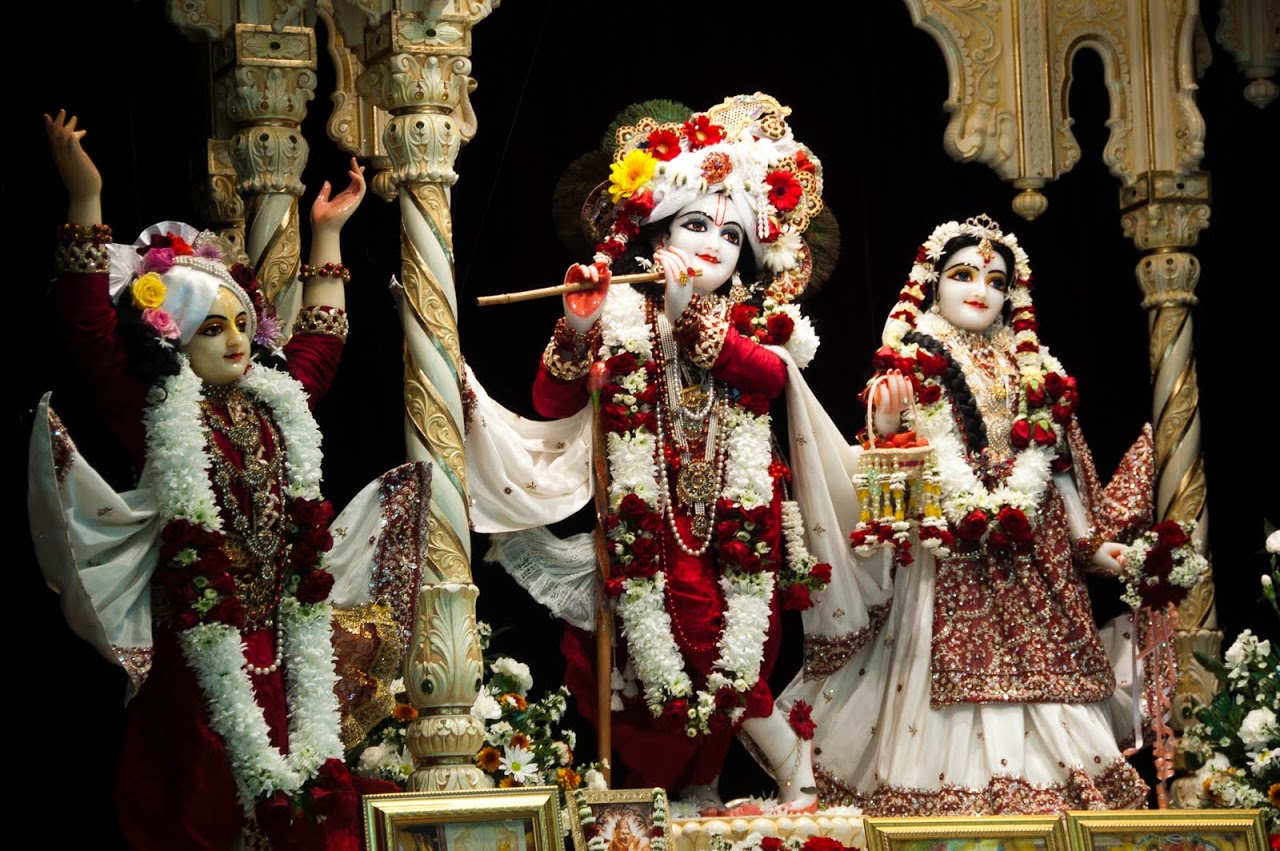 Caged fencing around Hare Krishna temple and interior
Biggest surprise: How safe we felt there.  The most common question asked about South Africa is: is it safe?  We worried a lot about safety but, for the most part, felt very safe.  In fact, I left my purse at a restaurant and the waiter ran outside to give it back to me.  The only time we felt uncomfortable was in a certain area in Durban where there were some very drugged up teenagers who were screaming down the street but we walked one block over and felt fine.  Obviously, we recommend locking up gear in hostels, locking car doors, and not leaving valuables in cars, but those are the same precautions we take everywhere, even in the United States.
Biggest disappointment: Our experience at Naledi , a private bush camp.  Naledi, itself, was lovely and we were treated very well by the staff.  However, our wildlife sightings were poor to nonexistent.  On two of the game drives, we barely even saw any impala or giraffe (and they're everywhere).  I know that it's the luck of the draw with wildlife but, for the cost of the private bus camp, we didn't see much wildlife though we were treated very well with excellent food and company.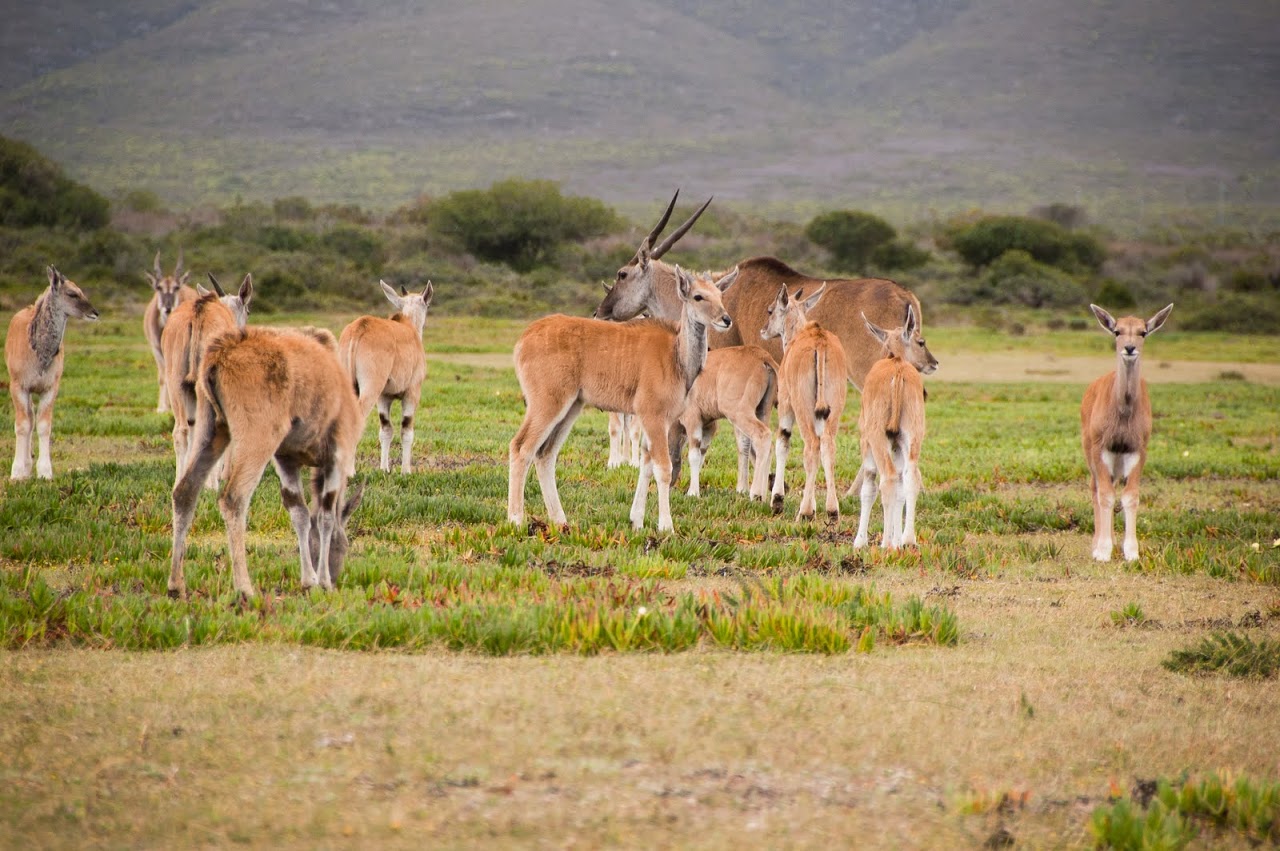 Nyala
Language lesson: Apartheid = system of racial segregation, abolished in 1996; bok = generally means an herbivore grazing animal, with many varieties throughout the country, including springbok, steenbok, and others; townships = government-designated areas for low-income housing, often associated with high rates of violence, but now being gentrified in some cities (particularly Cape Town); Afrikaans = derivation of Dutch language, spoken by South African descendants of original Dutch/English settlers
The big test, would we go back: Yes.  We loved the people, culture, sights, and wildlife in South Africa.  We would probably wait a little while before going back because there are so many other countries we want to see in Africa.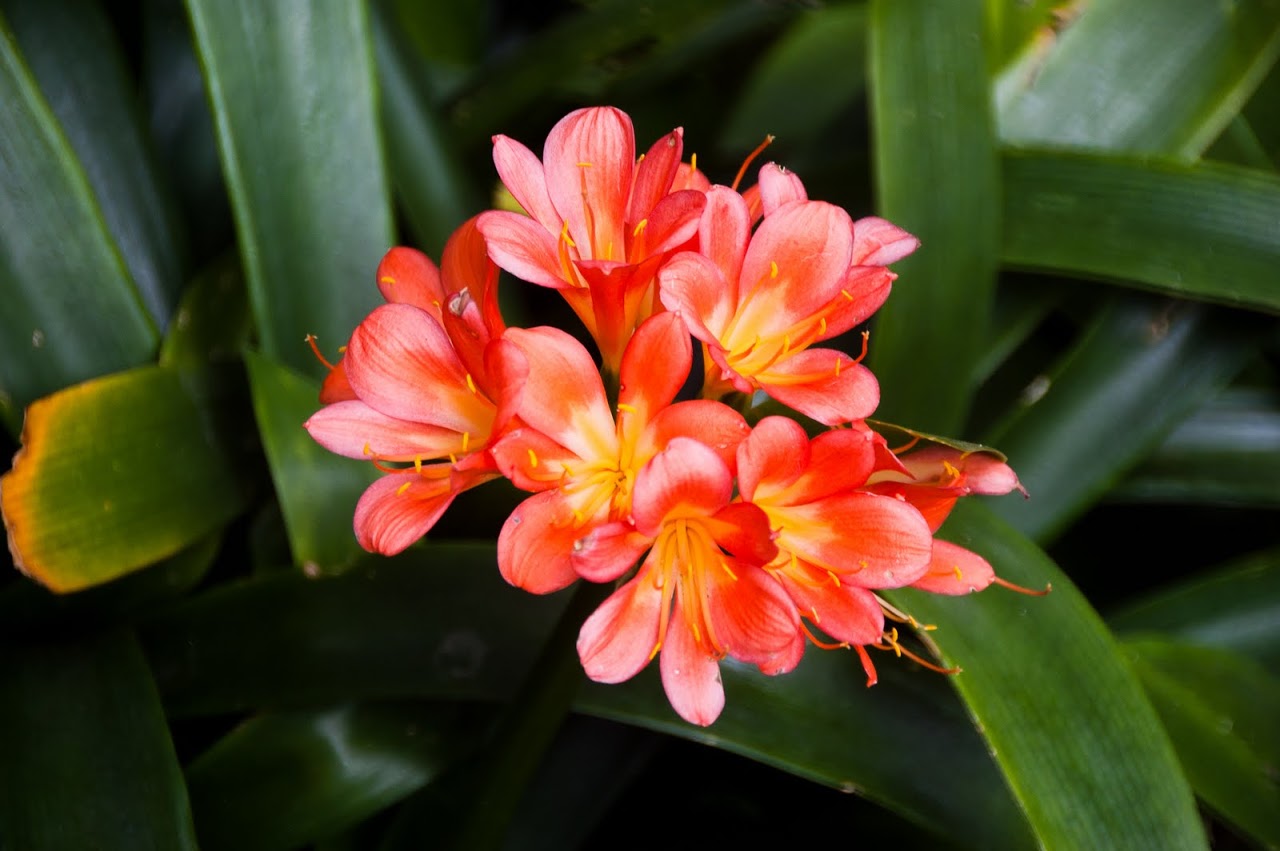 And now we're off to: Well . . . . our South Africa trip ended last September and, immediately after, we set off on our 3 week Africa-in-Focus overland expedition through Namibia, Botswana, and Zambia.  We spent 9 months back in the United States touring through the Southeastern parts of the country, with hops over to Jamaica and Vancouver.  Two weeks ago, we took the Queen Mary 2 to England and we are now in the Cotswolds region.  And, happily, I should actually be caught up on blogging in the next few weeks so I'll be writing about our European adventure as we live it . . . assuming all goes as plans . . . .
*** Stay tuned: assuming I can find decent Internet access, I'll be posting our wrap up video of South Africa shortly.