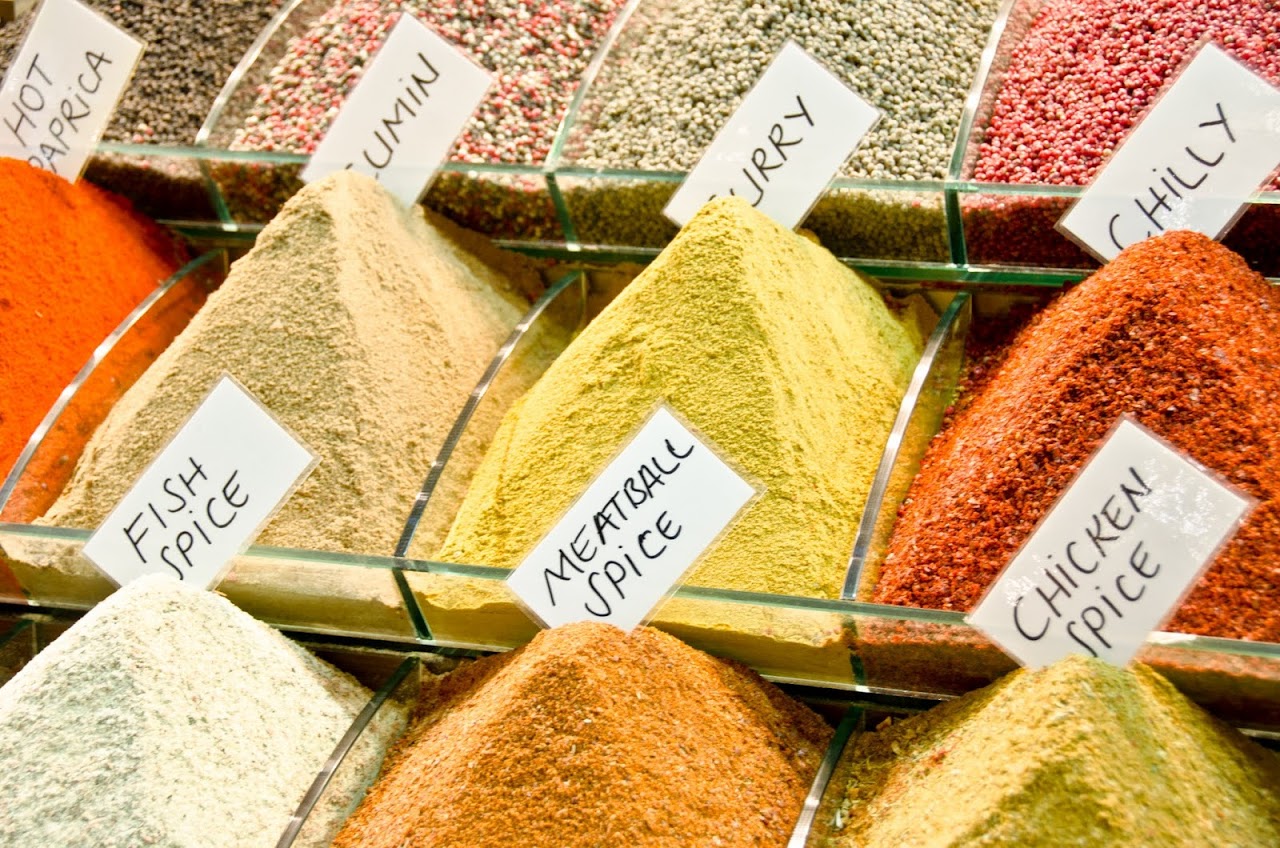 Spices at the Istanbul Spice Bazaar
If you tuned into my post last week about our cooking class with Olga , you might have noticed the brilliant colors of Turkish cuisine.  In some food cultures, color is not particularly important --- for example, much of South Indian cuisine tends to be a muddy brown because of the importance of lentil.  But, in Turkey, color plays a critical role in the cuisine.  A purple eggplant will be grilled along with chocolate brown meat; the traditional dish of manti pairs tan pasta with white sour yogurt and brilliant red pepper oil; tomatoes are almost always peeled before cooking which gives many mezes a reddish tint; sweet mahogany figs are paired with white kaymak; and bright green purslane is chopped up and mixed with white yogurt.
So, it is no surprise that Istanbul's famous Spice Bazaar would tempt and bedazzle even a Crayola crayon namer.
A quick note on our Bilge, our Spice Girl, at Ucuzcular Baharat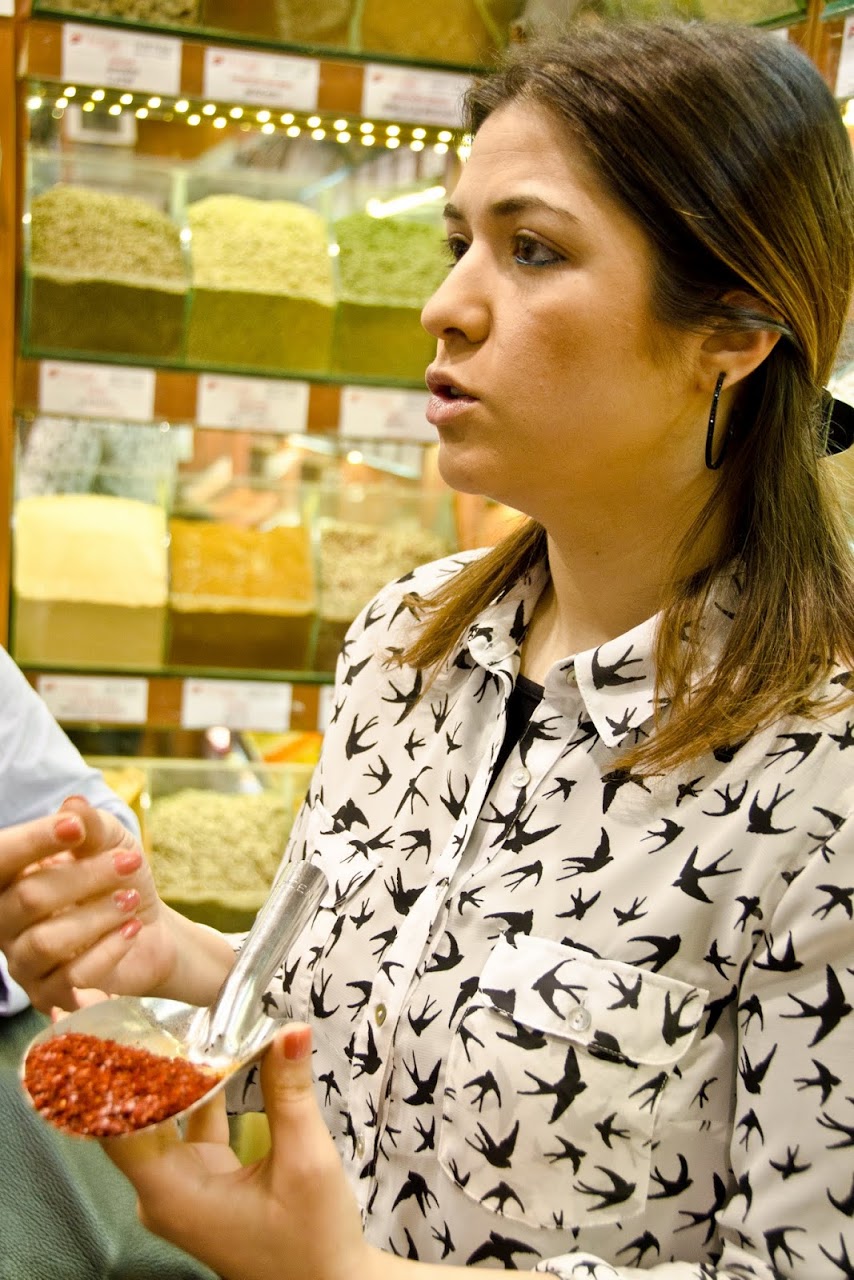 One of the primary problems with Istanbul's Spice Bazaar is that many of the spice shops churn out cheap or low-quality spices to unsuspecting tourists.  This is why I highly recommend a stop at Ucuzcular Baharat , shop number 51 in the Spice Bazaar.  The family who owns Ucuzcular Baharat has been in the spice business for over 480 years --- at that time, the family worked in the Egyptian spice routes and took that knowledge with them to Istanbul.  In the early 1900s, a family member opened an herbalist shop in Istanbul and in subsequent decades, the family opened Ucuzcular Baharat in the Spice Bazaar.
Today, Bilge and her brother Ahmet run the store.  Bilge is a warm and enthusiastic woman, passionate about the spices that their store sells.  Every bin of ground spices has been ground within 24 hours in order to retain the freshness of the spices and they freeze-dry spices so that you can take them home with you.  Many of their spice combinations, such as Ottoman Spice and chicken spice, are old recipes handed down from her great-grandfather.  But, Bilge still experiments and she let us taste her newest creation: a spice rub to put on roasted potatoes.
This is the best part of her store: we walked in and she guided us through the huge variety of options, allowing us to taste many of the different combinations of spices.  Our favorite was the silk-cut chili flakes which melt on the tongue in an explosion of fiery chili hotness.  We left with freeze-dried packs of silk-cut chili flakes, sumac, and the quintessential Ottoman spice.
We only met Bilge once but we can highly recommend her store as a great place to learn about spices without being hassled, bothered, or pushed into buying things that you don't want.  We learned a lot in our all-too-brief visit with Bilge and know that we will visit her store again when we are next in Istanbul.
*Contact me if you want Bilge's e-mail address to ensure that she is at the store when you visit them.  Otherwise, you could always stop in and speak with whoever else is working there.
* We visited the Spice Bazaar and Bilge's shop while on a food tour with Context Istanbul .  Our tours with Context were sponsored but Bilge's shop is completely free and we received nothing to promote her excellent store.  (Actually, we probably spent too much money there because we were so impressed with her products.)