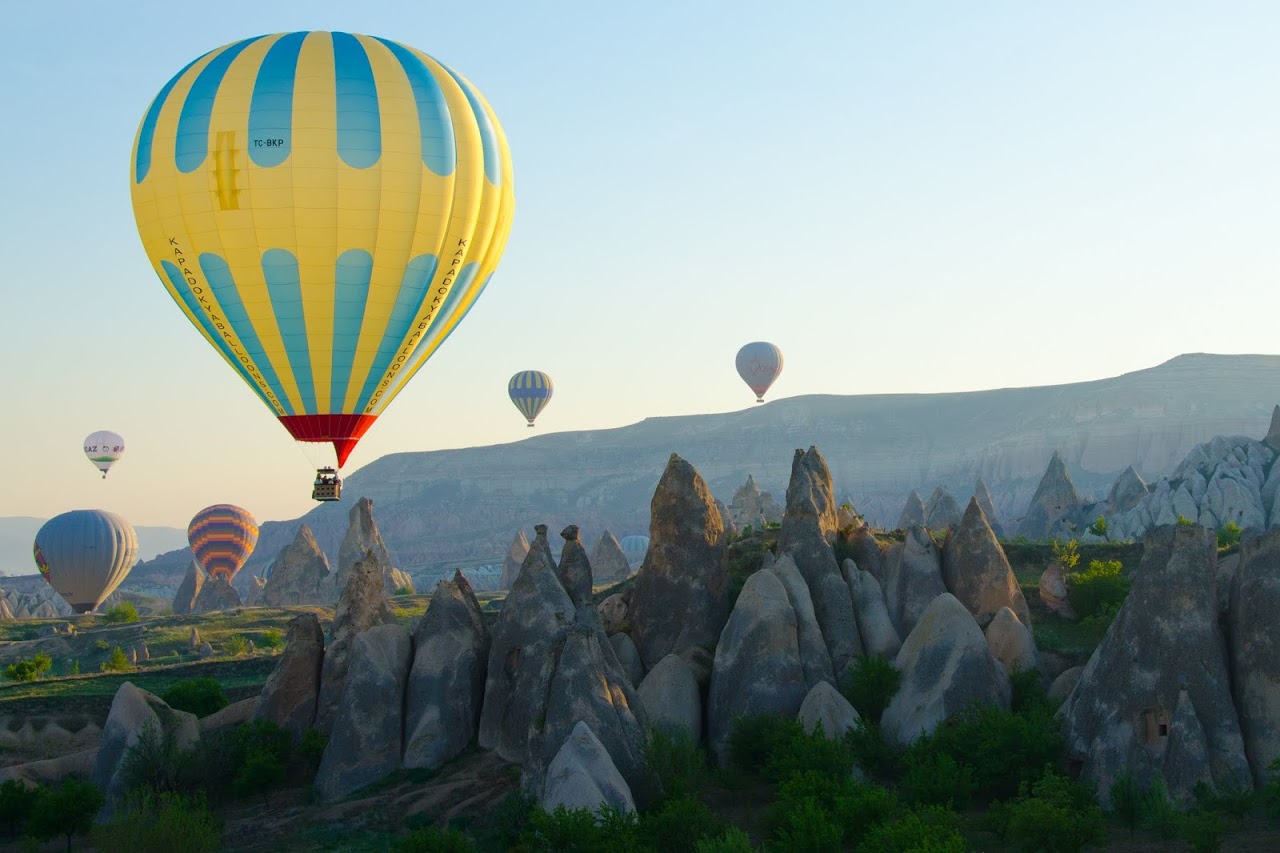 Hot air ballooning in Cappadocia
Cappadocia is an amazing place.  I've heard it described as a lunar or Martian landscape and, I agree, it's not too far from that.  But, for us, we both felt as if we had stepped into a fantasy novel --- perhaps Frank Herbert's Dune or the Aiel Waste in Robert Jordan's Wheel of Time series --- because it didn't feel possible.  The rocks grew in strange shapes, caverns undulated and rippled, and houses and churches peeked out in arches and entryways in the yellow rocks.
There's no better way to see this landscape than on a hot air balloon.  We floated into the air, gently and smoothly, rising higher and higher as the sun rose over Cappadocia.  Within twenty minutes, there were eighty or more hot air balloons swimming through the air, rising and dipping across the blue skies and into the rocky crevices of the earth.  The ten of us on the balloon spoke softly in whispers, as if afraid to disturb the peace of the morning (though the honeymooning couple next to me carried on a furious argument in low whispers for the first half of the flight which cannot bode well for their marriage because all fears, worries, and anger disappeared for me as soon as we got into the air.)
We wanted to stay, forever, in that way, floating above beauty.
Details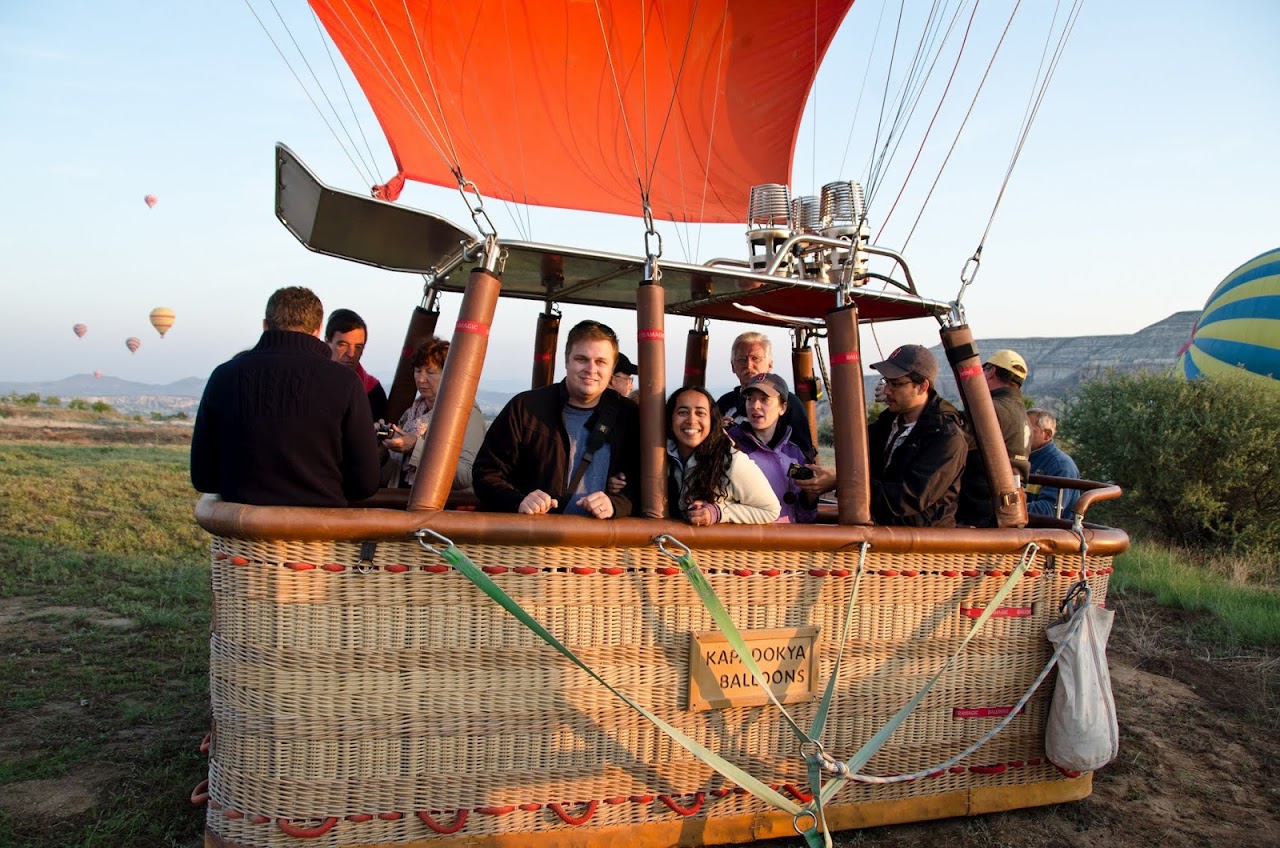 We used Kapadokya Balloons for our hot air balloon experience.  We took the 90 minute deluxe flight, that cost 230 Euros per person, rather than the 45-minute flight for 165 Euros.  The deluxe flight also put us in a smaller 10 person balloon rather than the huge 24 person balloons.  Our pilot was fantastic --- he navigated us right above the Goreme Open Air Museum and very close to some of the painted churches and took us very high up.  We thought long and hard about shelling out so much money for only a few hours' experience, but, ultimately, it's the most amazing thing we did in Turkey and one of the best things we've done in the entire world.  The cost is high but it is well worth doing.
The balloon company picked us up at 4:00 a.m., drove us 20 minutes to a big hotel where they gave us a very mediocre breakfast, and then we were piled into individual vans to go to our various hot air balloons.  Kapadokya Balloons is a huge company and I think if we had to do it over again, we would have opted for a smaller company that has breakfast right in front of the balloons because it would have been nice to see more of the set up.  Then, we drove to the balloon point and watched them inflate the balloon and were off.
When it's all said and done, all the balloon companies offer pretty much the same services and go up at the same time, so if you see a deal for something better, take it.  We arrived at 4:00 a.m. and took the 90-minute experience.  Though I don't think that the company matters much, I do recommend taking the longer hot air balloon ride for 90 minutes rather than 45 minutes because we were able to go much higher and further than the shorter rides, and I think that the incremental cost is worth the expense.  (Note, it's more expensive to pay via credit card than cash so we would recommend paying by cash.)