Thanks for all of the amazing comments and kindness about our news.  I'm in Porto, Portugal at the Travel Bloggers Unite conference but I'm slowly responding to all of you.  We feel so warm and fuzzy inside that we have such great community surrounding us!
What we did: Two months in Turkey split up as follows: 1 month in Istanbul , 1 week in Cappadocia , and 3 weeks based in Turgutreis on the Aegean Coast
Would we do it the same way? Yes, absolutely.  Because there is SO much to see and do in Istanbul, we felt that a month was the perfect amount of time to explore but also have a few days in between where we were working or relaxing.  It is possible to do Istanbul in 3 to 4 days, but it's a great city to stop and spend time in.  I think a week in Cappadocia is perfect: it's long enough that we got the chance to see everything we wanted to see but short enough that we weren't too tired of paying the high prices.  The 3 weeks in Turgutreis was a little long, considering that there aren't a ton of attractions on the Aegean side, but it was perfect for us because we needed some time to relax and do work after a very hectic spring.
| | |
| --- | --- |
| | |
| | |
Marzipan and desserts from Turkey
Best food: Baklava .  We bought baklava every other day in Turkey because (1) it was delicious and (2) we have it on good authority that each piece contains only 90 calories.  (The latter logic probably would have worked much better if we were able to limit ourselves to one piece every day.  Ahhh, Turkish baklava, how I love thee.)

Worst food: Testi kebab. This dish is a specialty of the Cappadocian region but we found that the ceramic leeched all the flavor out of the vegetables and meat, leaving a bland, nearly inedible dish.
Our favorite part of Turkey: The food , the food , the food , and the food .  To put it simply, Turkey has some of the best food in the world at reasonable prices that will suit every single appetite: whether you're a vegetarian , meat-eater , or dessert lover. The colors of its spices punctuate the beauty of its cooking and, so it's no surprise that Turkey's tradition of food is central to its culture and history.  Expect to eat and eat well when in this amazing country.
Spoons at the Grand Bazaar
Our least favorite part of Turkey: Lack of dog-friendly accommodations , though we found plenty of cute stray dogs to photograph .  Pet-friendly accommodations are primarily limited to the large cities and big tourist areas and, even then, most of the pet-friendly accommodations tend to be in the upper price range (we stayed in the 5-star Hilton Ankara and Dedeman Konya because those were the only two pet-friendly hotels in the entire cities.)  Patrick tried to book a hotel room in Pamukkale that was pet-friendly and the one place that he found that claimed to be *pet-friendly* told him that he was welcome to keep our dogs in the car overnight but they could not be brought into the hotel room.  We were VERY fortunate that our fabulous landlord in Turgutreis was willing to watch our dogs overnight because, otherwise, we wouldn't have been able to visit Ephesus, Pamukkale, or Aphrodisias .
Indispensable item/gear: A wide angle lens which can help you capture the Islamic architecture and gorgeous scenery.

Best deal: The mosques. Free, beautiful, and worth a visit any time when the call to prayer is not being held, the mosques are one of Turkey's best attractions.  We spent a lot of time hopping into smaller mosques and enjoyed the serenity and peace of these gorgeous, open buildings.
Biggest rip off: Gas.  Though Turkey borders two of the largest oil producers in the world, the country charges an outrageous 17% tax on fuel , meaning that we were forking out almost $11 USD per gallon of gas.  (We were told that Turkey charges this hefty tax on fuel and alcohol because they have a difficult time collecting on income taxes.)  We spent over $130 USD to fill up our modest 15 gallon tank and it's no surprise to us that Turkey ranks as the 2nd most expensive gas in the world.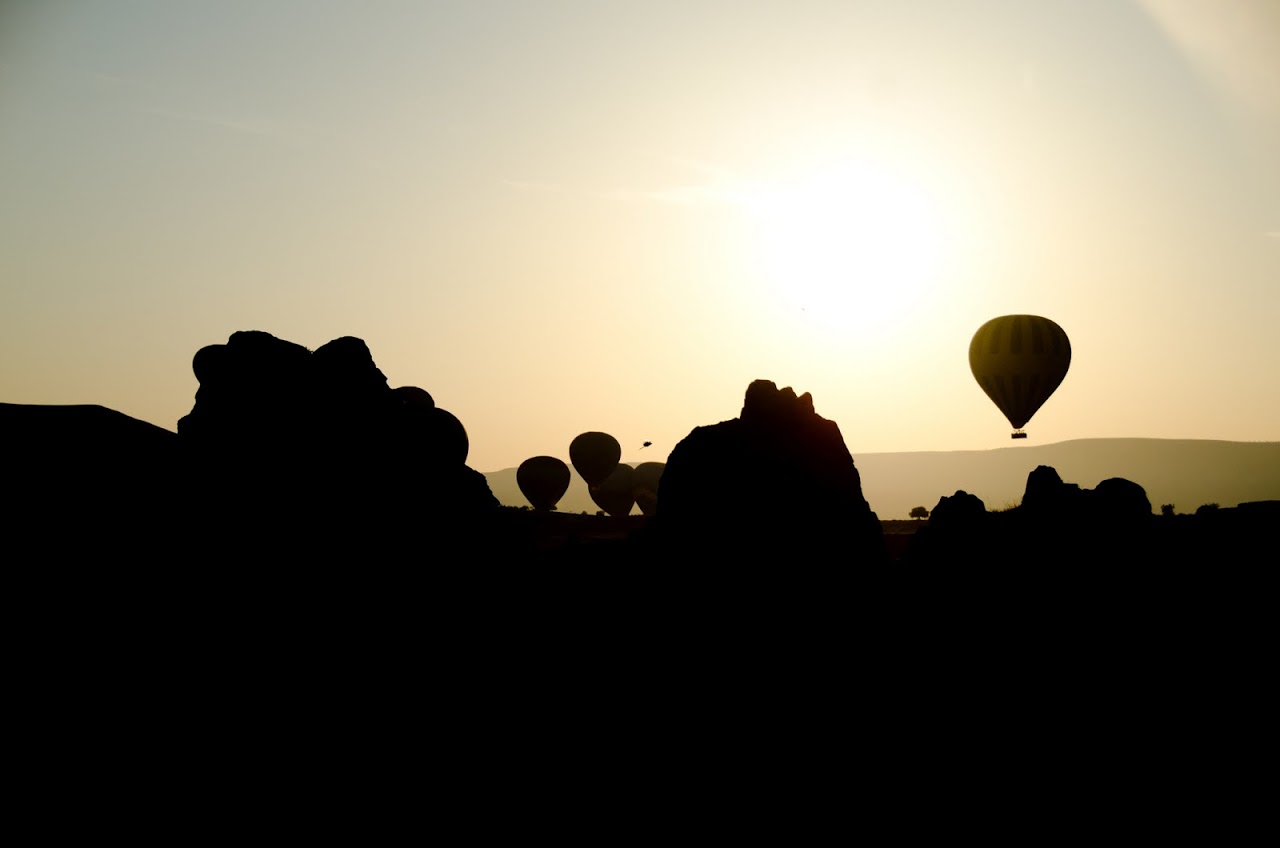 Hot air ballooning in Cappadocia
Best new experience: Without a doubt, hot air ballooning in Cappadocia . Floating in the clouds above the extraterrestrial landscape remains one of the crowning moments of my life.

Worst new experience: Getting conned.  We managed to go almost 2 1/2 years without falling for a single scam or getting ripped off, but Patrick's first day in Turkey brought him face to face (and on the losing end) of Istanbul's con artists. Here's his story in his words:
I was running late to reach Akila and her mother for a Context tour.  I went straight for a taxi from the ferry drop-off, hopped in, and told him to drop me off at the Galata Bridge. (Ed. note: Ummm, Patrick, really?  You didn't negotiate the price before you got in?  First sign of trouble impending.) He pulled over to drop me off and asked for 95 lira (about $50 USD).  That sounded high but it was my first day in Istanbul and I didn't know the exchange rate and I was running late anyway.  I gave him a brand new 100 lira bill, just taken out of the ATM, and opened the door of the taxi to get out.  The taxi driver looked carefully at the bill and said, "No good."  "Why?" I asked.  "This is a fake," he said, and when I protested that I had just gotten it out of the ATM, he TORE THE BILL IN HALF.  I sat there for a moment completely confused while he told me it was no good and asked me for another.  I shook my head and jumped out of the car and he sped away.
(Ed. note: The cab ride should have cost about 40 lira, maximum.  Watch out for Istanbuli taxi drivers especially in the tourist areas.  We've heard from multiple people about being conned by them.  On Patrick's return taxi ride, because he was never able to find us for the tour, he was fairly certain that the taxi driver was trying to notify his friends to come and rob him, but Patrick jumped out at the ferry stop before the taxi was able to keep going.  Luckily, there are excellent public transportation options, including the tram, the ferries, and the dolmuses (share taxis).  The dolmuses, in particular, are probably Turkey's best value because most dolmus rides cost 3 lira (about $1.50) and they will drop you off anywhere on the route if you ask them to stop.  The only bad thing about dolmuses is that they will not leave until they fill up (the word dolma means "to fill up") so you might wait a little while before leaving.  We ended up using the tram and dolmuses the rest of the time we were in Istanbul.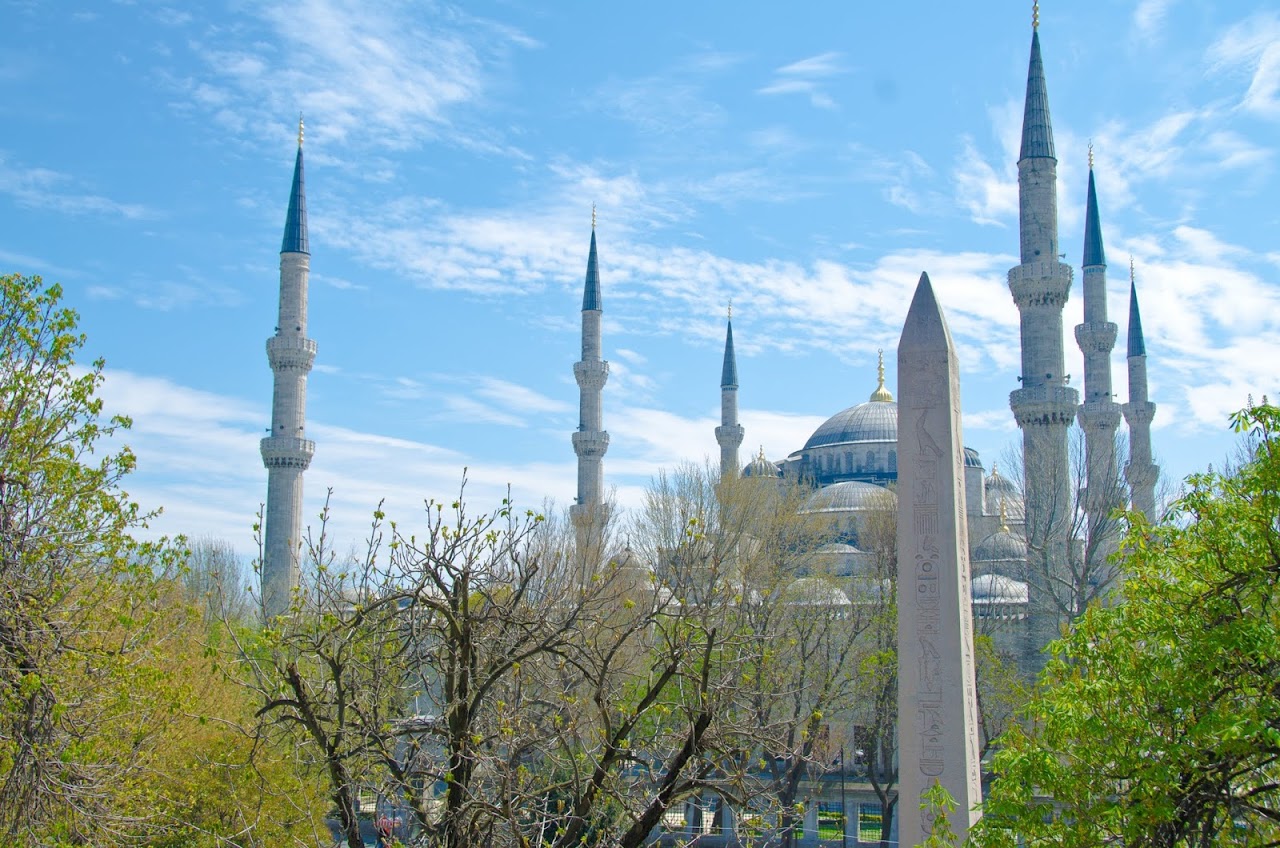 Hippodrome and the Blue Mosque
The must see attraction : Hagia Sophia .  Its beauty is all the more impressive because it was built 1,500 years ago.  We highly recommend Context's Hagia Sophia Seminar to get the full perspective of the monument's historical majesty.
Most overhyped attraction: Topkapi Palace. Unless you're into jewels and artifacts associated with Mohammed, there isn't much to see at this palace that will impress you, especially if you've been to some of Europe's grand palaces, like Versailles, the Schonbrunn Palace, and the Royal Palace in Madrid.

Our favorite city : Istanbul .  It's frantic, crowded, and in a perpetual state of motion. Rainbow-hued lamps in the Grand Bazaar , the blue designs on the mosques matching the blue of the Bosphorous, pink tulips marking off every street, and Turkey's bright red flag overwhelm the senses.  There are men at the street corners selling simit in baskets and slicing off chunks of doner kebabs from spits and, everywhere we look, we are immersed in grand architecture and hidden neighborhoods.  We love this place.

Least favorite city: Goreme. Unfortunately, Goreme is the tourist hub of Cappadocia which is entirely a shame because the city is overtouristed with low quality restaurants.  We preferred the neighboring town of Uchisar which offers stellar views of Pigeon Valley and is much quieter, though with all of the tourist amenities we needed.
An Istanbul tea seller
Best surprise: The hospitality.  While Patrick's first day in Istanbul was spent dealing with con artists, my first day in Istanbul was much more pleasant.  Everywhere my mother and I went, someone stopped us to ask us if they could help us.  On our ferry ride back home, a very nice man sat across from us and gave us tons of restaurant recommendations, which we kindly wrote down, along with directions on the best way to use the dolmus.  Every other experience we had in Turkey was much more like mine than like Patrick's.  A cup of tea was always close at hand to be shared between strangers who would soon become friends.
What we didn't expect: Turkey's (and especially Istanbul's) secularism.  We expected Turkey to be a Muslim country but, in fact, it is probably the most secular country that we have visited.  When Ataturk and his Young Republicans began the overhaul of their country, they specifically intended for Turkey to be a secular nation.  Head scarves, religious hats, crosses, and all other religious artifacts were banned.  One woman we spoke to mentioned that, in the 1970s, it was as common to see girls wearing mini skirts in Turkey as it was in England.
Even today, all displays of religion are banned in public buildings, meaning that girls may not wear head scarves at public schools, universities, or government offices.  (This has an unintended effect of limiting the number of girls from very conservative households who attend university).  Though the call to prayer sounds every few hours, most people continue to shop, eat, and go on with their daily lives, without regard to religion.  But, as Turkey's government moves more toward supporting the Middle East, these rules are changing and head scarves and religious practice is becoming more common and accepted in Istanbul.
View of the James Bond movie set (way in the back) and a steward telling people to walk around the set
Biggest disappointment: We never got to see Daniel Craig, despite the fact that they were shooting the new James Bond movie the entire time we were in Istanbul and part of the time we were in Bodrum and Cappadocia.  We were actually at the Spice Bazaar on the morning that they were shooting there (funny enough, and our Context docent saw him and the new Bond girl but we missed them both by a few minutes.

Language lesson: merhaba = hello ; tesekur etterem = thank you; tesekuller or merci = thanks; lutfen = please; afedersiniz = excuse me; kebab = small pieces (see more about kebabs on our grilled meats post ); musait bir yer de = I want to get out at the next permitted stop (an essential phrase if you use the dolmuses)

The big test, would we go back? Yes, definitely.  Next time, we want to visit the southeastern areas of Turkey, and especially Gazantiep, because we were told that southeast Turkey is the hub of great food (and baklava!).

And, next on the itinerary: After Turkey, we hopped through the Greek isles and made our way up through Venice and Vienna with Go With Oh , and then to Prague, before winding up in Paris, where we spent all of August.  I'll be writing all about our Venetian and Viennese trips next and then will talk about lovely Greece.