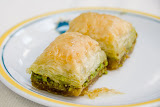 Baklava
Here's what we know for certain after spending two months in Turkey: the baklava in the United States isn't anything like the baklava you get in Turkey.  I'm not being a food snob.  Okay, fine, I am being a little snobby . . . but, this is snobbery with justification.  As I truly believe that tofu is underappreciated in the United States , so, too, baklava is not the same when outside of its native soil.  Yes, Turkey has spoiled us for baklava.
I've been dreaming about this post for months now, trying to describe to you the magnificence of baklava, the impressiveness of the labor used to create it, and the reason why I would hop onto a flight to Istanbul just to eat baklava (okay, I probably would eat other things, too, but baklava would end EVERY meal.)
So, for a moment, please erase all memories of inferior baklava from your tongue.  If you're a baklava hater (as we were) and think of it only as a gooey, dense, sticky concoction, set aside those prejudices.  Grab your cup of coffee and hear this story from beginning to end and, perhaps, I can convince you that, when in Istanbul, baklava should be your top priority.
| | |
| --- | --- |
| | |
| | |
Baklava from four different vendors in Istanbul: notice, however, the similar puffiness in the centers, the many, many layers of dough, and the relatively small amount of filling
The History of Baklava
This is the part of the post where I normally explain a bit about the history of the dish or the cuisine.  But, there isn't much known about the history of baklava. In fact, baklava lore is akin to politics or religion as a conversation firestarter in the eastern Mediterranean countries.
The Turkish people are very secretive and loyal to "their" neighborhood baklavacis and each Istanbuli we met could point at a flaw in the baklava that was not from "their" shop.  Susannah, one of our Context docents, insisted that it's not possible to get good baklava outside of Gazantiep, her hometown in southeastern Turkey and what is generally considered as the best baklava producers in the country.  But, all Turks agree upon one thing: Turkish baklava is the best and original baklava.
On the other hand, when describing how much we loved Turkish baklava in Athens, Greece, immediately, an older woman began reprimanding our docent, telling him that the Turks make baklava incorrectly and "everyone knows that Greek baklava is the best."  Our docent told us when we were safely away from that bakery that he actually preferred Lebanese baklava to the Greek and Turkish variations.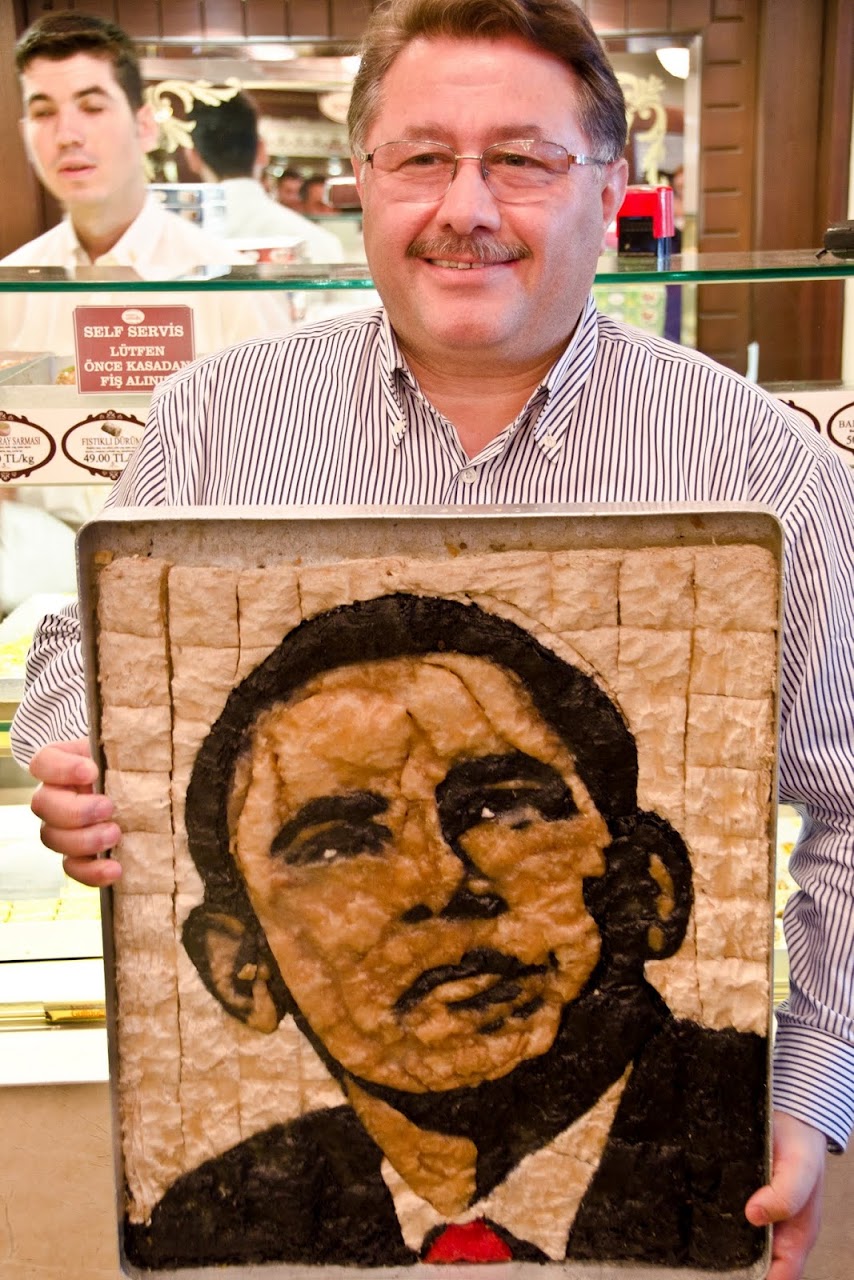 Nadir Gullu's famous Baracklava, made in 2009, before President Obama came to visit Turkey
Baklava pride is not only an individual matter, but even a matter of state.  In 2006, Greek Cypriots proclaimed baklava as their national dessert in an European Union Day poster, which set Turks off, leading to what the press dubbed the "baklava war": 200 Istanbul baklava producers demonstrated in Sultanahmet against the Cyprus' designation and Turkey's EU secretary raised a protest to the EU.  A few months ago, President Obama stepped into the baklava fray by opining at a Greek-American function that he loved "baklava."  Turks furiously responded, stating that everything, including the baklava, served at the dinner was nothing more than Turkish dishes dressed up as Greek ones.  (Unfortunately, the President never deigned to visit Karakoy Gulluoglu's shop in Istanbul to see the Baracklava made in his honor.)
I've found sources that list baklava as originating from the Turks, Greeks, Syrians, Cypriots, Lebanese, and even the Chinese.  Here are the bare facts what I've been able to piece together:
There is a wide Internet rumor that the Assyrians first invented baklava in the 8th century B.C.  I have seen no evidence of this in anything other than random websites BUT, given that Assyria included much of the eastern Mediterranean and Middle East, this contention makes sense.  The Assyrians supposedly layered nuts between dough, poured a sweet syrup on top, and baked it in ceramic ovens.
The ancient Greeks first invented a flaky thin rolled dough (though not as thin as modern phyllo dough).  Even today in Athens, it is possible to find this thin dough rolled over, fried, and topped with cinnamon sugar, a dessert first eaten in the times of Socrates and Plato. ( source from our Context Athens Walk called Beyond Feta )
Pistachios are native to the southeastern Turkey, western Iran, and northeastern Iraq.  Archaeological excavations in Turkey show that pistachios were eaten in 7,000 BC.  Gazantiep, in southeastern Turkey, is particularly famous for its pistachios and baklava.  Antep baklava includes pistachio and cream layered between thin flaky dough.  ( source and source )
The Ottoman emperors loved baklava.  It was one of the most common desserts in the Ottoman Empire, in part, because it showcased the wealth of the Ottoman Empire: good baklava required specially picked Gazantiep pistachios, butter, honey, and very carefully prepared dough.  (from the Matbah dining menu in Istanbul)
And, that's all I know for certain.  It's a pretty sketchy history of own of the world's favorite desserts.
Nadir Gullu, shots of the Karakoy Gulluoglu shop, and loading baklava from the Karakoy production center to the shop
About Karakoy Gulluoglu
If you're not here for the history lesson, here's where we get to the nuts and bolts: how to make baklava.  And, the answer is, that you don't.
Most Turks will laugh right in your face if you tell them that you want to attempt to make baklava.  Nobody makes baklava except for the grandmothers who will spend all day making one batch or the professional baklava shops.  Baklava --- like a wedding cake --- is a dish best left to the experts, the Turks say.  And, once we got our behind-the-scenes blogger tour of Karakoy Gulluoglu, the first Gazantiep baklavaci in Istanbul, we understood why baklava should be left to the masters.
The Gullu family has been in the baklava business since the 1800s when Gullu Celebi spent six months in Damascus and Aleppo to learn how to make baklava.  The Gullu family is from Gazantiep, in southeastern Turkey, and, there, baklava quickly became a favorite dish and baklava shops and street stalls were in high demand.  The family continued making baklava after Gullu Celebi's death and sold baklava to other neighboring towns and villages.
In 1949, Mustafa Gullu, Gullu Celebi's grandson, set up the first baklava shop in Istanbul in the Karakoy neighborhood.  Mustafa Gullu said that, in the beginning, selling baklava was very difficult because, though it was a favorite dish of the Ottoman emperors, the common people had never tasted this delicacy.  "For a few years, we offered free baklava," he said and, slowly, they grew a following of baklava lovers.
Now, sixty years later, Nadir Gullu, Mustafa Gullu's son, manages Karakoy Gulluoglu.  Nadir Gullu is an enthusiastic and energetic man with an infectious love for baklava, his company, and his country.  His moustache quivers as he tells us the importance of eating baklava every day, "It is good for you," he insists. "A good strong man must eat one piece of baklava to live long."
His baklava business is truly an empire.  Though the company is still family run, with no more than one hundred employees, and most of those employees are related to Nadir Gullu, they make over 2.5 tons of baklava and other desserts per day.  They export a large quantity of this baklava all over the world and Mr. Gullu told us that he was the favorite baklava maker for Saddam Hussein: "because we do not care about politics, we care about providing good baklava."
How to Make Baklava by a Baklava Master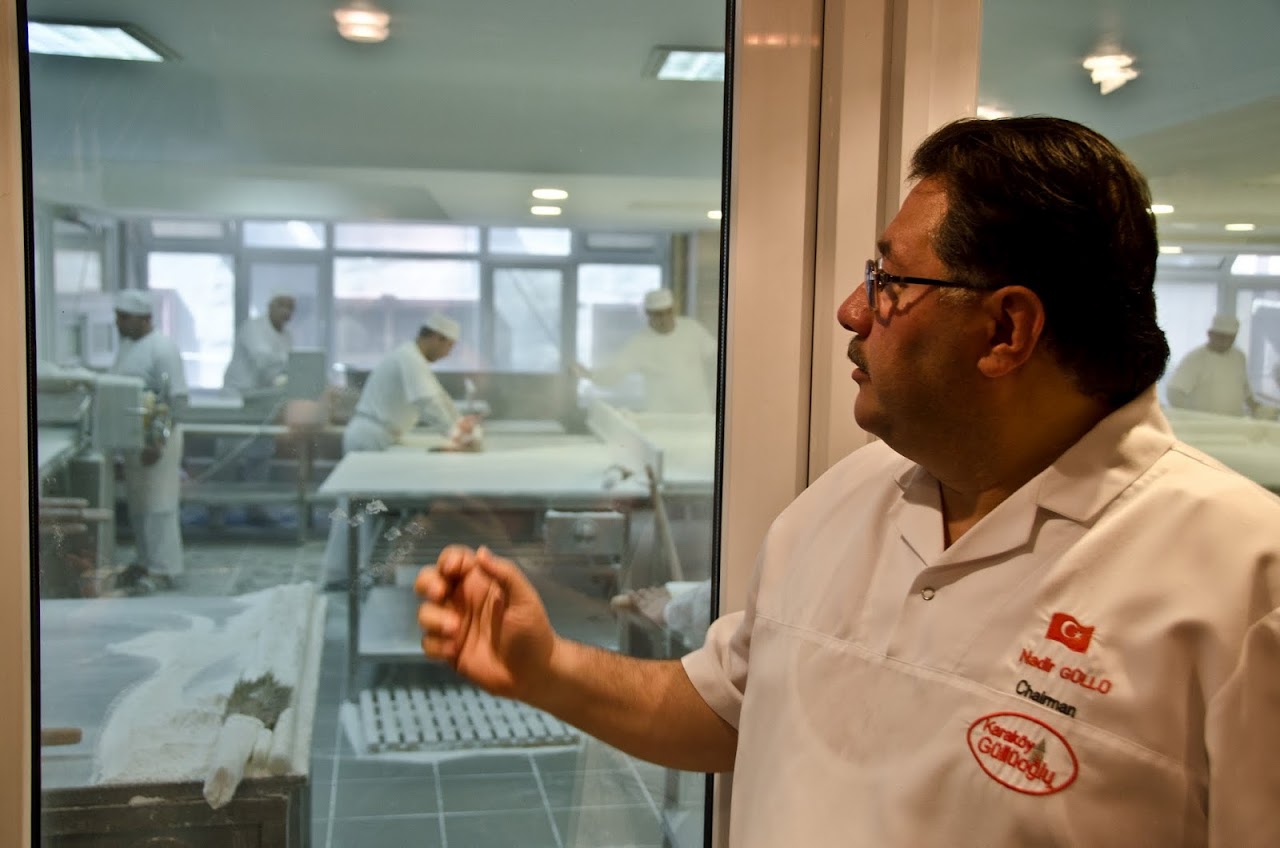 The baklava production facility
Step 1.  Mix the Dough
We walk excitedly into the inner sanctum of baklava-making, up the stairs, and stand at a window where Mr. Gullu points to his baklava masters.  A master is not simply a person who makes baklava; a master must be trained in the art of baklava making.  The dough consists of flour, salt, water, and a small amount of butter.
Step 2.  Roll the dough by machine.
Initially, a mound of dough is rolled through the machine to thin it out.  This thin layer of dough is rolled around a wooden stick.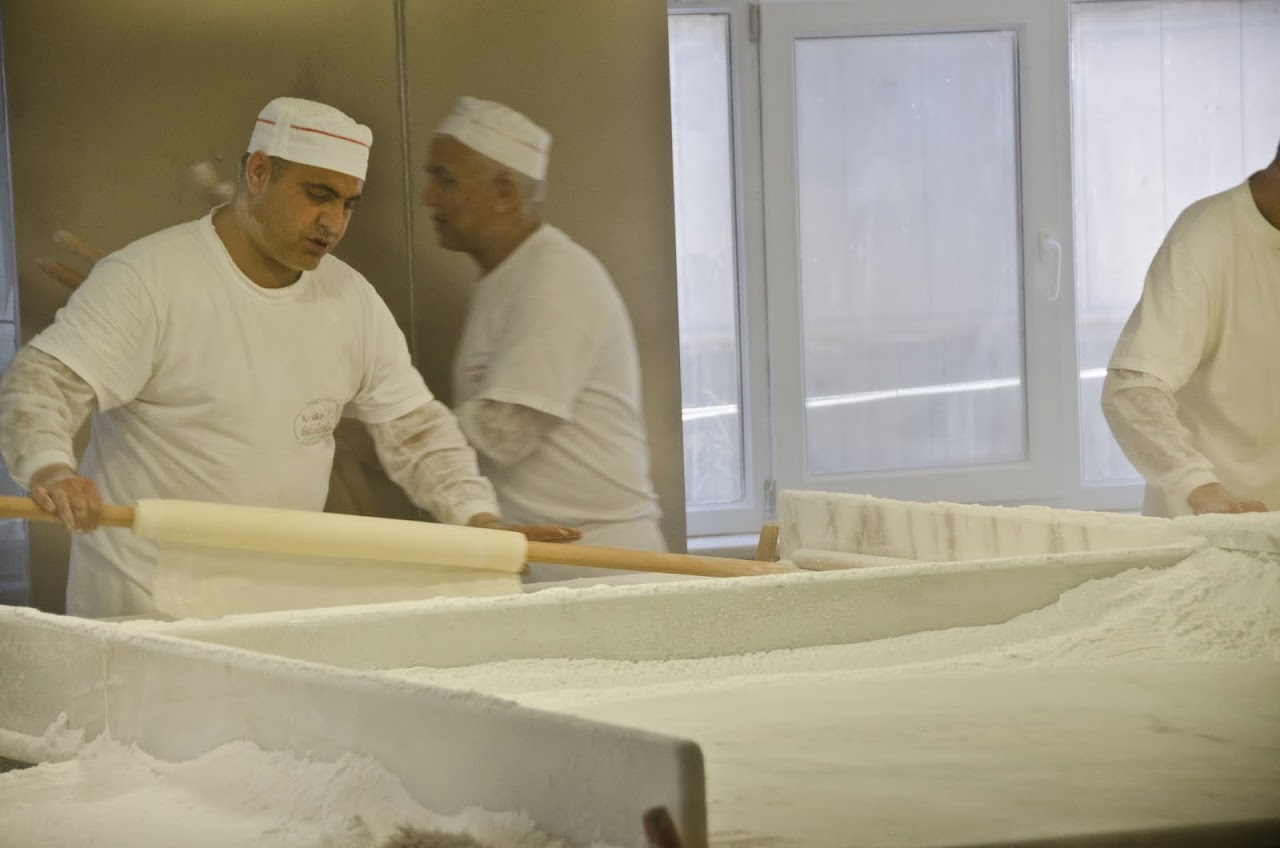 Step 3.  Use those muscles; roll the dough by hand.
"A baklava master must be strong and disciplined."  Traditionally, baklava making is a man's profession, because it is believed that only men have the muscular strength to roll the dough to the necessary thinness.  Baklava making is a full contact sport --- and the men who make baklava are heavy and thick-muscled men.  As each layer of dough is rolled out, the baklava maker flicks starch over the layer to prevent it from sticking, which is why the room is constantly in a floury haze.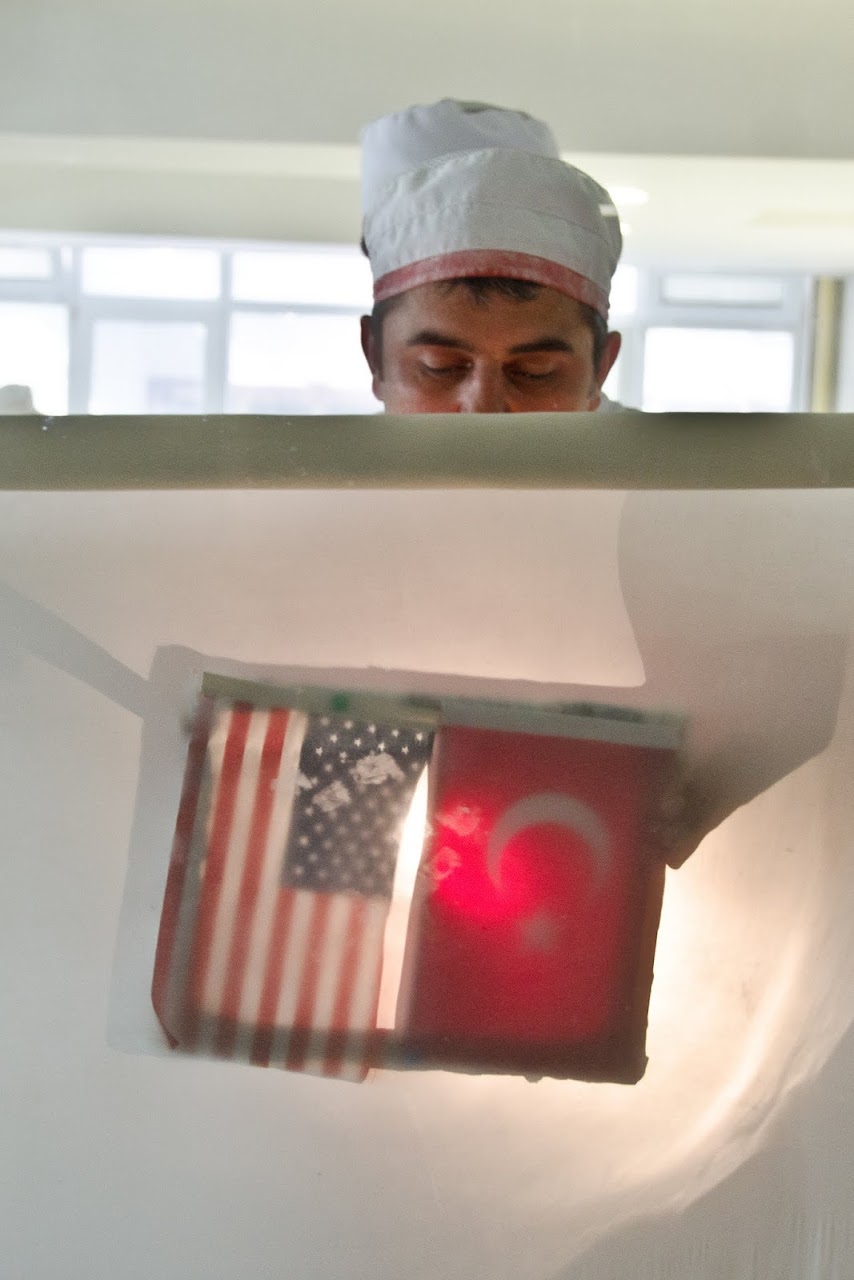 Flags held up against the Karakoy Guluoglu dough
The dough is impressive, to say the least.  So thin that a mild graze by a fingernail could tear it and with a translucency that allows us to clearly read text and see flags through it, it is still strong and sturdy enough to be held by a single person without tearing.
Making rolled kadayif
Step 4.  Build the baklava
Forty layers of baklava dough go into a single baklava tray.  40.  The filling is simple: lots of pistachios, honey, and butter.  The baklava master places at least 15 layers of the dough on the bottom of the pan, then the filling, then 15 more, and finally 10 layers that sit like an airy crown on top of the pastry.  The baker then slices through the baklava with a sharp knife to create the pieces we will eat later.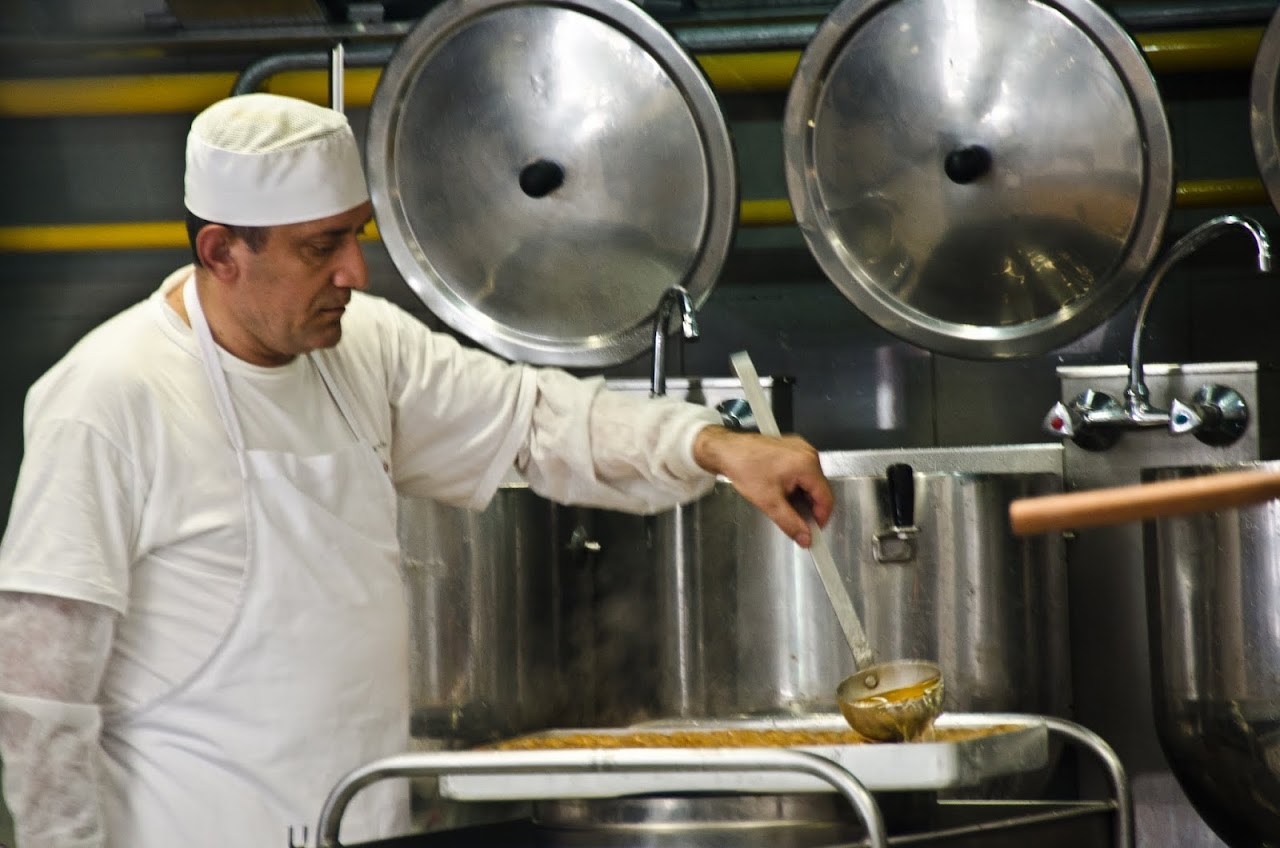 Adding the syrup
Step 5.  Add some butter sugar syrup.
Once the baklava is built, the chef pours warm butter on top of the baklava.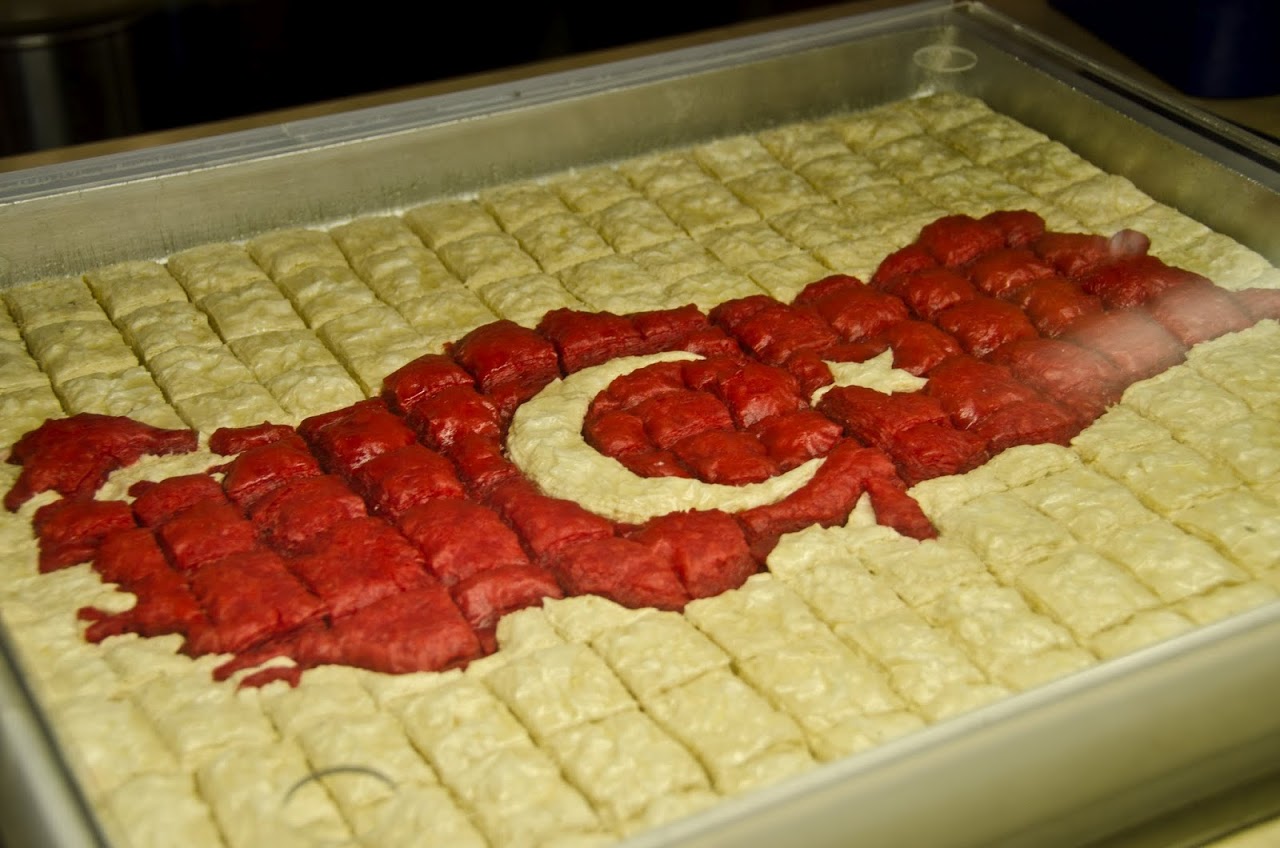 Uncooked baklava
Step 6.  Bake the baklava.
Then, the baklava is baked at 160 degrees Celsius.  When Mr. Gullu opened the door to the bakery, the scents of butter and sugar surrounded us and we each wanted to bask in that glorious air for as long as he would let us.  If real estate agents started baking baklava to lure in clients, I don't think we'd have much of a real estate depression right now.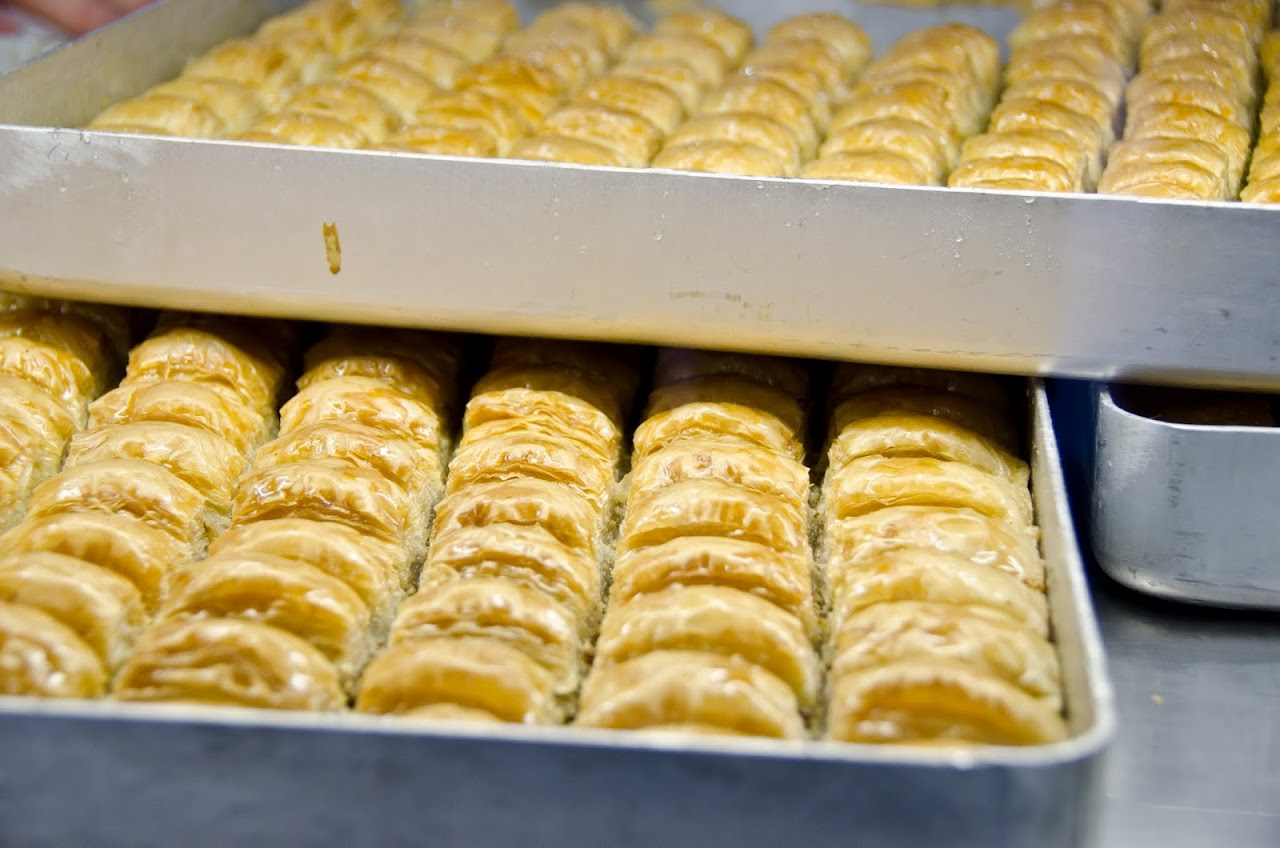 Baked baklava
Step 7.  Pour sugar syrup on top of the warm baklava.
Though every step is critical to the success of good baklava, this is the step that most bad baklavacis mess up.  The perfect amount of sugar syrup must be poured on top of the baklava so that the baklava sucks up all of the sugar syrup.  No sugar syrup should pool at the bottom of the pan.  Because only a small amount of sugar syrup is used, Mr. Gullu tells us that one piece of his baklava only clocks in at 90 calories!
How to Eat Baklava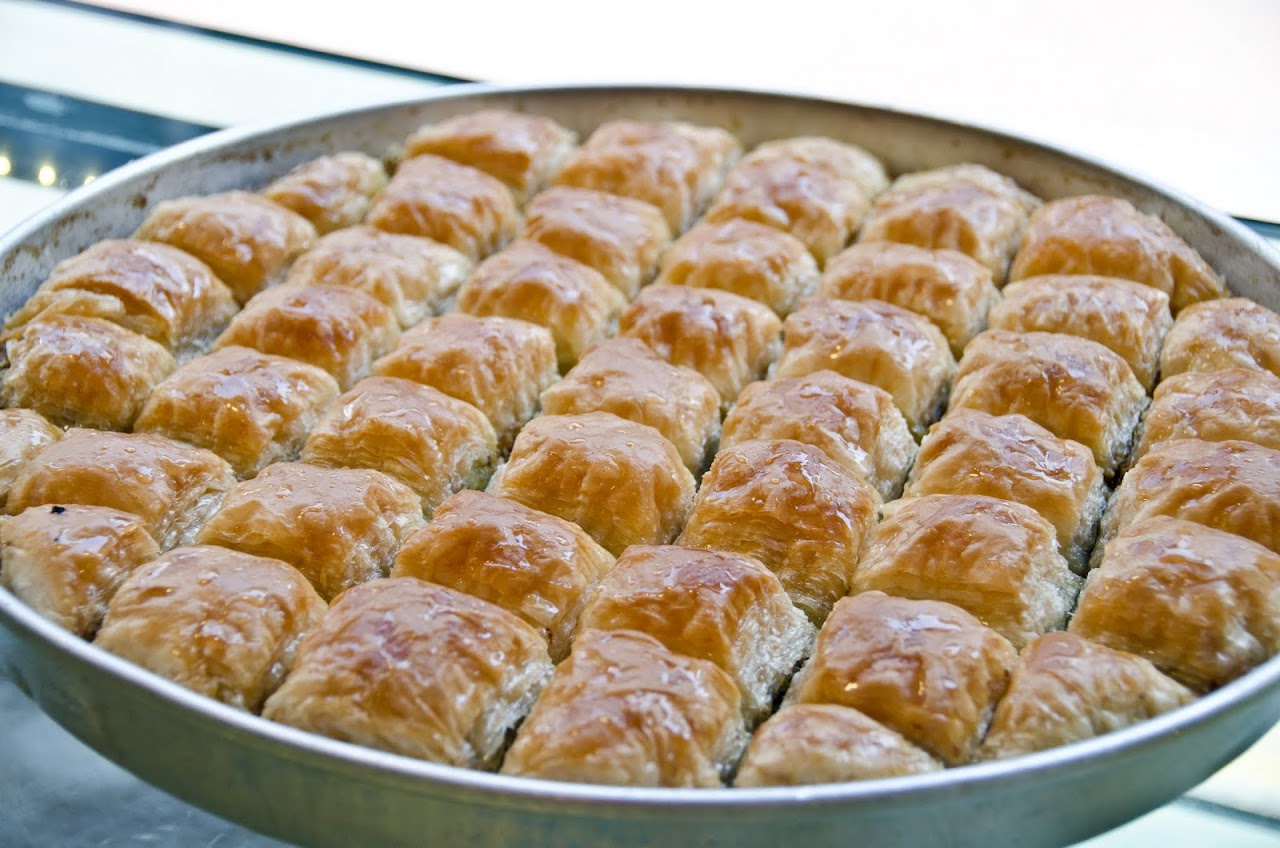 Baklava
After all this, you would think that eating the baklava would be the easy bit, but eating baklava has its own set of rules.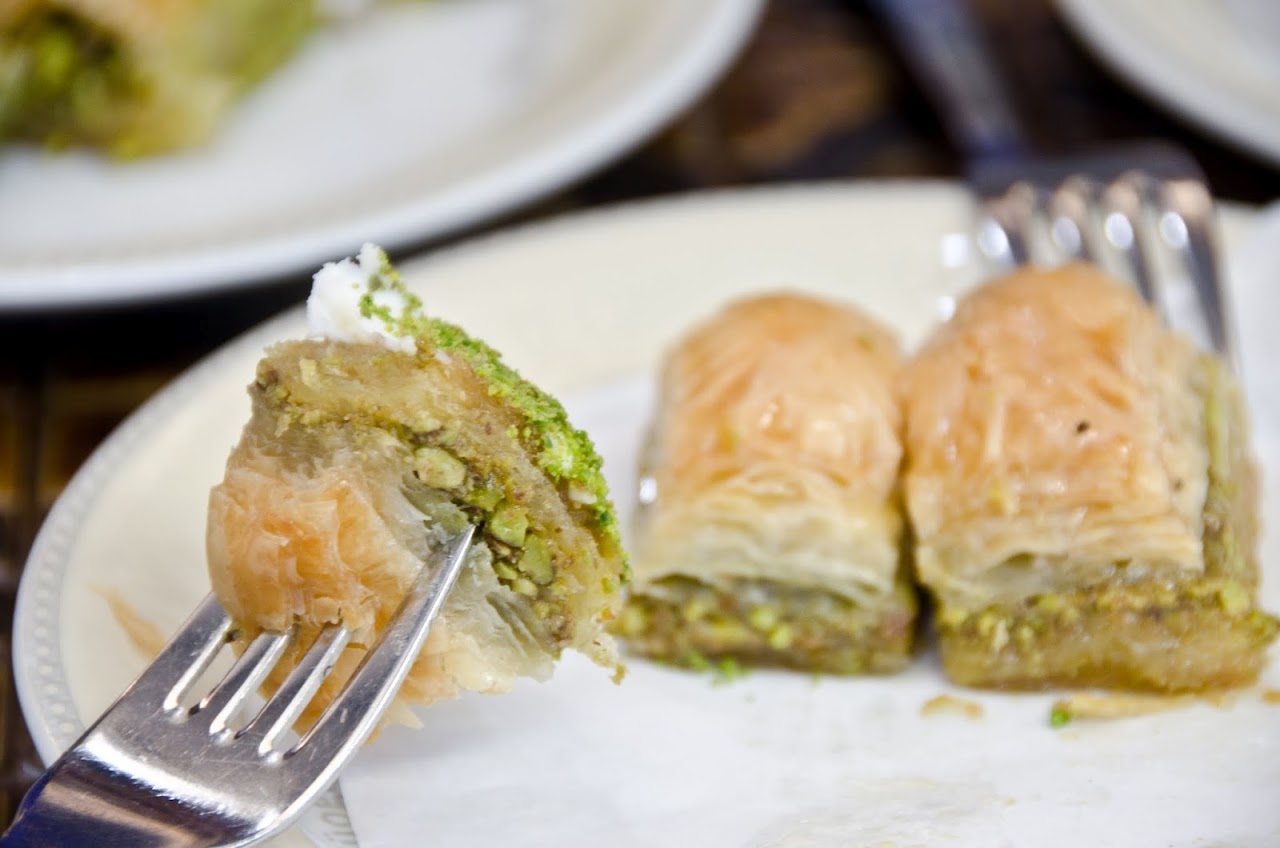 Fork in baklava
First, we stick a fork into the one-third point of the baklava.  The baklava should make a crackling whoosh sound, as the fork goes through the layers of thin dough.  **If the baklava doesn't make a crackling whoosh sound, it's not good baklava!**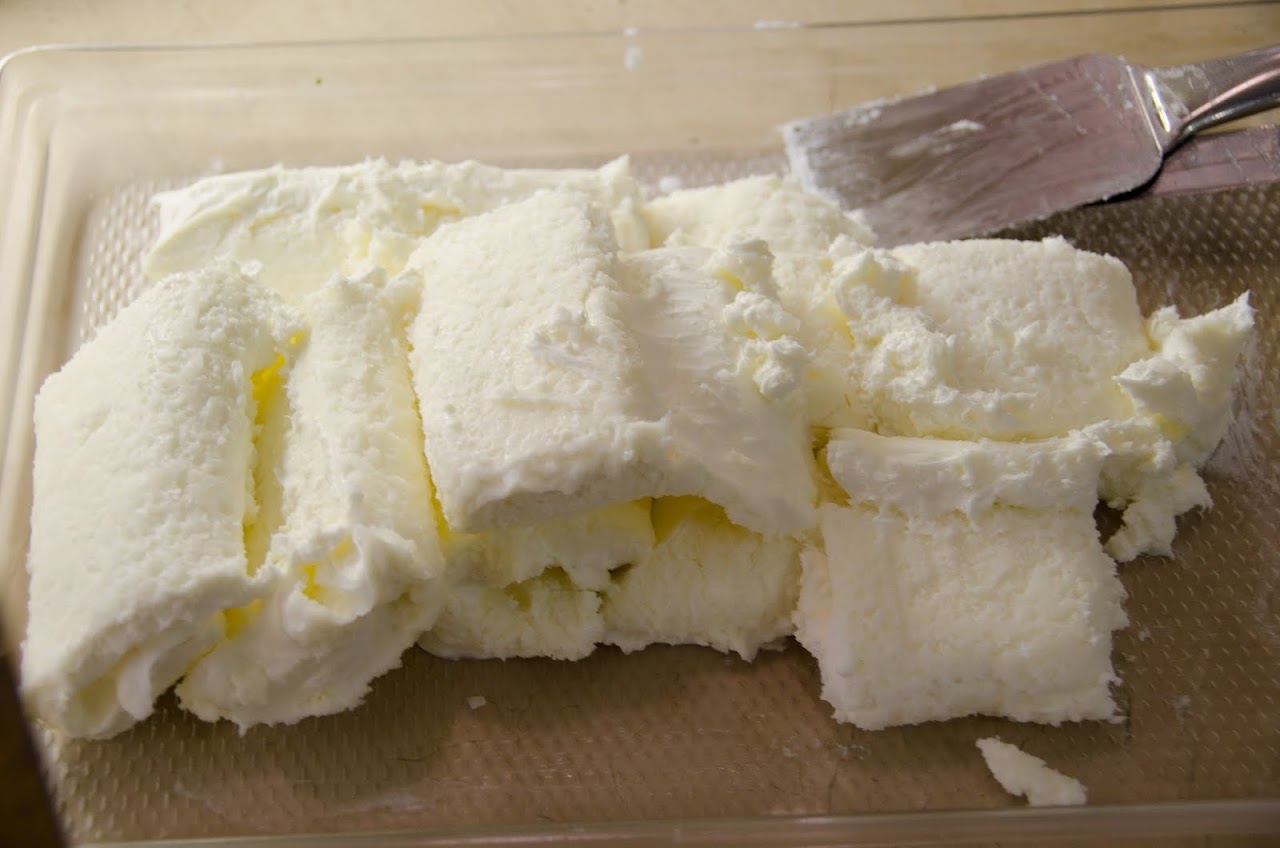 Kaymak
Then, we spread a thin layer of kaymak --- Turkish unsweetened clotted cream over the bottom of the piece of baklava.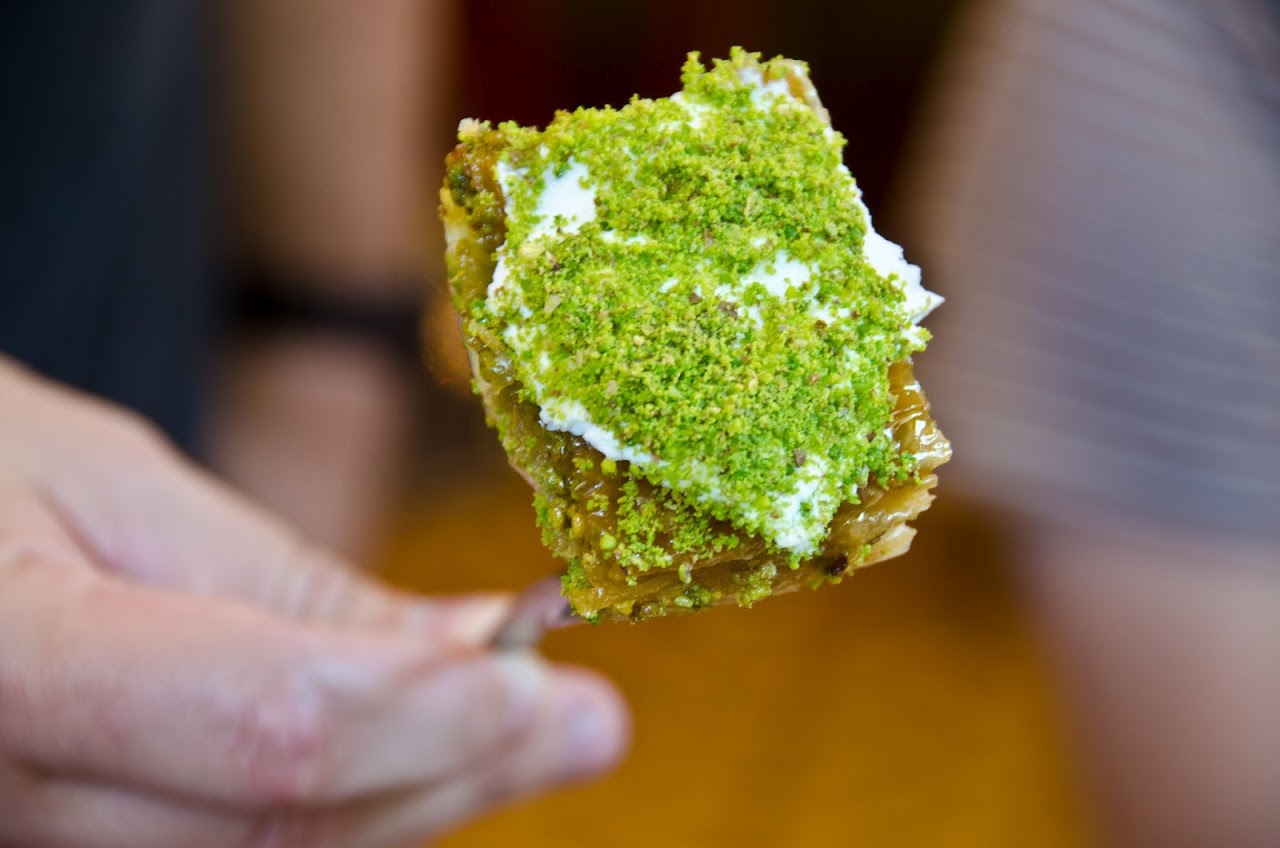 Baklava with kaymak and pistachios
We dip the bottom of the baklava into ground pistachios.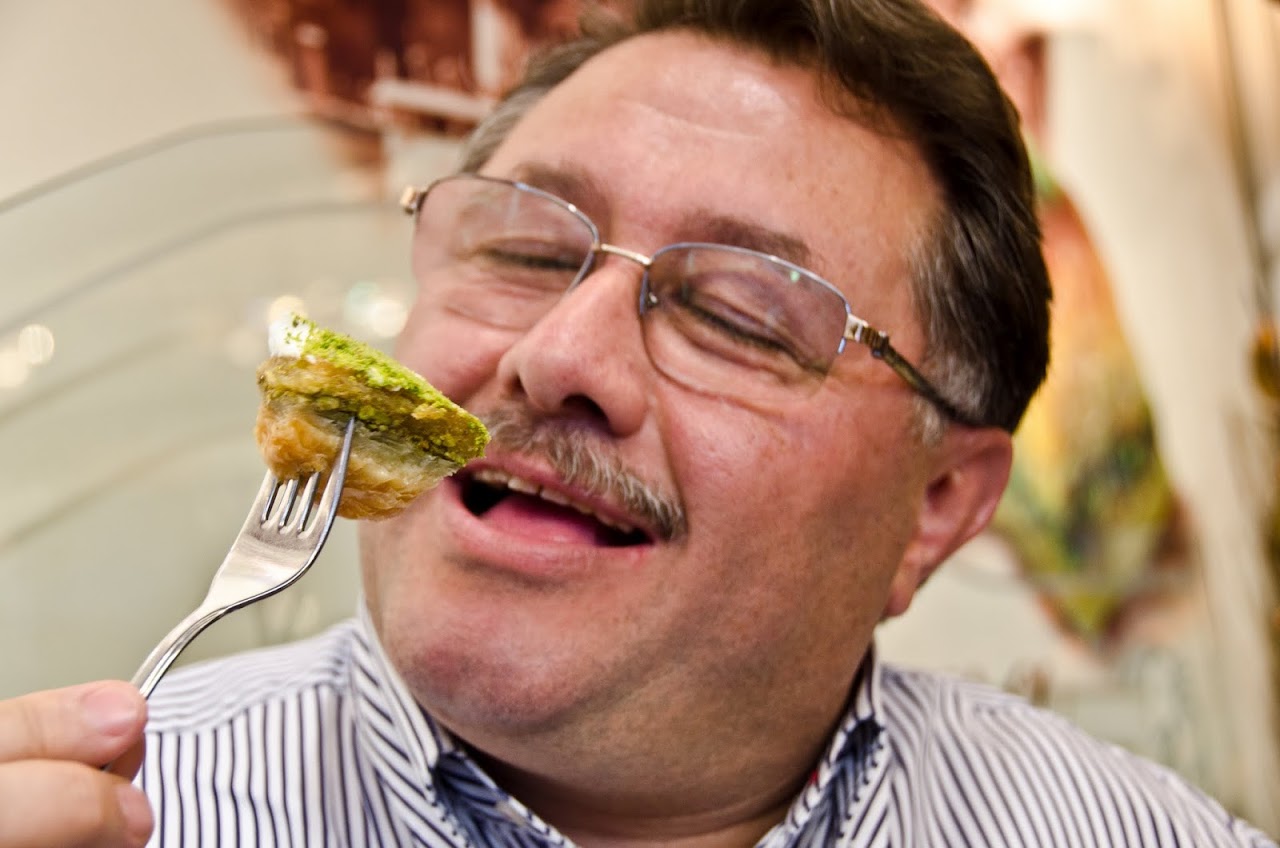 Mr. Gullu eating a piece of baklava
And, then, we place the baklava UPSIDE DOWN into our mouth and crunch.  (Upside down is critical --- you should never eat a piece of baklava right side up.)
First, the soft cream hits the roof of the mouth and the unsweetened cream blends in with the super sweet sugar syrup and pistachio.
Then, our teeth crunch through the forty layers of crispy baklava dough.
We swallow and all of the flavors combine in our mouth, creating a perfect medley of sweet, crunchy, creamy, and nutty.  Sublime.
Where to Eat Baklava in Turkey
Diabetic and gluten-free baklava at Karakoy Gulluoglu
Karakoy Gulluoglu is our favorite Istanbul baklavaki.  In addition to their outstanding regular baklava, they also serve up diabetic baklava with sugar substitutes, gluten-free baklava, chocolate baklava, and many other varieties.  Karakoy Gulluoglo is located at Kemankeş Karamustafa Paşa Mh., Mumhane Cd., 34425 Beyoğlu in Istanbul.
Baklavaci Gulluoglu is another good option with more locations in Istanbul.  They even have a location in New York!  We liked their baklava though we found it a little bit syrupy.

Baklava at Bilgeoglu
On the Asian side of Istanbul, we really enjoyed the baklava at Bilgeoglu in the Kadikoy market.  We especially enjoyed the baklava stuffed with kaymak inside.  Yum!
Baklava at Baklavacim
In Bodrum, Baklavacim provides excellent Gazantiep-style baklava.  They have all the usual flavors and a particularly decadent chocolate baklava, as well.  I can't find a web address for it but it is located on the main road from Bodrum to Turgutreis, on the right hand side when you are driving toward Turgutreis, shortly after you leave the Bodrum main town area.