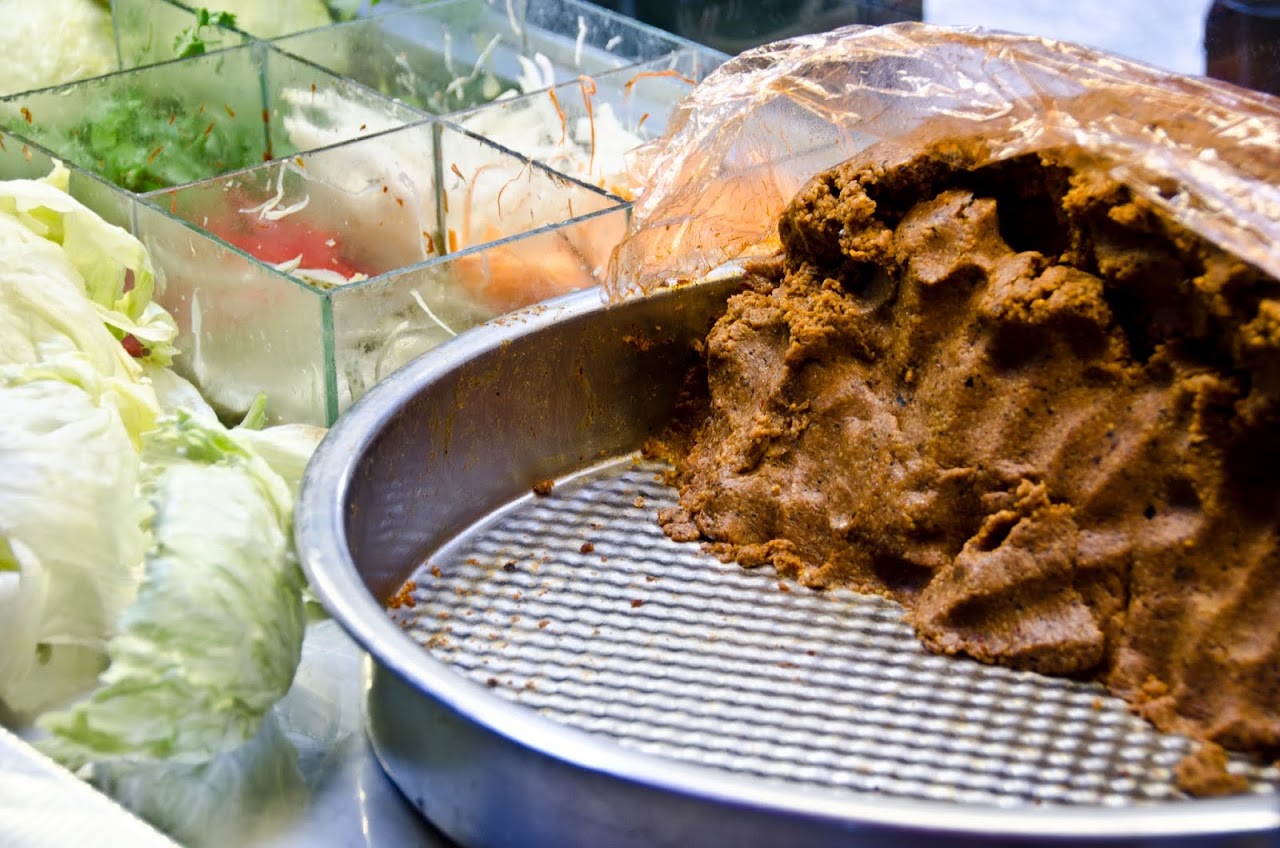 Cig kofte (crushed barley with tomato and spicy pepper)
Last week's post on the grilled meats of Turkey might have convinced you that Turkey's not the optimal place for us vegetarians.  You'd be wrong.  Though it can require a bit of creative thinking and negotiating with waiters, Turkey's actually a great place for vegetarians and even vegans (a surprise in dairy-heavy Europe).
Is there vegetarian food in Turkey?

Though the Turks have a storied tradition of meat eating , there is also a long history toward vegetarianism in this region.  Before the Turkmen occupied present-day Turkey, the Greeks and Romans ruled over this space.  Many famous and influential ancent Greeks and Romans were vegetarians: Pythagoras, the mathematician; Socrates, the philosopher (as described in Plato's The Republic); Zeno, the founder of Stoicism; Epicurus, the philosopher, and founder of the school of Epicureanism; Seneca, Caligula's minister; and Plutarch, the philosopher.  ( source )
Of these men, Pythagoras was the first and most famous advocate of vegetarianism.  Pythagoras was born off the coast of Turkey, in Samos, today one of the Greek islands, separated from mainland Turkey by only a one mile strait.  He traveled extensively in his youth and ultimately founded Pythagorean schools in Italy, where his disciples lived according to Pythagoras's principles, part of which required vegetarianism.  In Metamorphoses, Ovid presents Pythagoras impassionately arguing that in order for humans to metamorphose into a better and more harmonious species, we must become more humane and understand that human and animal lives are so intertwined as to be inseparable:
Everything changes; nothing dies; the soul roams to and fro, now here, now there, and takes what frame it will, passing from beast to man, from our own form to beast and never dies...Therefore lest appetite and greed destroy the bonds of love and duty, heed my message! Abstain! Never by slaughter dispossess souls that are kin and nourish blood with blood!

Besides these philosophical principles which led many ancient Greeks and Romans to abstain from meat, meat was also expensive for the average working man.  Vegetables, grains, dairy, and seafood were cheap and easily renewable resources.  In
Lysistrata
, Aristophanes wrote that a piglet costs three drachma, or three day's salary for a public servant.
Interestingly, gladiators also were vegetarians , not for poverty or for animal rights reasons, but because they realized that carb bulking would best serve them in the arena.  An archaeological excavation of a gladiator graveyard near Ephesus, Turkey, revealed that gladiators had huge layers of subcutaneous fat to help cushion injuries and shield nerves and blood vessels from fatal injuries.  Bulking up on carbs via barley and legumes meant that the gladiators needed extra calcium, which they took in the form of charred wood or bone ash, both which are rich in calcium.
As time went on and the Turks and Ottomans took hold of Turkey, vegetarianism grew less, especially because eating meat is an essential part of Islamic culture .  However, Francis Bacon noted in the 16th century, when discussing animal rights in the Advancement of Learning: "[U]nder the old laws, there were numerous precepts (not merely ceremonial) enjoining mercy [toward animals] - for example, the not eating of flesh with the blood, &c. So, also, the sects of the Essenes and Pythagoreans totally abstained from flesh, as they do also to this day, with an inviolate religion, in some parts of the empire of the Mogul [Hindustan]. Nay, the Turks, though a savage nation, both in their descent and discipline, give alms to the dumb animals, and suffer them not to be tortured." ( source )
Because of the long Islamic and Ottoman rule, vegetarianism as a concept is not well-understood in modern-day Turkey.  But, the ancient Greek and Roman history has ensured that certain vegetarian staples live on, such as the eating of mostly vegetarian mezes and vegetables to be served alongside any meat dishes.
What can a vegetarian eat in Turkey?
For breakfast
Doughy bagel-like simit topped with sesame seeds and found everywhere.  Perfect on the run, as a snack, or dipped in some tahini. (Vegan)
Menemen , that is, scrambled eggs Turkish style with plenty of tomatoes and peppers thrown in.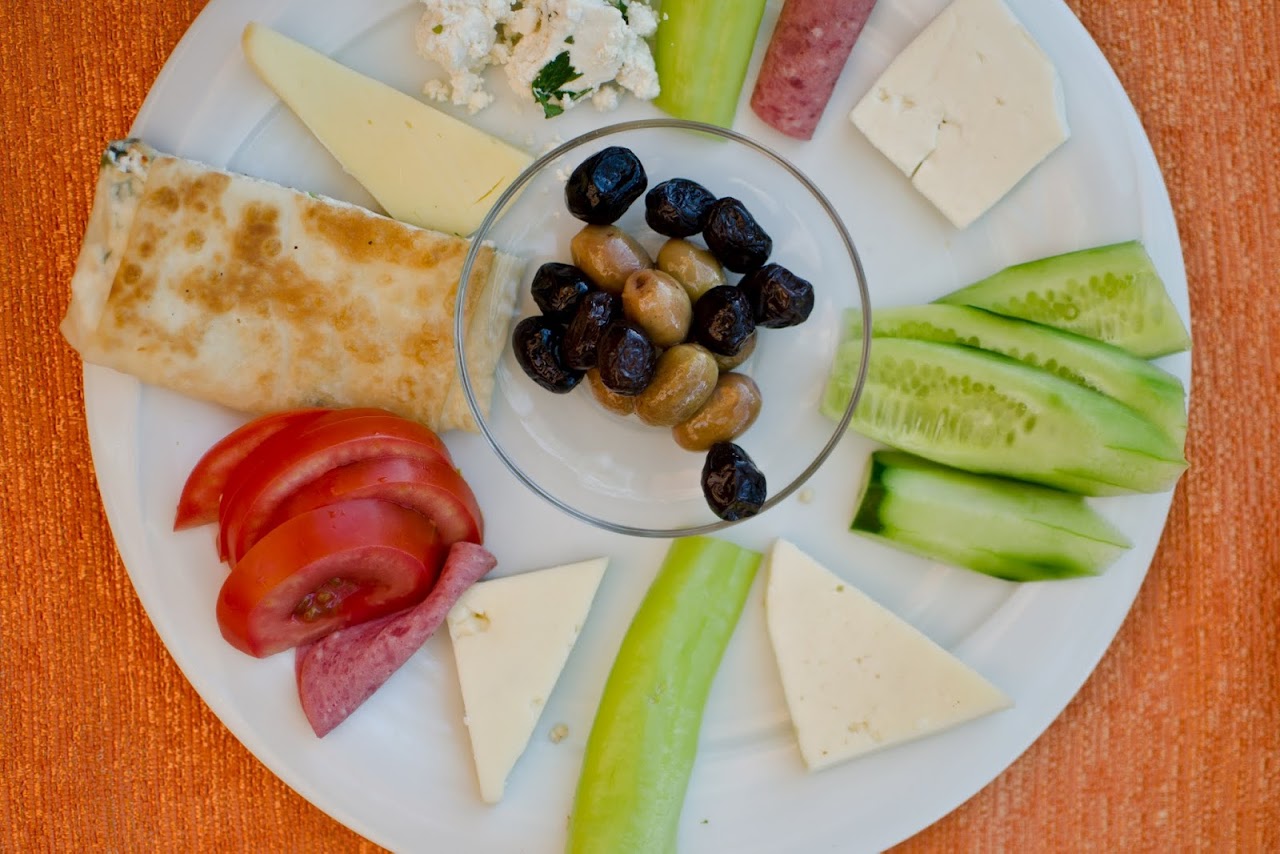 Turkish kahvalti , or Turkish breakfast, which consists of a huge platter of cheeses, vegetables, olives, pastries, jam, kaymak (clotted cream), and bread.
For lunch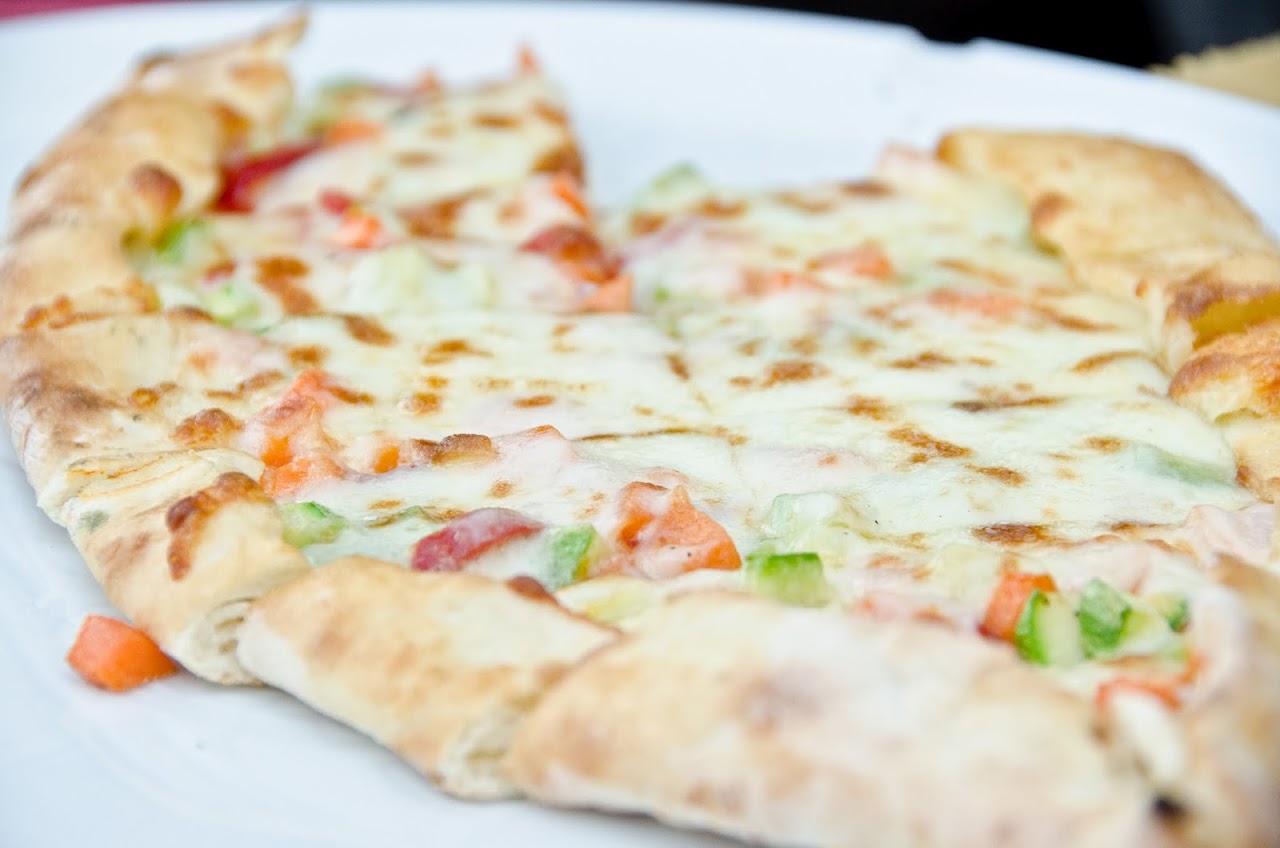 Turkish pide with a thick doughy base and cheese and vegetables within, similar to a thick flat-bread pizza.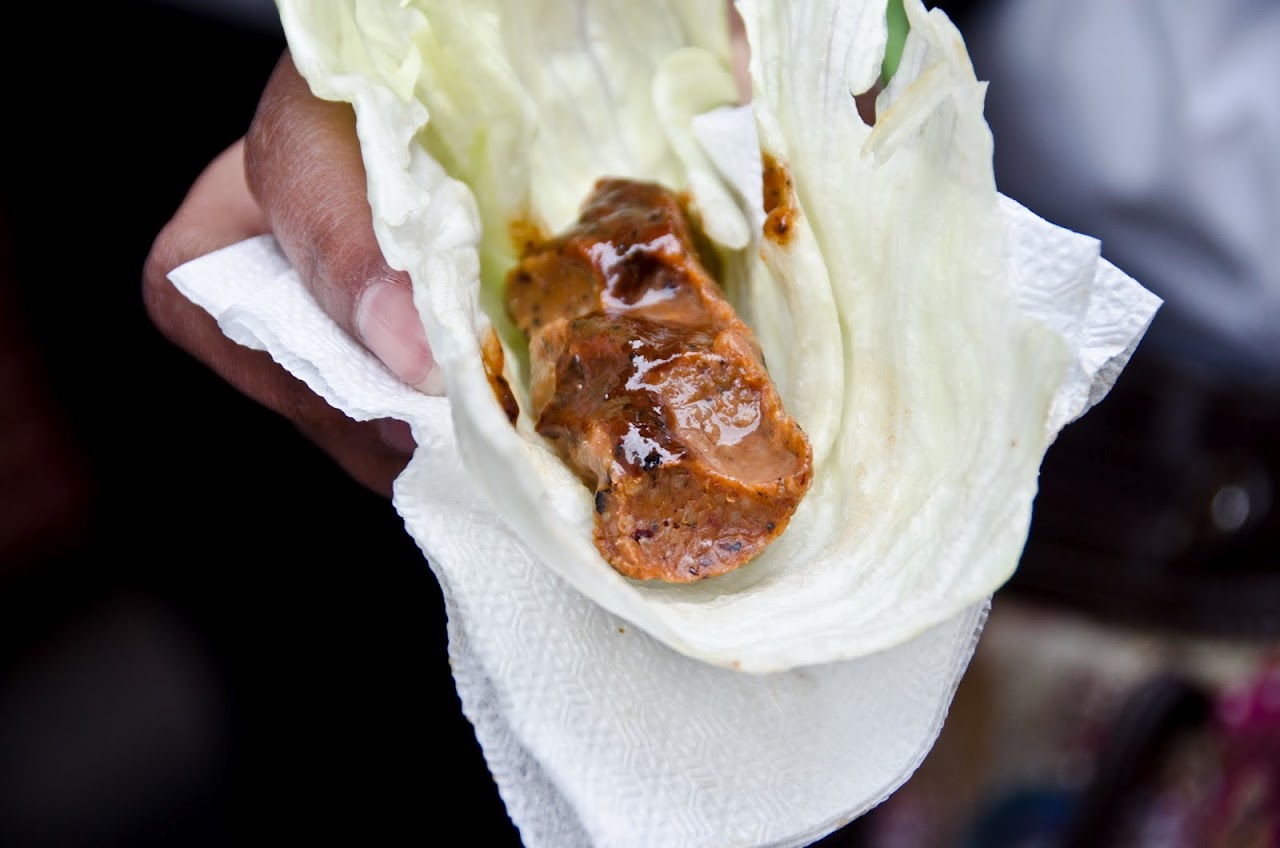 Cig kofte , one of the best snacks for the vegetarian traveler to Istanbul, is a mixture of spicy pepper paste, tomatoes, and bulgur.  Traditionally, cig kofte is made with ground meat but, due to sanitation reasons, the vast majority of cig kofte sold on street stalls is vegetarian and you can buy it either wrapped in lettuce or on a flour wrap with spicy sauce or without.  Love this dish!  (Vegan)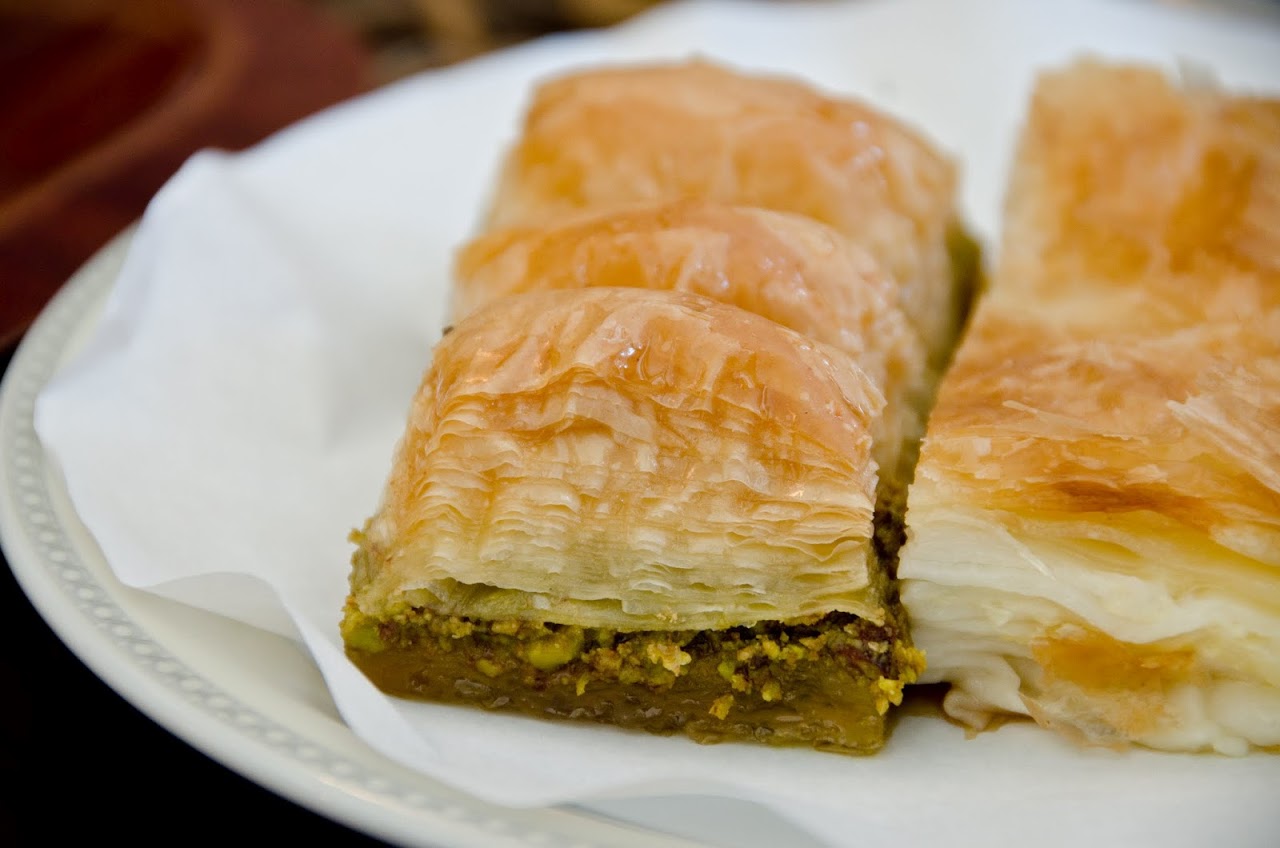 Borek is the savory cousin of baklava, made by sandwiching white cheese and vegetables between layers of phyllo dough.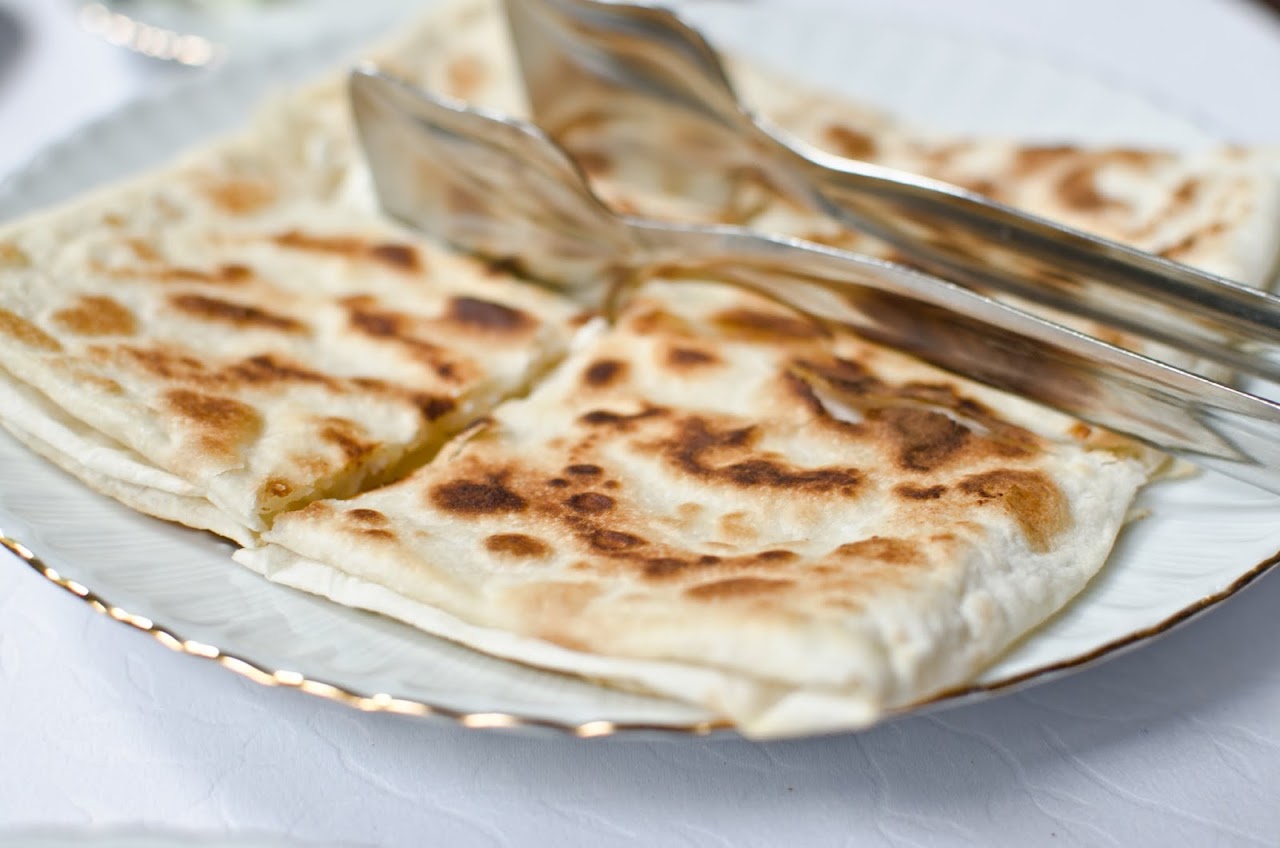 Gozleme is a flatbread similar to Indian chapati or Mexican flour tortillas with spinach, cheese, or other vegetables within.  (Can be made vegan.)
For dinner
Ordering mezes

Even the strictest vegan can make a meal out of Turkish mezes .  If the word salad conjures up a plate of insipid iceberg lettuce with a few stray tomatoes thrown in, then just wait until you sit down at a Turkish restaurant.  No meal begins at a Turkish restaurant without a selection of mezes, or small plates.  The cold mezes are almost always vegetarian (occasionally, they might have seafood) and some of the hot mezes will be vegetarian, as well.  Usually, the mezes will be brought to you on a tray or rolled cart or you will go to a buffet to select them, so it's easy to point and choose exactly what you want.  Below, I've given a sampling of some popular vegetarian mezes (many vegan options):
| | |
| --- | --- |
| | |
| Rice stuffed dolma | Tzatzikk with dill and eggplant with yogurt (my very favorite) |
| | |
| Turkish olives in oil with spices | Turkish hummus (not a fan of this version of hummus because it is very thick) |
| | |
| Boiled seaweed | Smoked eggplant with cheese |
| | |
| Bulgur salad | Peppers with cheese |
| | |
| Purslane and yogurt | Stuffed squash blossoms |
And many, many more.  Every restaurant will sell huge varieties of mezes and many are seasonal so you will be able to try different mezes at different times of the year.

Manti , a traditional Anatolian dumpling dish, topped with sour yogurt and a spicy pepper oil, is usually made with a meat filling but there are a few places that serve a delicious vegetarian spinach and cheese version.  Though it sounds a bit odd, manti is one of our favorite Turkish eats and a must-eat if you are in the region.
And, the list goes on. These are just a sampling of some of my favorite vegetarian meals in Turkey but there are many, many options for the vegetarian.  Don't be worried about finding good food because Turkey has a reputation of being a meat-eater's paradise.  Turkey, as we discovered, is simply a food-lover's paradise, regardless of dietary restrictions.
A few spots with great vegetarian options in Istanbul:
| | |
| --- | --- |
| | |
| | |
| | |
Meals at Ciya Sofrasi
Ciya Sofrasi is wildly popular and often referred to as "the best restaurant in Istanbul."  They offer a huge selection of vegetarian mezes, entrees (even a vegetarian kebab), and some of the most interesting desserts in town, including a sugared eggplant that is absolutely delicious (sounds terrible, I know, but it's amazing!).  This isn't a fancy place and most things are served buffet style, but the food is good and will keep you coming back for more.  There are three related restaurants - sofrasi which is the buffet and best at lunch time is the only one I've seen where you can get the artichokes; and two kebap places where you can get their mezes and also kebabs.  The prices are a bit higher here than at the average kebap restaurant.  It's in Kadikoy on the Asian side of Istanbul, very close to the Kadikoy ferry terminal.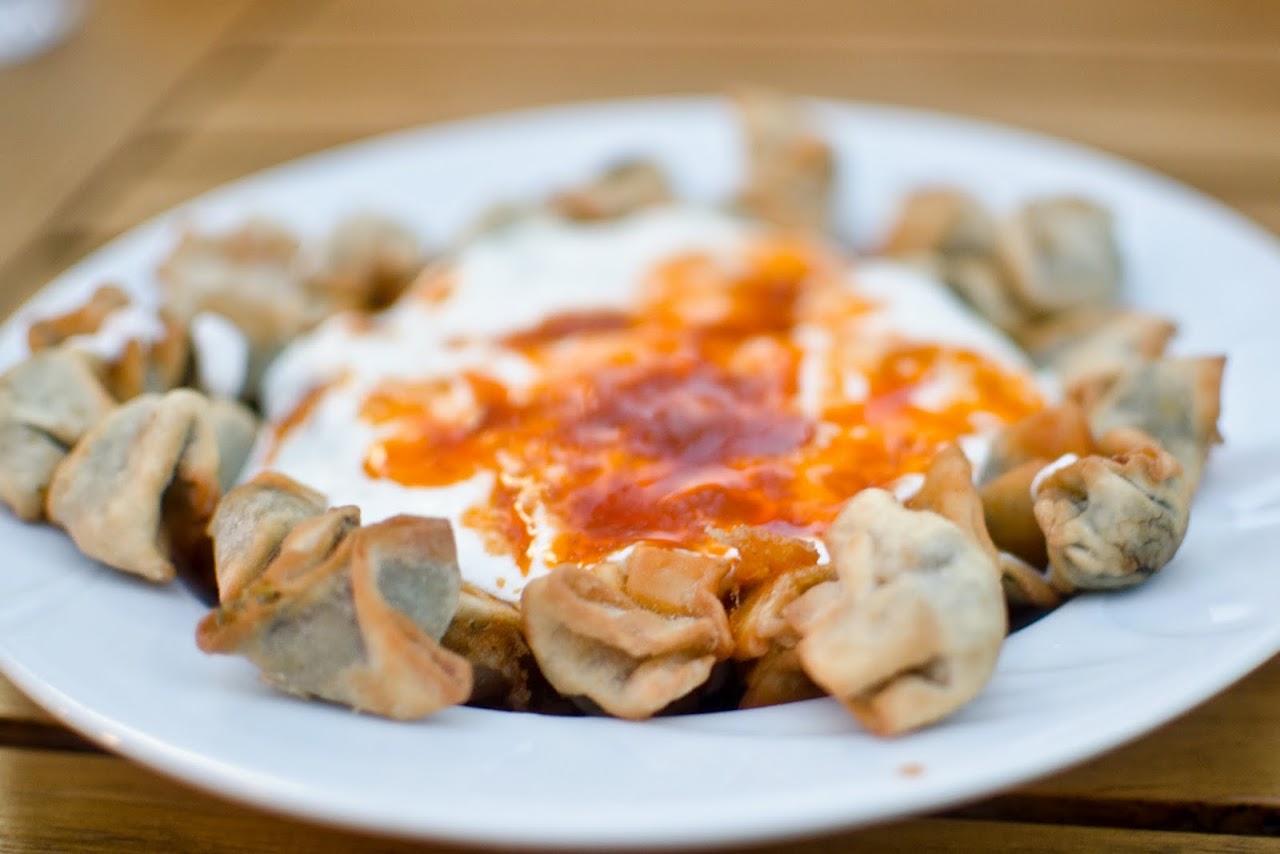 Bodrum Manti Cafe
Bodrum Manti Cafe is out of the main tourist circuits but well worth finding.  They serve only manti --- fried or boiled, whole wheat or white, with a generous serving of sour garlic yogurt, and spicy red pepper oil.  This is the manti that we kept dreaming about for the rest of the time we were in Turkey because no other manti matched the quality at Bodrum Manti.  And, they have a vegetarian version called temel feriye manti with spinach and cheese that is absolutely delicious.  Cheap and solid comfort food; if we lived in Istanbul, we would be here every other week.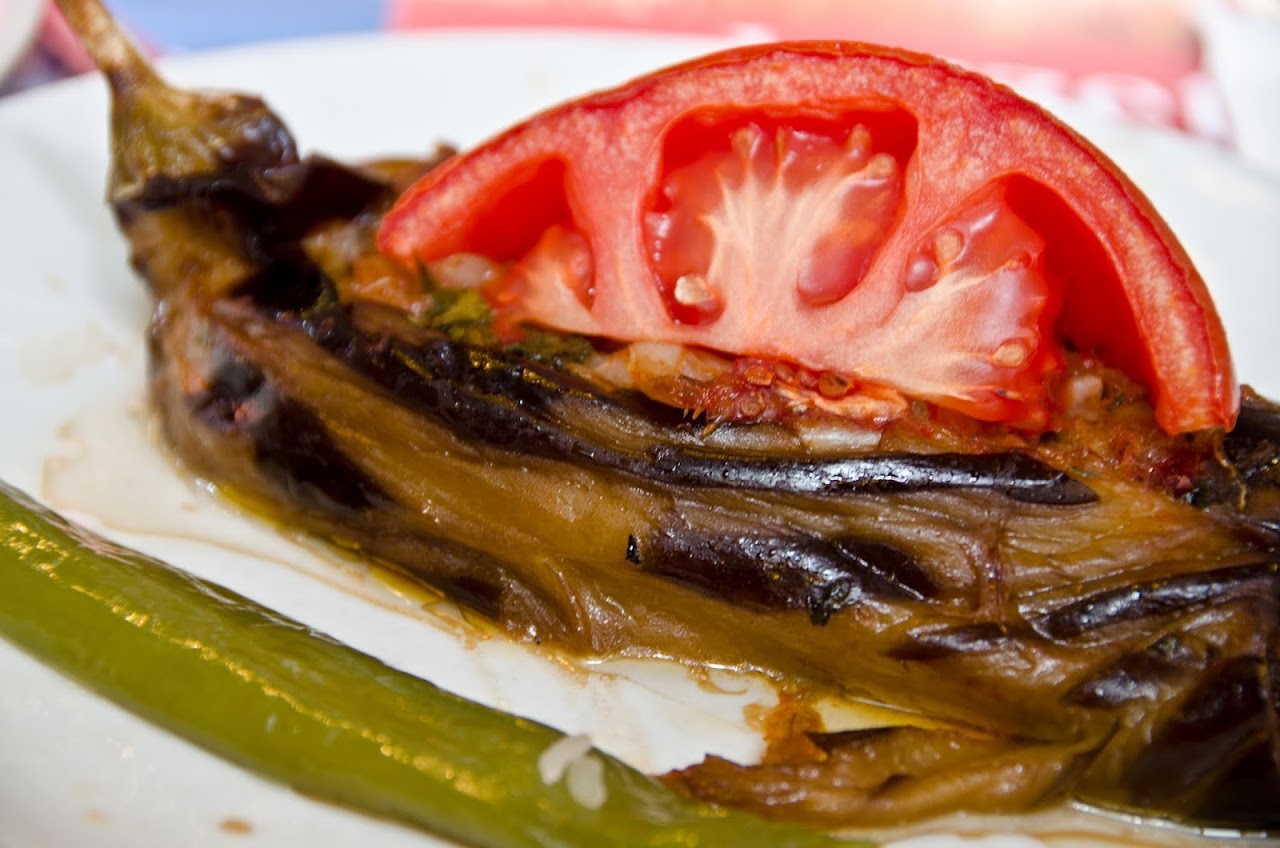 Vegetarian imam biyaldi
Lale Pudding Shop is a tourist restaurant located smack across the street from Hagia Sophia and the Blue Mosque, that was once the meeting point of the hippies roaming from Europe to Asia.  Surprisingly, even today, despite the fact that they've been featured in every guidebook possible and are located on one of the most touristy streets in the entire world, they still serve up some really good Turkish fare at reasonable prices.  It's also the only place we've found in Istanbul that serves a vegetarian imam biyaldi (stuffed eggplant), so for that reason alone, it's a great place to stop when wandering through Sultanahmet.
Other Resources for Vegetarian Travelers to Turkey: