Sultanahmet at sunset

"Sultanahmet . . . it's like a big museum," Ceylan Zere, the Context Istanbul city manager tells us of the main tourist neighborhood in Istanbul.  "The rest of Istanbul is where people live."
The moment we enter Sultanahmet, we are transported into Touristland, a place where hawkers push us to buy carpets and Turkish delight, restaurants serve bland fare at ridiculous prices, and English speakers outnumber the Turkish ones.  But, away from Sultanahmet, we discover that Istanbul is a city of a thousand villages.  Each neighborhood is unique, distinct, and dissimilar from its neighbors, so to understand Istanbul, we walked . . . a lot . . . hearing and understanding stories about Istanbul's past and present.
The Galata Neighborhood
Scenes from the Galata market
We walk across the Galata bridge in the waning day's light, past the fishermen reeling in their lines, and away from the market where vendors showcase the Bosphorous-caught fish and vegetables trucked in from the countryside.  The Galata neighborhood has been many things: it was a fortified part of the city, held by the Genoese sailors; Armenian and German shopkeepers sold their metalworking in this area; the French high school and Greek Orthodox Churches were located here; and, for many years, the Galata area was the banking center of Istanbul.

Galata Tower; run-down buildings; church in the Galata area
But, then, as happens all too often in many cities, the Galata neighborhood started to slide downhill.  Beautiful buildings and monuments lost benefactors and turned to ruin.  As prices became cheaper, the artists began to move in, reclaiming this portion of the city for their own, as they recognized how close it stood to Istanbul's downtown area and main bazaar area.  Slowly, the Galata neighborhood became the arts and fashion center of Istanbul, and, now, though many streets are full of ruined building, it is easy to find street art (see the Santas hanging on the top picture above), high end fashion stores, great restaurants, and beautiful people enjoying Galata's charms.
Istlikal Street and Taksim Square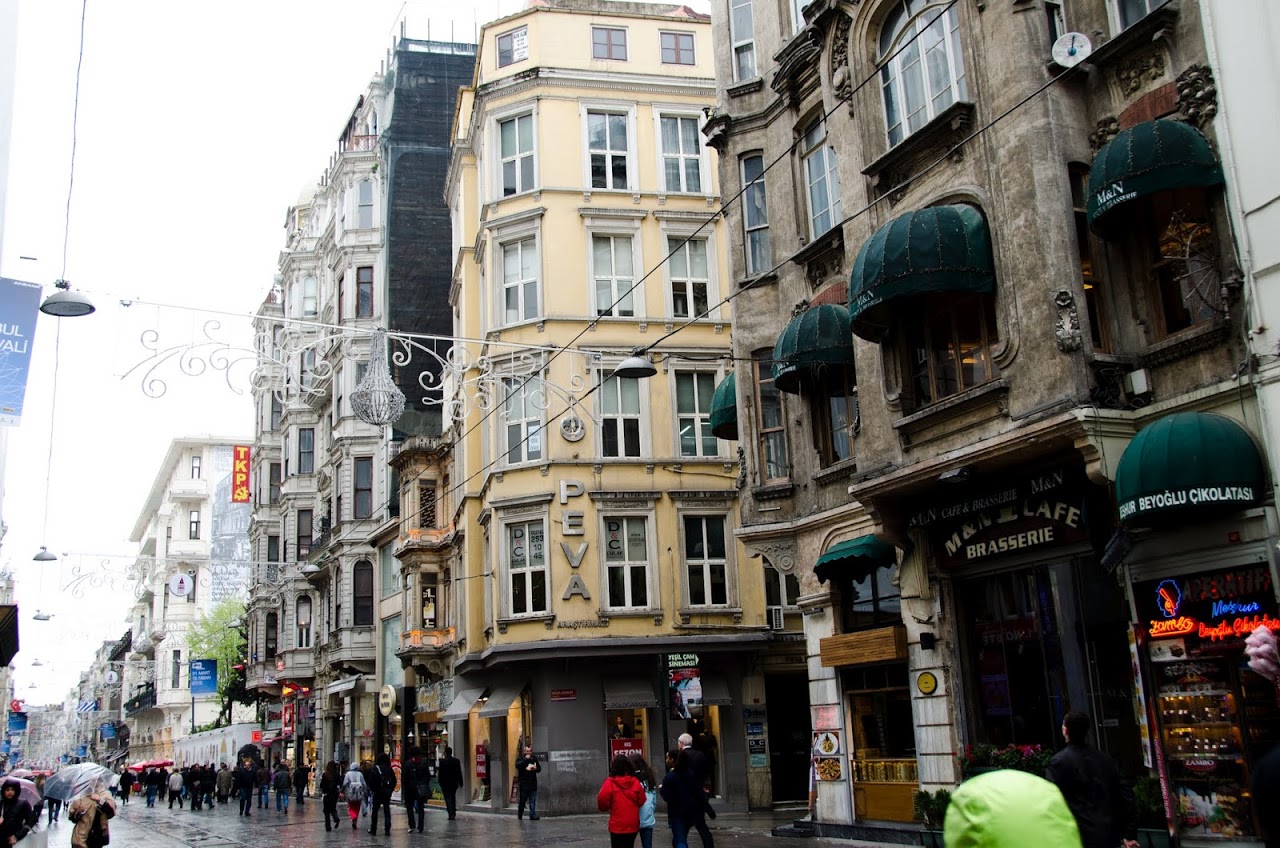 Views of Istlikal Street and the Taksim historic tram
Istlikal Street is 1,400 meters long and chockful of big malls, shops, and tourist vendors.  But, behind Istlikal Street's smooth exterior lies a turbulent history.  To understand a bit about Istlikal Street, you need to understand a bit about Turkish history.
Until the 1920s, Turkey was the base of the Ottoman Empire.  Istlikal Street at that time was the homebase for most European diplomats and ambassadors and many Armenians owned high-end stores along this street.  After the Allies defeated the Ottoman Empire in World War I and split up the Ottoman Empire, Turkish nationalists, led by Mustafa Kemal Ataturk, defeated the Allies and formed the Republic of Turkey in 1923.  This Republic was an amazing accomplishment and Ataturk is to this day revered in the same way that George Washington is revered in the United States.
Ataturk and the young patriots made many huge changes to Turkey.  The new Republic was completely secular --- and, Turkey, today, is a completely secular nation.  As part of that secularization, all religious symbols in public places were banned, meaning that men and women could not wear crosses or cover their heads with head scarves or fezes and, even today, head scarves are not allowed in public universities and schools.  Ataturk also opened up Turkey to tourism and Istanbul became one of the most popular tourist cities in the world.
Hotel de Londres, one of two hotels that the Orient Express passengers stayed in, and where Agatha Christie stayed
One of the other controversial changes the nationalists undertook involved the Armenians and the Greeks.  Though much could be said about the Ottoman Empire, they certainly encouraged a diverse population: in the 1890s, 50% of the population of present-day Turkey was non-Muslim.  Following the foundation of the Republic, all persons of Greek origin were asked to leave Turkey and go "back" to Greece, and the Turks were sent back to Turkey from Greece.  At the same time, Armenians were forced out of Turkey back into Armenia.  There's a lot of debate about how many Armenians died during this migration but, suffice it to say, it was a lot of people.  Today, only 1% of the population of Turkey are non-Muslims.
(This, by the way, is why Turkey is so adamant that the Armenian repatriatization wasn't a genocide: if Ataturk and the first revolutionaries committed such a heinous act as killing thousands of people simply because of their race, then the entire foundation of their republic is at risk.  For us Americans, this would be similar to someone claiming that George Washington brutally killed thousands of black slaves.)
| | |
| --- | --- |
| | |
| | |
Greek Orthodox Church and walking through one of the underground malls in a Pasaji
So, what does this all have to do with Istlikal Street?  Well, as the Armenians were forced out of their storefronts, new storeowners came in, changing the entire character of this neighborhood.  What was once a primarily Armenian and Greek neighborhood took on a new and different tone, but vestiges of that former history is still to be found on Istlikal Street, in various tiny shops and stores.  There is even a leftover han , one of the communal inns used by traveling merchants during the Ottoman period and tiny arcades that once housed vendors and, now, are underground book bazaars and thrift stores, known only to the locals.
The amazing part is that all of this history is tucked away behind smooth street facades of McDonalds, Zaras, and shopping malls.
The Asian Side: Kadikoy and Uskudar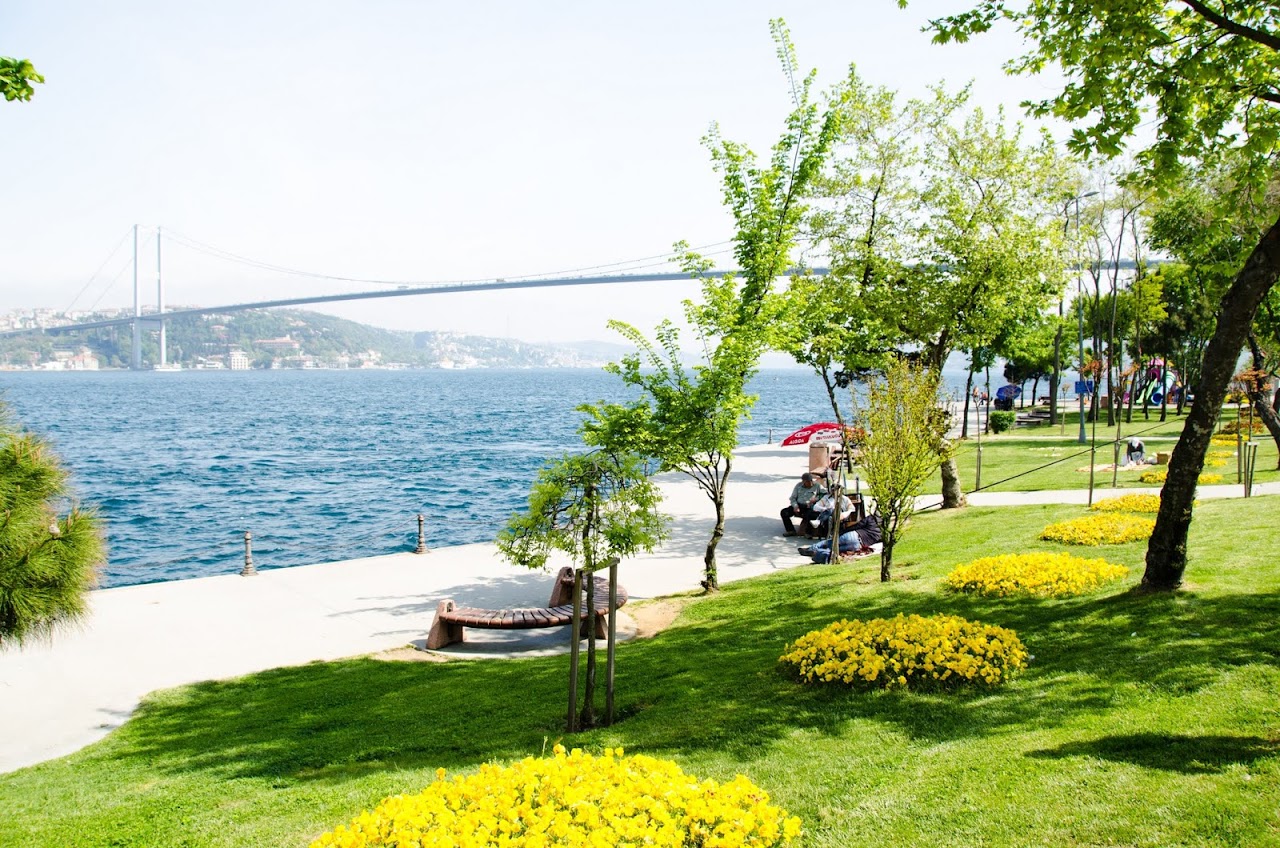 Views from Uskudar
The Asian side of Istanbul is largely ignored by tourists and there are many, many Istanbulites who will only stay on the European side and never cross the Bosphorous to the Asian side.  That's a shame because the Asian side has its own unique and beautiful character.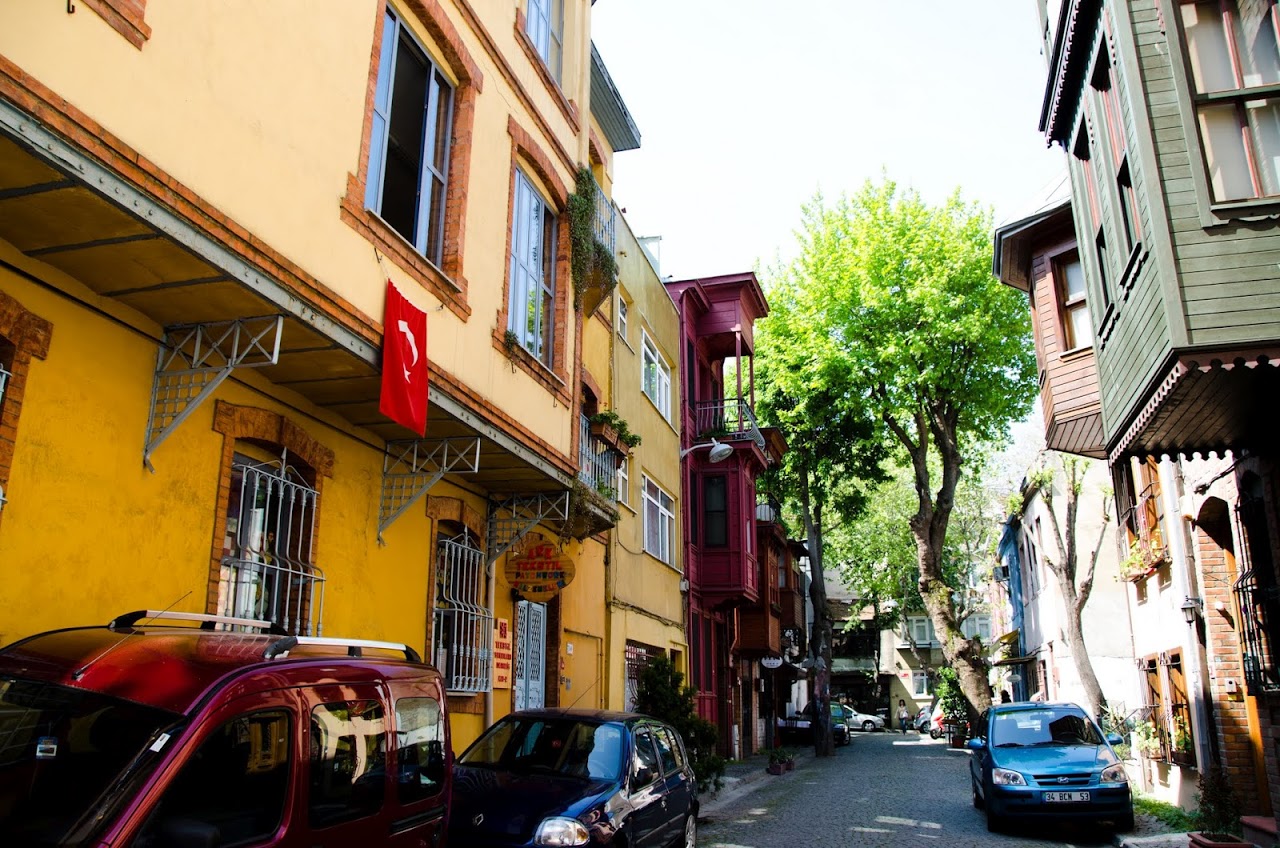 Uskudar street with its quaint homes
Uskudar on the Asian side is also known as Harem because the sultans often gave his mother, daughters, and other members of the imperial harem property or money as part of their salary.  The women of the harem frequently built huge mosques in Uskudar facing the Bosphorous because the property in Sultanahmet or Eminonu was reserved for mosques built by the sultan himself.  A large number of the Armenians and Greeks who live in Turkey live in the Uskudar area and it is easy to find Armenian churches, Greek Orthodox churches, and mosques on a single quaint street in the Uskudar area.
Kadikoy market
Kadikoy is another neighborhood on the Asian side, reputed primarily for its excellent shopping.  The Kadikoy market is simply wonderful and sells everything from vegetables to dried eggplant for dolmas to cheese wrapped in goat skin (yes, that's cheese in that last picture.)  The famous Bagdat Caddesi in Kadikoy is a modern walking street lined with trendy stores and restaurants, perfect for a Sunday afternoon jaunt.  On the weekends, the beaches are packed with kids, dogs, and couples strolling hand in hand along the bright green park that meanders along the Bosphorous, with views onto the European side.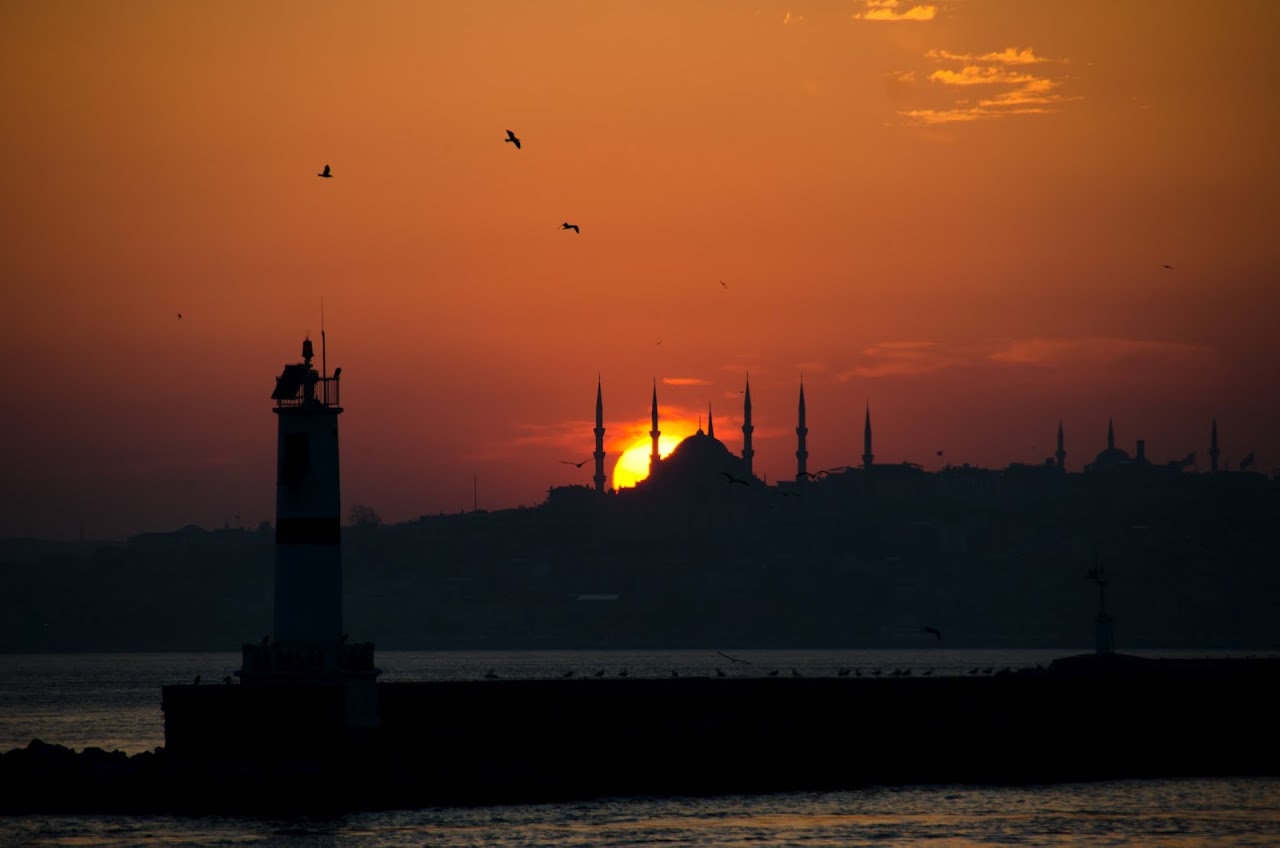 Sun setting behind Hagia Sophia
And, when the sun sets over Sultanahmet, we don't feel like we're missing anything at all by spending our time in these other less frequented neighborhoods of Istanbul.
Details
Our Context Istanbul docents
While we spent a lot of time exploring Istanbul's neighborhoods on our own, we also visited Istanbul's neighborhoods with the docents at Context Travel. We went on four separate walks with them to explore Istanbul's neighborhoods (and one of those was a super fun tour with other bloggers), namely, the Cosmopolis walk on Istiklal Street , the Galata Nights walk , To Asia and Back Bosphorous walk , and the Markets of Istanbul walk.  Our favorites of the bunch were the Cosmopolis and the Galata Nights walks, both of which integrated history, food, and culture in two very neat areas of Istanbul (everything written about in this post came from the discussions with docents on these various walks).  I personally think that every new traveler to Istanbul should seriously consider one of these two walks to give a good orientation to the city and get grounded on how Turkey's long history has impacted its present culture.
* All of our walks with Context Travel were sponsored but, as always, every single opinion on this site is mine and mine alone (and sometimes Patrick gets a little bit of a say in what I'm going to write.)  If you're interested in why we accept sponsorships and how sponsorships impact this blog, head on over to this probably too long post all about making money blogging .