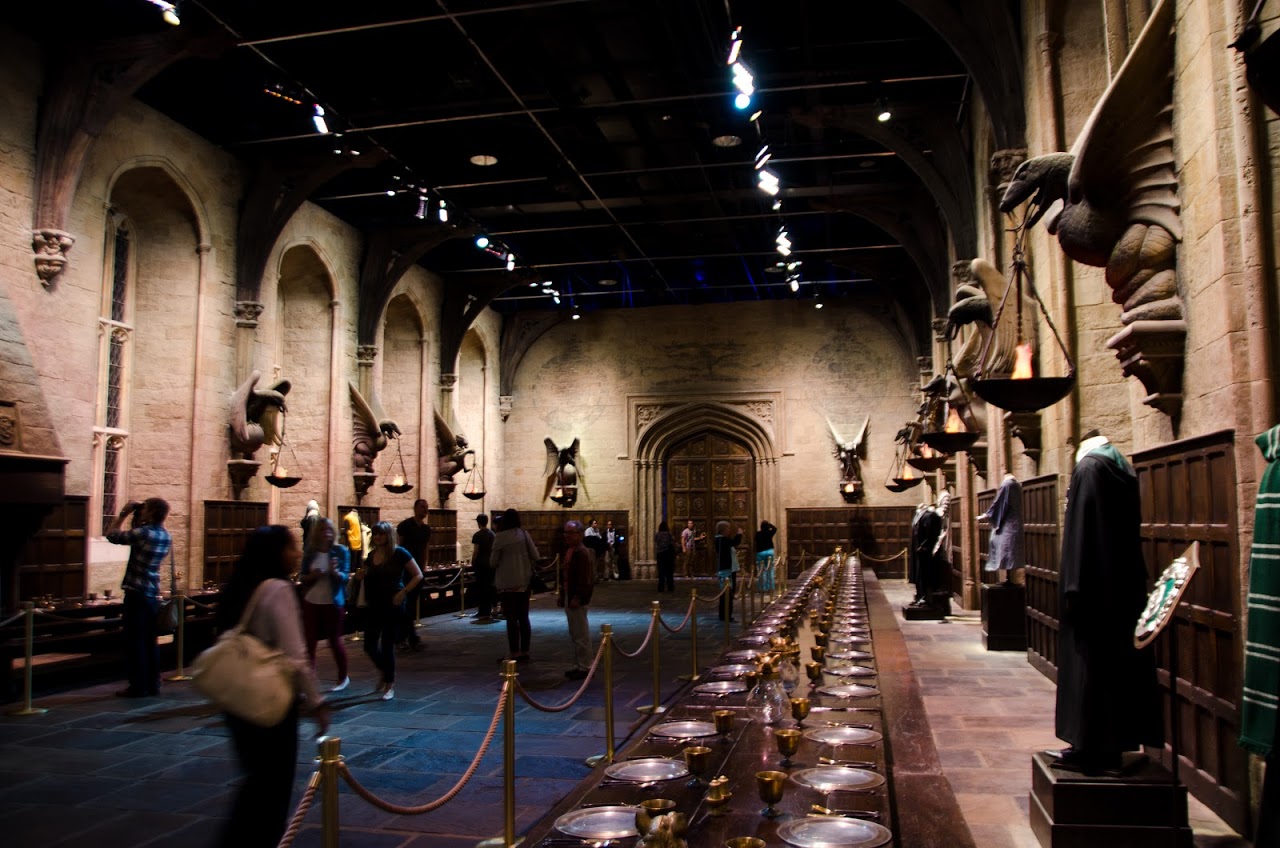 Hogwarts Great Hall
Like everyone else in the world, we love Harry Potter.  (Honestly, I don't know anyone who dislikes the series but there may be naysayers out there.)  Yes, the books are better than the movies but the movies do an amazing job of capturing Rowling's magical world.  So, when we found out that Warner Brothers opened its Harry Potter backlot to the public last year, we had to go.  The tour took us through the most impressive of the backlot stages at Hogwarts, including the Great Hall, the Gryffindor common room and boys' dormitory, Dumbledore's office, and the Potions classroom.  We walked through the the lifesize Diagon Alley, replete with Weasley's Wizarding Wheezes and Ollivander's wand shop.  We gawked at every tiny detail on display --- most of which we would never even notice when watching the movies --- from the type of dishes used in the Great Hall to the substances found in the potions jars. We tried Butterbeer which, frankly, I found to taste a lot like a super sweet cream soda (yuck) but Patrick liked it.   We stood beneath the rainbow array of wand boxes and we walked across the bridge that Harry frequented.  We wandered around the amazing model of Hogwarts used to film most of the movie scenes and watched it light up inside as "night" stole over the set.
Did we love the studio tour?  Of course.  It was magical.
Details
The Warner Brothers Studio Tour is located about thirty minutes outside of London in Watford.  You MUST make reservations ahead of time to visit the tour and weekends book up quickly so make sure you plan ahead!  Reservations are made for a specific time slot and they are fairly strict about letting you in only when your time slot is called.  We spent about three hours there and we were taking lots of pictures, listening to most of the audio guide, and going pretty slowly.  It's a bit pricey, at 29 GBP for an adult, but we thought it was well worth the experience because even if you aren't a Harry Potter fan, it's amazing to see how much effort and time is put into making blockbuster movies.