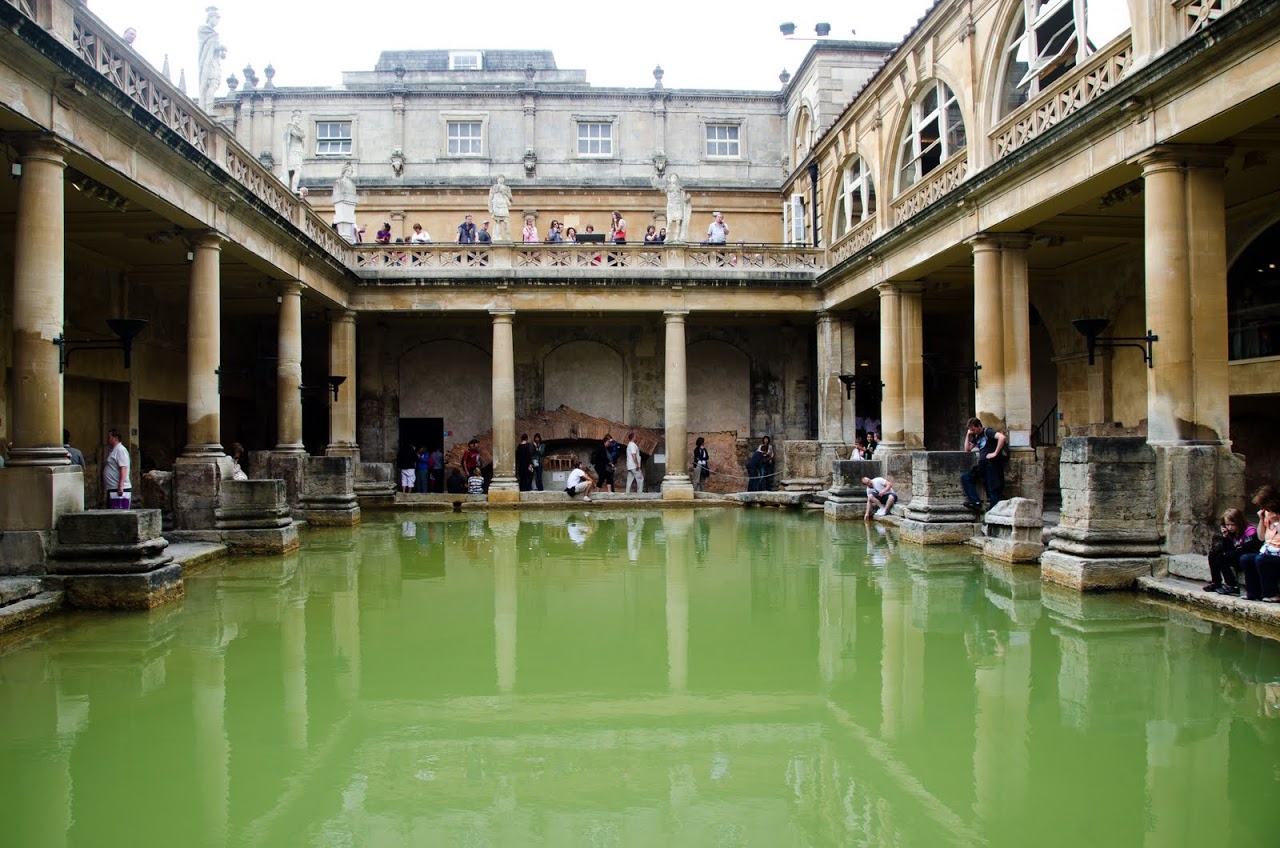 Roman Baths at Bath
Bath contains remnants of several important historical time periods.  The ancient Romans built huge Roman Baths because of the natural thermal springs, leaving behind traces of the largest Roman baths outside of Italy.  By Jane Austen's Regency Period, as in so many other towns with natural hot water springs , the sickly spent time recovering in the thermal hospitals and the wealthy stayed in its opulent spa resort.  (Jane Austen set Northanger Abbey and Persuasion in Bath and lived in the city for five years.)  Today, these varying time periods collide and combine within Bath's four walls.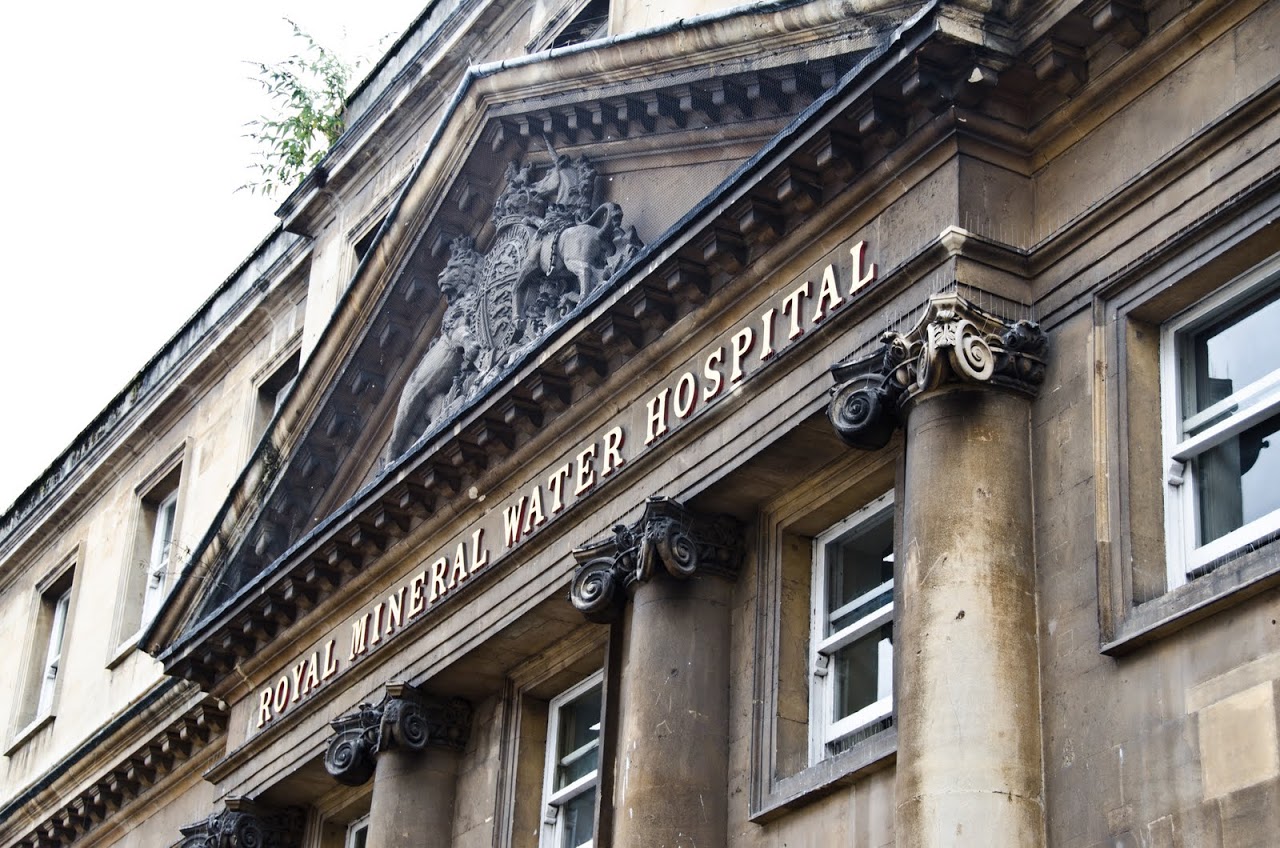 Thermal hospital at Bath
Scenes near the Roman baths (note the Regency era cathedral hanging over the Roman Baths)
Exterior of the Roman Baths (obviously not original)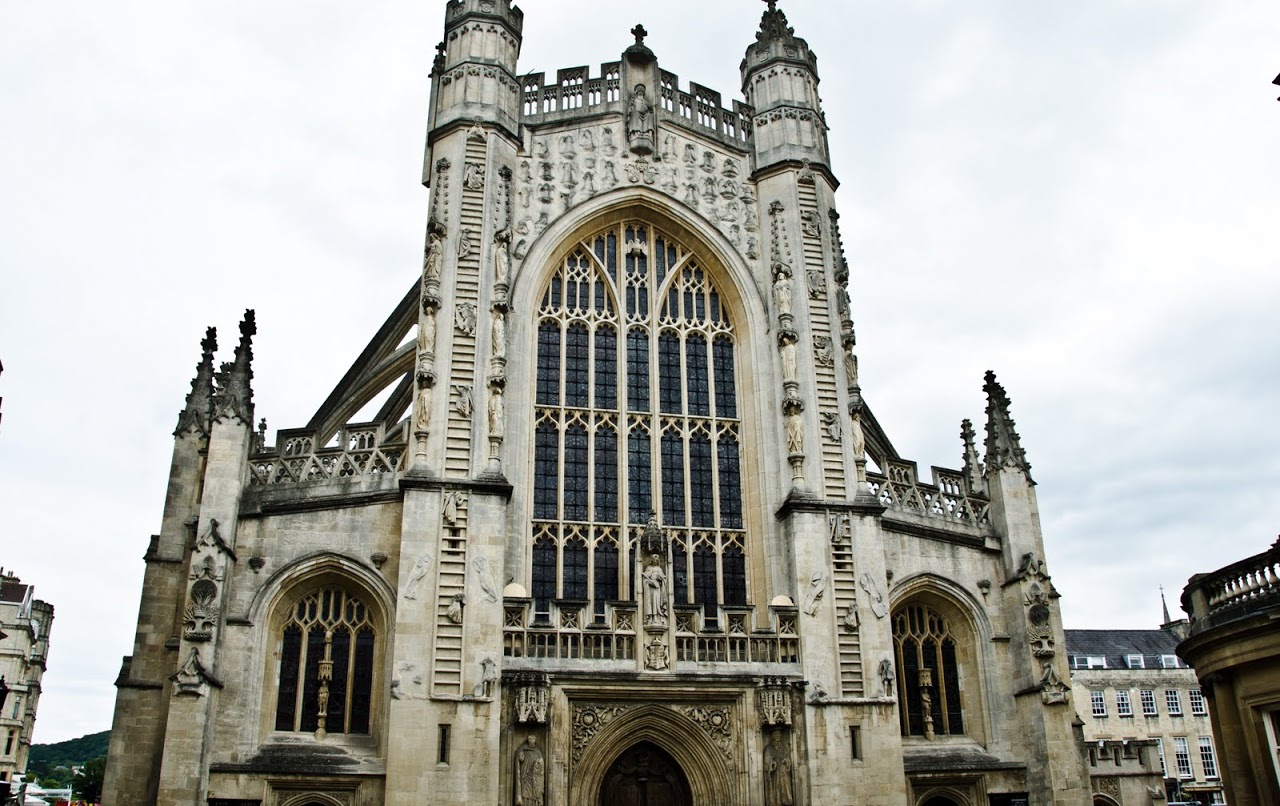 Bath Cathedral
Original lintel from Roman Baths
| | |
| --- | --- |
| | |
| | |
Sewer system; fountain with thermal water to drink; modern ceiling interior; tepidarium inside Roman Baths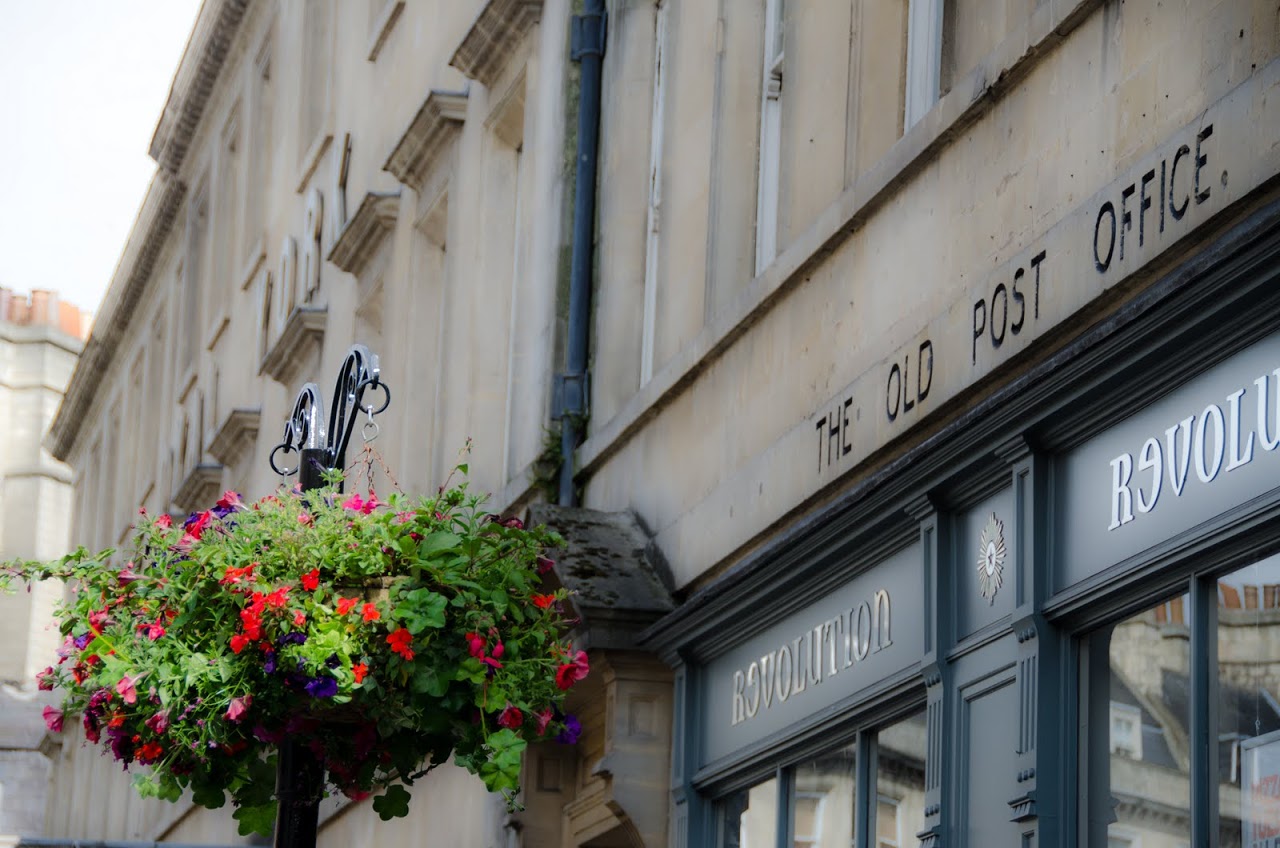 Old Post Office converted into a modern store
Royal Crescent (built during Georgian times)

Royal Crescent
Terraced houses (modern)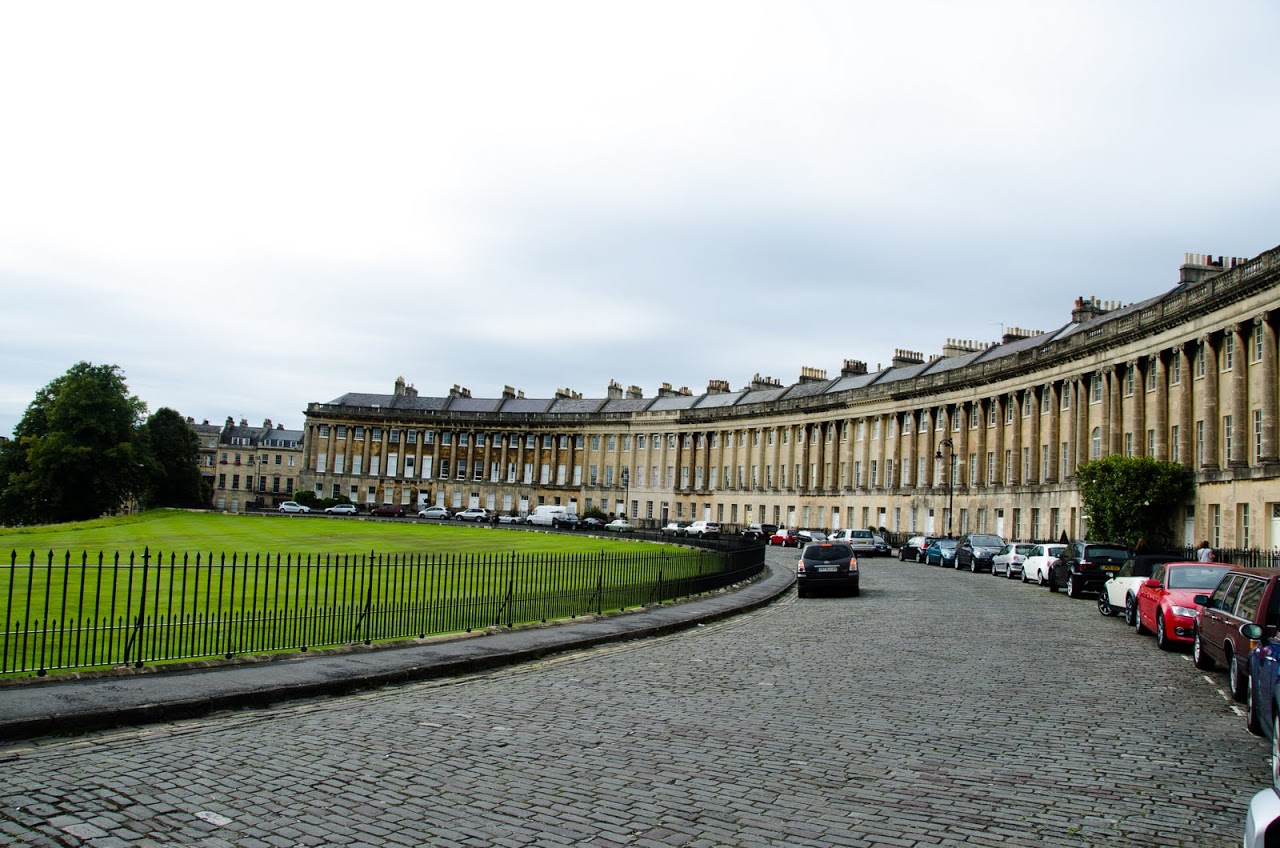 Royal Crescent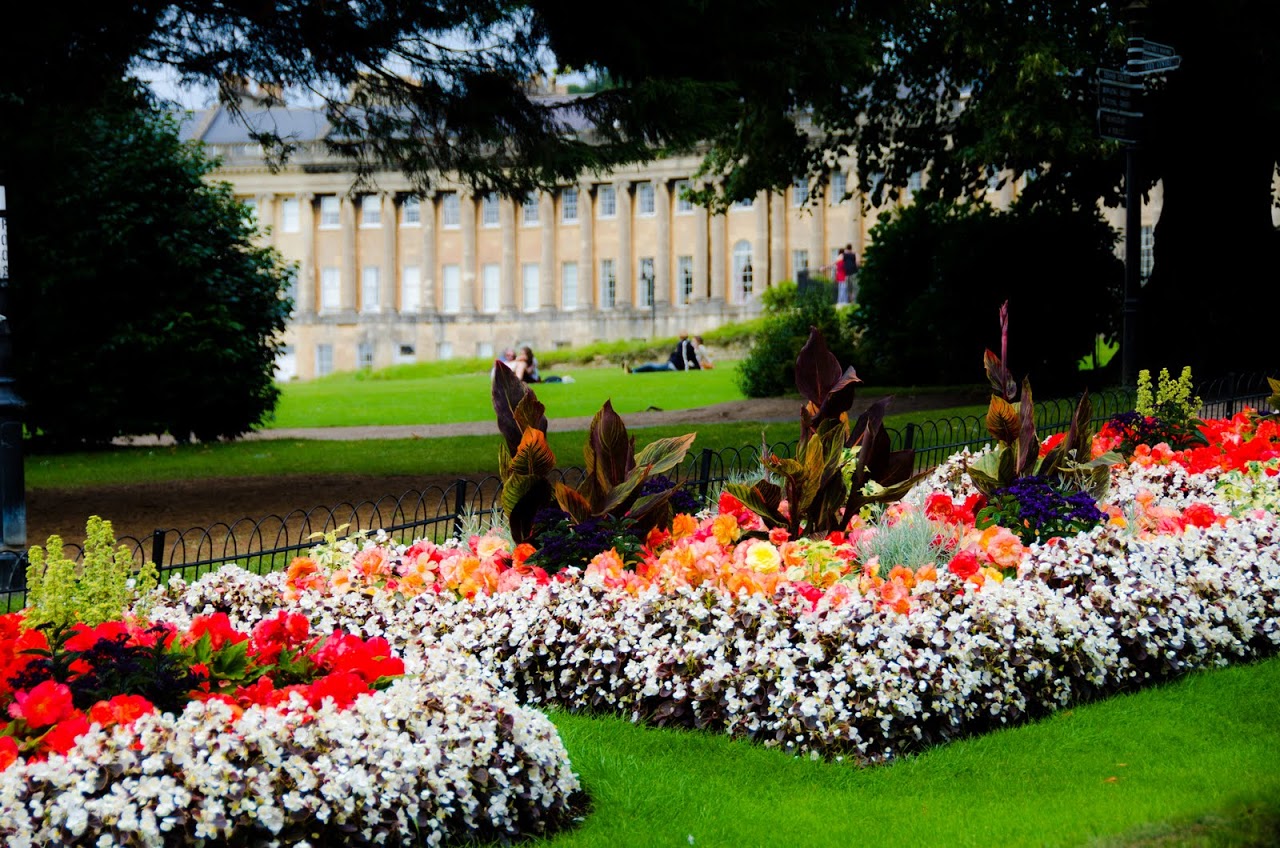 Gardens with view of Royal Crescent in the background
Details
Bath is a perfect daytrip or two day trip from London or the Cotswolds.  The Roman Baths are really worth seeing though you CANNOT enter the baths.  Seriously.  Don't even think about it.  They used lead pipes to run water into the baths and apparently used them until the late 1970s when a kid died from amoebic infection from the baths.  Yeah, not so good.  There is a new very posh Aqua Terme spa in town that uses natural thermal springs and (fingers crossed) no lead pipes.  With your ticket to enter, you get a ticket for a free drink of the thermal water, which tastes absolutely disgusting, so I'd recommend not even trying it.
In addition the Roman baths, there are lovely gardens, views, walks, and cathedrals to visit, and the shopping streets are quite posh.  It's a fun city to spend a day or two just meandering about.