What we did : A little less than 3 months split up as follows: 2 days in New Forest , 2 weeks in the Cotswolds (including day trips to Bath , Stratford upon Avon , and Stonehenge ), 2 weeks in Cornwall , 2 weeks in the Peak District , 4 weeks in London, and 1 week in Kent (where we didn't do any sightseeing)
Would we do it the same way? We ended up spending so much time in England because of Schengen Zone restrictions and because we needed to go back to the United States for a wedding in early January.  If we had to do it over again, we wouldn't have spend December in London because it was awfully dreary and gloomy, though it was a lot of fun to see all the Christmas decorations .  However, we felt like the time we spent in each location gave us a very good idea of England overall.
Best food: Clotted cream and its related teas ( afternoon and high ).  Yes, I'm obsessed with this stuff.
Most disappointing food: Indian curries .  We were disappointed by the curry houses in London because we had heard such good things but, for the most part, the food was either overly salty or too creamy.  The best curry house we stopped at was actually a random little one in the New Forest area.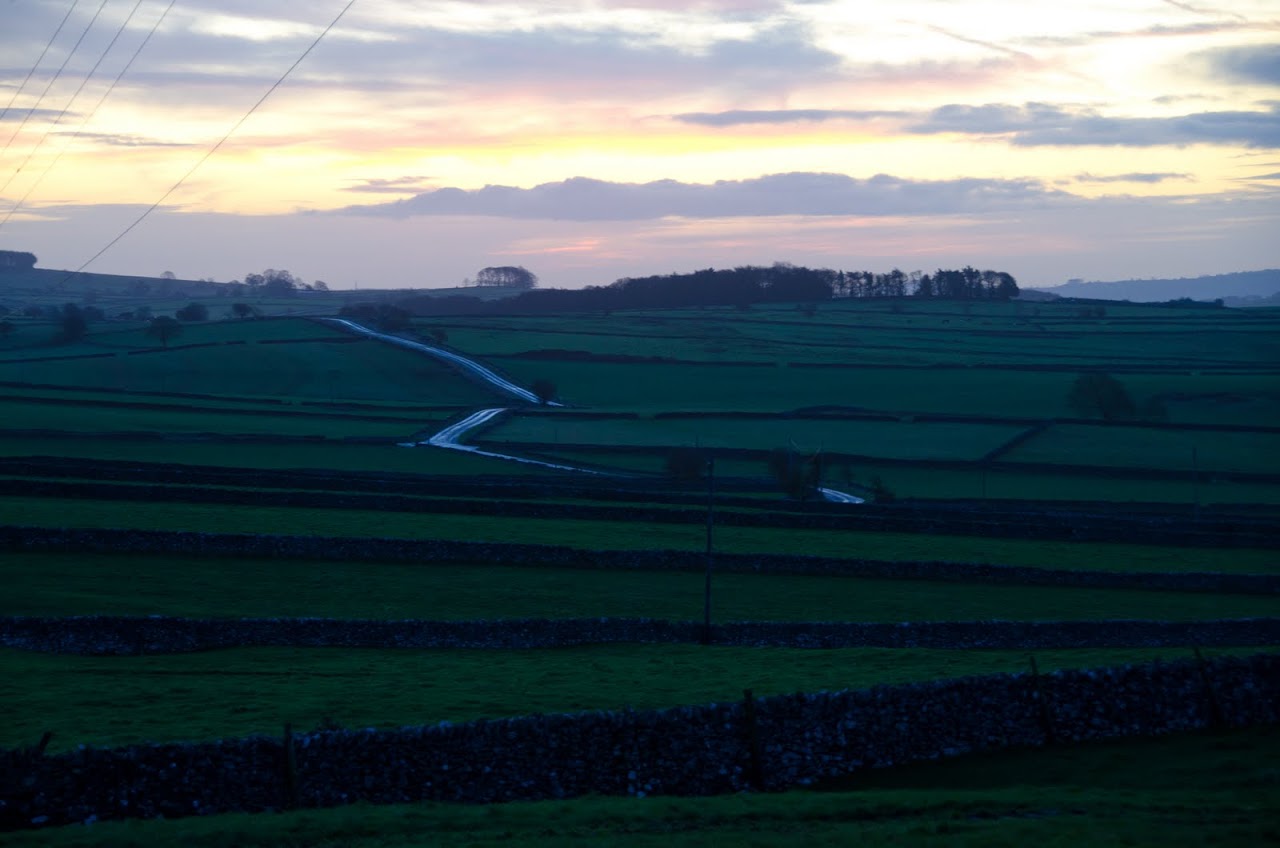 Views of the Peak District
Our favorite part of England: The stunning countryside and teensy little villages .  We had no idea that England would be such a beautiful place of rolling green hills, pastures, mountains, and golden hued houses.  The gardens --- especially The Lost Gardens of Heligan, the Eden Project , Westonbirt Arboretum , and the Painswick Rococo Gardens --- amazed us.
The worst part of England: Without a doubt, the dreary weather.  We were in England in August and November to January and I can tell you that it isn't significantly sunnier in the summer time.  We laughed when we saw the British lounging at the beach in bikinis while we bundled up in our fleeces, even in August.  This winter has conclusively established that we will never be able to live in Seattle, Toronto, or London, because Patrick's already quite tired of my gray weather grumpiness.
The second worst part of England: The roads.  I don't know how one of the wealthiest nations in the world manages to have such dreadful roads.  We automatically began doubling the time our GPS told us it would take to get to a destination because we were either: (1) dealing with single lane roads in which every car drove slowly behind the other in one long line; (2) stuck in horrendous traffic on the Ms (the highways which are not nearly large enough or numerous enough to deal with the demand); or (3) stuck in another gosh darn roundabout.  In our five months driving in western Europe, we both agree that England is the worst country to drive in.
Indispensable item/gear: A car. Like Ireland, it's not really possible to get around the English countryside unless you have a car.  Note, however, that driving (as mentioned above) stinks so expect to be frustrated constantly.  If you want to see any of the London outskirts, it's much easier to travel around by car rather than trying to figure out the buses.
Entrance to the V&A Museum
The best deal: The London museums .  The British Museum, V&A, Tate Gallery, Tate Modern, National Gallery, and many others are completely free!  They are the perfect place to spend a gloomy day.

The worst rip off: Not really a ripoff but . . . everything in England is expensive.  Very expensive.  In fact, though I've heard many travelers say that Japan is the most expensive country they've visited, we disagree.  We find England to be far more expensive mainly because NOTHING is cheap.  Restaurants, gas, pubs, groceries, and even produce at the market are all at least double the price of what we would pay in the United States.  We were talking to a photographer and he had just purchased a camera for 900 pounds that we know for a fact runs around $700 in the U.S.  When you convert the prices over, gas starts at around $10 per gallon in the UK, meaning that if you're driving to France, wait to fill up on the Continent.
| | |
| --- | --- |
| | |
Best new experience: Seeing fireworks at New Year's Eve at a major venue.  We've never gone to Times Square or the Sydney Opera House or any of the other big international hotspots for New Year's Eve so it was a lot of fun to experience the crowds, craziness, and fireworks at the London Eye this year.

Worst new experience: Getting grilled about our salaries, accommodations, careers, and future plans in order to enter England (this actually happened to us twice though I only wrote about it once.)

The must see attraction: Stonehenge .  It's amazing.  I would strongly recommend going with Pat on the Stonehenge Special Access tour to really understand the site and to step inside the circle.
Most overhyped attraction: Changing of the guards at Buckingham Palace .  It amounted to a very long wait in the cold and not much time seeing the guards (but we did get some good pictures out of it).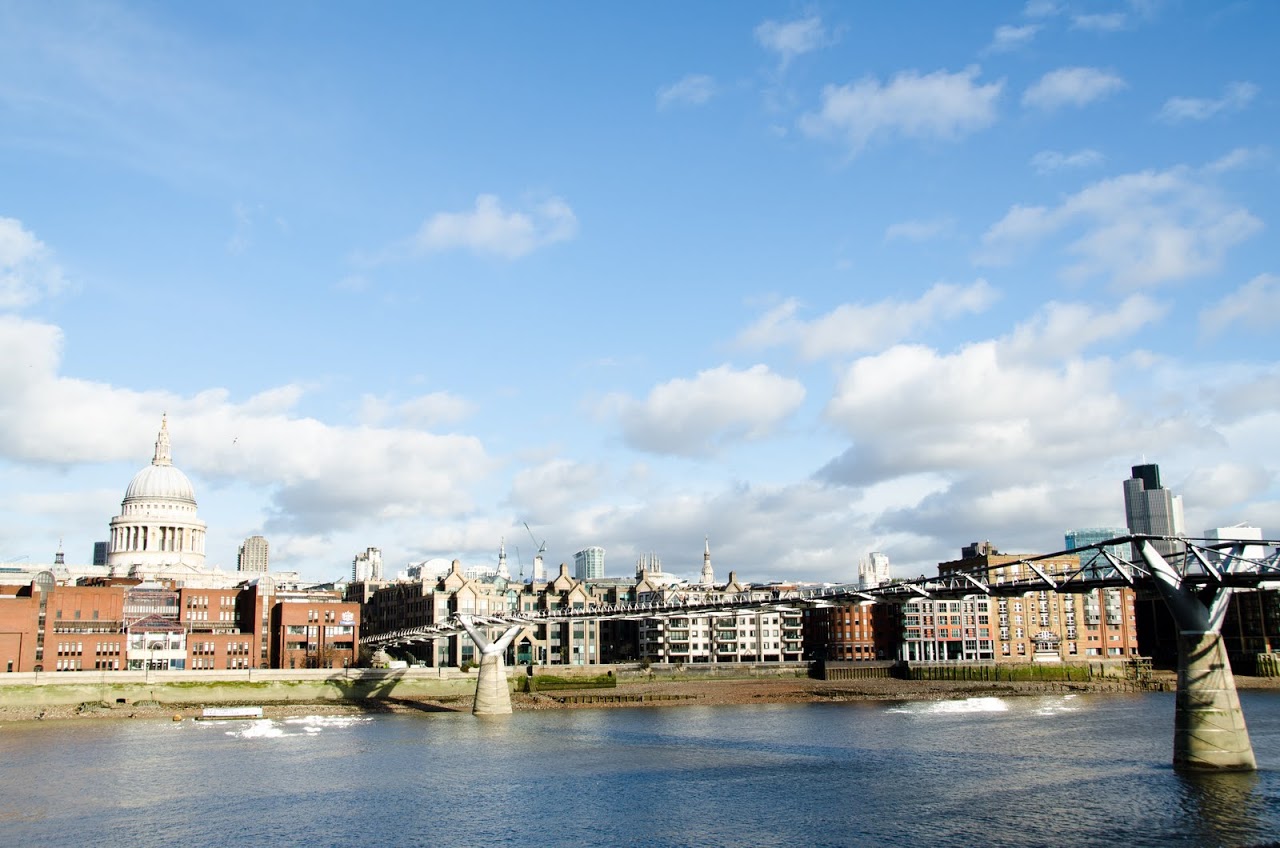 London from the Tate Modern
Favorite city: London .  I know that many people don't like London but we really enjoyed the diversity of cuisine , museums , abundant greenspace, and cool shopping areas .
Favorite village: Broadway in the Cotswolds .  All of the Cotswolds villages are so cute but Broadway was especially beautiful.
Least favorite town/city: Stratford upon Avon . Very overhyped and not much to see.

Best surprise: How dog-friendly the country is.  Dogs are accepted and expected to be part of every day life.  It's rare to find a pub without a dog under the table, most walks allow dogs to be off-leash under voice control, and we even took them to see lions and zebras at the Cotswold Wildlife Park .  (That being said, interestingly, pet stores in England are not as well-stocked as what we get in the U.S.)

Biggest disappointment: Lack of high-speed Internet.  In the countryside, we had difficulty finding houses with high speed Internet, so we bought a MiFi but the MiFi rarely got 3G service.  England's internet isn't as good as many of the other countries on the Continent (especially Spain which is extremely plugged in.)

View at night of a Peak District Village
Language lesson: jumpers = sweaters; pants = underwear; trousers = pants; biscuits = cookies or crackers; scones = similar to Southern style biscuits; tea = a drink that can solve all problems, including keeping you cool on a warm day and warming you up on a cool day, that must be served with biscuits, scones, or cake
The big test, would we go back: We know that we have to go back to England for a short while because our ship leaves from Southampton but we probably won't spend much time because we feel like we've already seen so much of the country (though there's always more to see and I have decided that we're going to spend one day visiting the Harry Potter studio set next September).

And, next on the travel plans: Immediately after we left England in August, we headed to Spain, so I'll be writing about our three weeks in that country next and then on to our fabulous two months in Italy.