Chocolate and churros at London Chocolate Festival
Let's talk about London's food scene, shall we?  There's all this talk about British food being tasteless and boring and blah blah blah.  I don't know where those people have been eating because they certainly didn't eat where we did.  Our tastebuds ventured all across the world while we stayed in London.
If you've got a week in London, here are my picks for a varied and interesting seven dinners/heavy lunches all across the city.
Sunday: Start out with something sweet at London's Chocolate Festival (Royal Festival Hall/Southside)

Scenes from the Chocolate Festival

Twice a year, London puts on a fantastic Chocolate Festival .  If you happen to be there during December or April, make your way to the Royal Festival Hall and plan to delve into chocolate.  A three day event in which England's chocolate makers arrive to showcase their goods, there's no way to avoid gluttony (unless you dislike chocolate, in which case, I don't even know what to say to you.)  We watched a chocolate recipe demonstration and munched on chocolate risotto balls, brownies, and cupcakes.  The best of the bunch was a fantastic chocolate lollipop with salted caramel center.  I can't think of a better introduction to London than a day at this sweet place.
Monday:  Be adventurous by trying Iraqi food at Masgouf (Knightsbridge)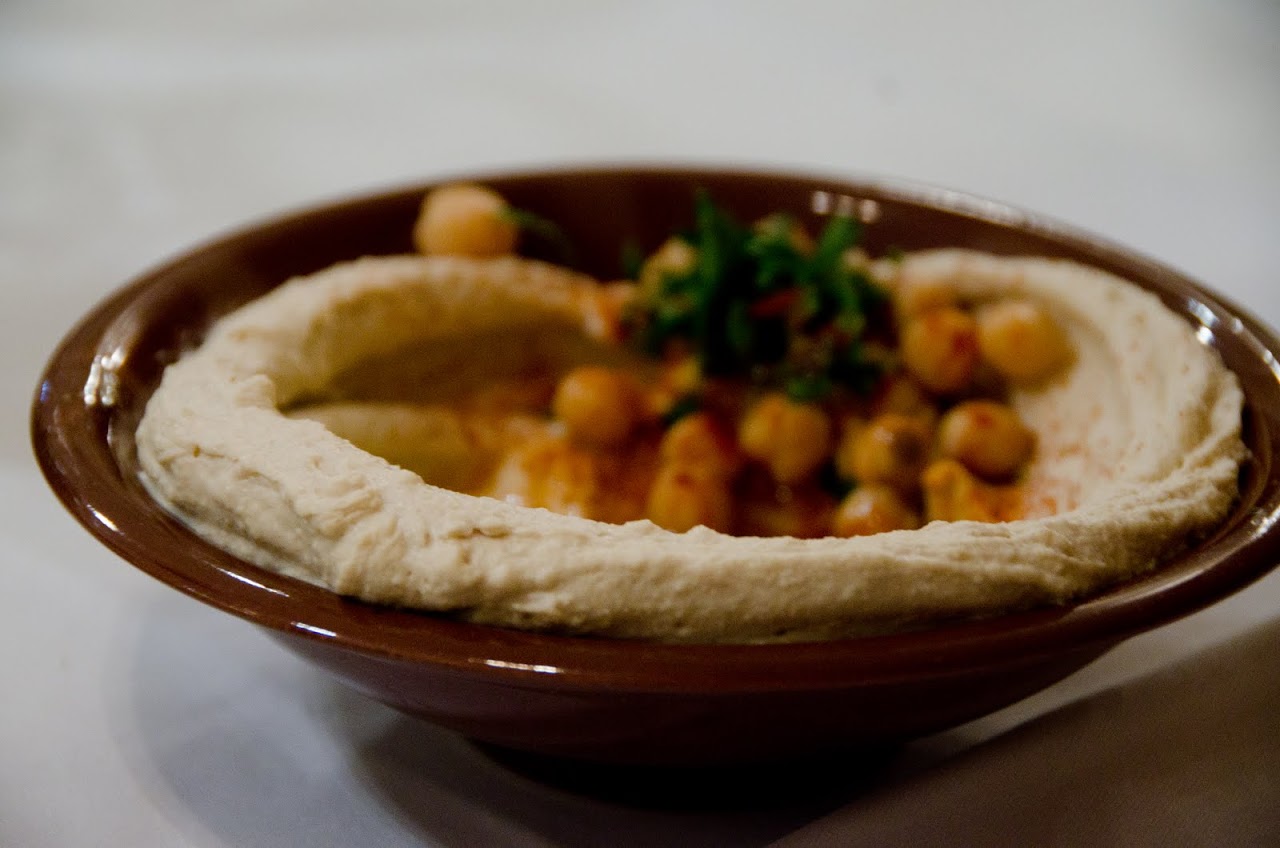 Hummus with laffi, eggplant baytinijan, lamb kebabs, and baklava
After popping into the annual Winter Wonderland at Hyde Park (pictures to come at some point), we went on the hunt for inexpensive food in ultra-pricey Knightsbridge.  When we saw Masgouf, an Iraqi restaurant, we had to stop.  I've never seen an Iraqi restaurant before and had absolutely no idea what to expect.  What we got was absolutely delicious and one of our favorite meals in London.
Iraqi cuisine is reminiscent of Persian, Turkish, and Indian flavors.  The laffi, a flat bread, is crunchier than either pita or naan, and was the perfect accompaniment to our tangy hummus.  My eggplant baytinijan reminded me of ratatouille, with a mix of eggplant, tomatoes, peppers, and onions slowly cooked together, but with a strong flavor of cumin rather than Herbs de Provence.  The meat from Patrick's lamb kebab fell off the bone and both dishes were served with rice.  For dessert, we had dates with tahini and a selection of the best baklava we have ever tasted.  Instead of being overly sweet and sticky, the baklava was flaky and flavorful.  We highly recommend this restaurant, especially since finding Iraqi food in the United States can be a challenge.
Tuesday: Splurge on high tea at Fortnum & Mason's (Piccadilly)
High tea at Fortnum & Mason
High tea, that ancient British ritual, is carried out to perfection at Fortnum & Mason .  Fortnum's is the Queen's grocer, established in 1761 and purveyor of high quality products to the Queen since the Napoleonic Wars.  It is particularly famed for its amazing selection of looseleaf tea and, at high tea, we had the choice of regular or select teas.  None of us being tea connoisseurs, we opted for the regular teas, and were able to choose from thirty or more varieties, each brought to us in an indiividual pot, and refilled whenever we requested with a different variety.
The food was sumptuous and superb though the best of our entrees was the mushrooms on toast.  I could have eaten Fortnum's decadent and tangy lemon curd with clotted cream on crumbly scones all day long.  And every single one of the desserts, from mincemeat pie to gingerbread and marmalade tarts, made my mouth happy.  Yes, it was an expensive treat but well worth doing once and remembering for a lifetime.
(Fortnum & Mason's St. James Restaurant is currently closed for renovations but will reopen in Spring 2012, so it is not possible to take high tea there.  However, Fortnum & Mason's houses other restaurants in which you can take afternoon tea.)
Wednesday: Eat healthy and cheap at Wagamama (many locations)

Lunch at Wagamama
After the splurge in pounds (both physical and monetary) at high tea, Wednesday calls for lunch at one of Britain's most famous noodle shops.  You'll see Wagamamas everywhere in London and they serve up huge portions of ramen, fried noodles, and rice dishes at very reasonable prices.
Thursday:  Get out of the city and find Turkish cuisine at Meze Mangal (Lewisham/Greenwich)

Turkish bread, meze, pide, kayseri, moussaka, and pide, not too far from Greenwich Park
After a few days spent inside London, it's nice to get out and see something a bit different.  Greenwich is a beautiful area with a vast green park, facing views of London, and holding the Greenwich Maritime Museum (home of Greenwich Mean Time).  After a day wandering through the park and the cute city center, hop in a taxi and head to Meze Mangal in Lewisham for what many say is the best Turkish food in the city.  We didn't sample all the Turkish restaurants but we can confirm that the food at Meze Mangal is excellent.  The owner was happy to accommodate the vegetarians in our group and brought out a huge meze platter with varieties of salads and dips, including an excellent baba ghanoush.  Our vegetarian moussaka and vegetable pide were equally delicious and Patrick raved about his charcoal-fired kebabs.
Friday: Graze at Harrods (Knightsbridge)
Food and the Egyptian elevators at Harrods
After checking out the gorgeous window displays at Harrods , hop inside and head straight for the Food Hall.  The Food Hall is immense and (usually) packed with folks purchasing high-priced cheeses, meats, veggies, and beautiful cakes and pastries.  Sushi stands, dim sum spots, and coffee spots abound in the Food Hall and there's a Laduree attached, as well as a Godiva Lounge on the fifth floor.  Shop, eat, shop, eat.  Sounds like a good deal to me.
Saturday: Wind up with dinner at L'Atelier de Joel Robuchon and a show (Covent Garden)
Selections from the pre-theatre menu at L'Atelier de Joel Robuchon
Dinner and a show is the way to go for a last night in London.  And, the usually high priced L'Atelier de Joel Robuchon runs a great 32 pound three-course pre-theatre menu.  Three of us started with the Jerusalem artichoke soup while I got the egg cocotte with wild mushroom sauce.  The artichoke soup was the highlight of our meals because the cream did not overpower the subtlety of the Jerusalem artichoke.  The simple pasta with cherry tomatoes and olives was cooked to absolute perfection and flavorful, despite containing such minimal ingredients.  Patrick's pork belly with puy green lentils was savory and tender.  The tart selection was fun and not too heavy, leaving us all satisfied and ready to enjoy our night at the theatre.
And, that's it: a week of decadent fare all across London!
* Note: You might be wondering why I didn't include any Indian curry shops on this list.  Frankly, though we tried five different curry shops while in London, including one on Brick Lane, none of us met our (probably too high) standards.  Most of the choices were too creamy, salty, or belly busting.  I know that London's Indian food is famous but we're still on the hunt.  If anyone has suggestions on good curry in the city, let me know cause we'd love to try it out.
You also might be wondering why there aren't any pubs on this list.  We weren't all that impressed with London's pub fare.  The pub fare we got out in the Cotswolds, Cornwall, and the Peak District were much better, relying on fresher ingredients with heartier fare.  Again, if anyone has suggestions for good pub food, we'd love to hear it.