Three years! A little over 1,100 days ago, we left our jobs, stuff, and friends and family behind to travel the world.  This third year has been one of our favorite years traveling as we've had the opportunity to explore Europe with Chewy and Abby .  So, what have we done this year?

England: We began our third year of travel by taking the Queen Mary 2 cruise ship from New York to England with Chewy and Abby in the kennels .  In our first month in England, we wandered around the pastoral beauty of the Cotswolds and Cornwall , reveling in gardens , moors , and lots and lots of yummy clotted cream .  The highlight of our stay in that region was walking inside the stone circle at Stonehenge .
In December, after touring around the Continent, we jaunted back up to England . . . which, in retrospect, might have been a mistake because it was gloomy and miserable the entire two months we were there.  Despite the weather, we loved the scenic Peak District and eating and cooking international cuisine in London.  We especially loved being in London for the Christmas season because we were able to experience Harrod's majestic window displays , London lit up at night , and frequent changing of the guards at Buckingham Palace .  Best of all, the dreary weather forced us indoors where we experienced London's phenomenal museums , which are well worth a visit any time of the year.

Spain : I last visited Spain in college, so I was shocked and surprised to realize (a) how much of my college Spanish I remembered and (b) how much more I enjoyed Madrid in my thirties than in my twenties.   Besides wandering through the city, we spent our time noshing --- frequently --- because that's just how those Spaniards eat .  After Madrid, we headed on to Barcelona, possibly the most photogenic city of all time , where we ogled all things great and small designed by Antoni Gaudi .  In the spring, I came back to visit the Catalunya region with the Catalunya Tourism Board where I ate far far too much (as usual) of Catalunya's diverse cuisine and adventured in Barcelona .

Italy: Aahhhh, Italy.  We love everything about this country and it's the one place that will always be on my MUST GO BACK list.  This time around, we spent one month based in sleepy Radicondoli where Abby and Chewy roamed among vineyards and olive trees, and took day trips to enchanting San Gimignano , Siena, Florence, Pisa , and other Tuscan hot spots .  One of the highlights of our Tuscany stay was truffle hunting with Giulio and Edda the dog and eating a truffle feast.  We left Tuscany and headed down to Sorrento for a week, where we enjoyed sunshine, blue waters, and amazing Pompeii.  Then, we visited Rome with Patrick's mom (who was traveling abroad for the first time in her life) and did all of the must see things: the Vatican, the ruins, food touring, and more.  In the spring, I ate way more than I should have at the Travel Bloggers Unite conference in Umbria and we finished off our summer in Venice with the fine folks at Go With Oh . More posts to come.

Costa Rica: While Patrick and the pups stayed in Tuscany, I went on a one week trip through amazing Costa Rica, where I explored Costa Rica's rainforests , coffee plantations , wildlife, and burgeoning food scene .  One of the highlights of my trip was a few days spent in unexpectedly awesome San Jose .

Croatia: After Italy and wintering in England, we drove down to Croatia, stopping along the way in Switzerland for some sledding fun .  Despite the frigid bura which kept us shivering , we loved the quaint Istrian peninsula and jaw-dropping Plitvice National Park , and then settled in to Zagreb, which felt very American .  Though we were continually confused by Croatia's cuisine (look at that alliteration there), we couldn't help but fall in love with the gorgeous Dolac market .

Hungary: We had only one very short week to explore Budapest and, let me tell you, it was not enough time to indulge in its surprising wines and superb soups and goulashes .  We loved every single thing about this city , from the opulent Opera House to the stark Great Market Hall to how cheap everything ended up being.  Budapest and Hungary: MUST GO BACK!
Bulgaria: Our one month in Bulgaria was a surprise.  We woke in the mornings to the tinkling bells of the shepherds walking up the hills with their flock of sheep and discovered the small attractions in this rural area.  As the poorest country in the European, Bulgarians trudge along with cars brought in by the Russians in the mid-1980s or stolen vehicles fenced from Germany and France.  Donkey carts are the most common mode of transportation in rural Bulgaria and our landlord told us that "Communism was better here" because, though they had less options of commercial goods, they had more money.  "Now, we have cars and electronics from every country in the world but no money to buy those things."  And, if you're intrigued by this often forgotten corner of Europe, don't worry: I've got plenty of posts planned. Posts to come.

Turkey: I hate picking favorites and saying that we like X more than Y, but the truth is . . . Turkey has become one of our favorite European countries, second only to Italy.  We spent two months in this East-meets-West place , consuming platter after platter of meats , veggies , and ridiculous baklava that make our mouths water even now.  We explored the varying neighborhoods of Istanbul , soaked in the sunshine on the Aegean Coast , marveled at the Mars-like Cappadocian scenery from hot air balloons , climbed through ancient wonders , and generally photographed every little thing in this incredible country. Turkey will always make our must go back list and we can't wait to be welcomed by its warm and inviting citizens again.

Greece: Greece was a bit of a hit-and-miss for us.  We loved Santorini and Naxos but were less enthused with Rhodes and disliked Athens (though we did go on an amazing food tour that helped change some of our misperceptions of Athens.)  One of the major problems was that we went to Greece after going to Turkey --- a country we adore --- and we didn't LOVE the food, architecture, and ancient ruins in the same way that we had loved those in Turkey.  At the same time, we thought Santorini was one of the most stunning places we have seen in Europe and we couldn't get enough of the laid back Naxos attitude. If we go back to Greece, I think we will do it very differently and focus more on the Peloponnese region rather than the islands. Posts to come soon.


Austria: We visited Vienna for a week with Go With Oh and found a lot of charm in this beautiful city, especially at the stunning Schonbrunn Palace, which we found to be more impressive than Versailles and many of the other famous European palaces.  We were also pleasantly surprised by the food in this very pet-friendly city. Posts to come very soon.

Czech Republic: Folks told us that Prague was similar to Budapest . . . and we agree, in a way.  The architecture and location on the river definitely reminded us of Budapest --- but Prague's architecture blew us away.  This is one beautiful city and holds a special place in our hearts because it was where we learned that we would be welcoming Baby M into our family. We would love to go back and explore more of the Czech Republic. Posts to come.

France :  In September, toward the beginning of our trip, we spent two weeks in southern France, based in Cannes.  We gorged on goat cheese, brie, and wine, while wandering the picturesque Provencal towns and the beaches of the French Riviera.  In August, we came back to France and settled down in Paris where I had a very different experience: because I was pregnant, goat cheese, brie, wine, and salads (yes, salads) were prohibited so I struggled to find good food to eat.  I made the most of it by eating macarons instead and, though we had a hard time getting into the Parisian vibe, we loved the big attractions in the city and especially the majestic Louvre.  All in all, though we enjoyed the time we spent in France, like Greece, this wasn't at the top of our must-go-back places. Posts to come.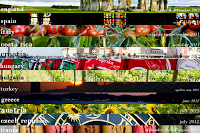 And, that was our third year on the road!  We're now back in the United States, preparing for Baby M's arrival.  We are trading our permanent nomadic lives for partially nomadic lives instead.  We're working on buying a house in Atlanta near our families and friends (free babysitting!) but our travels definitely have not ended.  In this coming year, we'll be writing about the rest of our European trip, the loads of recipes I've been collecting while on the road, and about our next travels while pregnant and with baby and dogs.  Our fourth year traveling might just be the most challenging yet.